A glimpse at the Las Vegas Strip after a few properties reopened to the public on Thursday, June 4, 2020. Photo by Mikayla Whitmore.
Nearly 17,000 more PUA claimants received first payments in past week, but initial claims rolling in at nearly double that pace
More than 95,000 Nevadans who have filed claims with the Pandemic Unemployment Assistance (PUA) program have received payment so far, a jump of nearly 17,000 from the number who were receiving money as of a week ago — even as many claimants continue to air frustrations that their benefits haven't come through.
Kimberly Gaa and David Schmidt, two top officials from the Nevada Department of Employment, Training and Rehabilitation (DETR), provided the update in a videoconference on Friday. It was the first time that the weekly briefing did not include Heather Korbulic, who announced last week that she was leaving the role as head of the inundated state agency because of threats against her personal safety.
"I want to express my thank you to all of the DETR team that continues to carry on each day, ever-focused with the mission-critical work throughout the duration of this pandemic," Gaa said during an extended period of thank-yous before launching into the numbers. "Your successes are countless, and know you have the support to continue the critical work of connecting Nevadans to their benefits."
The PUA program, which is federally funded and serves independent or self-employed workers that are ineligible for standard unemployment benefits, has seen heavy demand and faces sharp criticism from many claimants who have not yet been paid. Some have said they are desperate and fear losing their homes after months without income, although Thursday's announcement that an eviction moratorium will last until September is expected to buy many of them more time.
There have been 190,262 initial claims filed for PUA as of yesterday, and 141,783 of have filed weekly claims — something required before the state can make payments. Of those, 95,460 have received payment, or about two thirds of those that could possibly be paid.
That means there's a gap of about 46,293 people who filed weekly claims that have not been paid. But Schmidt said Nevadans should not expect all of the claims to be paid; he said the number of applications filed appears to be outpacing the estimates of how many self-employed people there are in Nevada, which is thought to be anywhere from 85,000 to 200,000 people.
"The important figure is not 100 percent payment of all initial claims but proper payment of all claims that are filed," he said. "As with other states, Nevada is seeing an unusually high level of potential fraud in the PUA program compared with the UI program and significantly more claims within PUA will need to be held for fraud review as a result."
He offered as an example the 34,000 PUA claimants who filed for benefits for one or more weeks in the month of February. Because the first case of COVID-19 was not announced until March 5, and business shutdown orders did not kick in until mid-March, Schmidt said, it was "highly unlikely" there would be a significant number of eligible claims in Nevada from February.
He said that while he can't offer details on active investigations, "there are large and active efforts by coordinated groups and organizations and individuals to commit fraud. This is not unique to Nevada."
Among other eligibility requirements, PUA claimants must be unemployed, underemployed, unable to work or unavailable for work in a particular week because of COVID-19.
One major chokepoint in people landing their benefits has been questions about whether an applicant is eligible for PUA or for traditional unemployment benefits paid through the state's trust fund. Federal regulations require states to determine whether someone qualifies for the state program before paying out PUA.
As of earlier this month, some 40,000 PUA claims were awaiting a decision from one of eight state employees qualified to make decisions on claims on which it's not immediately apparent which program to pay from.
One of those unpaid claimants who is unclear on her status is Kiera Sanchez, who believes she should be drawing from the state program because she worked at the beauty supply store Ulta. But she's filing claims through both programs while she's furloughed because she has yet to receive payment and is not completely sure.
She also hit a snag because an unemployment account she used several years ago was under her previous last name and she was unable to create an account under her new name. She designates two days a week that she devotes to trying to get through the unemployment phone lines to resolve the issues.
Sanchez, who has three children and just learned she is expecting her fourth, said the ordeal has affected the self-confidence and savings that she had been building before the pandemic after entering recovery.
"It's put me in kind of a dark place," she said. "I remind myself that I didn't do this to myself."
She's getting by only after her fiance was released from a conservation camp last month and has been able to return to work. Still, having the money would mean the ability to leave the transitional housing she's at now and find a more permanent living arrangement to accommodate her growing family.
"I don't feel for myself. I feel for the people who are about to be homeless and carless," she said.
Claims adjudication
An amended lawsuit filed against DETR this week seeks a court order compelling the agency to pay PUA claimants who have been declared preliminarily eligible for the program, even if it's unclear whether they should be drawing from PUA or standard unemployment.
While the agency declined to comment directly on the pending litigation, a spokeswoman said DETR "is confident that all actions taken related to Pandemic Unemployment Assistance (PUA) are in line with federal law and guidance" and pointed to memos giving parameters to state agencies administering the programs.
"We are leveraging every waiver and every flexibility already that the DOL and the governor's office ... has given us," Gaa said. "We also continue to add additional staff."
The agency did not offer specifics on how its staff count has changed. DETR officials told lawmakers in early June that they had requested an additional 133 positions from the pandemic period through the end of June, in addition to adding contract vendor Alorica, which was asked to staff a 100-person call center and a 35-person PUA claims adjudication team. 
"We are actively recruiting. We have hired a number of staff. I know that there's been many questions specific to the numbers, but it's changing every day and every week because we're adding staff all the time," Gaa said.
Other statistics
Initial claims for standard unemployment benefits ticked down slightly to 10,347 in the week ending June 20, but there have still been 538,892 initial claims filed in the year 2020 to date. Some individuals may have filed more than one initial claim if, for example, they were on benefits, got a job and then were laid off again during the pandemic.
There were 29,440 initial claims for PUA benefits last week, which was up nearly 5,000 from the prior week.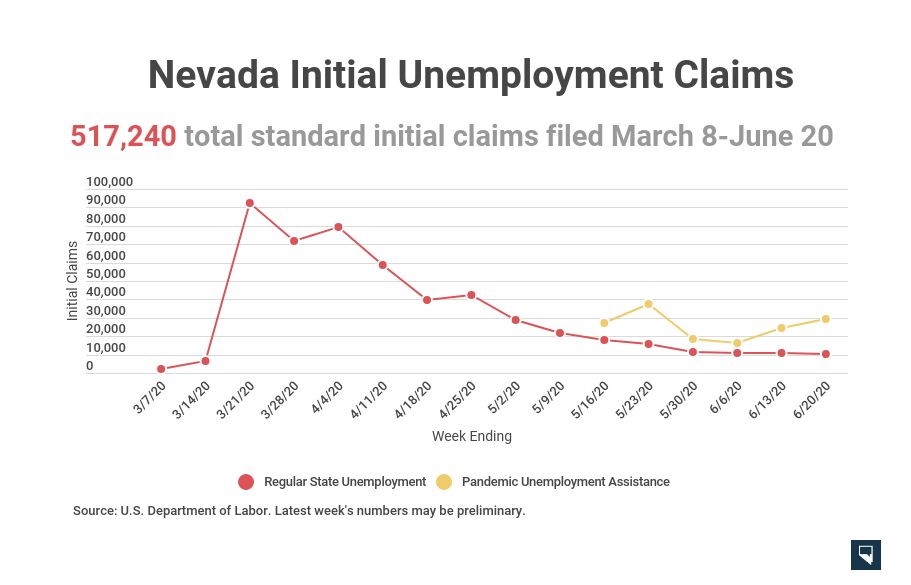 Continued claims — which are those filed week after week for benefits — totaled 294,649 last week, a 5.6 percent drop from the week before.
"This is the first report since April where the total number of continued claims has fallen below 300,000, indicating a return to work for some claimants following the re-opening of businesses across the state," the agency said in a press release.
Continued claims in the PUA program totaled 114,776 last week.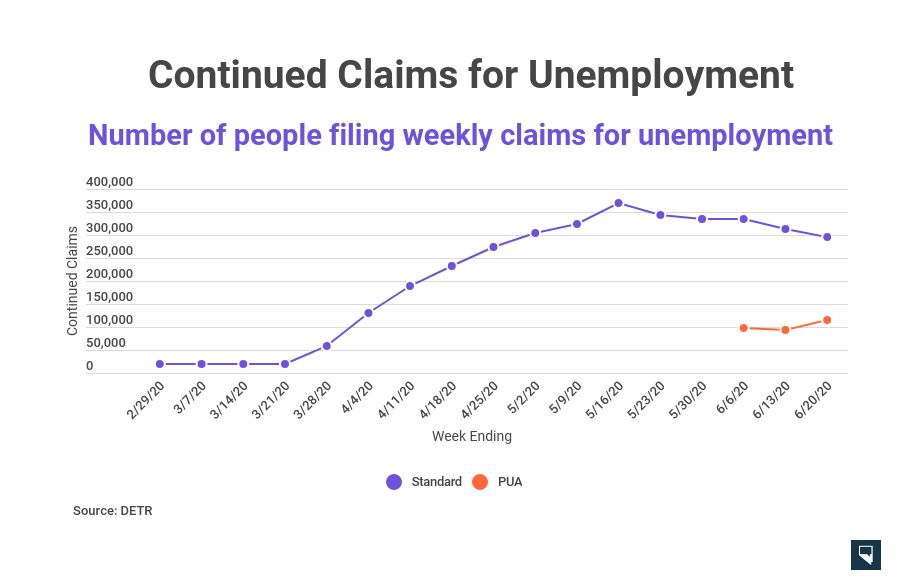 The insured unemployment rate, or ratio of continued claims in a week to the total number of jobs eligible for standard unemployment benefits, fell 1.2 percentage points to 21.4 percent.
That figure is different from the widely recognized unemployment rate, which was 25.3 percent in the month of May. Nevada's rate is highest in the nation and nearly double the national rate of 13.3.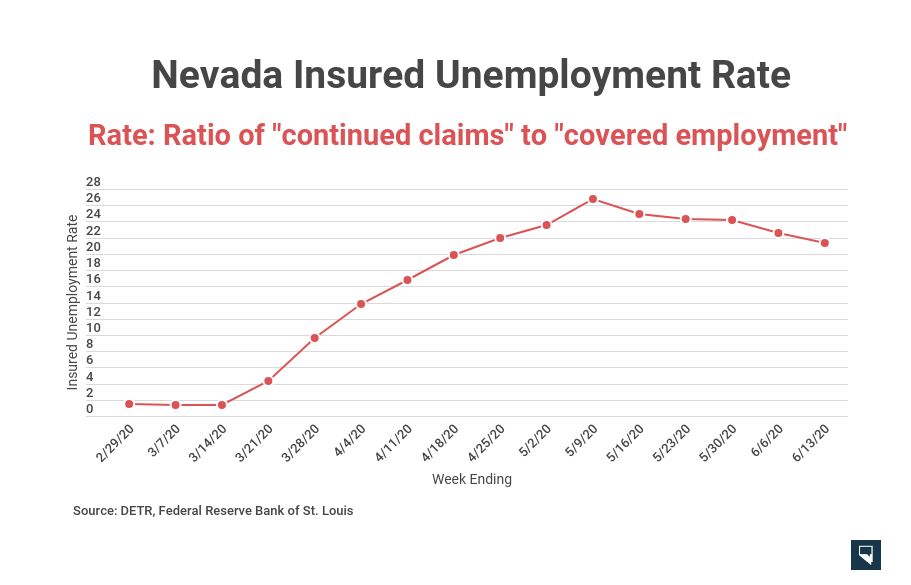 At the end of last week, the state's unemployment trust fund stood at just over $1 billion, or enough to pay out nine weeks of benefits.
While the balance is about half of what it was before the pandemic, Schmidt emphasized that the state can borrow money from the federal government to cover benefits if the fund runs dry.
More than $3.7 billion in benefits have been paid to Nevada claimants so far this year, with the largest share coming from the Federal Pandemic Unemployment Compensation program that adds $600 payments to the base PUA or standard benefits a claimant receives each week. That program is set to expire at the end of July.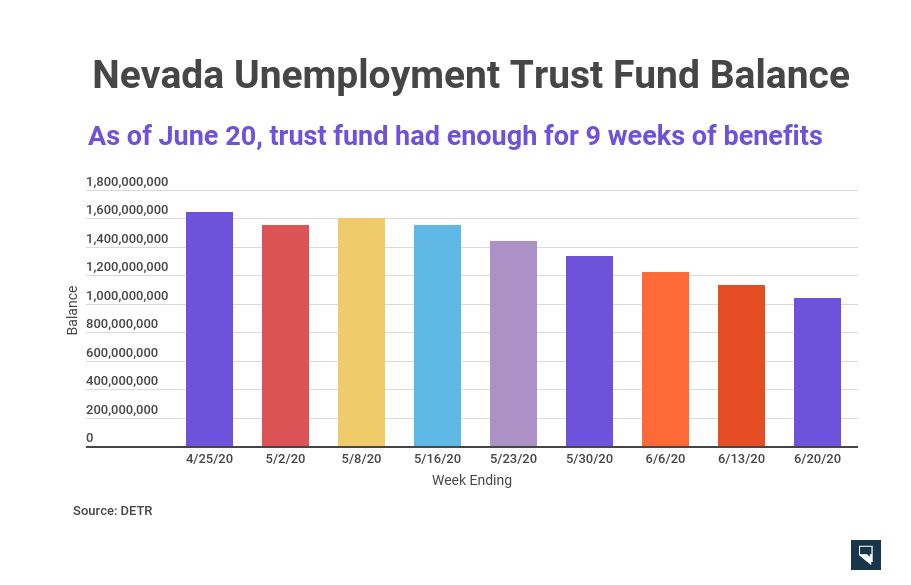 Comment Policy (updated 10/4/19): Please keep your comments civil. We reserve the right to delete comments or ban users who engage in personal attacks, use an excess of profanity, make verifiably false statements or are otherwise nasty.