Report highlights inequities in education in Nevada made worse by pandemic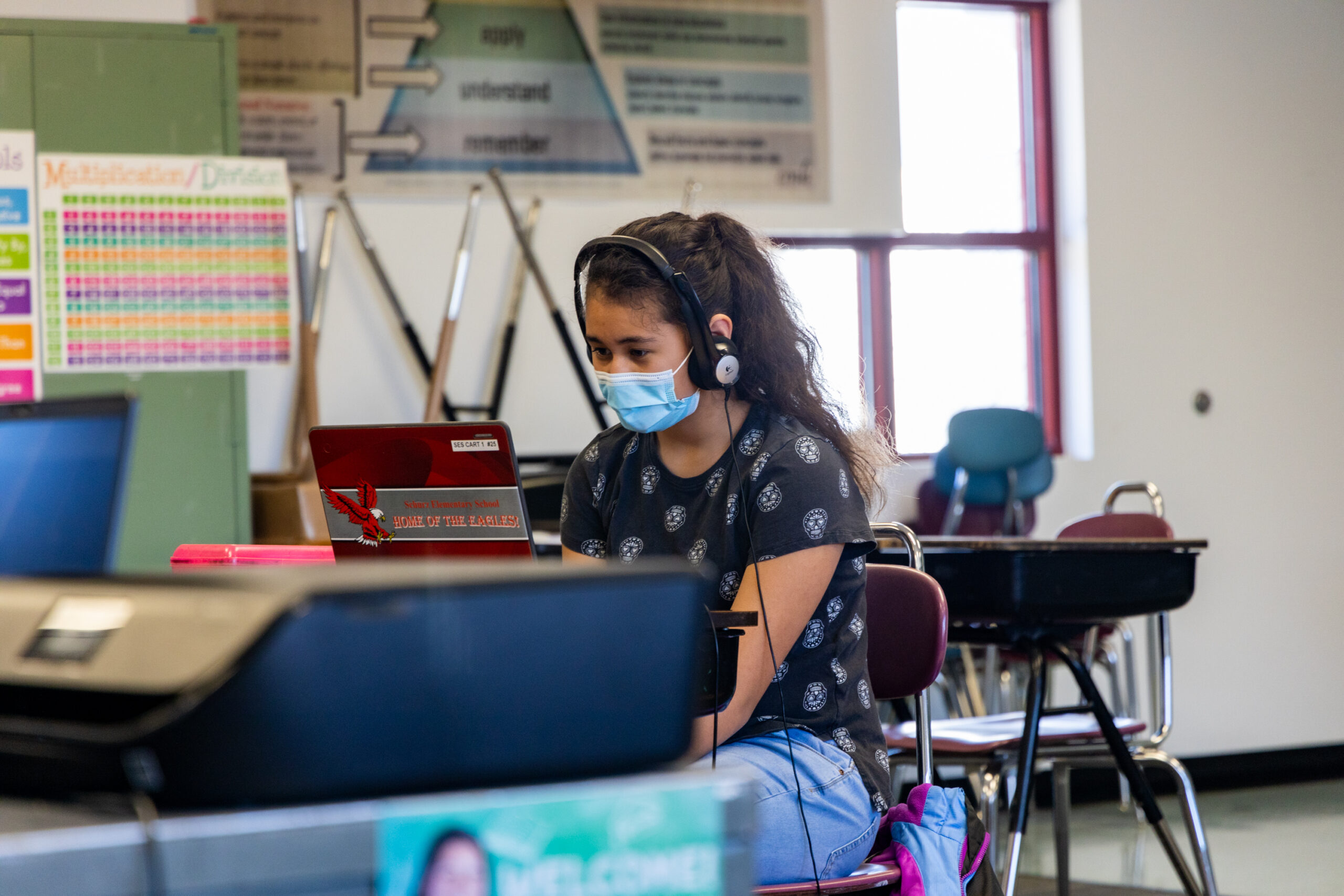 The COVID pandemic exacerbated existing problems in Nevada on many fronts, including K-12 education.
Advocates fear that the pandemic-related shift to distance education widened inequities between student populations, especially for students with disabilities, English language learners, rural residents and students of color.
Earlier this month, the Nevada Advisory Committee to the U.S. Commission on Civil Rights published a report on the topic of "learning loss" during online education. The U.S. Commission on Civil Rights — a federal, bipartisian commission created in 1957 — has an advisory committee in every state to assist the commission with its primary goal of fact-finding, investigations and community input on issues of potential discrimination, with the goal of advancing civil rights.
Through a series of five meetings this spring, panelists settled on 14 findings — including lack of adequate internet connectivity in the homes of students, and the urgent and still relevant need for more mental and behavioral health professionals.
Wendell Blaylock and Sondra Cosgrove, chair and vice chair of the Nevada-based advisory committee, found that connectivity challenges made learning nearly impossible for some students in areas where high speed internet was unavailable or limited.
"We heard testimony that yes, they had an electronic device, but there was no internet or the internet was very, very slow," Blaylock said. "Some had to go to a fast food restaurant to have access. Other students and teachers said that the internet was so slow and spotty that even downloading school work took hours."
Some students had also outright disappeared from class.
"We were trying to drill down to find out where students had disappeared, where they went. A lot of times it was an older kid that was having to take care of siblings and their parents were essential workers," Cosgrove said.
"And essential workers had a high propensity of people of color," Blaylock added.
The report and committee recommendations were sent to the governor, elected officials, the Nevada Department of Education, each of Nevada's school district superintendents and school board presidents, and the Nevada System of Higher Education Board of Regents.
"Every single panelist said this is not a new problem. This is not something caused by the pandemic, but the pandemic is making it much worse," Cosgrove said. "The education system got stress tested by the pandemic and boy, we quickly found out where the weaknesses were."
Recent reports have found Nevada's ratio of school psychologists to students is roughly one for every 2,000 students. The National Association of School Psychologists suggests schools have one school psychologist for every 500 students.
The pandemic has shined an even brighter light on the importance of counseling and mental health services, Cosgrove said.
"The stigma will probably lessen because of the pandemic because we all need counseling now, and everybody realizes how being isolated can make you anxious and that it's not your fault if you're feeling depressed," Cosgrove said. "But lots of parents, lots of advocates, lots of allies see this is a moment where we can actually fix things like workforce development."
The committee also found a connection between the teacher shortage and mental health professional shortage in Nevada's schools, including pay and work environment quality.
"Teachers end up getting split, where they're trying to give one high-need student everything they need, and [the] 39 other students [in the class]. So if she doesn't have a psychologist or any type of support staff helping her or him, that burns teachers out," said Cosgrove, a history professor at the College of Southern Nevada.
Community members and leaders who participated in the committee's meetings said that over the past few months, they have worked to use some of the feedback and address some of the challenges, including internet connectivity. Students throughout the state have returned to full-time, in-person learning since the last committee meeting in May — though some options for distance learning remain available.
"We've gotten feedback because when we did the very last open meeting, there were folks from the State Board of Education going, 'Wait, we've done a lot of this stuff here. Let us send you information,' So we'll end up putting that on as an addendum, but I think in real time, they have been doing some stuff," Cosgrove said.
"I don't want to exaggerate, but I believe Nevada was the only state, according to Superintendent [Jhone] Ebert, that ensured that every student had an electronic device and a hot spot," Blaylock added.
In January, Connecting Kids, a public-private partnership created in July 2020 by the Governor's COVID-19 Task Force, announced that it had confirmed that every K-12 public school student who participated in distance learning had a computer and internet connection. Yet, people who testified to the committee this spring expressed their continued struggles with internet speed and reliability.
Cosgrove said that the committee meetings served as an opportunity to connect advocates with leaders, including the State Board of Education, Nevada System of Higher Education Regent Carol Del Carlo and the American Civil Liberties Union, with students and principals.
"I had the director of e-learning from the College of Southern Nevada that I work with because the community colleges have been doing online education for over 20 years … We have all these different people that hadn't talked to each other, we put them on panels together and they went, 'Oh, hey, we should have coffee afterwards,'" she said. "I think the right people are involved."
The committee hopes that millions of federal aid dollars will help the state continue addressing the issues highlighted in their report. In total, the federal government has passed five relief packages from March 2020 to March 2021. The most recent infrastructure bill that passed in Congress could help implement some of the committee's recommendations to resolve the issues, including improving broadband and aiding school districts after the stressful last year.
"We've identified the problems. We have the money … We actually put out an advisory letter, a letter of concern, over the summer saying, 'A bunch of money is coming into the state, we're expecting elected leaders to listen to the community,'" Cosgrove said. "We have a lot of needs in this state, so there's going to be lots of people who are going to need that money."
The Nevada Independent is raising $200,000 by Dec. 31 to support coverage of the 2024 election.
Tax-deductible donations from readers like you fund this critical work.
If you give today,your donation will be matched dollar-for-dollar.
Give + Get Matched
Featured Videos