Nevada defies forecasts, hits eighth straight $1B gaming revenue month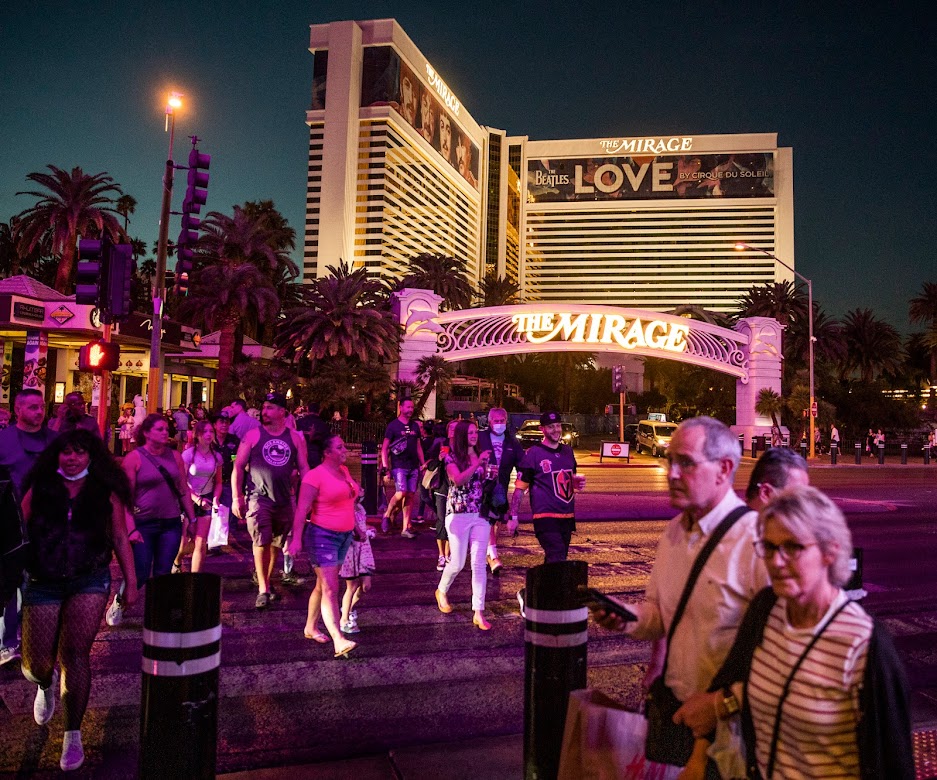 So much for the lengthy post-pandemic rebound predicted by analysts, who said it could take as long as 2024 before Nevada and Strip casinos returned to gaming revenue totals last seen in 2019.
Casino customers poked holes in those prognostications.
Nevada's casino industry topped $1 billion in gaming revenue for the eighth consecutive month in October, tying a 14-year-old record and putting the state on pace to surpass the single-year $12 billion mark for just the fourth time.
The Las Vegas Strip, backed by its second-largest monthly revenue total in history during October, is also on pace to top its 2019 pre-pandemic revenue total.
"Strong demand across markets, the continued rebound of leisure travel and the return of special events and entertainment continued to propel gaming win past 2019 levels," Nevada Gaming Control Board Senior Economic Analyst Michael Lawton said after the agency released October's gaming revenue totals on Tuesday.
Macquarie Securities gaming analyst Chad Beynon told investors he doesn't expect visitation to Las Vegas to slow down. The Strip accounted for roughly 85 percent of Nevada's revenue total.
"Our monthly survey points to continued strength for (online) hotel searches into Las Vegas," Beynon wrote in a research note to investors. "Overall 'searches' were up 17 percent in October after increasing 21 percent in September. We believe searches are at all-time highs, which bodes well for the remainder of 2021."
Statewide, casinos collected more than $1.22 billion in gaming revenue, a 19.5 percent increase from 2019. Gaming analysts use 2019 as a comparison rather than 2020, when casino shutdowns and operating restrictions sent the state's gaming revenue figures to their lowest totals since the 1990s.
The last time the state recorded $1 billion in gaming revenue for eight straight months was October 2006 through May 2007. Through October, Nevada gaming revenues are 9.2 percent above 2019.
As for the Strip, gaming revenue of $702.2 million was an increase of 30.4 percent versus October 2020 and was second only to the $793.5 million Strip resorts collected in July.
For the year, the Strip is 3.5 percent ahead of 2019 and is now on pace to surpass the nearly $6.59 billion collected in gaming revenue that year.
Deutsche Bank gaming analyst Carlo Santarelli said the Strip revenue totals continue to grow on a monthly basis and a per day basis. Lawton added that Strip casinos benefitted from a full calendar of events, including concerts, the resumption of showroom headliners and sporting events.
Las Vegas locals markets and downtown are also feeling the recovery.
Clark County recorded $1 billion in gaming revenue in October for the fifth time in the last six months. Prior to 2021, October 2007 was the only month Clark County recorded $1 billion in gaming revenue.
For the calendar year, downtown Las Vegas gaming revenues are up 20.3 percent over 2019, while the locals gaming market as a whole was up just 3 percent. Analysts noted that the month ended on a Sunday and slot revenues from that weekend would fall into November's total for most of the state's reporting markets.
"That said, locals market revenues are still at all-time highs," Beynon said.
Washoe County gaming revenues are up 19.6 percent compared to 2019 and just two markets, North Las Vegas and Laughlin, are down compared to 2019.
First $1 billion wagering month for sports betting
For the first time ever, Nevada sportsbooks took in more than $1 billion in wagers in a single month. The $1.1 billion reported in October smashed the previous single-month record of $786.5 million wagered by sports bettors during September. New Jersey became the first state to ever report more than $1 billion in sports wagers in a single month when it reported results for September.
For Nevada, however, the wagers didn't translate into a large payout for operators. Three consecutive weeks of disappointing results from football wagers – but good news for sports bettors – translated into $48.3 million in revenues for the sportsbooks, an increase of less than 1 percent from October 2019.
For the first 10 months of the year, sports betting revenue is up 36.4 percent and wagers are up 46.3 percent compared with 2019, which was a record year in both categories.
Lawton said 64 percent of all sports wagers were placed through mobile accounts.
"Nevada has experienced strong acceptance of mobile wagering by visitors who sign up for access while in town," Lawton said, "Additionally, October is also the month where all four major league sports are in play in addition to NCAA football. Another contributing factor is that this month also had five weekends of NFL games which obviously contributed to the football totals."
Several sportsbook operators said anecdotally that wagering totals increased when the Las Vegas Raiders had home games at Allegiant Stadium, but Lawton said it was "difficult to quantify the impact."
More visitors and slot players fuel the Strip
Las Vegas visitor volume saw its highest total since the pandemic began, according to the Las Vegas Convention and Visitors Authority. More than 3.39 million visitors came to Las Vegas during October, 15.5 percent more than September, but 7.6 percent below October 2019.
Visitor volume in Las Vegas is still down 26.5 percent compared to 2019, but LVCVA Vice President of Research Kevin Bagger said the strong event calendar and improving convention business helped boost hotel occupancy levels to 81.6 percent during the month. Weekend occupancy in October reached 90.4 percent.
Bagger said the LVCVA hasn't been able to report actual convention attendance because of "a lag in available data." However, the agency is "working to refine the convention attendance model." He said the LVCVA hopes "to publish convention attendance estimates at the end of year with the intent to post retroactive estimates for prior months."
Analysts said the visitor numbers helped boost healthy increases in both slot machine and table game revenues on the Strip.
Slot machine revenues of $368.2 million were 1.6 percent higher than October 2019 while table game revenues of $333.9 million were a 43 percent increase over October 2019.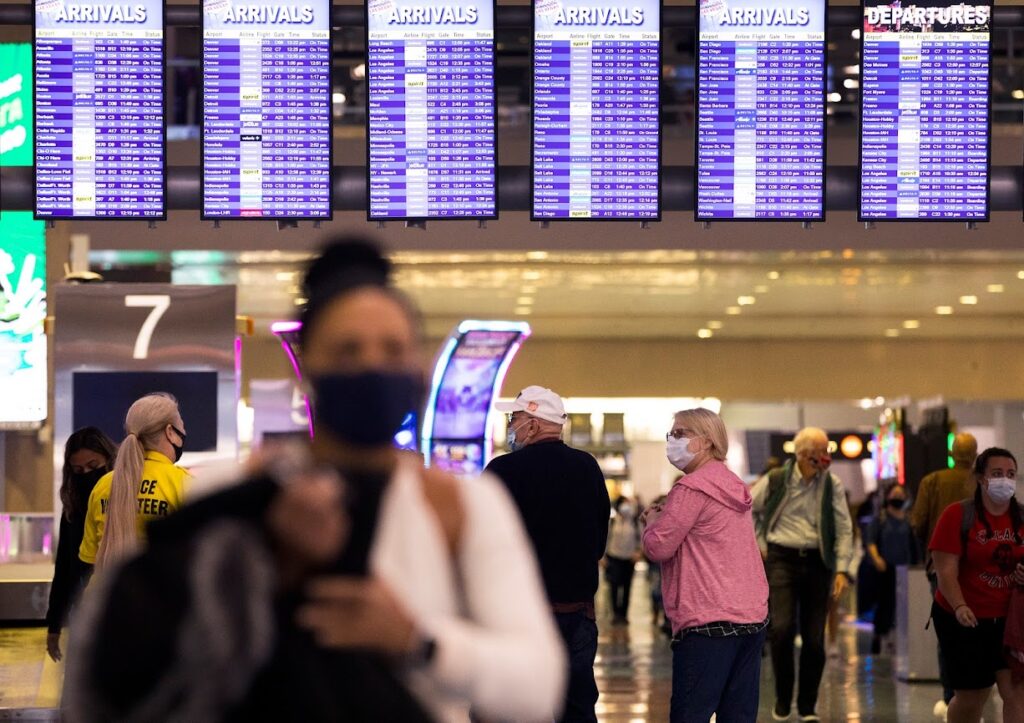 Vegas airport has busiest month since pandemic began
Las Vegas' McCarran International Airport, which will soon be renamed Harry Reid International Airport, had its busiest month since February 2020 with more than 4.18 million passengers coming through the terminals during October. The figure was just 9.3 percent below the 4.6 million passengers the airport saw in October 2019.
For the first 10 months of the year, McCarran has seen 31.8 million airline passengers, a 26.1 percent drop compared with 2019.
McCarran also saw its highest single-month total for international airline passengers in 20 months, with 102,560 travelers arriving and departing to either Canada or Mexico. The figure was a 70.3 percent drop from October 2019 and international passenger volume is down 83.9 percent for the year.
However, after the White House lifted pandemic-related travel restrictions for vaccinated visitors from certain countries, international flights between Las Vegas and London began in November, with direct flights to and from other countries expected to be added in December and into 2022.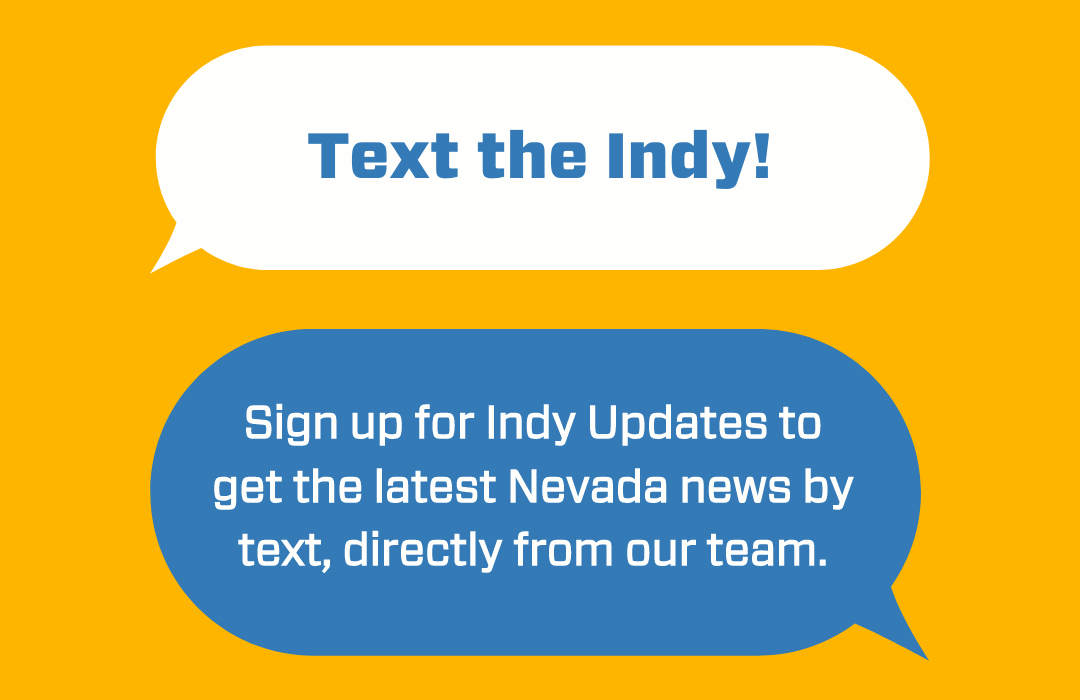 Featured Videos
Comment Policy (updated 4/20/2021): Please keep your comments civil. We reserve the right to delete comments or ban users who engage in personal attacks, use an excess of profanity, make verifiably false statements or are otherwise nasty. Comments that contain links must be approved by admin.