Nevada Democrats debut to volunteers new iPad-based 'tool' to calculate math on Caucus Day in the wake of Iowa fiasco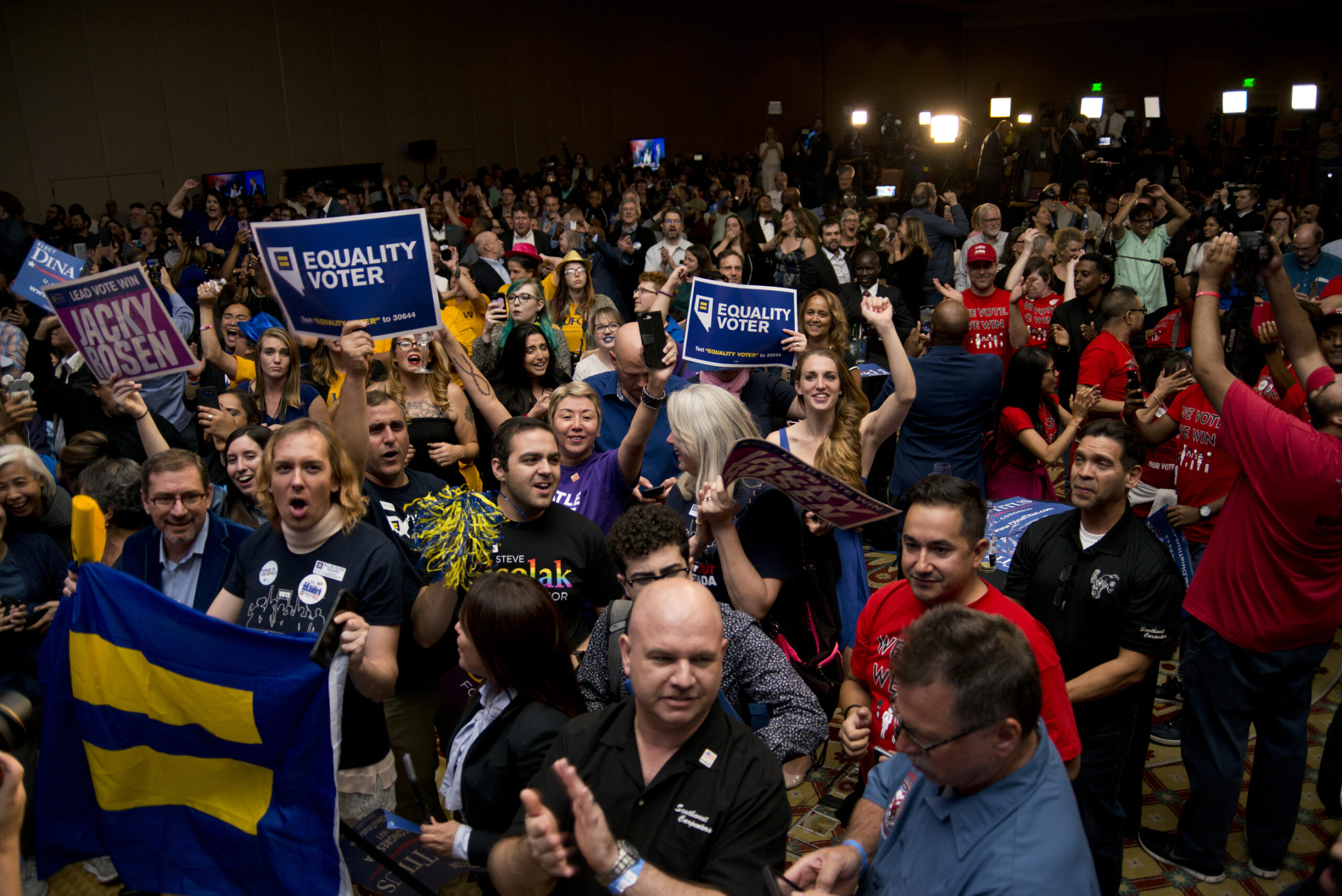 Nevada Democrats are planning to use a new caucus tool that will be preloaded onto iPads and distributed to precinct chairs to help facilitate the Caucus Day process, according to multiple volunteers and a video recording of a volunteer training session on Saturday.
The new tool will help precinct chairs fold in the results from people in their precinct who chose to caucus early with the preferences of in-person attendees on Caucus Day by calculating the viability threshold and carrying out the two alignments in the caucus process, according to the volunteers and the video recording. Details about the tool come two days after Nevada Democrats said that they would not use any apps for their Feb. 22 caucus after a coding error in a similar program used by Iowa Democrats delayed the release of results from that state's nominating contest earlier this week.
In the video, a party staffer tells volunteers that the new mechanism "is not an app" but should be thought of as "a tool."
"What we've done after Iowa is consult with a group of tech and security folks who are helping us through this process and making sure that we're doing this in a way that is simple and efficient and secure for all of you so that we're giving you the best tools we can possible on Caucus Day," the staffer said. The new tool will "flow your precinct early vote data, so that you can have the information for your precinct caucus, so that when you do your viability calculations, you're able to get the number of people who voted early and then when you see the results of your first alignment, you're able to key in that early vote information so that you have every piece of information you need to run your precinct caucus."
Asked by a volunteer how results would be transmitted from one place to another, the staffer demurred.
"Those are all excellent questions, and we're still working out some of the details around those so I'll make sure that everyone has more information as we're able to share it," she said.
In interviews, volunteers said they received little information at the training beyond a rough outline of how the tool is supposed to function. They also were unsure how the party plans to carry out its four-day early voting period, which previously relied on the use of an app to capture people's preferences. CBS News first reported the existence of an unspecified "tool" on Friday.
Seth Morrison, who will be the site lead at Legacy High School on Caucus Day, said he "debated long and hard" whether to express his concerns about the caucus process.
"For me, I volunteered to do this because I'm a loyal Democrat, and there's nothing more I want to do than defeat Donald Trump," Morrison said. "But if we allow this to go down and it's another Iowa, what does this do for my party?"
Morrison said that there was "not a bit of proof" at the training that Nevada wouldn't be another Iowa.
Another volunteer, who asked for anonymity to speak openly about the training process, said the general sentiment in the room at the training was frustration and confusion.
"We got very little information. It was just a preview. There was no hands on," the volunteer said. "We were not given the program to work with or practice with. All we have were a few slides to look at while they told us that they're planning to develop it further."
Volunteers said they were also not given additional details about how they would properly realign early voters — who are allowed to select up to five presidential preferences, ranked in order — on Caucus Day should the new tool fail.
They also expressed concerns that the party is still recruiting caucus volunteers. Volunteers were told that precinct chairs should be prepared to carry out two caucuses at their site if necessary. One volunteer expressed concerns that the people participating in the training didn't even seem to understand the basic details of how to carry out the caucus process and didn't know that precinct chairs can't also be precinct captains on behalf of a campaign.
Nevada Democrats have been working quickly to come up with a new caucus plan after scrapping their plan earlier this week in the wake of the Iowa fiasco. Democrats in the Silver State had developed two apps — one for early voting and one for Caucus Day — to facilitate the caucus process this year but axed them both after it was revealed that the political technology company, Shadow Inc., responsible for developing their app had also developed the Iowa app.

The Nevada Independent is raising $200,000 by Dec. 31 to support coverage of the 2024 election.
Tax-deductible donations from readers like you fund this critical work.
If you give today,your donation will be matched dollar-for-dollar.
Give + Get Matched
Featured Videos