Nevada sportsbooks flourishing five years after sports betting goes national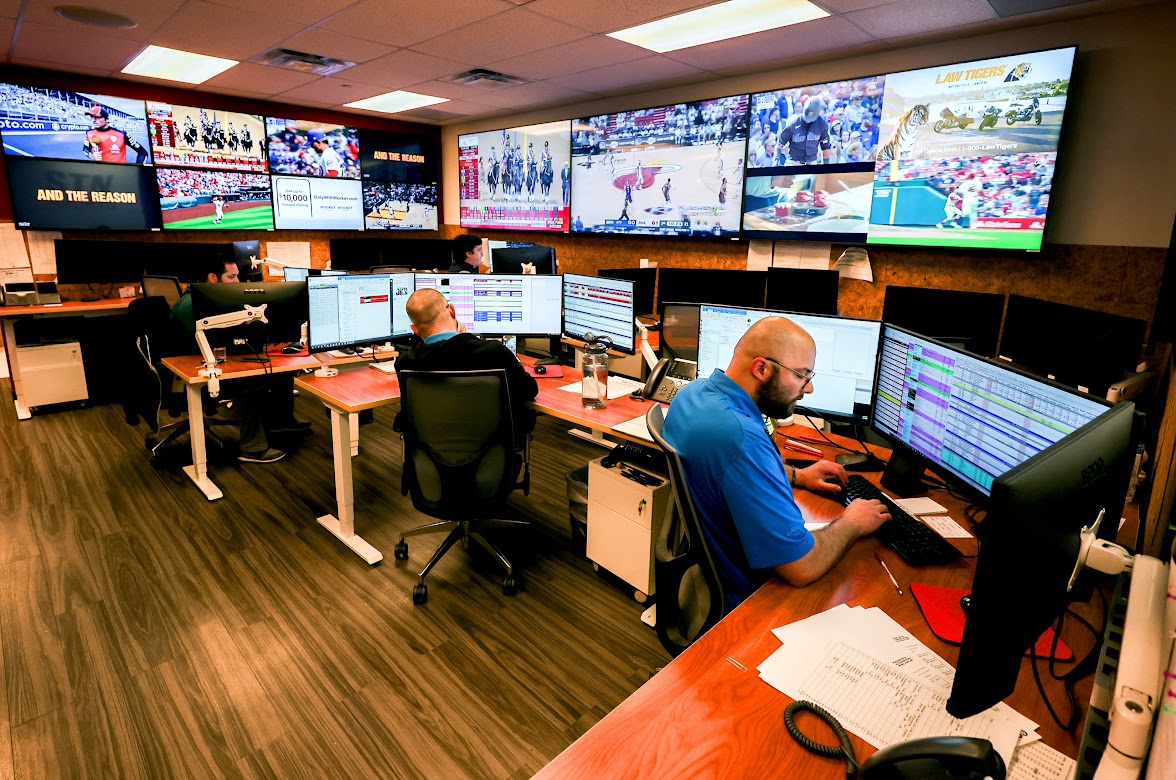 Jay Kornegay vividly recalls the Monday morning on May 14, 2018, when the trajectory of Nevada's sports betting industry was changed by the U.S. Supreme Court.
Unlike some of his counterparts, Kornegay didn't fret.
By a 7-2 vote, the justices ruled states had the right to regulate their own gaming businesses. The highly anticipated decision deemed the 25-year-old Professional and Amateur Sports Protection Act (PASPA) as unconstitutional and ended Nevada's sports betting monopoly.
Congress passed the law in 1992 as an effort to define the legal status of sports betting. PASPA was also called the Bradley Act because it was backed by then-U.S. Sen. Bill Bradley (D-NJ), a former NBA player. Then-NBA Commissioner David Stern told Congress during hearings in 1991, "The interstate ramifications of sports betting are a compelling reason for federal legislation."
Gaming leaders long saw legal sports betting as a way to connect Las Vegas to major events, such as the Super Bowl, college football bowl games and March Madness, as well as the NFL's regular season. Sports fans flocked to the only state in the U.S. where a person could legally wager on the games.
Kornegay, the top executive at the 30,000-square-foot SuperBook at the Westgate Las Vegas, realized Nevada was getting competition.
"There were a few operators that were not excited about it. They thought other states could be a threat," he said.
Former American Gaming Association executive Sara Slane, who helped spearhead the Washington, D.C., trade organization's grassroots support for overturning PASPA, said certain AGA board members from Nevada did not initially favor adding sports betting rivals in other states.
But they realized there were benefits to blunting the offshore illegal sports betting market, which, operating without legal competition, was estimated to be siphoning hundreds of billions of dollars from U.S. gamblers. Last fall, the AGA released a study showing illegal gambling, including online sportsbooks and casinos, and unregulated slot machines, was taking an estimated $511 billion annually in wagers.
"The hypothesis when we first talked about this back in 2016 and 2017 was that this would be an uplift for the entire industry," said Slane, now a national sports betting consultant whose client list includes the NHL, New York Jets and Madison Square Garden.
"The compelling point was when the industry representatives from Las Vegas looked at the size of the illegal market and this whole misnomer around having a monopoly quickly faded," Slane said. "The operators had that foresight and are now invested in many other states."
Kornegay said the SuperBook, which opened in the mid-1980s, built a database of customers throughout the U.S. since its inception.
"We decided to look at this as an opportunity to expand the SuperBook brand," he said.
Similar conversations took place in Strip resort corporate board rooms.
The consensus was that if legal sports betting was expanding nationwide, then Nevada gaming companies should be at the forefront of the growth not only to tap into what they all expected would become a lucrative business, but to continue to bring their customers to the Strip.
Caesars Digital COO Ken Fuchs said corporate parent Caesars Entertainment launched head-on into sports betting because the company's eight resorts on the Strip would have a new way to link with its casino business in 15 states by expanding Caesars Sportsbook.
"Caesars did a number of different things as an enterprise that allowed us to connect brick-and-mortar casinos to digital products," Fuchs said. "We went really hard at sports betting because we knew that bringing a customer in through a digital sportsbook or physical sportsbook, they are going to [eventually] come to Las Vegas."
In the five years since PASPA was overturned, 33 states and Washington, D.C., have legal sportsbooks in commercial and tribal casinos, sports venues or through online wagering platforms. Four more states have legalized sports betting but are awaiting regulations to be drafted or legal challenges to conclude before launching. Six more states have pending legislation or are looking to qualify ballot initiatives in the 2024 election.
But the growth is just beginning. Some of the nation's largest states are still on the sidelines.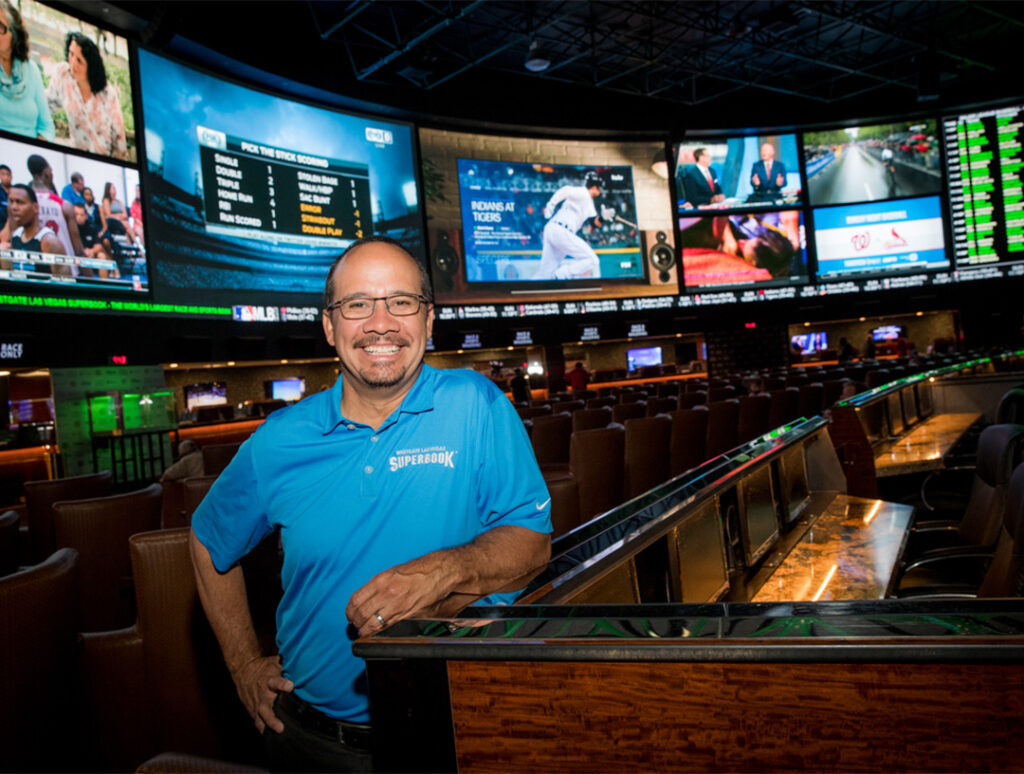 $220 billion bet on sports
Sports betting's rapid expansion is well-documented. Since May 2018, the AGA said the betting public has legally wagered $220 billion on sports nationwide.
In 2022, more than $93.2 billion was bet on sports nationally, with operators collecting more than $7.5 billion in pretax revenue. According to Southern California advisory firm Eilers & Krejcik Gaming, New York led the nation with $16.3 billion in sports wagers, followed by New Jersey with $10.9 billion and Illinois with $9.8 billion.
In a study released last week, the AGA said 57 percent of American adults live in legal sports betting states and 77 percent support sports betting legalization in their home state.
"American adults have always enjoyed betting on sports, and overwhelmingly value the ability to bring their action into a legal market, close to home," AGA CEO Bill Miller said.
Meanwhile, nationwide legalization hasn't dried up Nevada's sports betting business.
According to the Gaming Control Board, Nevada had the nation's fourth-highest sports wagering figure in 2022 with $8.7 billion, a 7 percent increase from 2021 and the second straight year the state's sports betting industry topped $8 billion in bets.
Pretax revenue from sports wagers in Nevada was a record $446.7 million, a less than 1 percent jump from 2021. The figure was the seventh largest of any state. New York's $1.4 billion was the highest revenue total.
The AGA said the nationwide revenue from sports betting during the past five years equated to $3 billion in state and local taxes. Gaming revenue is taxed differently state by state. The Nevada gaming tax is 6.75 percent of revenue.
Eilers & Krejcik analyst Chris Krafcik said Las Vegas, while no longer the nation's sports betting revenue leader, will always be considered America's sports betting capital.
"It boasts a level of destination appeal for sports bettors that other states simply cannot match," he said. "We can see that dynamic reflected in Nevada's growing sports betting handle [wagering]," adding that $8 billion in each of the last two years came "amid a rapidly expanding U.S. sports betting market."
From October 2021 through January 2022, Nevada sportsbooks took in $1 billion or more in wagers, the highest four single-month totals in state history with no other months before or after reaching that mark. January 2022 was the highest-ever single-month total with more than $1.1 billion.
"Nevada has fallen down the rankings in terms of market size, but we still view the state as the center of gambling in the U.S.," JMP Securities gaming analyst Jordan Bender said. "Las Vegas sportsbooks offer a unique experience not available outside the gambling mecca, including for large events like March Madness and the Super Bowl."
Through the first three months of 2023, the control board said sports wagering is down almost 12 percent from a year ago but revenue is up 15 percent.
Truist Securities gaming analyst Barry Jonas said when Nevada's sports betting industry flourished in the initial years after PASPA was repealed, a thesis that Las Vegas visitation would dry up was tossed aside.
"Why would someone travel thousands of miles to watch and wager on March Madness, when they could accomplish that someplace closer to home?" Jonas said of a question he was asked by investors. "The answer, of course, is what makes Las Vegas so special — the experiential element and diversity of attractions, both gaming and especially nongaming."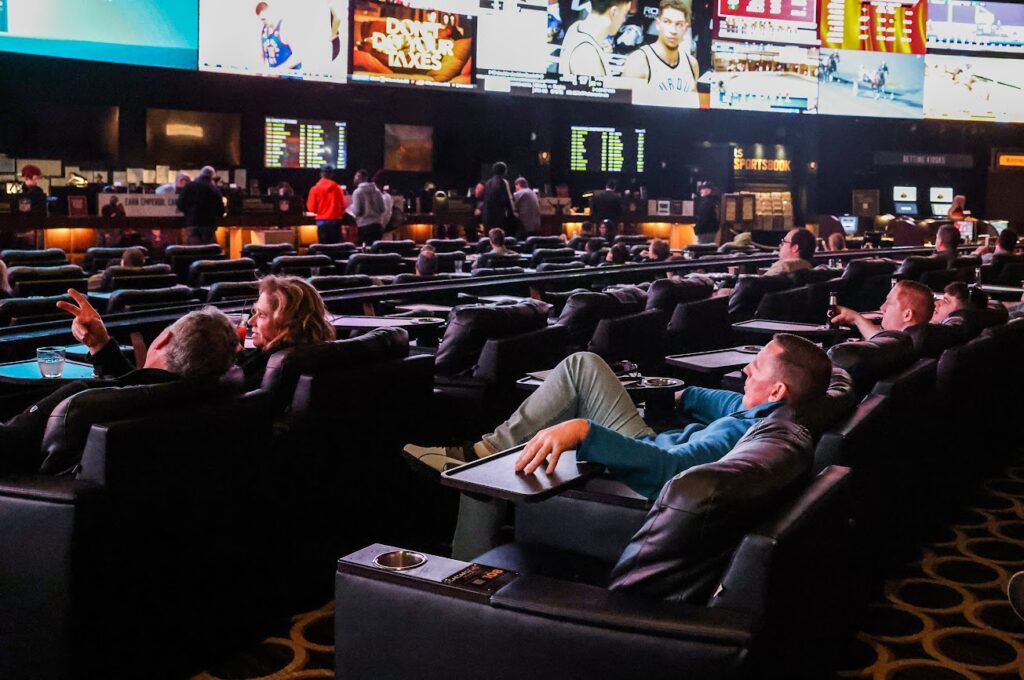 Nevada takes on the nation
The ink wasn't dry on the ruling when Nevada sports betting companies jumped into the expanding landscape. Joe Asher, who was CEO of William Hill U.S. when the Supreme Court accepted the case in December 2017, said the industry immediately began preparing for legalization.
"Once the court took [the case], we figured they were going to overturn PASPA," said Asher, who is now president of sports betting for International Game Technology. "Why would they take on the case if they were just going to agree with the [U.S.] Third Circuit [Court of Appeals]?"
That's the reason Delaware, where William Hill operated limited football-only parlay cards offered to customers at the state's racetrack, was the first state to launch in June 2018, less than a month after the ruling. Delaware was exempted from the PASPA ban because it offered parlay cards before the 1992 law was enacted.
"We had everything ready to go," Asher said, which allowed William Hill to become the first Nevada company to operate a sportsbook outside the Silver State.
The idea of Nevada gaming operators bringing their expertise into other U.S. gaming states was first proposed more than a decade ago by Bo Bernhard when he was executive director of UNLV's International Gaming Institute. In a research paper, he compared Las Vegas to Houston, which capitalized on its expertise in the oil industry by exporting its knowledge to international markets, thus returning profits to Texas.
"Sports betting is a great example of Las Vegas exporting its intellectual capital," said Bernhard, who is now UNLV's vice president of economic development. "I think it's safe to say that sports betting exposed a whole new group of potential customers to the product."
In 2021, Caesars bought the European parent of William Hill US for $3.7 billion, eventually selling all but the American business. The move facilitated Caesars Sportsbook's development of operations in 30 states that involve the company's casinos as well as casinos owned by other operators.
In Washington, D.C., Caesars operates a sportsbook at Capital One Arena, which was the first sports venue with a betting operation in the U.S. The company also has sportsbooks at Rocket Mortgage Fieldhouse in Cleveland and Chase Field in Phoenix.
"Our partners like it and it gives us a presence in those arenas. We think it's a fantastic customer experience," said David Grolman, senior vice president of retail operations for Caesars Sportsbook.
In 2018, MGM Resorts International and United Kingdom-based Entain Plc developed BetMGM. The operation is now in 21 states, including eight states where MGM has casinos. BetMGM operates a sportsbook outside State Farm Stadium in Phoenix and near Nationals Park in Washington, D.C.
Caesars Sportsbook and BetMGM are consistently among the top four sports betting operators in any given state when monthly wagering figures are disclosed.
Other Nevada casino companies found success on a smaller scale, including Wynn Resorts, whose WynnBet brand is in 10 states. SuperBook is in eight states following its recent launch at Camden Yards Stadium in Maryland. Circa Sports, operated by downtown casino owner Derek Stevens, will be in four states once its sportsbook opens this summer in Waukegan, Illinois, at a casino operated by Las Vegas-based Full House Resorts.
Jonas said the dynamics nationally made legal sports betting a competitive environment where a handful of brands have spent billions of dollars creating new technology and building awareness through advertising and promotions.
"Smaller players from Nevada and elsewhere are seeing challenges given the business really needs size and scale to hit profitability," Jonas said.
Boyd Gaming took a different approach. In 2018, the company acquired 5 percent ownership of sports betting operator FanDuel to manage the activity at its regional casinos. Ohio's legalization in January gave the alliance eight states. Boyd operates sports betting at its Nevada casinos.
"It's been a great partnership over the years [and] created a very profitable online business for us," said Boyd CEO Keith Smith.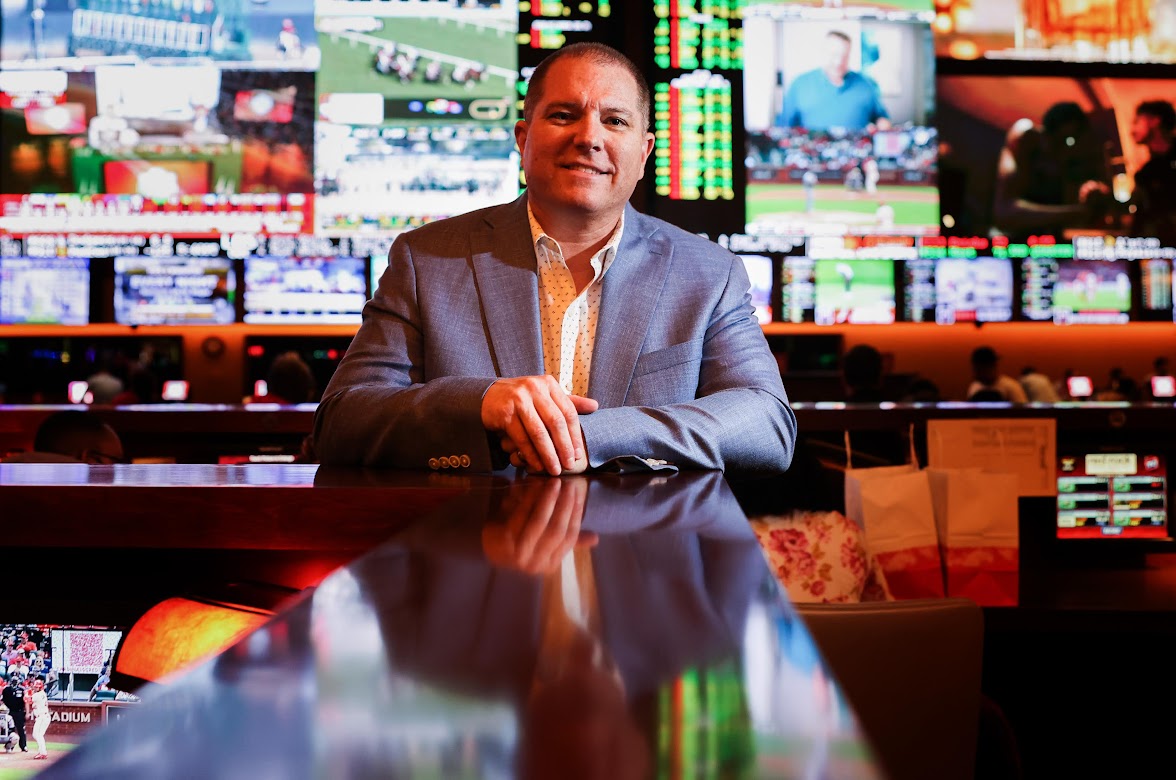 Nevada sportsbooks break records
Starting in 2010, Nevada sportsbooks ran off a string of 10 straight years of increased wagering totals.
In 2019, with 14 states having legalized sports betting in two years, Nevada sportsbooks reported a record $329.1 million in gaming revenue on more than $5.3 billion in wagers.
The pandemic interrupted sports betting in 2020, with the NCAA canceling the men's basketball championship — one of the highest annual wagering events — while Major League Baseball, the NBA and the NHL reduced their total number of games.
A year later, Nevada sportsbooks rebounded with $8.1 billion in wagers and $445.2 million in revenue. Both record-setting figures were snapped in 2022.
The operators of Nevada's two largest locals casino businesses, Red Rock Resorts and Boyd Gaming, said nationwide expansion brought more business to their properties from out-of-state customers.
Red Rock Vice President of Sports Betting Jason McCormick, who has been with the company for 21 years, said Las Vegas sportsbooks offer a far different experience than retail sportsbooks in other states.
"There is nothing like walking into a Vegas sportsbook for events like March Madness or an NFL Sunday when we have eight games on giant video screens," McCormick said. "You can't get that anywhere else."
He added that sportsbooks in many other jurisdictions are "essentially sign-up locations and wagering locations with kiosks and not a destination sports book." At locals properties, McCormick said the betting ticket writers know their customers and have built relationships with the players.
"That's why they continue to come back on a daily basis," McCormick said.
Red Rock has casinos only in Nevada. Boyd Gaming has 17 regional casinos where customers are gaining an understanding of sports betting through the FanDuel partnership. Some of Boyd's players have found their way to Las Vegas.
"As sports betting grows around the country, we're appealing to a whole new segment," said Boyd Vice President of Race and Sports Bob Scucci, who has been in the business for 34 years. "We have a wider audience covering all demographics. I think some of that is attributed to the exposure to sports betting."
Scucci said technology has allowed Nevada to expand its wagering options, including in-game betting by customers on mobile accounts, especially during football season. The control board calculated that mobile wagering accounts for between 60 percent to 70 percent of all sports bets monthly.
McCormick said Red Rock's new technology for the company's STN Sports platform, which could be in place later this year, will offer additional in-game options and other wagering enhancements.
"I think the growth we've seen in Nevada is directly related to both the expanded betting menu through mobile and the exposure of sports betting to new people," Scucci said. "You can see the correlation there along that timeline."
While Red Rock and Boyd upped their sports betting offerings, Caesars and MGM reinvested into their Las Vegas sportsbooks, bringing them under the Caesars Sportsbook and BetMGM brands.
The 2020 opening of Circa Casino Resort brought a three-level, 1,000-seat Circa Sportsbook downtown.
"For destination gaming, Las Vegas will always be the center of the bullseye in our view," said Macquarie Securities gaming analyst Chad Beynon. "It has also remained the place for destination sports betting."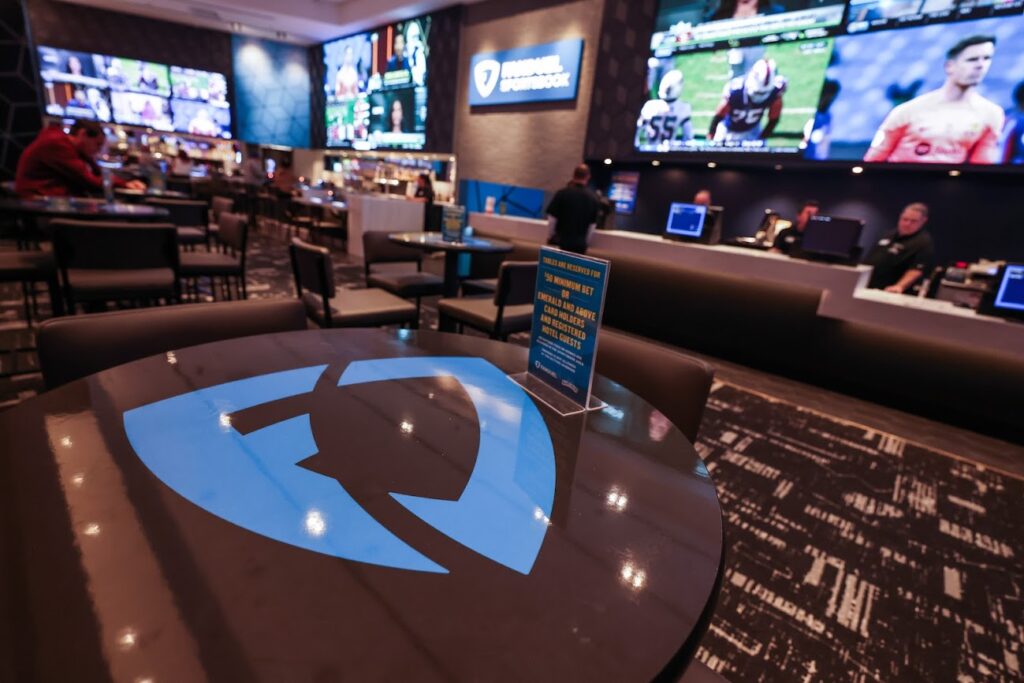 Two sports betting giants not in Nevada
Missing from Nevada are DraftKings and FanDuel, considered the top two sports betting providers in the U.S. because they combine for upward of 70 percent of total wagers and revenue in most states.
The companies offered daily fantasy sports in the state until October 2015, when Nevada gaming regulators decided daily fantasy was a form of sports wagering and companies had to be licensed as sports betting providers — effectively shutting down their operations.
In January, FanDuel and Boyd rebranded the sportsbook at the Fremont Hotel Casino as a FanDuel lounge operated by Boyd. FanDuel was licensed by Nevada gaming regulators last year, but the company does not have plans to operate a sportsbook in the state.
DraftKings also has a nonbetting presence in Nevada through a four-story, 90,000-square-foot office building at UnCommons, a mixed-use complex in southwest Las Vegas. The company, which is headquartered in Boston, expects to hire as many as 1,000 employees in Las Vegas covering customer service, compliance, recruiting and gaming support.
DraftKings has a deal with Golden Nugget to rebrand sportsbooks at the company's casinos in Atlantic City, Louisiana and Mississippi. The Golden Nuggets in Las Vegas and Laughlin are not part of the agreement.
Analysts said Nevada's reluctance to approve remote registration for mobile sports wagering — which requires customers to sign up for accounts in person — is keeping the two companies away.
Still, Beynon said he's surprised DraftKings and FanDuel have stayed out.
"We continue to hear that Nevada citizens are seeking an experience currently not offered, yet it doesn't appear that they'll get that in the near term," Beynon said.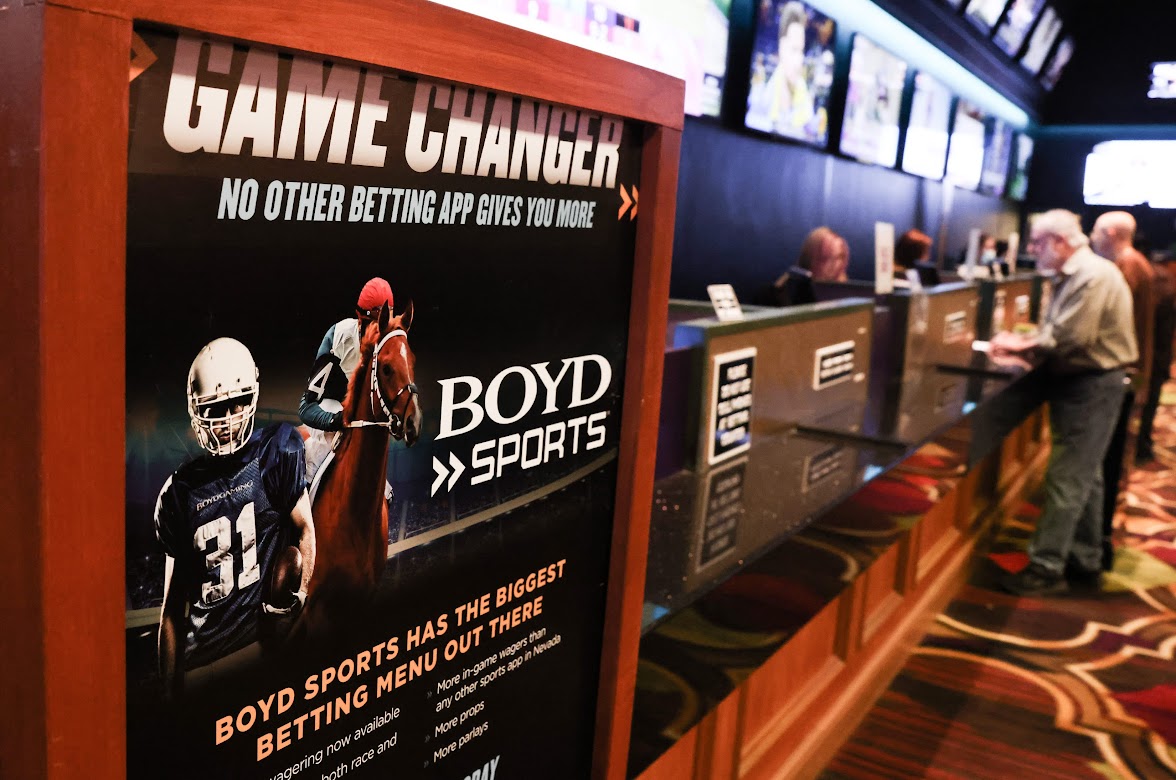 More competition ahead
The rapid speed in which sports betting expanded outpaced commercial casinos — in 33 states — and tribal gaming — in 29 states — both of which took more than two decades to reach their totals. The potential of 10 more states adding sports betting could mean 43 of the 50 states could legally offer the activity in the next few years.
"The familiarity of sports betting resonated well with state legislators, and the incremental tax revenue is supporting state budgets," Bender said. "Five years after the repeal of PASPA, states are still working toward getting sports betting bills over the finish line, and we believe this effort bodes well for the legalization path in the coming years."
But the roster doesn't include the three most populated states: California, Texas and Florida.
Californians voted down two controversial sports betting ballot questions in 2022. Texas lawmakers are debating sports betting legislation, but time is running out on the state's biennial legislative session. Florida allowed the Seminole Indian Tribe to launch sports betting in 2021, but approval of the activity has stalled in federal court.
"I think there are paths but they are three big states that each have a unique set of circumstances and a unique set of stakeholders," said the AGA's Miller. "How each state works out new forms of gaming is really up to them."
Krafcik said legal sports betting will become a larger part of the mainstream U.S. in the next five years with "a deeper integration" between operators with leagues, teams and stadiums. He also expects ancillary businesses to have more involvement, including media companies, hotel chains and beverage companies.
He forecasted nationwide sports betting revenue at $8.6 billion this year and $14.7 billion by 2027.
"We cannot stress enough that from both a stakeholder/integration and a product/development perspective, U.S. sports betting is still very much in its infancy," Krafcik said.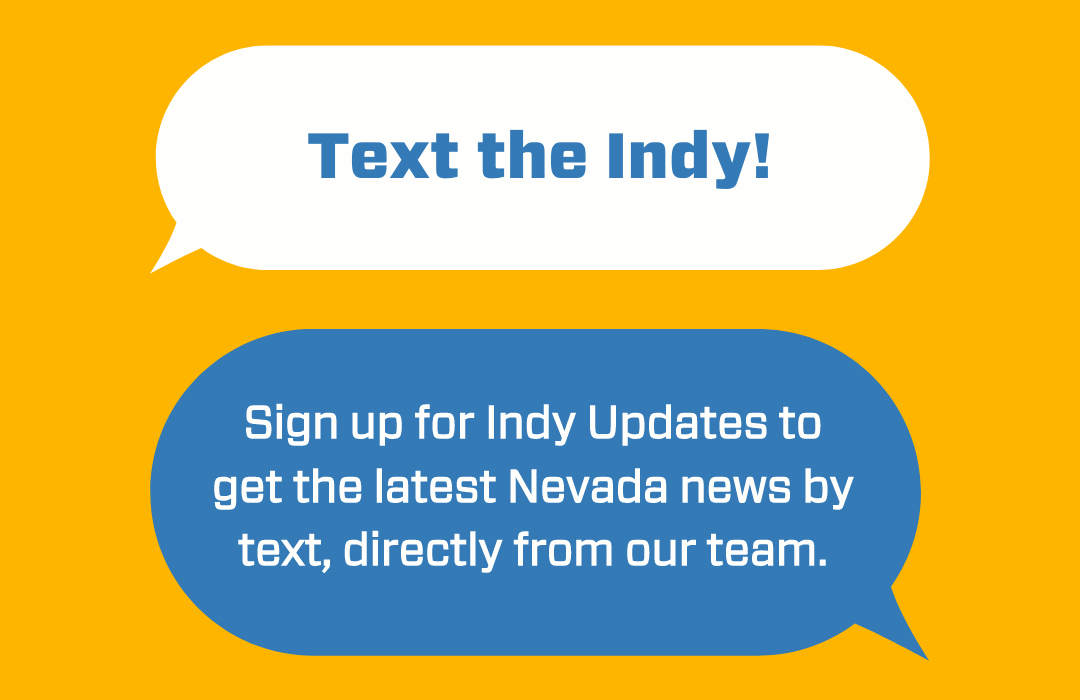 Featured Videos
Comment Policy (updated 4/20/2021): Please keep your comments civil. We reserve the right to delete comments or ban users who engage in personal attacks, use an excess of profanity, make verifiably false statements or are otherwise nasty. Comments that contain links must be approved by admin.