Nevada voters deserve an apology for 2020 election lies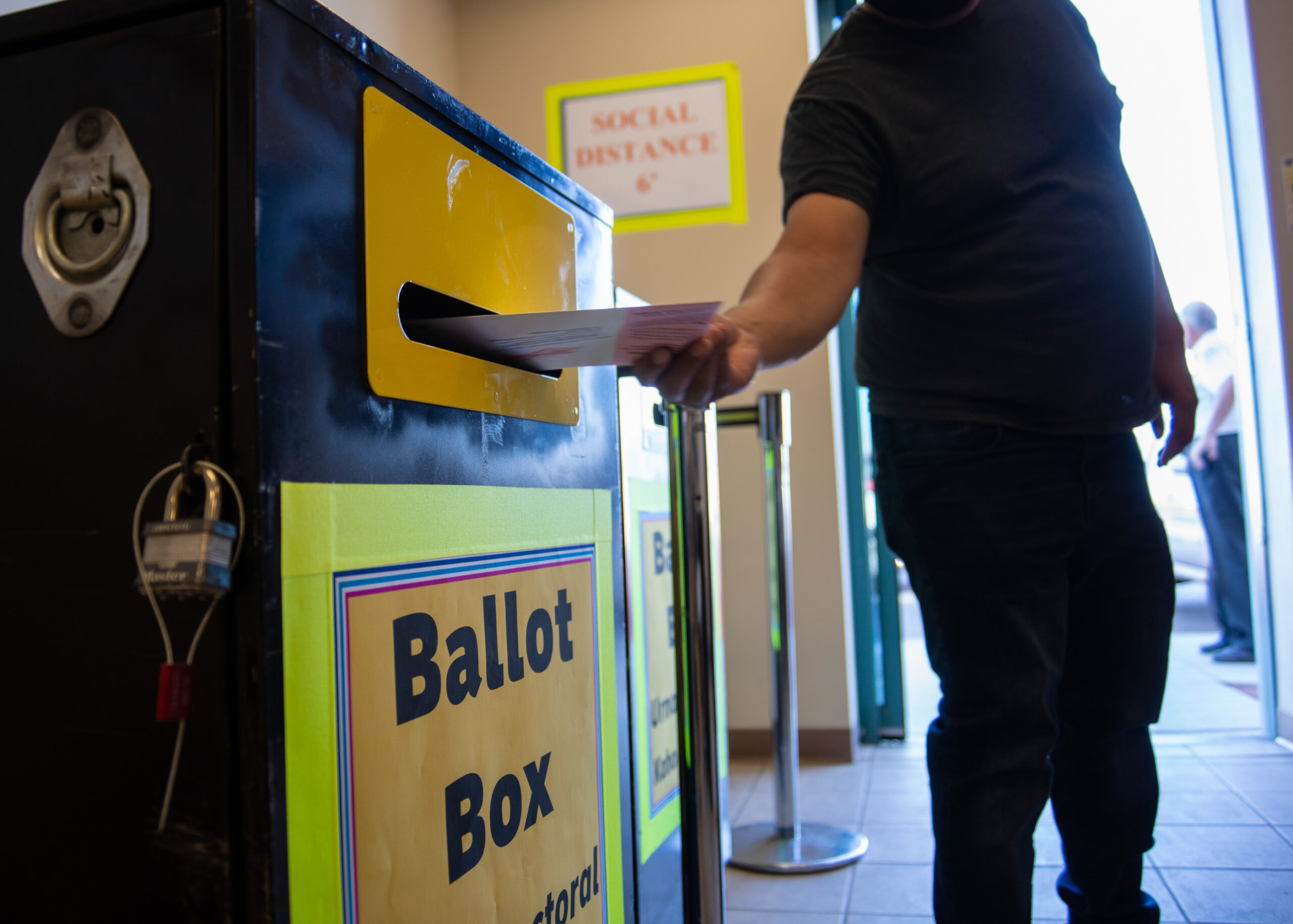 It seems like only yesterday that former President Donald Trump's White House Chief of Staff Mark Meadows was leading the chorus of election deniers and making a full-throated endorsement of Nevada secretary of state candidate Jim Marchant.
It was, in fact, in November 2021 during a Republican fundraiser at a Henderson country club that the two fraud promoters stood side by side with their thumbs up and their heads high. The cult of election denialism was in full bluster that night.
It was an evening that saw Republican State Party Chairman and snake oil salesman supreme Michael McDonald once again malign Secretary of State Barbara Cegavske for working "on behalf of Democrats." Cegavske was only doing her duty when she stood up to the GOP's shameful campaign of prevarication. The longtime Republican refused to buckle to the pressure in the wake of the 2020 election despite a series of specious lawsuits and increasing vitriol from the party to which she had dedicated so much of her public life. She endured an insulting censure from Nevada's Trump zealots.
Marchant's unwavering fealty toward Trump makes him an easy character to parody. Write off his candidacy as a joke if you'd like, but remember that he lost to Cisco Aguilar in the 2022 general election by just 2.28 percent of the vote. Such was the staying power of Trump's big lie about widespread voter fraud. It's undeniably clear that most of its traveling promoters knew that was so when they graffitied our democracy in battleground states with their character assassinations and slanders about election department heads and voting machines.
In Georgia, Trump and 18 others have been charged with criminal racketeering in attempting to overturn the state's presidential election results. Three of the former president's lawyers have already pleaded guilty as part of generous plea agreements that don't require them to serve prison time despite their integral roles in the alleged scheme.
This past week, ABC News reported that Meadows has testified under a grant of immunity before a grand jury in Trump's federal prosecution for allegedly attempting to unlawfully retain power and "spread lies" about the propriety of the 2020 election. Meadows has admitted he knew Trump was being dishonest with the public when he immediately claimed victory on election night and then continued his claims of fraud, according to the news report. Meadows has also acknowledged that it was obvious that Trump hadn't won, a fact that did nothing to deter Meadows from joining the chorus of lies in the weeks and months that followed.
Meadows was in full bullshit mode in November 2021 when he hit Southern Nevada stumping for Trump-backed candidates, especially Marchant, who was seeking an office that plays a central role in protecting election integrity in the state. He called Marchant "one of the most tenacious guys I know." For his part, Marchant was a rabid election denier and was on hand when Nevada's contingent of fake electors posed in Carson City on Dec. 14, 2020. He also promoted a traveling group of self-styled "experts" who claimed to have found weaknesses in Nevada's voting machines.
That night in Henderson, according to published reports, Meadows delivered what was purportedly a personal message to the crowd: "President Trump wants Nevada to know that he loves Nevada. He is going to win Nevada the next time, and he won the last time."
Setting aside the fact Trump lost Nevada to Joe Biden by more than 33,000 votes, ABC News has now reported what anyone with an ounce of sense has known for a long time: Mark Meadows, one of the few sophisticated political loyalists in the Trump White House, knew his boss had lost in 2020 and promoted the big lie anyway.
Who knows, maybe someday he'll get around to apologizing.
As part of its plea agreement strategy, Georgia prosecutors have required defendants taking a deal to write a letter of apology to the voters of the state they had attempted to mislead. It probably seems like a small gesture given the scale of fraud attempted, but I think it's a good thing. The people of Georgia deserve an apology and a whole lot more.
Although no Nevadans have been charged despite their almost giddy participation in Trump's massive election fraud scheme, it would be refreshing if even one of them had the strength of character to publicly apologize to voters in this state for the deception they perpetrated and the damage they've done.
John L. Smith is an author and longtime columnist. He was born in Henderson and his family's Nevada roots go back to 1881. His stories have appeared in Time, Readers Digest, The Daily Beast, Reuters, Ruralite and Desert Companion, among others. He also offers weekly commentary on Nevada Public Radio station KNPR.
Updated at 8:25 a.m. on 10/30/23 to correct Barbara Cegavske's title.
The Nevada Independent is raising $200,000 by Dec. 31 to support coverage of the 2024 election.
Tax-deductible donations from readers like you fund this critical work.
If you give today,your donation will be matched dollar-for-dollar.
Give + Get Matched
Featured Videos