People cast their votes at the Gilbert H. Hood Middle School in Derry, New Hampshire Tuesday, Feb 11, 2020. (Amanda Sabga/The Nevada Independent)
New Hampshirites grateful to be voting in nation's first primary, not caucus
February 11th, 2020 - 1:20pm
BEDFORD, N.H. — On the eve of Tuesday's primary, many New Hampshirites were still unsure who they were going to vote for.
One was set on former Vice President Joe Biden. Another was torn between Biden, former South Bend Mayor Pete Buttigieg and California billionaire Tom Steyer. Two more still were deciding between Buttigieg and Vermont Sen. Bernie Sanders.
But there was one point of agreement between them: They were sure happy to be voting in a primary, and not a caucus.
"It was so disappointing looking for the overall, looking at the overall election in the end," Gene Unsworth, 50, said at a Buttigieg rally in Milford Monday evening, referring to Iowa's problem-plagued contest last week.
"I feel embarrassed, I really do," her friend Kimberly Lavine, 49, chimed in. "It's perception. It really is. We can't look like we're not functioning."
Full results out of Iowa's first in the nation caucus weren't released until Thursday, three days after the caucus, in part because of what Iowa Democrats described as a coding error within an app precinct chairs were using to report results. Nevada Democrats have been quickly redesigning their caucus process in the last week because they, too, had planned to use apps to carry out their Feb. 22 caucus designed by the same company used in Iowa.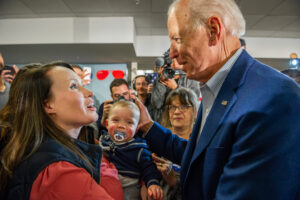 Ron Caprario, a 67-year-old radiology tech from Sanbornton, was at a loss for words.
"What are you going to say?" Caprario said, interviewed before a Biden event in Gilford. "I think if they just go to a primary system. I think it's just outgrown that type of a process."
Caprario added he is "very glad" to vote on paper ballots in New Hampshire.
"I'm a big supporter of that," he said.
Nevada Democrats announced to campaigns Monday evening that they would be using a scannable paper ballot for their four-day early voting period after scrapping the app-based process they had planned to use in the wake of the Iowa caucus.
It's not only New Hampshirites who are perplexed about the caucus process and nervous about what Iowa foretells for Nevada's Feb. 22 caucus later this month.
Rob Mays, who came from Garrison, New York to New Hampshire to volunteer for Sanders, expressed concerns over the fairness over holding a caucus as opposed to a primary.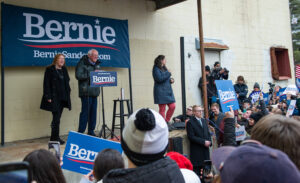 "It just seems so tenuous, like so much could go wrong. It just doesn't seem as democratic as if it was just a straight on, basic election," Mays, 67, said before a Sanders canvass launch in Hudson. "I think this system has probably messed up in the past, it's just been exposed now since such a spotlight is on it."
Those in the Granite State do, however, like their first in the nation primary status. State law here requires their primary to be the first in the nation, and Secretary of State Bill Gardner last year wouldn't rule out moving the state's primary up to December to protect its coveted first primary status. Iowa only gets away with its first in the nation nominating contest earlier because it's a caucus, and any move to change it to a primary would likely face pushback from New Hampshire.
Like residents of the Hawkeye State, New Hampshirites are selfishly proud of their early state status. But they do acknowledge that their state does, like Iowa, suffer from a lack of diversity. Roughly 90 percent of the state's population in Iowa and New Hampshire is white, while Nevada, the most diverse of the four early nominating states, is a little less than 50 percent white, 30 percent Latino, 10 percent Asian American and Pacific Islander and 10 percent black.
"It's skewing everything because we're so white," Lavine said.
But another couple from Gilford acknowledged those concerns, but were less sure about changing them.
"I think it's good sometimes to stick with the process rather than make it even more crazy and unpredictable — people fighting over who's going to be the first," said Angie, an attendee of the Biden rally in Gilford who declined to give her last name. "We're like sticking your toe in the water there to see if it's warm. Not committing, just trying to check it out. Sticking your toe in the freezing cold water of New Hampshire."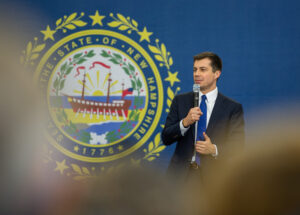 And New Hampshirites take their civic responsibility  — helping to pick the next presidential nominee — seriously, perhaps even more so in the wake of Iowa's disastrous caucus this year, which muddled the narrative about who the frontrunners exactly are. The majority of people The Nevada Independent interviewed at events across the state on Monday had not yet decided who they were supporting.
Lavine was leaning toward Massachusetts Sen. Elizabeth Warren early on in the cycle. But as of Monday, it was between Buttigieg and Sanders. Asked when she was going to decide between the two, she wasn't sure.
"The drive down here tomorrow?"
Stories
Candidate Trackers
Endorsements, Ads, Policies, Visits
& More
visit now
Comment Policy (updated 10/4/19): Please keep your comments civil. We reserve the right to delete comments or ban users who engage in personal attacks, use an excess of profanity, make verifiably false statements or are otherwise nasty.