New Laxalt TV ad campaign attacks Sisolak over rape test kit backlog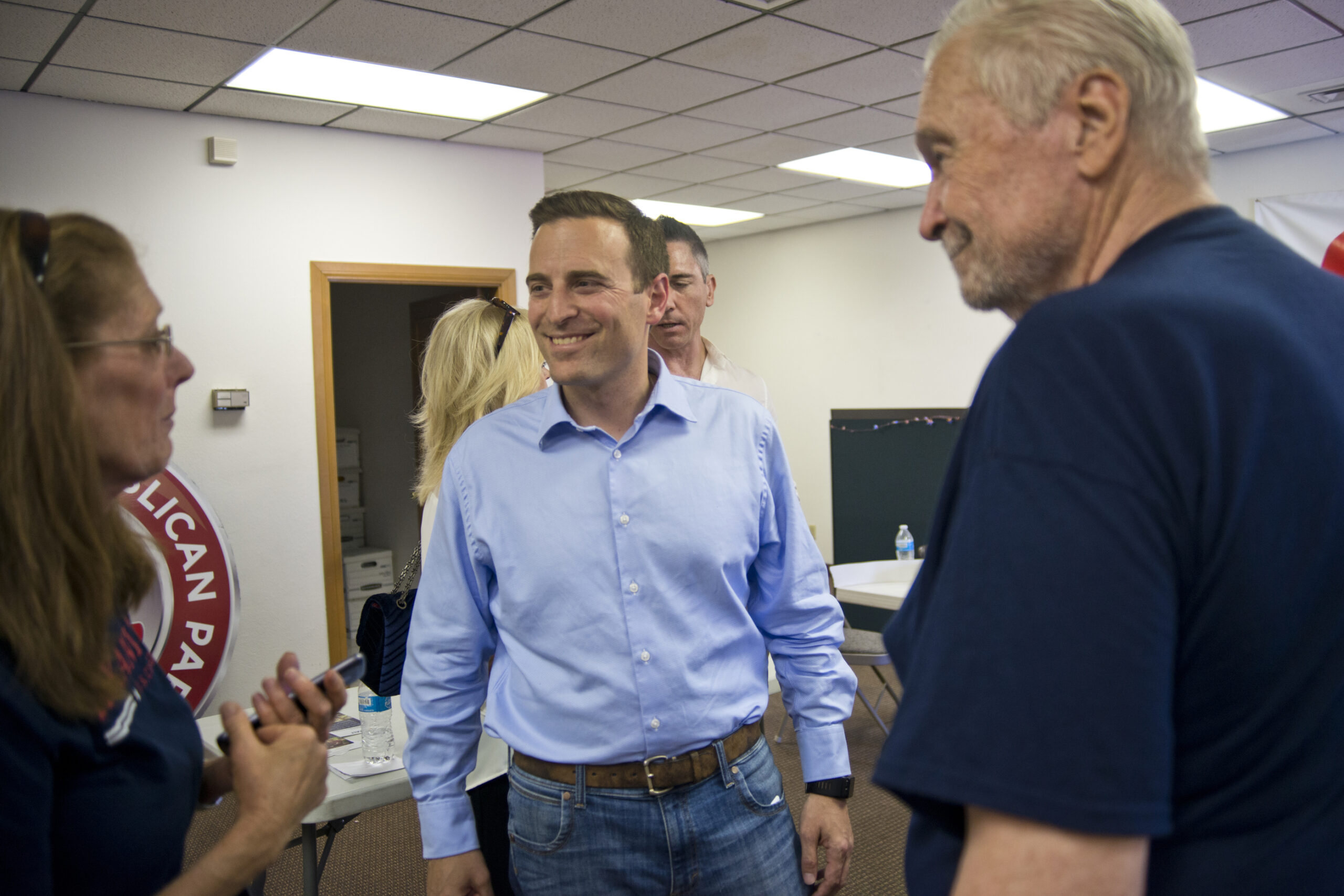 Republican gubernatorial candidate Adam Laxalt's new ad campaign blames his opponent Steve Sisolak for letting violent criminals get away with rape and cutting funding for victims.
A pair of new Laxalt TV and digital ads announced Monday seek to highlight Laxalt's work as attorney general to reduce a backlog in untested sexual assault evidence kits. One scrolls ever faster through stock images of women with their eyes blurred for privacy — some with tears streaming down their faces and others looking distraught — while ominous music plays in a minor key and a male narrator takes an accusatory tone.
"Under his watch, Steve Sisolak allowed the number of untested rape kits in Clark County to increase… by over three thousand," the narrator says, accusing Sisolak of cutting funding to rape victims while a counter flashes rapidly until it reaches 3,000. "Rape victims clearly weren't a priority to Steve Sisolak. We'll never know how many violent criminals got away with rape. But we do know who to blame, Mr. Sisolak."
Another ad starts with a hunched body double of Sisolak walking through a shadowy desert as somber music plays. Then, it switches to video of Adam Laxalt jogging in slow motion on a sunny road, wearing a shirt that reads "NAVY," as triumphant music ensues.
"Within months of taking office, Adam Laxalt worked with both parties and led a statewide effort to eliminate the rape kit backlog," the ad says. "The result: new arrests, justice for victims, and safer communities. Adam Laxalt is protecting Nevada."
The rape kit initiative and victims' issues have already been a prominent theme in the Nevada governor's race, and Laxalt — who has championed the issue of clearing the rape test kit backlog since taking office in 2015 — has sought to highlight the issue during his run for governor.
Sisolak's campaign shot back on the ad.
"Adam Laxalt is pathetically weak on women's issues," the campaign said. "Whether you look at how he stood by serial sexual predator Gerald Antinoro or dismissed Donald Trump's brags of assaulting women, Adam Laxalt would be a danger to women voters, and they know it; even a tasteless, wildly misleading ad like this one won't distract from that truth."
Here's a look at the facts behind the latest commercials:
The rape kit testing initiative
Laxalt took office in 2015, just as the federal Department of Justice's Bureau of Justice Assistance launched a nationwide effort to test old sexual assault evidence kits. The kits consist of biological samples collected from people who say they've been victims of sexual assault.
The agency announced in 2016 that it had doled out $38 million to jurisdictions in 26 different states through the Sexual Assault Kit Initiative (SAKI), including $1.9 million to Nevada in 2015. (To date, Laxalt's office has received $5 million in SAKI grants).
In 2015, Nevada had a backlog of 7,645 untested evidence kits, including some dating back decades. The reasons for the lack of testing are varied; sometimes the tests aren't done because victims choose not to pursue prosecution or some cases are resolved without the need for testing.
In other situations, cases are more difficult to solve — the defendant is unknown, for example, and it's gone cold. Laxalt's former assistant attorney general, Wes Duncan, explained in 2016 that cases where a defendant is identified and the victim wants to pursue the case, testing is prioritized.
"I don't want to misrepresent that there's a bunch of rapes that are occurring and people aren't being brought to justice," he told a Republican group, adding that cases in the backlog include ones "that are really old and they didn't have DNA technology, or perhaps they couldn't find the defendant, it was a stranger type rape situation, or perhaps a person that was just visiting Las Vegas may have been assaulted and they left, and they just wanted to put it behind them."
Funding was also a problem, with testing costing $1,000 to $1,500 apiece. An agreement brokered by the Manhattan District Attorney's Office and announced in 2015 ensured the kits could be tested at a discounted rate of around $675 apiece.
By midway through 2018, 6,367 of the Nevada kits had been sent to labs for testing, while 4,871 had actually completed the testing process, or 63 percent.
Out of those, the DNA has hit a match in 466 of the cases. At least 12 arrests have been made in Nevada as a result.
But his political opponents have tried to push back against the notion that Laxalt is standing up for victims. Democrat-aligned super PAC American Bridge made much of the fact that Laxalt was slow to renounce the endorsement of Storey County Sheriff Gerald Antinoro, who was accused of sexual misconduct, and that he's campaigned with President Donald Trump, who's also been accused of inappropriate activities.
Additionally, they've taunted Laxalt for falling behind pace on testing the kits. In 2016, he had said all the backlogged kits would be tested by the end of 2018, but he's since said the completion date would be 2019.
Law enforcement officials have acknowledged there's a "chronic undersupply" of labs and DNA technicians, and that a lack of a sustainable funding source apart from the periodic grants could cause the backlog to re-emerge.
"Ultimately, the counties must identify a source of permanent funding for the operation and maintenance of enhanced forensic testing facilities," Laxalt's office said in a proposal for more funding. "Until this occurs, backlogs will continue to accumulate and justice will be delayed for sexual assault victims."
The blame game over the backlog has been a theme in high-profile campaigns before. Senate Leadership Fund, a Super PAC affiliated with Republican Senate Majority Leader Mitch McConnell, ran similar ads attacking then-candidate Catherine Cortez Masto for having "failed rape victims" and not addressing the backlog during her tenure as attorney general.
County funding cut
One of the ads says that while the rape kit backlog grew, Sisolak "cut funding for rape victims' counseling services in Clark County."
The ads are referring to a reduction in "Services & Supplies" in Clark County's annual budget for "Sexual Assault/Emergency Medical Care." Funding for that line item was reduced by $50,000 between the 2013-14 and 2014-15 county budgets, which represents a 1.6 percent cut from the initial original $3.05 million budget. The final 2014 budget that included the cut was approved unanimously by the seven-member commission in May 2014.
The reduced $3 million annual budget line stayed in place until the county's 2017-18 annual budget, where it was increased by $1 million. The "Sexual Assault/Emergency Medical Care" category saw another half-million dollar increase and now amounts to $4.5 million in the county's 2018-19 budget.
Sisolak's campaign and a county spokesman didn't immediately provide an explanation for the $50,000 cut in 2014.
Disclosure: Steve Sisolak has 

donated to The Nevada Independent. You can see a full list of donors here.
Comment Policy (updated 4/20/2021): Please keep your comments civil. We reserve the right to delete comments or ban users who engage in personal attacks, use an excess of profanity, make verifiably false statements or are otherwise nasty. Comments that contain links must be approved by admin.