New year brings enrollment declines, shifts between virtual and in-person learning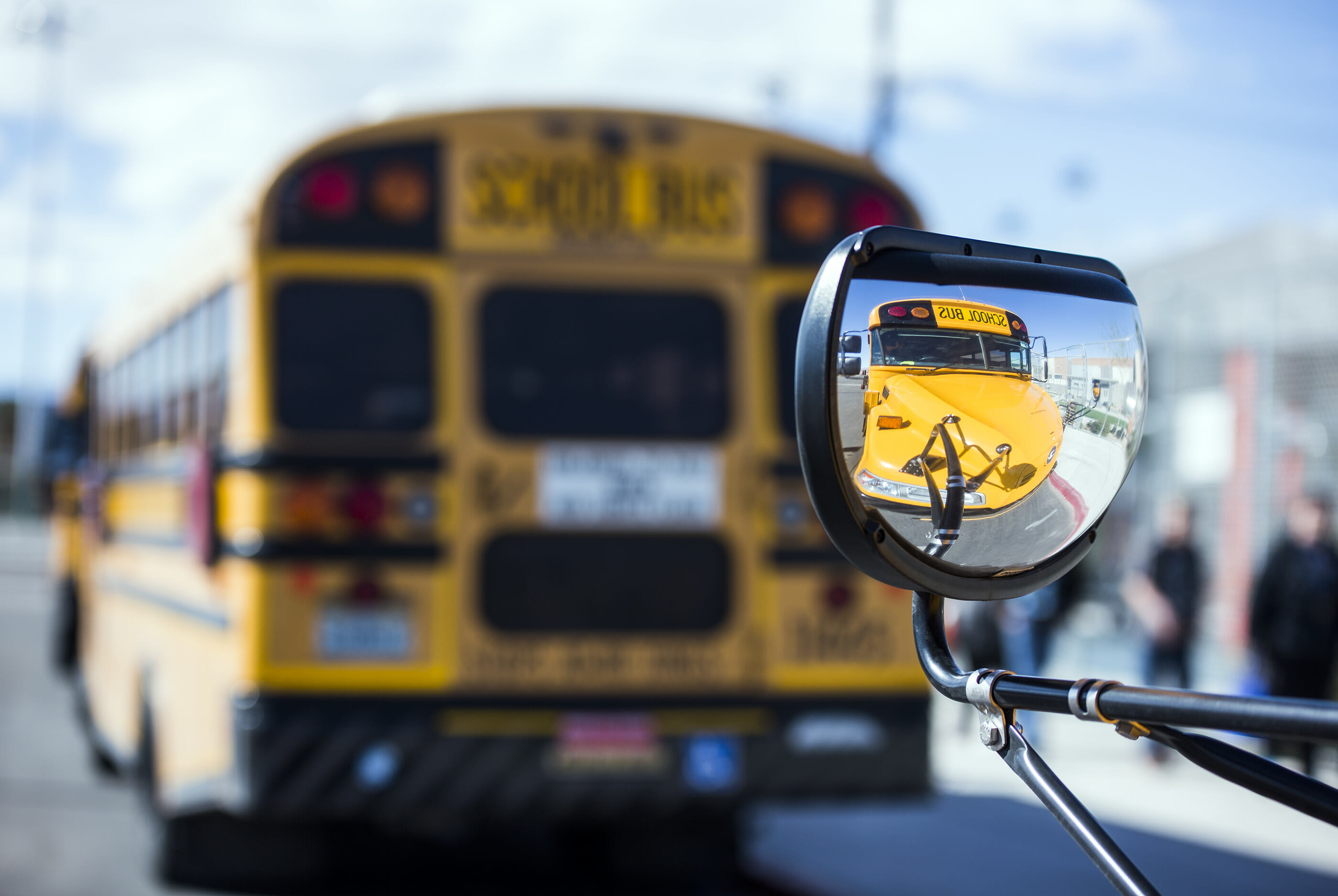 Smoke-filled air settling over northwest Nevada because of raging wildfires has created a yo-yo effect for the Washoe County School District.
Several times this academic year, including on Friday, poor air conditions have forced the district back into distance education mode. But the dense smoke isn't the only factor causing shifts from in-person to virtual learning.
When the Reno-area school district unveiled its reopening plan amid the COVID-19 pandemic, it gave families the option of sending their children to school — five days in person for elementary students and a hybrid model for middle and high schoolers — or enrolling them in a full-time distance education program. But nearly a month into the new school year, a steady stream of students have switched gears.
As of Thursday, 1,954 Washoe County students had pivoted from in-person school back to remote learning, according to district data. Conversely, 1,219 students who started the year doing distance education have moved to an in-person classroom setting.
The requests are spread out across the district, so COVID-19 cases at various schools don't appear to be a primary factor, said Ben Hayes, the district's chief accountability and assessment officer. As of Friday, the district had reported 31 COVID-19 cases in 25 schools. All of those cases involved a person who was on school grounds and later tested positive.
"I expected some (movement) at the beginning of the year," Hayes said. "It will be interesting to look over the next month to see what happens."
The student migration pattern is one of several enrollment trends amid the pandemic in Nevada's K-12 education system. For instance, the Washoe County and Clark County school districts are seeing overall enrollment declines, while charter schools are thriving. Uncertainty — and debate — about school reopening plans consumed much of the summer. Parents, meanwhile, grappled with their own decision: What type of schooling environment would best suit their children and family given concerns ranging from health and safety to money and work schedules?
Early enrollment numbers are providing some answers to that question. In the Washoe County School District, about a third of students (20,951) enrolled in the distance learning option. The other two-thirds of students opted for in-person instruction, with 20,331 children attending school five days a week and 20,441 middle and high school students enrolled in the hybrid model, in which they alternate days attending school in person and working remotely.
Beth Martin is a Washoe County parent who already made a change to her child's learning model. Originally, she and her husband chose distance learning for their third- and sixth-grade sons. Martin, a teacher at Anderson Elementary School in Reno, figured in-person instruction wouldn't last more than a few weeks if COVID-19 cases spiked. She thought it would be less of a hassle all around if her boys started the year virtually.
But it soon became evident that distance learning wasn't working for her third-grader, who was enrolled in a gifted and talented education program. It required too much time sitting in front of a computer screen and listening to lectures.
"He was miserable," she said. "He hated every bit of it."
Three weeks ago, her son transitioned back to an in-person classroom, she said. Her sixth-grade son may do the same after fall break next month.
Meanwhile, Martin said she has seen enrollment changes in her own fourth-grade classroom, which added three students last week. She doesn't fault the school district, which is underfunded and dealing with an unprecedented situation, or parents, who are tasked with making difficult decisions while balancing the health and economic needs of their families.
"It's an overwhelming decision on both ends," she said.
The Washoe County School District is allowing families to switch from in-person to distance learning or vice versa, but the change may take up to two weeks because of scheduling logistics, Hayes said. So far, the number of students requesting a shift hasn't been too much of a staffing burden, he said.
Overall, the district's total enrollment stands at 61,723, which is a 3.5 percent decline compared with the 2019-2020 school year. Hayes said district officials are examining what led to the decrease, though he suspects a variety of factors contributed. Plus, the district tends to see an enrollment bump after Labor Day every year.
"Some may have gone to a charter school," he said. "Some may have gone to a homeschool. Some may just be waiting it out."
The Clark County School District, which started the year with distance education only, has seen a similar enrollment drop. The Las Vegas-area district reported a funded enrollment number of 309,668 students as of Sept. 2. That's about 3 percent less than last year.
Funded enrollment refers to the state per-pupil dollars the district receives. The district uses a "count day," which was Friday, to determine staffing levels, but the state funds school districts based on average daily enrollment.
"Therefore, it is important that parents register their children for school and ensure they are enrolled and attending the distance learning programs each day of the full year," Clark County School District officials wrote in a recent news release.
A portion of Clark County's enrollment decrease may be attributed to parents forgoing the public school district in favor of a homeschooling option. The number of parents notifying the school district of an intent to homeschool their children has surged in recent months.
If parents decide to homeschool their children, they must fill out a "notice of intent to homeschool" form and submit it with their designated district. It's a one-time filing for children between the ages of 7 through 18.
In Clark County, the number of those forms submitted in recent years has been on an overall upward trajectory — going from 1,700 during the 2015-2016 school year to 2,244 last year. But already this academic year, 3,175 forms have been submitted.
Danica Hays, interim dean and professor at UNLV's College of Education, said some parents may have gone the homeschooling route out of necessity if they didn't think they could make distance education through the district work.
"A lot of people aren't able to maintain a very structured, synchronous school experience, so they're turning to homeschooling options for the year," she said.
Other parents may be charting their own waters, propelled by the belief they can provide a better learning experience than the virtual education model offered through the district. The pandemic has accelerated the emergence of "learning pods" or "microschools," which can fall under the umbrella of homeschooling.
While Nevada's two urban school districts appear to be experiencing enrollment declines, the State Public Charter School Authority has seen the opposite. The Charter Authority's executive director, Rebecca Feiden, said she expects statewide enrollment to fall between 52,000 and 53,000 students this school year. That's up from 49,420 students last year.
Feiden attributed the increase to several new charter schools opening as well as planned expansions of existing ones. She said it's not tied to any large influx of students coming from traditional public schools. Any significant enrollment increase at charter schools would need to be approved by the Charter Authority board.
"This is right around where we kind of projected we would land," she said.
Education analysts say the pandemic's effect on K-12 enrollment trends may not be known for months, if not years, down the line. Will families who opted for virtual learning or homeschooling send their children back to brick-and-mortar schools eventually or maintain the path triggered by COVID-19?
"I think it's going to be fascinating to see what happens a year or two from now when hopefully life gets back to normal," said Kenneth Retzl, director of education policy at the Guinn Center.
Hays, the interim dean at UNLV, said she expects to see school district enrollment numbers stabilize over time, especially as the economy recovers and families move back for jobs. But she hopes any positive education innovations that have sprung from the pandemic will be cultivated moving forward.
"I think it will be important moving forward for districts to have some listening sessions with families," she said, "... where we can kind of talk through what worked and what didn't work."
IndyFest is proudly sponsored by:
Comment Policy (updated 4/20/2021): Please keep your comments civil. We reserve the right to delete comments or ban users who engage in personal attacks, use an excess of profanity, make verifiably false statements or are otherwise nasty. Comments that contain links must be approved by admin.