'No concept of team right now;' Amodei critical of House GOP leadership dysfunction
Amodei on speakership: "There ain't 217 votes for Jesus, Mary, or Joseph in there."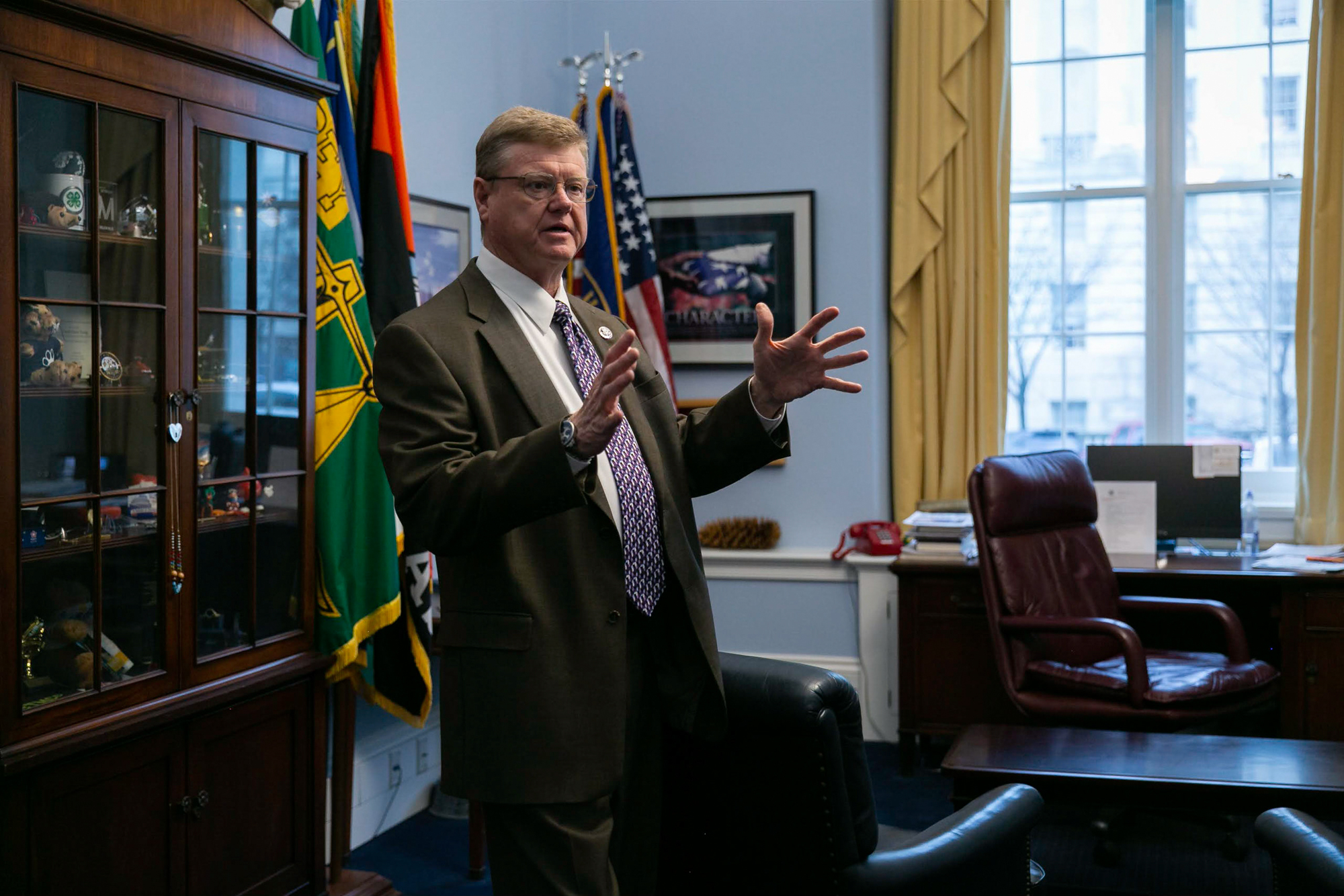 Nevada's lone congressional Republican remains clearly frustrated by the chaos enveloping the conference over the inability to get majority support for a speaker candidate and compared trying to get Republicans to agree on a plan moving forward to "herding cats."
"You sit there and listen to that conga line, it's like there is no concept of team right now," Rep. Mark Amodei (R-NV) said. "None. Zero."
Amodei said Thursday that he would support a resolution empowering Speaker Pro Tempore Patrick McHenry (R-NC) as a temporary speaker, though he suspects the only thing 217 Republicans agree on (the number of votes needed for something to pass on the floor) is the lack of an appetite to strengthen Democrats' negotiating position. But doing so would require Republicans coalescing around a speaker or plan — something he said seems impossible based on how internal discussions are going.
"There ain't 217 votes for Jesus, Mary or Joseph in there on any subject," Amodei said in an interview.
Former Speaker Kevin McCarthy (R-CA) was ousted more than two weeks ago over bringing a continuing resolution to the floor in the eleventh hour to avert a government shutdown by keeping agencies funded at their current enacted levels through Nov. 17 — kicking off a leadership crisis that has left House Republicans without a speaker for more than two weeks.
Amodei has been a team player throughout the process, supporting the option that the majority of his party supported at each successive stage. He voted to keep McCarthy, then voted to make Majority Leader Steve Scalise (R-LA) the speaker designate in a conference vote — a vote Scalise won.
When Scalise bowed out over continued Republican opposition and Rep. Jim Jordan (R-OH) emerged as the next speaker designate, Amodei voted twice for the Ohioan on the floor — even as several fellow appropriations "cardinals," who, like Amodei, lead spending subcommittees, voted against hardliner Jordan, who has a long history of opposing spending bills and working to force government shutdowns. Amodei said he has not discussed the ongoing speakership saga with his fellow cardinals.
Though he supports empowering McHenry, Amodei predicted that such a plan may not win the support of the Republican conference. True to form, several House Republicans have already come out against empowering McHenry, fearing a temporary speaker sets a poor precedent or weakens their majority power, given that McHenry would likely need Democratic support. On Thursday afternoon, Jordan threw cold water on the McHenry plan, saying he planned to return to the floor for a third speaker vote.
A temporary speaker — unburdened by the need to keep the speakership — would likely be freer to work with Democrats to fund the government, either by way of another continuing resolution or through an omnibus bill that combines government spending priorities at the levels the two parties negotiated in May when raising the debt limit.
In both the debt limit battle and the Sept. 30 funding extension, more Democrats voted for the bill than Republicans did in the House.
Amodei, who supported both resolutions, said keeping the House out of business by denying any speaker a majority — including McHenry — only weakens the GOP House's negotiating position with the Democratic-controlled Senate.
"The longer the House stays paralyzed, the harder it's going to be to move those remaining appropriations bills through the floor successfully," he said.
Thus far, the House has passed four of 12 spending bills.
Democrats could demand concessions in order to support empowering McHenry and moving forward with funding the government and addressing other pending business, including an expected foreign aid request from the White House for Israel, Ukraine, and Taiwan.
Several House Republicans who voted against Jordan say they have received death threats and vitriol from his supporters this week, which they say were part of a coordinated pressure campaign initiated by Jordan allies, including conservative media figures like Sean Hannity.
Amodei said he did not feel any extra pressure from his northern Nevada-based district to vote for Jordan, saying, "There's pressure on everything, but that's part of the job."
On the other side of the equation, Amodei said Jordan's support of the 2020 congressional objection to Nevada's election results — he was the first person to sign on to the objection — did not factor into his vote either.
The Nevada objection never received a vote, much less was successfully overturned, he said, making the episode a theoretical consideration. Amodei voted to certify the election.
"It was a nothingburger," he said. "In theory, they did, but in reality, who cares?"
The Nevada Independent is raising $200,000 by Dec. 31 to support coverage of the 2024 election.
Tax-deductible donations from readers like you fund this critical work.
If you give today,your donation will be matched dollar-for-dollar.
Give + Get Matched
Featured Videos