Amodei backs Jordan, but House continues to deadlock on speaker vote
The hardline Republican was at the forefront of efforts to overturn the 2020 election, including objecting to Biden's win in Nevada.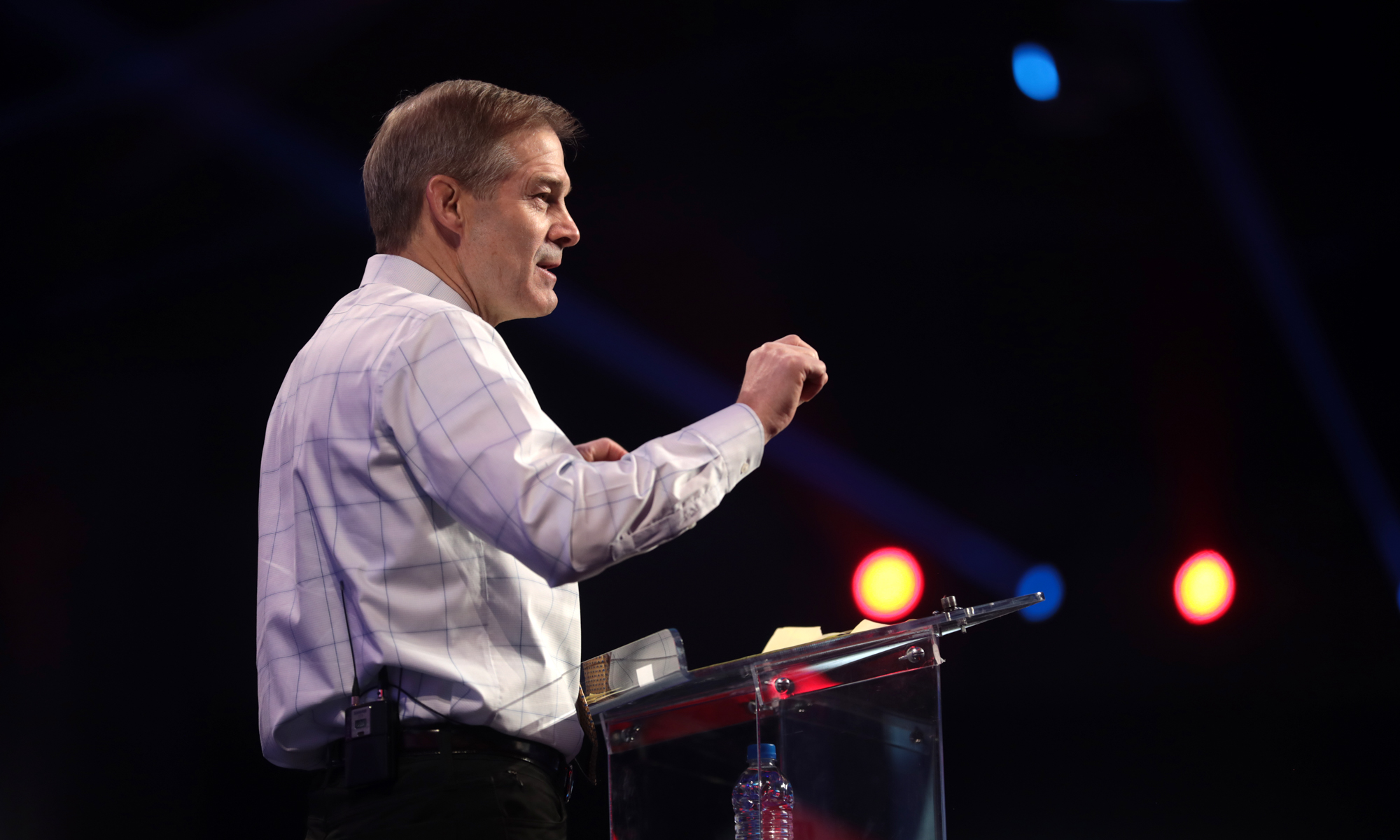 Rep. Jim Jordan's (R-OH) initial bid for the speakership of the U.S. House fell short on Tuesday.
Jordan, a conservative hardliner who tried to help overthrow the 2020 presidential election in Nevada, received 200 votes in a vote taken Tuesday morning — falling 17 votes short of the majority needed to win. All Democrats and 20 Republicans voted against him.
Rep. Mark Amodei (R-NV), Nevada's lone congressional Republican, voted for Jordan on the floor on the first ballot.
Amodei initially supported Majority Leader Steve Scalise (R-LA) in a conference vote last week, following the unprecedented ouster of Kevin McCarthy (R-CA) from the speakership. Scalise won a majority of the conference in a Republican-only vote on Oct. 11, but bowed out amid intra-conference opposition a day later.
Jordan, an architect of multiple government shutdowns and one of the members who deposed former speaker John Boehner (R-OH), emerged as speaker designate last Friday.
But continued opposition from a bloc of House Republicans (plus the party's extremely narrow five-member margin over Democrats) kept Jordan from winning the speakership. Eighty-one House Republicans voted for last-minute candidate Rep. Austin Scott (R-GA) in a party caucus meeting on Friday.
If Jordan cannot get to 217 votes on subsequent ballots, several Democrats and Republicans have discussed moving forward with a coalition government, in which Democrats might extract some concessions from Republicans in exchange for their support for a speaker they consider more palatable.
Rep. Susie Lee (D-NV) signed a letter late last week proposing a 15-day narrow expansion of Speaker Pro Tempore Patrick McHenry's (R-NC) authority, allowing him to bring to the floor bills that address aid for Israel and Ukraine, appropriations bills and a funding stopgap to avert a government shutdown on Nov. 17. In exchange for Democratic support, Lee and other signatories suggested McHenry allow Democrats equal ability to introduce bills that require two-thirds support to pass (also known as bills under suspension).
Lee said in an interview after the first ballot that she believes Republicans will not find a nominee who can receive the requisite 217 votes.
"This is the ultimate moment for bipartisan solutions," Lee said. "Let's find an agreement we can come to where we can have a speaker that's going to make this place function a little better."
She added that it took Democratic votes to pass both the debt limit agreement in May and the continuing resolution to avert a government shutdown in September, and that she believes selecting a speaker will ultimately follow the same route. But she laid the blame squarely at the feet of the GOP, and said Minority Leader Hakeem Jeffries (D-NY) is open to negotiations.
"This is clearly a Republican problem," she said. "But when they come to the recognition that there is a point where we can work together, then we're ready to do it."
All three of Nevada's House Democrats voted for Jeffries, who received a plurality of the votes. Rep. Steven Horsford (D-NV) Horsford said Jordan's involvement in attempting to overthrow the 2020 election results in Nevada, by signing an objection to Nevada's electoral votes for now-President Joe Biden, was disqualifying.
"Jim Jordan does not deserve to be speaker of the House," Horsford said in an interview. "He led the effort to overturn the election. He was the lead sponsor to overturn the will of the voters in Nevada…it's because of him and the former president that we had the insurrection."
Jordan and efforts to overturn the election
Jordan, a founder of the House Freedom Caucus and close ally of former President Donald Trump, was at the forefront of congressional Republican efforts to overturn the 2020 election. He began advocating in the weeks after the election for Trump not to concede and for congressional debate and oversight into the election.
Court cases and audits produced no evidence that widespread electoral fraud occurred in Nevada or any other state. In Nevada, a review led by then-Secretary of State Barbara Cegavske (R) debunked claims of electoral fraud, finding no evidence of any violations of electoral integrity.
Jordan, however, mentioned Nevada as a state he believed had electoral violations.
"You had all kinds of crazy things happening in Georgia, Michigan, Wisconsin, all these in Nevada," he said in an interview in December 2020. "So everything you look at doesn't make sense."
When then-Rep. Mo Brooks (R-AL) filed objections to the election results in six states that Biden won, Jordan was the first House member to sign on.
Nevada's fake electors, the state GOP-aligned individuals who signed an uncertified slate of electoral votes pledged to Trump rather than Biden, who won Nevada's popular vote, banked on Jordan's support, according to transcripts released by the congressional Jan. 6 committee.
Ultimately, in the aftermath of the Jan. 6 insurrection, no senator raised an objection to Nevada's electoral results, so it never came to a vote. But Jordan voted against certifying the election results in Arizona and Pennsylvania — the two objections that did receive votes.
Amodei voted to certify the election.
Jordan last weighed in on Nevada politics in 2020. He endorsed then-House candidate Jim Marchant in his unsuccessful 2020 bid in the 4th Congressional District.
McCarthy, as minority leader and speaker, made numerous swings through the state, and spent millions trying to elect Republicans in the Las Vegas-based districts. He had already endorsed Assemblywoman Heidi Kasama (R-Las Vegas) in the Republican primary for the state's 3rd Congressional District.
Kasama did not respond to a request for comment on who she supports in the speakership race, while her primary opponents, Drew Johnson and Elizabeth Helgelien, both expressed support for Jordan on X, the social media platform previously known as Twitter.
Flemming Larsen, a Republican running against Rep. Dina Titus (D-NV) in the state's 1st Congressional District, said in a statement to The Nevada Independent that he would have voted for Jordan were he in Congress today, though he said he opposed the motion to vacate McCarthy that landed House Republicans in their current bind.
"We Republicans may have disagreements, but we keep those behind closed doors," Larsen said. "And when we're on the House floor, we need to unify among ourselves so we can govern."
The Nevada Independent is raising $200,000 by Dec. 31 to support coverage of the 2024 election.
Tax-deductible donations from readers like you fund this critical work.
If you give today,your donation will be matched dollar-for-dollar.
Give + Get Matched
Featured Videos