North Las Vegas mayor hopefuls endorse rent control, cast vision at forum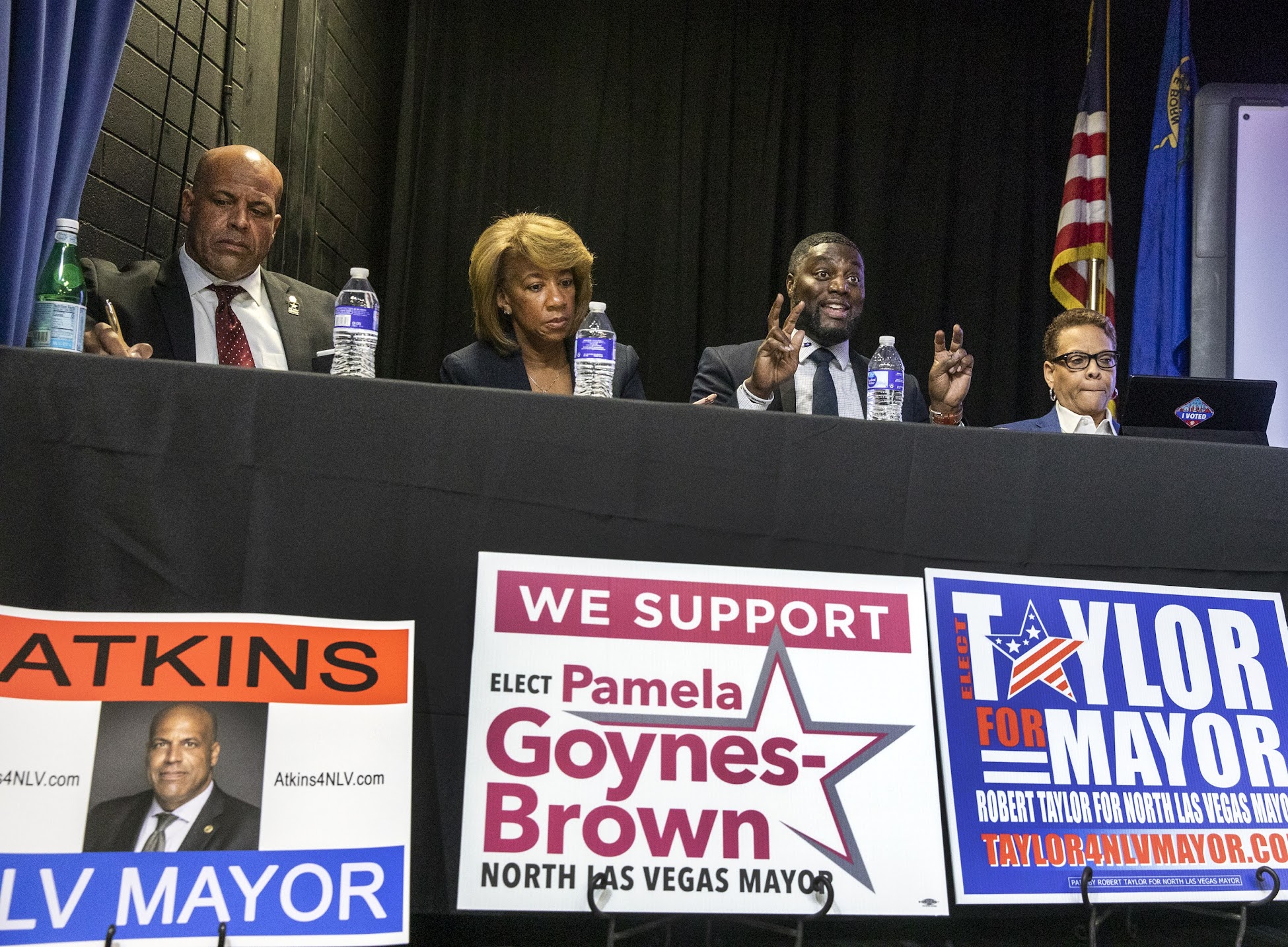 Often overlooked compared with some of its neighbors, North Las Vegas — Nevada's fourth-largest city — is home to a lively 2022 mayoral race that's likely to give the city its first Black mayor.
After incumbent, John Lee switched his party registration from Democrat to Republican last spring and launched a bid for governor, candidates who have announced bids to succeed him include Councilwoman Pamela Goynes-Brown, grassroots campaigner Robert "Twixx" Taylor, veteran politician and state Sen. Pat Spearman, former business leader Nathan Atkins, former Nevada System of Higher Education (NSHE) regent Laura E. Perkins and U.S. Navy veteran Jesse Addison III.
It's possible more will enter; candidates have until March 18 to formalize their run for office, and the primary election will be June 14, 2022, with the top two vote-getters moving to the general election on Nov. 8, 2022. In municipal elections, a candidate who wins more than 50 percent of the vote in the primary is automatically elected to the office.
Over the years, North Las Vegas has fought off a negative reputation for violence, food and home insecurity, and the lingering effects of a fiscal emergency in 2011 that contributed to the city's credit rating plummeting to junk bond status in 2013. However, North Las Vegas has seen good times, and was one of the fastest-growing cities in America about a decade ago.
Originally named Vegas Verde, the town was renamed North Las Vegas and later incorporated as a city in 1946. It has a population of 262,000 as of April 2020 and is more ethnically diverse than the state as a whole. Twenty-one percent of residents are African-American, much higher than the 10 percent who compose the state's overall population.
"We are the largest minority-majority city, and we have to celebrate all people in everyone's diversity," Goynes-Brown said at a recent forum for mayoral candidates.
Goynes-Brown was one of several mayoral hopefuls who attended a March 3 forum hosted by the Clark County Black Caucus (CCBC), where residents, moderators and attendees zeroed in on issues including housing, development and policing. Candidates endorsed rent control policies to keep costs in check, laid out their priorities for a new police chief and highlighted the differences in their approaches to business growth in the city.
The city was recently named one of the best cities for Americans who want to live in diverse communities that are sustainable, affordable and offer outdoor equity or access to recreation options for a wide range of people. But the city was hit hard during the 2020 COVID-19 pandemic, with 43 percent of small businesses closed and many of them yet to reopen.
Both neighborhood casinos, Texas Station and Fiesta Rancho remain closed well after a government-imposed shutdown was lifted. North Las Vegas is one of two gaming markets in the state that hasn't returned to its 2019 pre-pandemic gaming revenue totals. Analysts blamed the closed casinos, which accounted for 41 percent of the total slot inventory in the city, as a reason for the gaming revenue declines.
Closures like these exacerbated inequalities in North Las Vegas, including unemployment, which was as high as 32.9 percent for the city at the height of the pandemic.
Federal aid packages could make a big difference. North Las Vegas was awarded nearly $47 million through the American Rescue Plan. With funds from the earlier CARES Act package, city officials focused on direct aid to residents and gave $8.3 million to 370 small businesses; $2.1 million in housing assistance to nearly 500 families; and more than $2.7 million in utility assistance.
All of these intertwined issues will face the city's next mayor — factors that event organizers said makes it extra important for community members to learn about the candidates.
"It's an informational opportunity for the voting electorate to learn more about the candidates running so they can better determine who they think would be the right choice," said Yvette Williams, founder of CCBC.
Here's a look at the candidates and major issues in the race.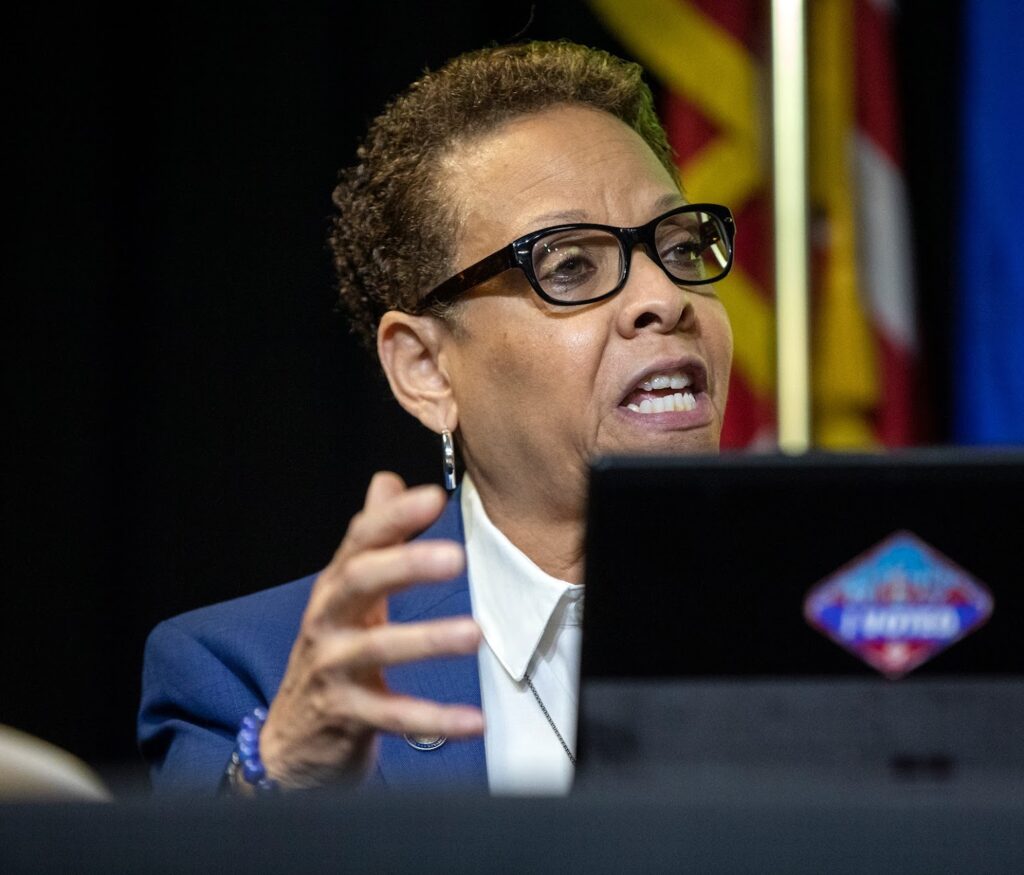 Pat Spearman
Spearman is the first Black, openly gay veteran to serve in the state Senate. Her campaign focuses are economic diversification and job creation, clean energy and infrastructure.
Spearman grew up in the Midwest in a blended, spiritually-driven family with 13 siblings. Since 2012, she has held leadership roles in the Legislature including serving as chair for the Commerce and Labor Committee and vice-chair of the Health and Human Services Committee.
This isn't the first time Spearman has run for John Lee's seat. Spearman unseated then-state Sen. Lee in 2012 in a Democratic primary for Senate District 1, which includes parts of North Las Vegas, and kept the seat in 2016 and 2020. In 2018, Spearman ran for Congressional District 4 and lost by a wide margin during the primary eventually won by Rep. Steven Horsford.
If elected mayor, Spearman said she would launch an audit on her first day in office to see how diverse the city staff truly is. Within the first 100 days, she said she would hold meetings with seniors, as well as have a roundtable with businesses, service workers and others, including the police.
The state of policing emerged as a major topic at the forum. Residents asked questions and voiced concerns about the need for a community approach to policing in North Las Vegas, stating it had been achieved in the past.
"As a retired military police officer with more than 29 years in service, guess what? When we sit down [with police] to come up with solutions, it's not like people are gonna spit in my face and I think it's raining outside," Spearman said, suggesting she could get to the heart of the issues.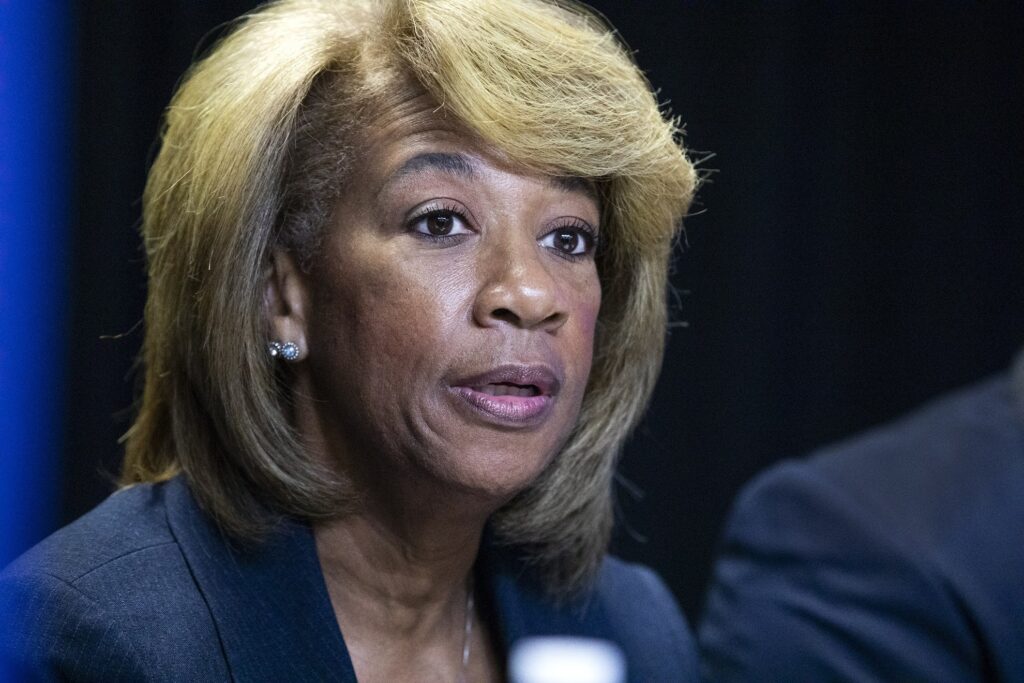 Pamela Goynes-Brown
Goynes-Brown has represented Ward 2 since 2011 and was the first African-American woman elected to the North Las Vegas City Council. Goynes-Brown is a second-generation elected official, following in the footsteps of her father, Theron Goynes, who was formerly North Las Mayor Pro Tempore after serving as a councilman in the 1980s.
Goynes-Brown is a retired elementary school assistant principal who spent 35 years in Southern Nevada classrooms. On her campaign website, she presents herself as someone who would uplift the community while remaining a careful steward of tax dollars.
She said stick with her so she can help North Las Vegas become poised as Southern Nevada's fiscal champion. Goynes-Brown assured residents that North Las Vegas will be completely revamped in the next five to ten years and possibly sooner.
"I want to create America's greatest city and that is North Las Vegas. A place I am very proud to call home," said Goynes-Brown.
Her website states she has championed large-scale developments in the region while serving in city council, including turning Craig Ranch Golf Course into the 170-acre Craig Ranch Park, now a community staple.
"The timing is perfect for me to take my public service to the next level," Goynes-Brown said at the forum. "When elected mayor, the people will have a true voice with someone totally in touch with the community."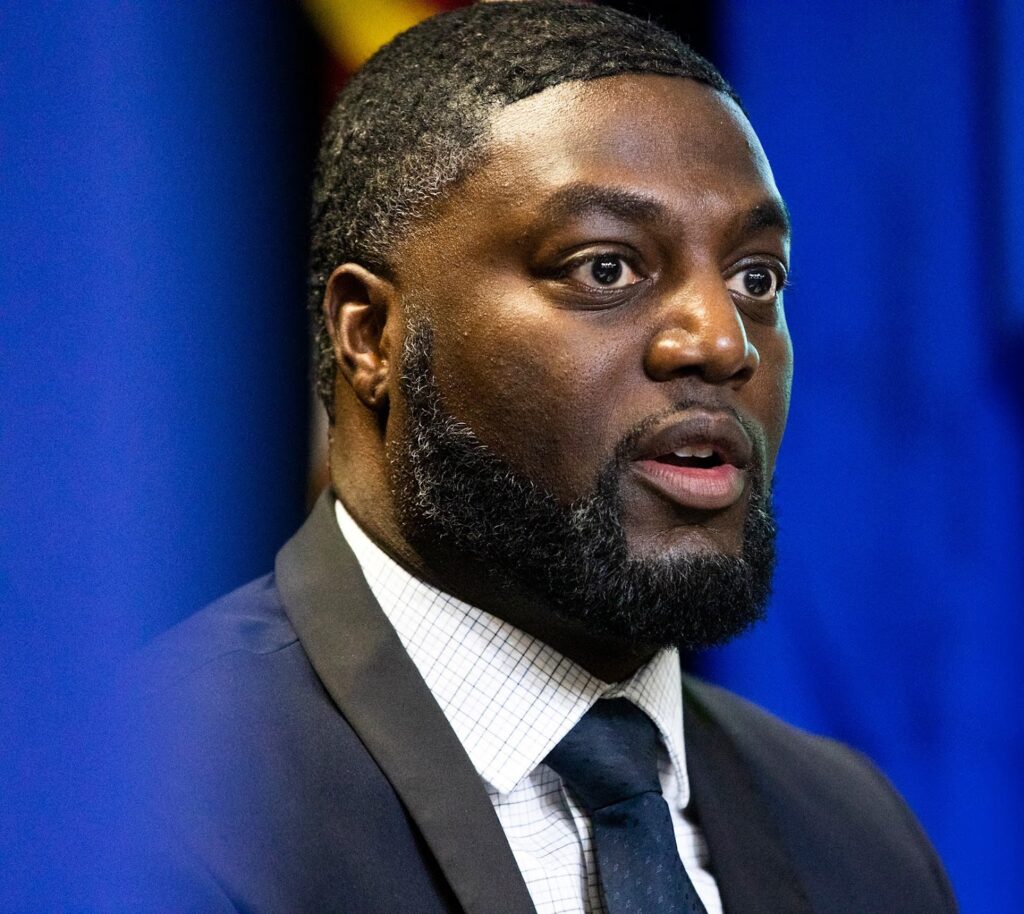 Robert "Twixx" Taylor
Robert "Twixx" Taylor, owner of Fade 'Em All barber shops, is running a grassroots campaign for mayor because he said he feels a personal calling to step up and help expand the resources and development of North Las Vegas.
Tayor said he wants to restore the dignity of North Las Vegas business owners and residents by being an advocate for them. He said he wouldn't run for mayor if he didn't believe there were problems.
"When it comes to North Las Vegas, we need to have pride. We need to have identity…so people will buy more homes," he said during the forum.
Born and raised in North Las Vegas, Taylor opened his first business at age 23 and has employed more than 300 people with his promotional business "Twixx Entertainment," while operating multiple barbershops and salons.
He explained that cutting hair allowed him to meet and relate with all kinds of North Las Vegas residents and that his primary focus is to get people to invest more into the community both culturally and economically.
Taylor said he is confident that he would be a successful mayor despite his lack of political experience. His campaign is focused on community, commerce and change, which he said he has already been doing for 20 years as an informed citizen, businessman and member of Phi Beta Sigma Fraternity Inc., a historically Black fraternity where the primary focus is community service.
"I love this city more than anyone I know. That's why they call me Mr. North Las Vegas," Taylor said.
Within his first 100 days, Taylor said he would direct his attention to the city budget to see how funding is allocated. His plan is to attract more industries, such as technology jobs, while building a positive brand image for North Las Vegas with updated signage, libraries and upgraded hospitals.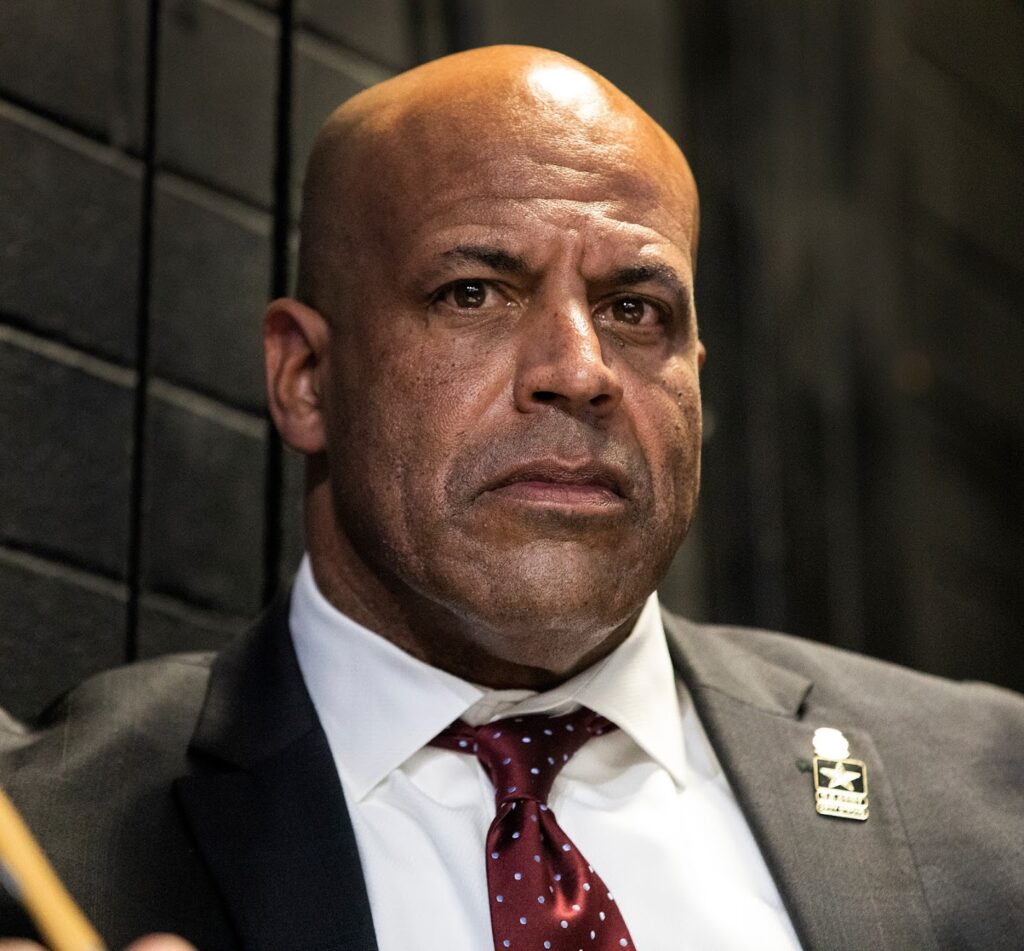 Nathan Atkins
Nathan Atkins, a U.S. Army veteran and Fortune 100 technology business consultant, wants to bring bold new leadership to North Las Vegas. Atkins wants to create unique spaces and attractions in North Las Vegas while bringing the community together in an effort to spur innovation and growth.
"Businesses have come and provided jobs, but jobs are simply a by-product of the business need," Atkins said during the forum. "Where are the community relationships? Where is their commitment to the citizens, the residents, whom they've entrusted to come in their community?"
Atkins' said his campaign is focused on keeping taxes low and creating an environment where businesses and schools can thrive through private and public partnerships. As a former corporate executive, he said he has experience setting attainable goals for multi-state operations and expansions.
During the first 100 days, Atkins said he will assess the city by understanding what is actually taking place and where the needs are while acknowledging what is working well and what needs correction.
"I always find it's never prudent to walk in with high ideals, lofty goals, and changes until you understand how it's functioning," he said.
Other Candidates
Also running is Laura E. Perkins, who has served on the Nevada System of Higher Education Board of Regents since 2018. Perkins is a lifelong resident of North Las Vegas and former chair of the city's planning commission.
In 2015, Perkins ran against Goynes-Brown for a spot on the North Las Vegas City Council but lost by a large number of votes.
Another candidate, Jesse Addison III, is a U.S. Navy veteran who said he's running for mayor to make North Las Vegas better for everyone. Addison said on his website he works for the Las Vegas Metropolitan Police Department as a law enforcement support technician.
His website says he received an award from the Nevada Department of Veterans Services' Disabled Veterans Outreach Program for having helped a large number of veterans get back to work in the state. His campaign focuses are business empowerment, educational expansions, and ensuring that North Las Vegas is safe and prosperous.
Neither Perkins nor Addison attended the forum.
Fundraising
Goynes-Brown led the field in fundraising at the start of 2022 with around $264,000 in campaign cash, including contributions last year of $10,000 — the annual maximum — from Elite Golf Management, the law firm Kaempfer Crowell and Republic Silver State Disposal. Other large donations came from Broadacres Marketplace, Calida Residential and Station Casinos.
Spearman is in second place in campaign finance, raising about $79,000 in 2021 campaign contributions. Though that was less than her expenses last year of around $80,400, she already had funds available and started the year with about $88,000 cash on hand. She had similar donors as Goynes-Brown, including Station Casinos and Republic Silver State Disposal, but with smaller contributions.
Spearman is followed by Atkins, who raised about $15,000 from small donations between $50 and $1,000 with a max contribution of $10,000 from himself. He had about $3,700 on hand at the beginning of the year. Other candidates have yet to report their finances to the secretary of state.
Housing and homelessness
As rents have skyrocketed in recent years, and state law prevents local governments from directly intervening through rent caps, ACLU of Nevada Executive Director Athar Haseebullah had a pointed question.
"If the state Legislature approves the ability for municipal governments to enact rent control measures, will you commit today to make sure the city of North Las Vegas passes an ordinance to enact rent control?" he asked during the forum.
All of the candidates confirmed that given the power to enact such a policy, they would. Candidates added that housing and homelessness were systemic issues that need to be addressed in various ways.
Goynes pointed to a need for wrap-around services such as mental health care, ​while Taylor and Spearman spoke about bringing high-paying jobs to North Las Vegas and increasing homeownership as a preventative measure to these concerns.
"You have a lot of people who are home insecure," Spearman said. "​​When you're tackling the homeless problem, you want to make sure that people who are working, continue to work or have a job."
Development
Differences between the candidates were starker on the issue of development. Spearman highlighted a need for a grocery store near Windsor Park while suggesting the neighborhood was being neglected in comparison to other developments throughout the region. She said leaders want industrial development in North Las Vegas, but there have been policies preventing residents from improving their neighborhoods.
Spearman also suggested the city needs better planning so developments become more sustainable. Atkins said this can be achieved through public and private partnerships. He said companies should have a commitment to the communities they serve, and communities need to be developed in a way that attracts business.
Goynes-Brown noted that the North Las Vegas City Council holds neighborhood meetings continuously so residents can voice their concerns about new developments. She reminded attendees that denying a business the opportunity to open when they meet the requirements would result in a lawsuit.
"There's so much that is penciled in, that is still on plans and will be coming to North Las Vegas in the near future," said Goynes-Brown, who assured North Las Vegas is being developed with innovation in mind.
Policing
Keeping the community safe was a topic of concern for residents at the forum as the city prepares to appoint a new police chief. North Las Vegas Police Chief Pamela Ojeda, the first female head of the department, retired on Jan. 6 after more than three years in the position.
"North Las Vegas is in need of a permanent police chief," Devin Moore, founder of Go Urban Vegas, said at the forum. "As mayor, you are responsible for this hire. What would you look for in a police chief?"
Goynes-Brown said she wants to enhance public safety efforts and recruit great first-responders for North Las Vegas. She said when looking for a police chief, she wants someone with a succession plan in place who is in touch with the community.
"I want a police chief that can actually do the job," Goynes-Brown said. "Someone who has come up from the ranks, who has served on various levels."
Taylor said he wants a police chief with an impeccable reputation, while Atkins believes the city needs someone who understands the city's needs by incentivizing police officers to live in the community they serve and protect.
Spearman thought it was important to have a police chief who has experience working in diverse communities. She said they should be familiar with their communities and emphasized the need to address police brutality when choosing a police chief.
"​​I want to make sure that when [someone] comes in as a police chief, they will support a zero-tolerance toward 'shoot first and ask questions later' mentality," she said.
Veterans
North Las Vegas has a large veteran population. One attendee, a decorated veteran, asked candidates what they intend to do to maintain Nellis Air Force Base (AFB) which has played an important role in the Southern Nevada community since 1941.
Residents at Nellis AFB include U.S. military airmen, combat veterans, training specialists, the well-known Thunderbirds and many more units that work, live and train at the base. While aggressive training takes place at the facility, there are more than 9,000 people who live on Nellis AFB, which contains a hospital, police force and grocery stores.
Residents expressed concern regarding the sustainability of the base. When asked about this matter at the forum, there was no direct answer from candidates, though Spearman and Goynes-Brown responded by acknowledging a need for a one-stop shop for veterans services in the city.
"We re-established our veterans' commission last week," Goynes-Brown said. "They will be meeting at City Hall for now."
Goynes-Brown said the city is looking to build the commission a permanent structure for veteran services on a parcel of land that would likely be near the veterans' hospital. Candidates and some attendees agreed that such a facility is much needed.
"Our veterans, … we get the raw end deal [on] everything," said Charles Baker, a former Marine and North Las Vegas resident. "We can serve our country and everything, spend our life doing it, but when we come back, they treat us like third world country people."
In an interview after the forum, Baker explained that he was trained to believe his primary job in the military was to kill and now he has to live with the dreadful memories for the rest of his life, all while navigating a hopeless environment.
"I close my eyes and I still gotta remember I did something for my country, for everyone to have the right to say I want to eat this tomorrow," said Baker. "They don't support us as much as they should and they need to."
Baker emphasized the importance of the mayorship and how it impacts residents' "health, protection, and livelihood." He said the next mayor has to be 100 percent invested in all of the residents of North Las Vegas, who come from many walks of life.
This story was updated at 1:05 p.m. March 14, 2022, to include campaign finance information.