Number of Nevadans on unemployment rolls subsiding, but slowly; steady clip of new applications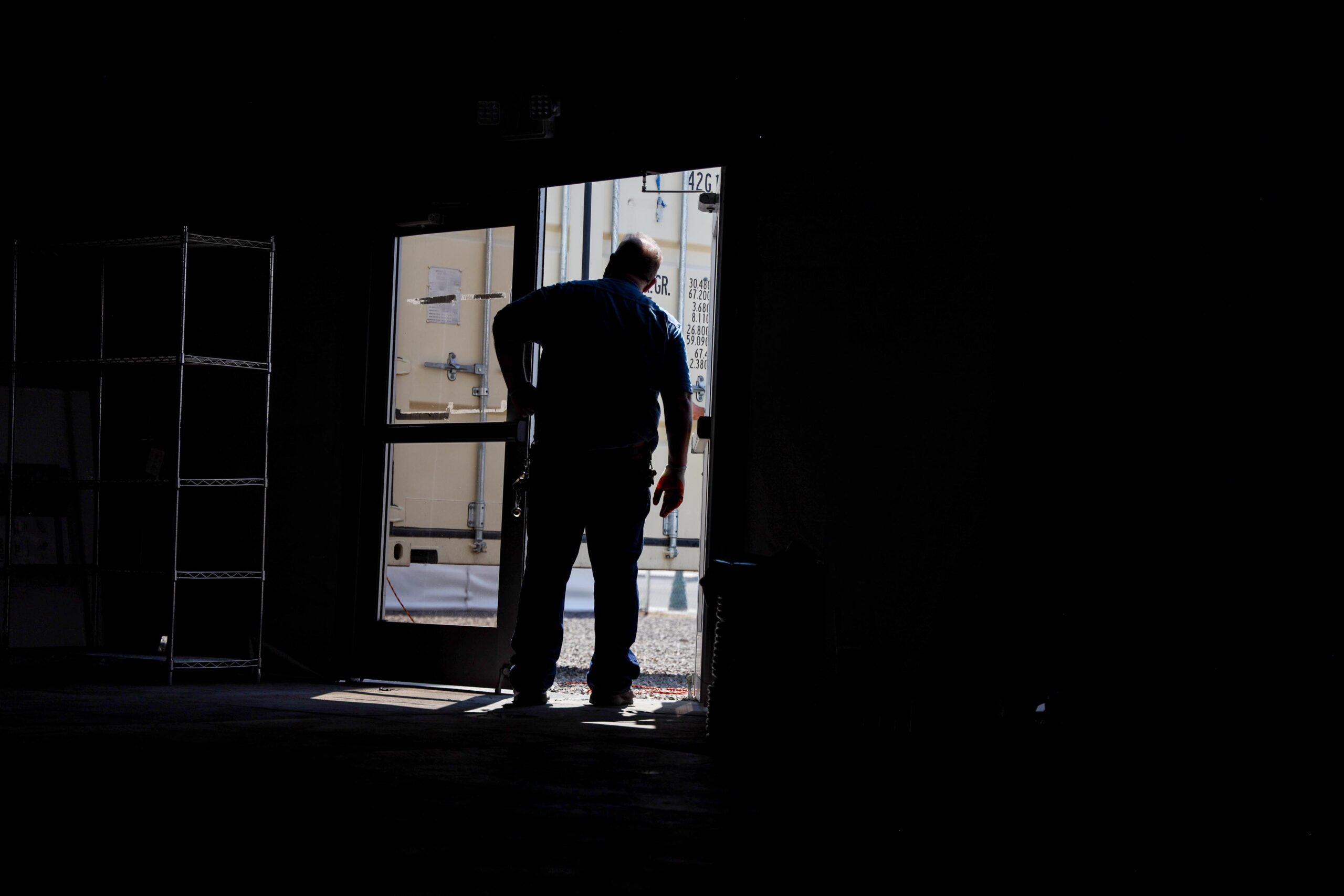 Mike Powers, an independent musician from Las Vegas, sought to apply for Pandemic Unemployment Assistance (PUA) on the first day he could — May 16.
Four and a half months later, his online PUA portal tells him his status is "in progress" with "no issues." He's reached representatives with a PUA call center run by private vendor Alorica twice, and the second time, in late August, the representative asked him to affirm he hadn't left the country during the pandemic and said she would put a note on his claim.
To date, he said he still hasn't received a dime.
"Sadly, many don't even consider gig workers anything other than an abstract concept. So, it's like we don't exist or matter," he wrote on Twitter on Friday. "Meanwhile, the economy rolls onward as though people can pull rent and bills out of thin air."
Powers is one of tens of thousands of people thought to be caught in the Nevada Department of Employment, Training and Rehabilitation backlog. Barbara Buckley, head of a strike force trying to address the hangups, said there were about 80,000 in the backlog as of Aug. 1, and more than 18,000 had been resolved as of last week.
She and DETR Administrator Elisa Cafferata said they hope claimants will start to see more movement with the transfer of the Alorica call center to state workers effective Monday, and the addition of 200 welfare workers who volunteered to work overtime on evenings and weekends to work through the claims; they are wrapping up their second week on the job.
Still, the agency continues to see high levels of initial applications for benefits rolling in, and more than 300,000 claims from people saying they were unemployed last week.
Below are the latest details released Friday by DETR.
Unemployment statistics
Initial claims for unemployment continued to remain high, with 18,723 of them filed last week. While claims in the regular program have reached a pandemic low of 7,525 in a week, claims in the PUA program exceeded 11,000 last week and have not, as might be expected, reached a saturation point.
In an interview last week, Cafferata said that the persistently high number of initial claims rolling in each week is caused by a combination of factors. DETR gets WARN Act notifications — which are notices that a business plans large-scale layoffs or furloughs — and has seen an uptick in those, likely as businesses that tried to stave off staff reductions for as long as possible failed to see the economic rebound they wanted.
But she said that she thinks a lot of the PUA initial claims are fraudulent because the eligibility criteria is not as stringent.
"Certainly, there's always a certain percentage that will [be eligible] and it's just finding the tools to get to those folks and get them the benefits that they're eligible for," she said. "But I do think there's more fraud in PUA."
So far during the pandemic, there have been nearly 1.15 million initial claims filed through both programs in a state with a workforce of about 1.49 million. Nearly half a million of those have been through the PUA program, although DETR economists estimated the universe of Nevadans eligible for PUA might range from about 80,000 to 250,000.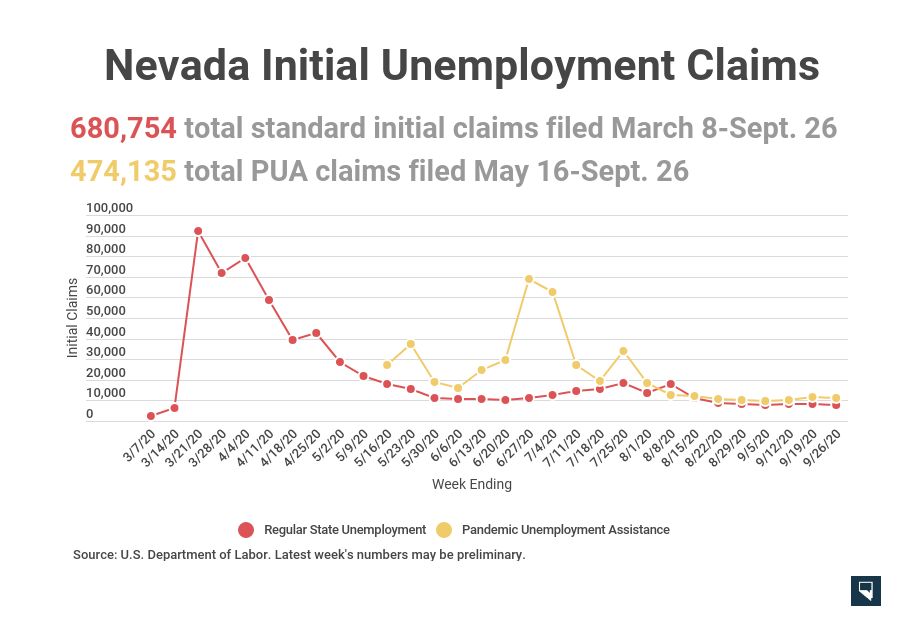 Continued claims are trending downward relatively quickly in the main unemployment program and to a slower extent in PUA, but that's counterbalanced by growth in the programs people move to when they've exhausted those first-tier allotments.
The Pandemic Emergency Unemployment Compensation program grew by nearly 6,000 last week, and the extended benefits program that is available to those who exhaust PEUC grew by nearly 400.
Across all four programs, there were about 6,000 fewer continued claims to unemployment programs in Nevada last week. Still, there were 327,934 applications claiming a person was jobless last week.
People who qualify for the maximum number of weeks in all programs could get up to 59 weeks of benefits under current rules.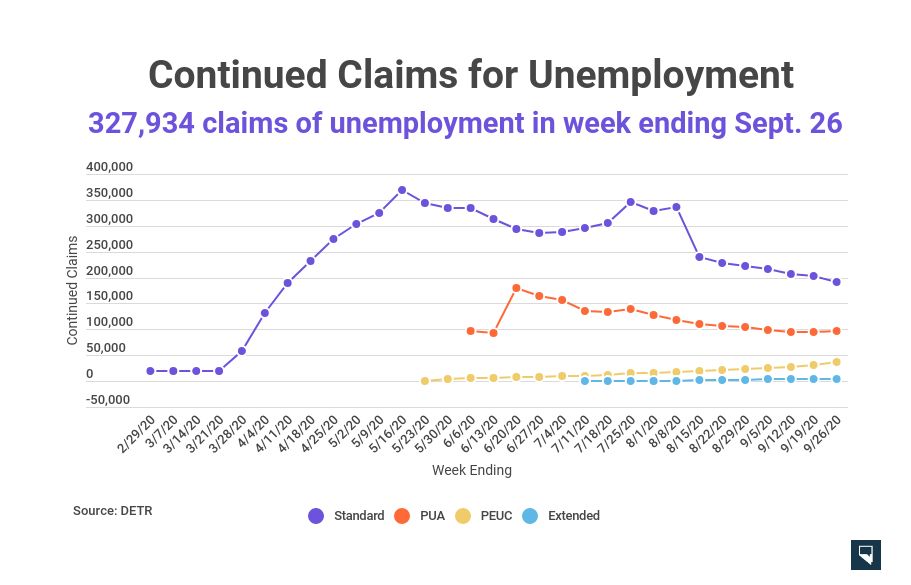 The insured unemployment rate — which reflects the rate of people who are eligible for regular unemployment benefits who are filing claims for them each week — fell by a full percentage point week-over-week to 13.7 percent. That's a low not seen since mid-April, and far from the pandemic peak of 26.8 percent.
The most recent national insured unemployment figure was 7.8 percent.
The number, however, only reflects people who are using their base allotment of regular unemployment benefits. That means the rate could improve, but some people are merely exhausting a first round of benefits and moving to another benefits program rather than returning to a job. It also does not reflect people drawing PUA benefits.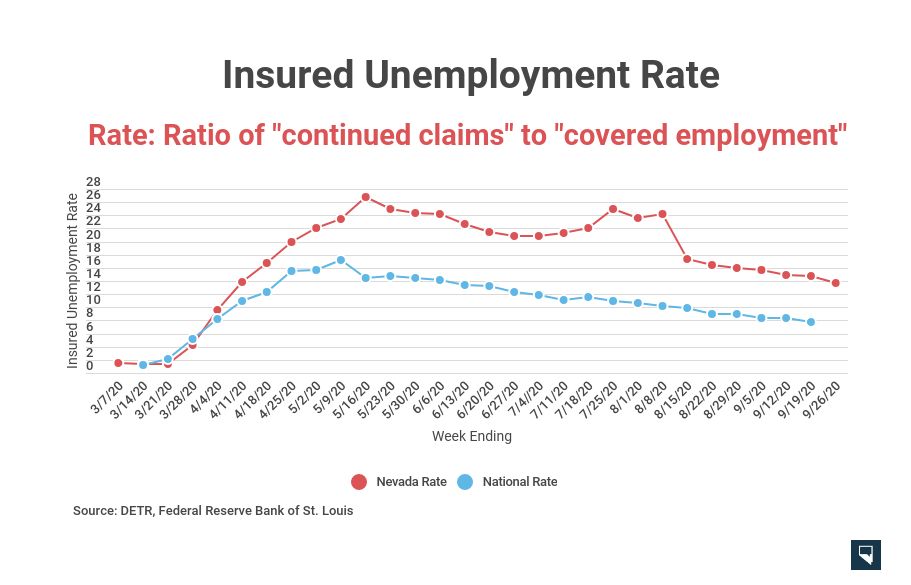 Nevada's unemployment trust fund stood at $215 million last week, or enough for four weeks of benefits. The account balance got a boost when the federal government reimbursed the state for a week of payouts because Nevada waived a waiting period for sending out benefits early on in the pandemic.
The state has yet to borrow from the government to continue meeting its obligations, although 19 other states have already done so and the state intends to when the account runs dry.
Counting both state-paid and federally funded benefits, DETR paid out $95 million last week, down from about $100 million a week earlier.
So far this year, the state has ushered out $6.8 billion in benefits, a figure that dwarfs Nevada's annual general fund budget, which is more than $4 billion.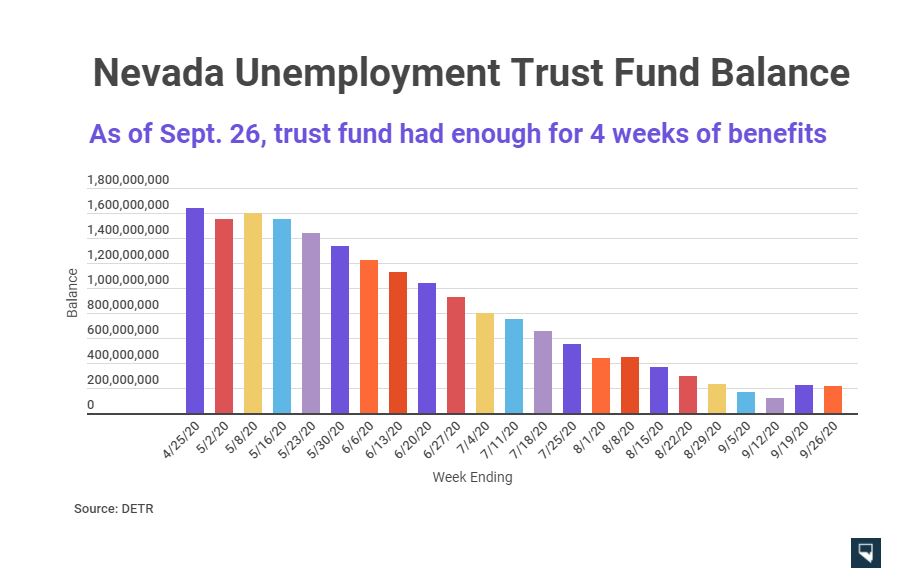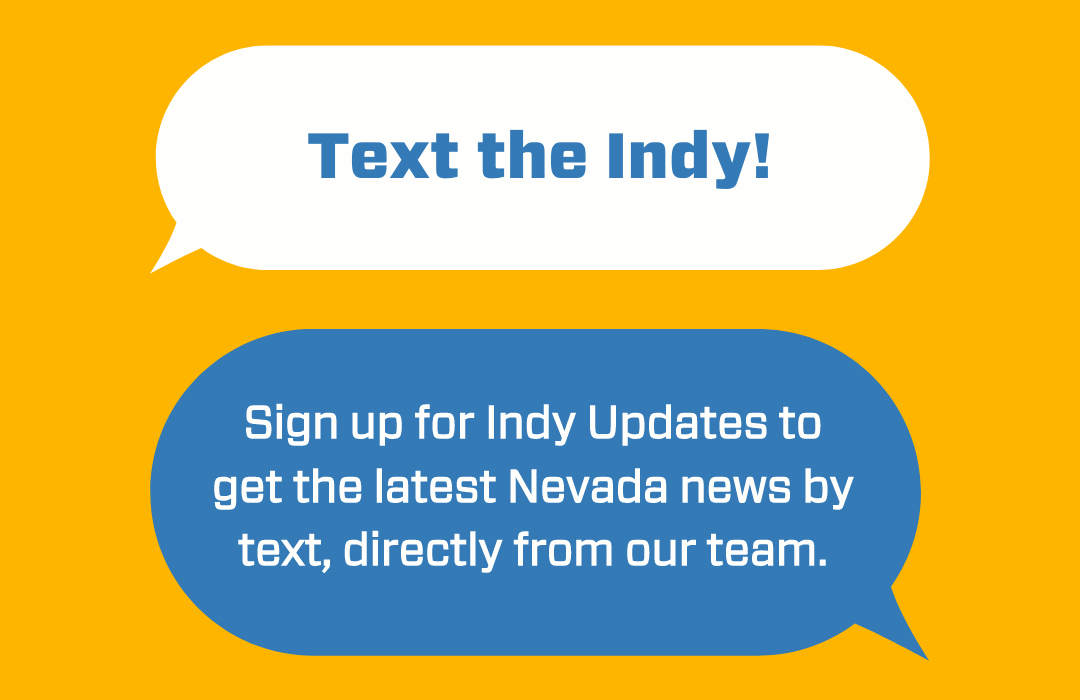 Featured Videos
Comment Policy (updated 4/20/2021): Please keep your comments civil. We reserve the right to delete comments or ban users who engage in personal attacks, use an excess of profanity, make verifiably false statements or are otherwise nasty. Comments that contain links must be approved by admin.