Nurses, mothers bemoan closure of St. Mary's maternity ward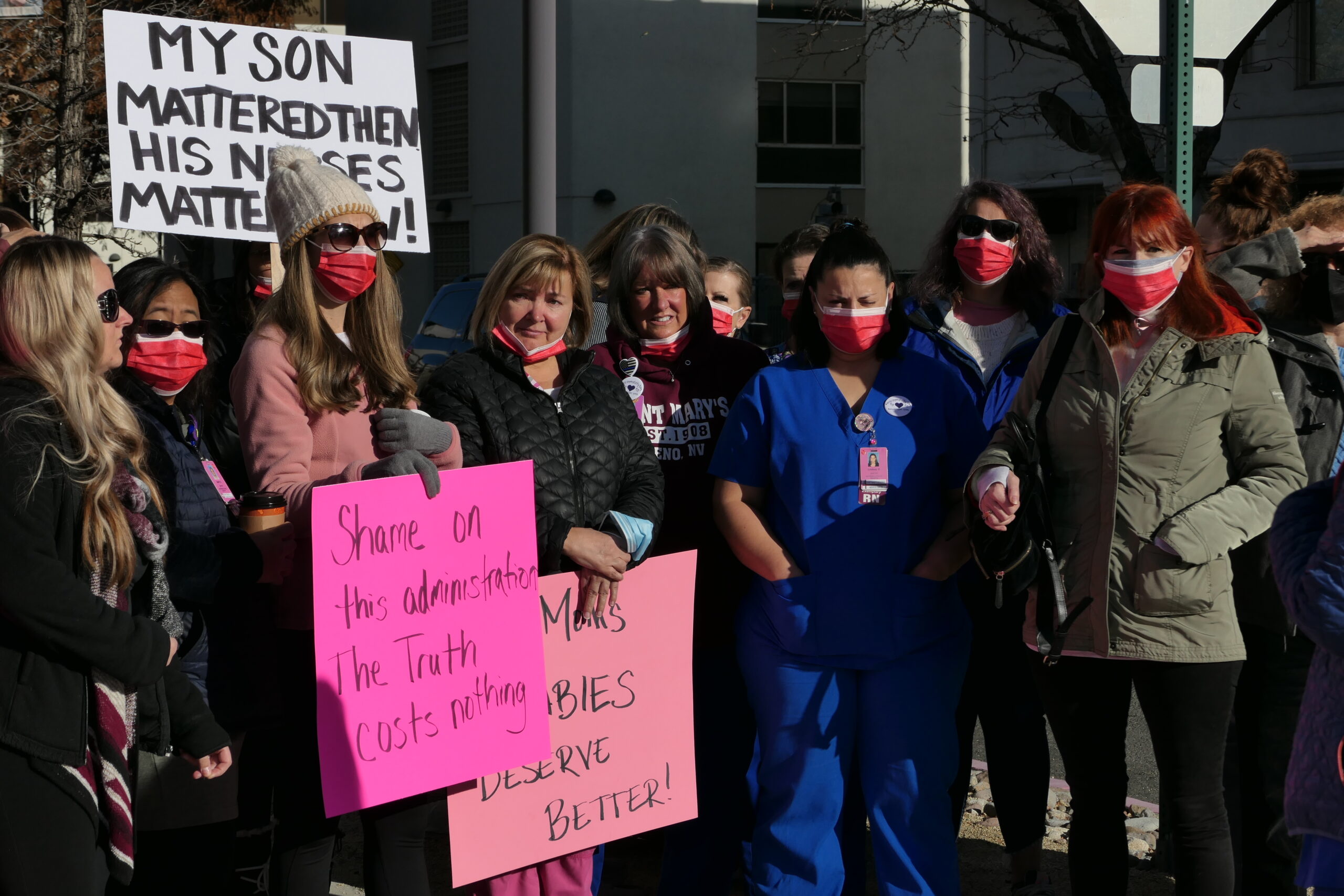 For decades, families have welcomed new members at the maternity ward of St. Mary's Regional Medical Center in Reno, but that tradition abruptly ended the evening of Nov. 11.
The sudden closure after 72 years of operation marks the end of an era for the hospital.
On Thursday morning, nurses attended a vigil at the corner of Arlington Avenue and 6th Street to mourn the center and the passing of colleague Darella Lydell. They reminisced about how many relatives had been born at the adjacent hospital, underscoring the odds that most people who have lived in Northern Nevada long enough know someone who was born at St. Mary's — perhaps even themselves.
"I was born at St. Mary's. Three of my children were born at St. Mary's. The legacy of St. Mary's is beautiful and heartbreaking to leave and to see this happen," said Holly Stephenson, a labor and delivery nurse who had worked at St. Mary's for 12 years. "This is not about losing a job, but it's a family."
The maternal child health services were discontinued because of "declining birth rates, staffing realignments, and limitations to anesthesia coverage," according to a press release from Prime Healthcare — the health care company that owns St. Mary's — sent to The Nevada Independent on Tuesday.
People who were scheduled to give birth at the maternity center are being rescheduled at other hospitals, and staff were offered positions in different areas of St. Mary's.
The nurses who attended the vigil Thursday said they were not given any heads up about the discontinuation of maternal and delivery services.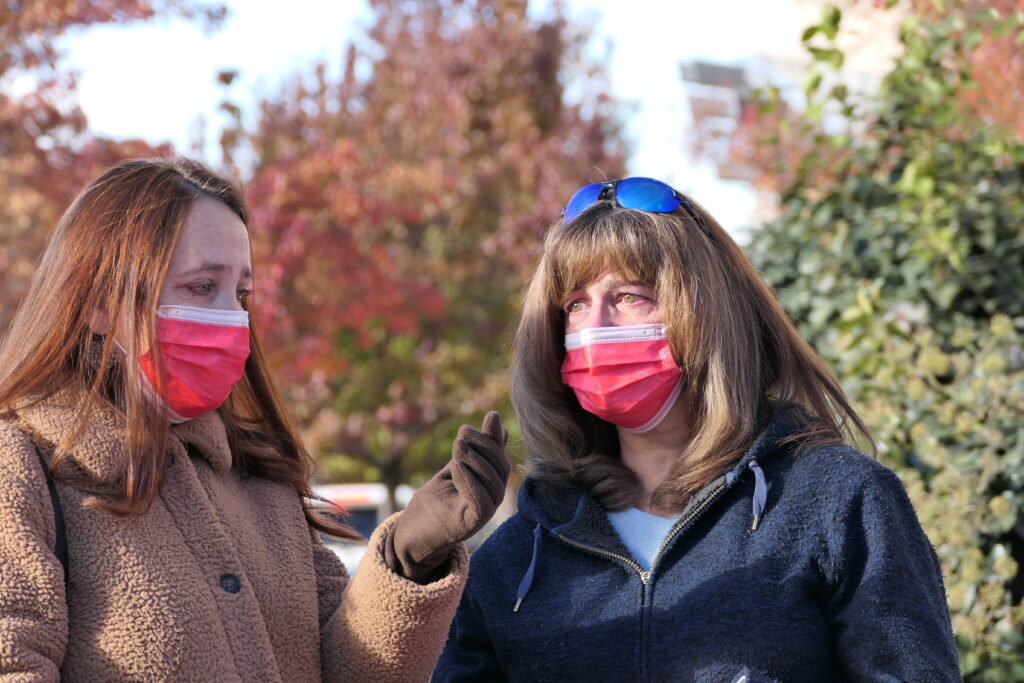 "There was no warning at all," said Heather Wehking, who had worked as a labor and delivery nurse at St. Mary's since 2018.
Wehking said the maternity staff was told the center was adopting a whole new business model, with plans to combine the labor and postpartum units. Instead, on Nov. 11, the nurses showed up to work and were told it was their last day on the job.
Jamie Whitfield, the chief nurse representative for St. Mary's, said she had been working on union negotiations with the director of the maternal and child care department and St. Mary's administration to get more nurses cross-trained for the labor and postpartum combination department. Whitfield said the union was excited for this new combination unit and were discussing plans for December and January.
"Less than two weeks later, they closed the doors on maternal-child [health services]. It's a huge shock. It's a huge shock to the union, it's a huge shock to all the staff in that department and the community. I mean, this was the place to go to have babies in this community. So this is very saddening," Whitfield said.
Though nurses were offered different positions at St. Mary's, which Wehking said works well for some people, being a labor and delivery nurse is a specialized position that may not transfer to other positions as easily as corporate leaders may hope.
"I am not equipped to be a medical nurse, an ICU nurse, as they are not equipped to come [and] do my job," Wehking said. "There's a little bit of this attitude that we are just disposable. We can just go wherever, but that's not really the case."
Whitfield echoed that sentiment.
"Some of these nurses have never taken care of an adult patient in their entire career. And to treat nurses as if we are one-size-fits-all is insulting," Whitfield said.
The sudden closure may make it more difficult for expectant mothers who must transition to a new delivery center, said Vanessa Lippert, who was hospitalized after the birth of her son. He spent almost three months in St. Mary's neonatal intensive care unit, often referred to as a NICU.
At Thursday's vigil, Lippert held a sign that read "my son mattered then, his nurses matter now" along with a large photo of her son in the NICU.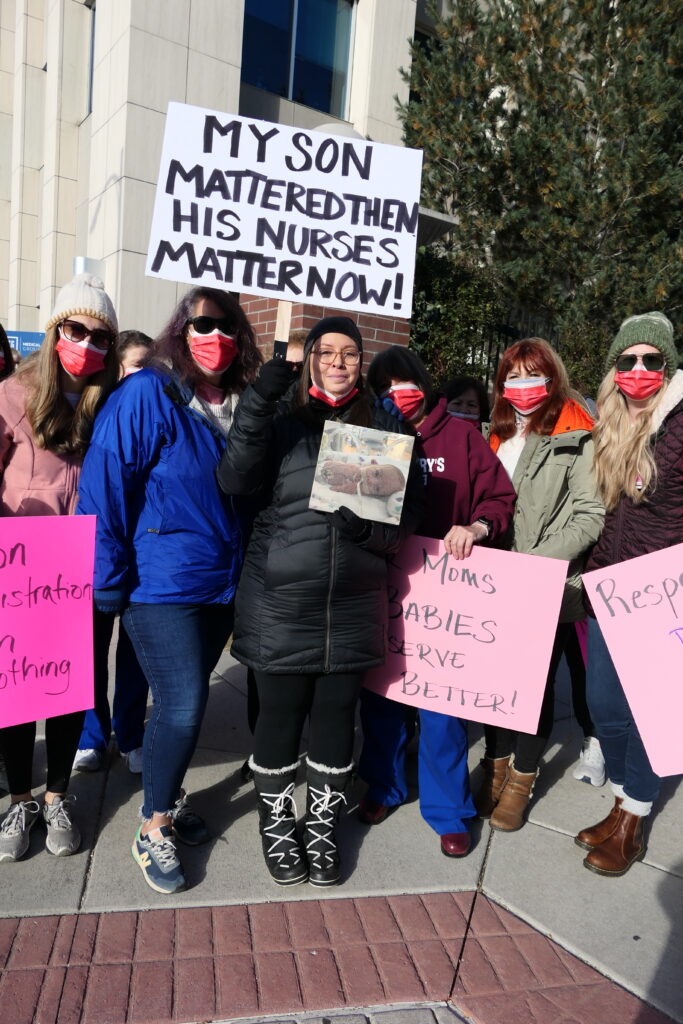 "[These nurses] held my hand in my darkest of days and I'm here to hold their hand and stand by them and support them in their darkest of days …I loved this hospital, and I trusted these people with my life and my son's life," Lippert said.
Lippert is planning to become pregnant again soon and had planned to come back to St. Mary's for health services.
"My own fear — and I'm not even pregnant yet — of knowing that I have to find a new hospital and a new team to take care of me and my future child is terrifying and heartbreaking," Lippert said. "So I can't imagine being a mother, having to deliver in weeks or days and [having] to change something. How scary."
This is not the first time nurses have expressed frustration with Prime Healthcare's treatment of St. Mary's staff. In June, nurses gathered at the same corner to protest "unsafe patient ratios" amid a health care worker shortage and have been protesting every few months for the past two years.
However, Whitfield and Wehking want to remain optimistic about St. Mary's future.
"I like to err on the side of optimism, but also on the side of strength as well," Whitfield said. "We are strength in numbers, and solidarity ... I really choose to believe that St. Mary's intends to do the right thing. This is not a good sign of that."
"We can hope that this will be a lesson learned by St. Mary's," Wehking said.
The Nevada Independent is raising $200,000 by Dec. 31 to support coverage of the 2024 election.
Tax-deductible donations from readers like you fund this critical work.
If you give today,your donation will be matched dollar-for-dollar.
Give + Get Matched
Featured Videos