NV Energy rolls out renewable energy supply plan, Sandoval wavers on support for Energy Choice Initiative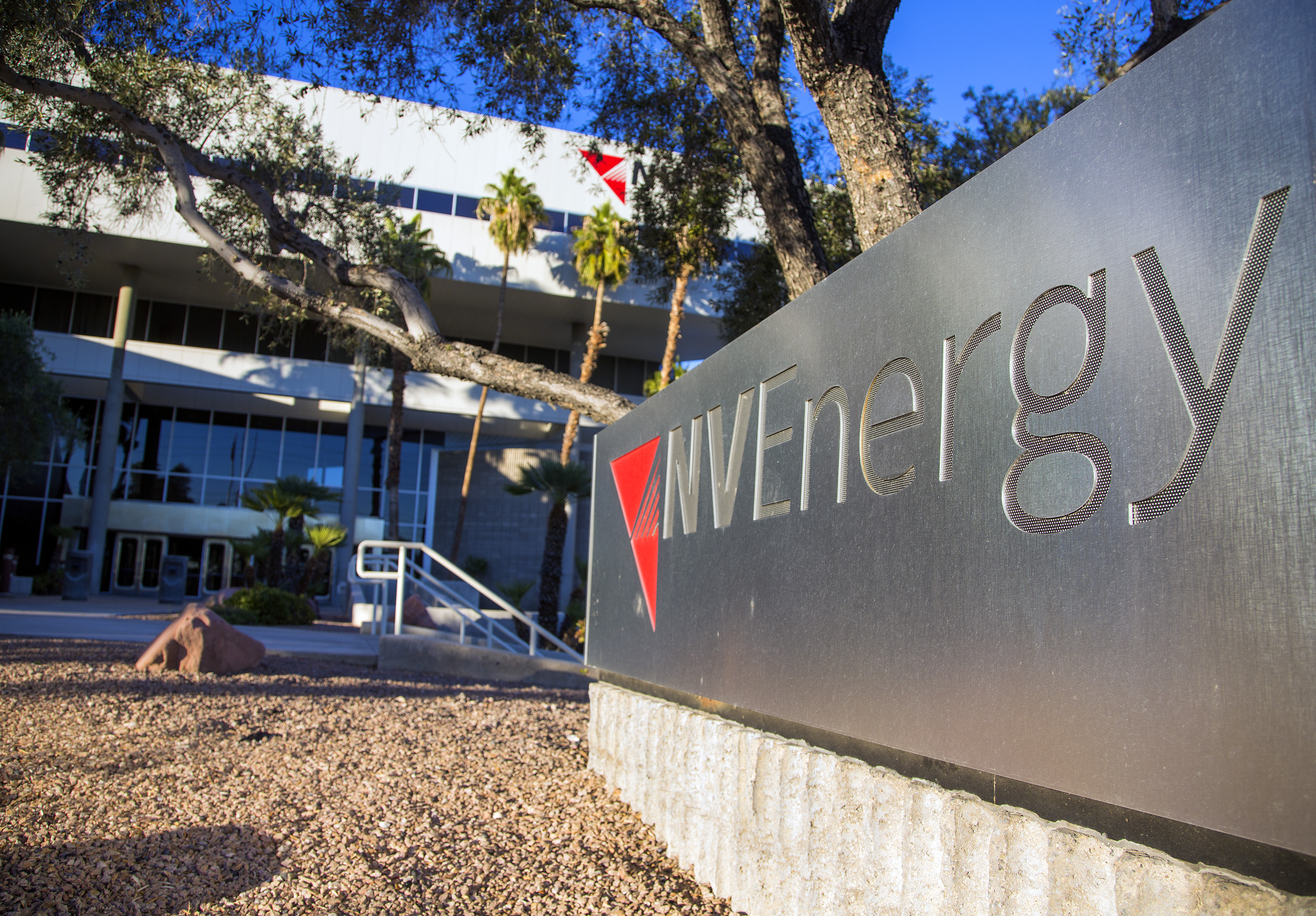 The unveiling of the NV Energy Integrated Resource Plan, a state-mandated document laying out the company's future energy supply and demand management required every three years, typically attracts little public attention outside of energy attorneys and policy wonks.
But prominent state lawmakers, Democratic gubernatorial candidates Steve Sisolak and Chris Giunchigliani, Rep. Ruben Kihuen and Gov. Brian Sandoval were all on hand Thursday at the Springs Preserve to applaud the company's proposal to add massive solar and battery storage projects to double the state's renewable energy capacity over the next five years.
The event on Thursday also marked a significant withdrawal of direct support for the Energy Choice Initiative, a proposed constitutional amendment which would require NV Energy to divest its generation and power contracts in favor of a retail market by 2023, from a major figure — Sandoval.
The proposed solar projects, if approved by the state's Public Utilities Commission, would consist of six major plants developed by private companies contracting with NV Energy through power purchase agreements. Combined, they would add more than 1,001 megawatts of solar capacity by 2021, and cumulatively represent more than $2 billion in spending from the companies building the plants.
"The scale is unprecedented in Nevada history," NV Energy CEO Paul Caudill said at the event.
But approval of the projects comes with a large "if" — the company said it won't pursue the project if voters approve the Energy Choice Initiative on the 2018 ballot. The utility is opposing the ballot question, and has spent nearly $12 million so far through a Political Action Committee (PAC) opposing it.
Supporters of the ballot initiative were quick to cry foul, saying that the utility was being dragged "kicking and screaming" to support renewable energy policies and that the move was "too little too late."
"In a competitive market, consumers will drive our renewable energy future, not an outdated utility monopoly that has been dragged kicking and screaming towards that future," Energy Choice Initiative spokesman Scot Rutledge said in an email. "If they were serious about clean energy they would have invested in it years ago instead of holding onto old, dirty coal plants. And no one has forgotten that they killed the rooftop solar industry a few years ago."
Sandoval, who spoke highly during the event of the state's accomplishments in promoting renewable energy over his seven years of his term as governor, backtracked on an earlier pledge to vote for the initiative on the 2018 ballot.
"I think it's part of the future," he had told reporters during the November 2017 Clean Energy Summit. "I think that people should have the ability to choose who their energy provider is, but it's not that simple."
But he retreated from that prior commitment on Thursday, saying in an interview that he still wanted to review information from advocates and opponents of the ballot question before deciding whether to throw his support behind the proposed amendment in 2018.
"There's no doubt that I voted for it the first time, but this is a really important vote that's going to affect every man, woman and child in the state," he said. "I haven't made up my mind."
The governor also praised a lengthy, critical report on the ballot question authored by the state's Public Utilities Commission, calling it "very well thought out and very well researched." The report, which the commission published in April, said implementing the ballot question would cost the state around $150 million to successfully set up and could likely raise residential power bills in the first 10 years after implementation.
"It's important not to pre-judge this, and make sure that all the facts are in," Sandoval said. "The folks that are for it are providing information as well, they say it's going to lower rates, so I want to have the benefit of that information as well."
But direct mentions of the ballot question were absent from all speakers at the event, which largely focused on the company's shift towards renewable energy projects.
Former Public Utilities Commission member Rebecca Wagner also spoke during the event, and said she was impressed with how the company's filing balanced a large move toward renewable energy production without causing negative effects on customers through substantially higher rates. She added that publicly speaking out in favor of the company's Integrated Resource Plan was something she never would have expected to do when she left the commission in 2014.
"If someone told me that, I would have probably said something about hell freezing over," she said. "But, I'm here today. Hell hasn't frozen over, and I'm quite impressed with what NV Energy is going to put before the Public Utilities Commission tomorrow."
But although Caudill said a move to 100 percent renewable energy was an "aspirational" goal, the utility will continue to operate at least one of the coal-fired Valmy generation plants in rural Humboldt County through 2025.
In an interview, Caudill said the company wanted to continue operating the plants to ensure reliable sources of fuel for customers, instead of immediately moving to full reliance on intermittent resources such as solar power.
"We have an obligation to serve our customers with the lowest cost power available," he said. "The generating capacity in Northern Nevada is tight right now."
Caudill also stressed that the utility had significantly reduced carbon emissions from coal-fired plants over the past decade, and was keeping Valmy as a way to meet peak electric demand during hot summer months without having to purchase it from other markets.
During his speech, Caudill also emphasized that to complete a move away from carbon-based fuels to a full dependence on renewable energy would require a major investment in battery storage technology, and pointed to the proposed three battery storage projects in the proposal as a step in the right direction.
"These are not pilot projects," he said. "My team knows that the driver to install battery energy storage today is simple. We view that in order to get to 100 percent renewable in the state of Nevada, and not have that decision, that drive, affect the cost to our customers, we need the ability to sink or store electricity from renewable energy."
The utility CEO declined to delve much into the company's nearly $12 million contribution to the PAC opposing Question 3, but said NV Energy's decision to move off the sidelines and into the fight over the battle question was made carefully.
"We were very concerned about taking a really strong opposition before we learned more about it, and because it would have been viewed about being all about NV Energy," he said. "People want to make this about NV Energy — this is about the impact of this initiative on the state of Nevada. So we're in a much better position I think to stand up and help educate people on that."
Disclosure: NV Energy, 

Steve Sisolak

 and 

Chris Giunchigliani

 have donated to The Nevada Independent. You can see a full list of donors here.
The Nevada Independent is raising $200,000 by Dec. 31 to support coverage of the 2024 election.
Tax-deductible donations from readers like you fund this critical work.
If you give today,your donation will be matched dollar-for-dollar.
Give + Get Matched
Featured Videos