On the Record: The story and policy positions of Democratic House candidate Allison Stephens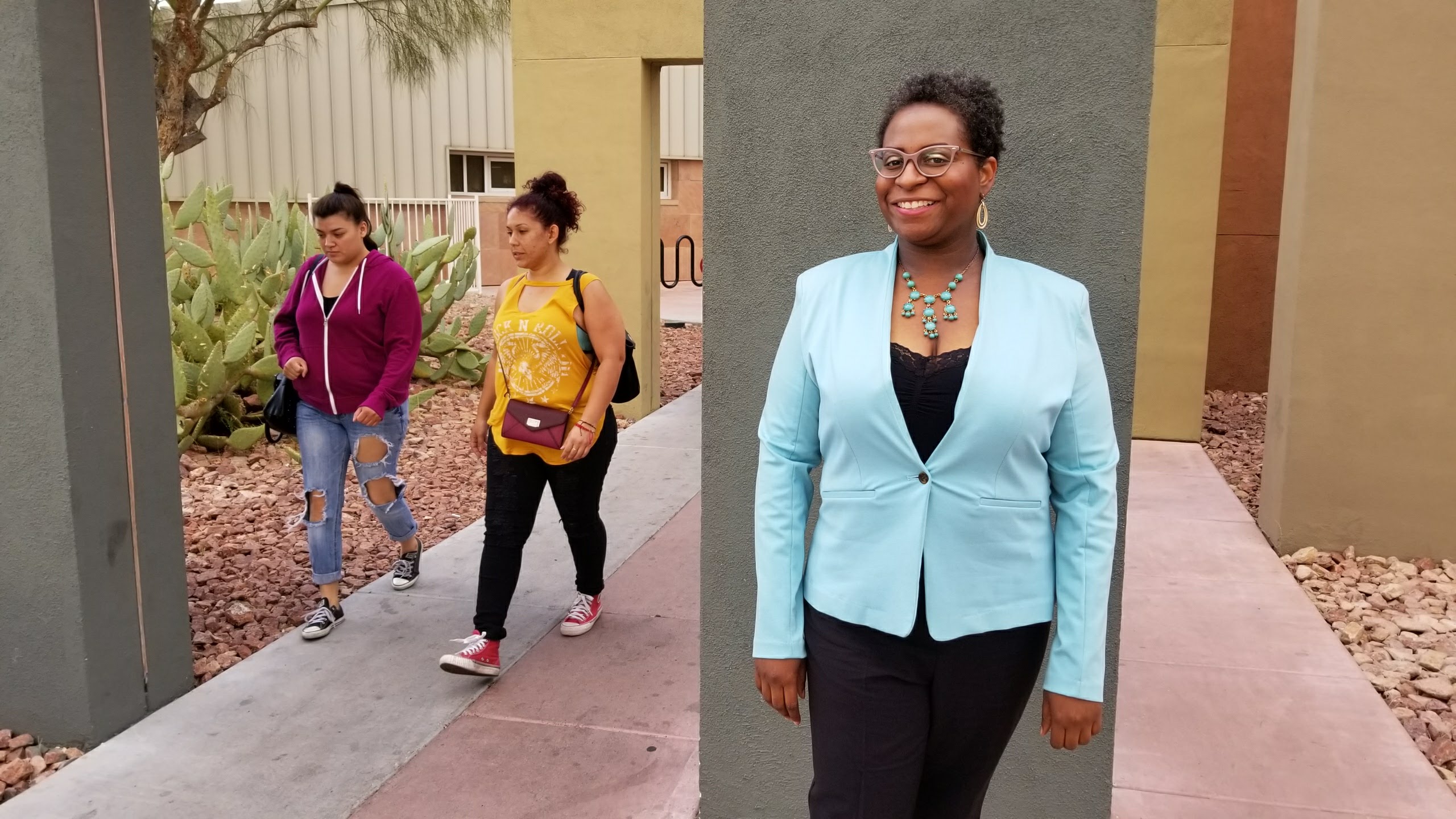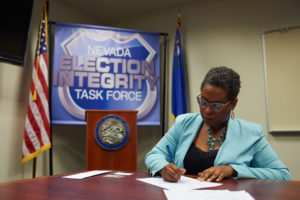 A regent with the Nevada System of Higher Education — who balances her health-care job with studying for her Ph.D. and raising two children as a single mom — is the latest to throw her hat into a race for the 4th Congressional District.
Allison Stephens, 37, filed paperwork Friday to declare her candidacy. She joins a long slate of Democrats eager to replace Rep. Ruben Kihuen, including former Rep. Steven Horsford, state Sen. Pat Spearman, Medicare-for-All champion Amy Vilela and high school principal John Anzalone.
"When I listen to kind of what I've been calling Washington talking points, things that are supposed to be the issues, they don't sound at all like the issues that are the focus of my life or my neighbors' lives," she said in an interview this week. "Talking to people about what matters to them, it really felt like I could represent those issues and take them to Washington."
Stephens was born in Mississippi — the daughter of a Methodist pastor — and grew up in North Carolina before her dad retired and moved to Las Vegas. She attended Advanced Technologies Academy (A-Tech) for high school, received a bachelor's and master's degree in health care and is now studying for her Ph.D. in biomedical informatics in a distance learning program through Rutgers University.
Her 11-year-old daughter and 13-year-old son attend Discovery Charter School.
Stephens said she'd always been active in community organizations even when struggling to make ends meet as a single mom. But it wasn't until she lost her brother, father and grandmother to different cancers within a few months of each other, and was heavily involved in the American Cancer Society in 2009, that she was encouraged to run for office.
She ran for the Board of Regents in 2012 and won a six-year term on the panel overseeing the state's colleges and universities. In 2016, she also won a four-year term as one of Nevada's two Democratic National Committee members.
Although she knew she didn't want to seek re-election to the Board of Regents, she was exploring how she wanted to continue her public service career for several weeks after Kihuen announced he wouldn't run before finally deciding on a run for Congress.
She said she brings a unique concoction of on-the-ground experiences and community involvement to the race, even if some of her opponents have already started racking up endorsements.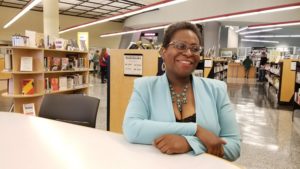 "When you talk about ACA, well, I was volunteering for the American Cancer Society, Cancer Action Network, going to our Nevada delegation to try to get the ACA passed," she said. "When we think about things like childcare and the high cost of childcare, I was on the Nevada Commission for Women trying to expand and get updates on the status of women, working on equal pay, childcare costs, and all those issues that are affecting us. Economic development, job training? I kind of spearheaded the first joint meeting between the Board of Regents and the State Board of Education, I think in like over a decade, and we talked about career and technical education and how we can do that at the high school level, how we can work together."
Although she said she's not a fan of President Donald Trump and is prepared, if elected, to fight against "anything that contradicts what people in Nevada need," she said reversing his policies is not going to be the primary rallying cry of her campaign.
"I don't hear many constituents in the district talking about Donald Trump," she said. "I hear them talking about the issues that we've discussed — health care, education, jobs, the environment, being able to go out and enjoy their lives and having access to resources that they need like broadband. Those are the kinds of things that I'm focused on."
Here's where Stephens stands on the issues.
Abortion
"Women need to be respected," she said when asked about her stance on abortion. "There is no level of intrusion on a woman's right to her own life and her own health, so at the end of the day, I am pro-choice."
Stephens said her views are informed by her experience with two very difficult pregnancies. When she went into labor early with her second child, she couldn't find a doctor who would deliver her baby.
Even though she told doctors something was wrong and went into convulsions in the hospital, she was told she was just getting medication out of her system and that she was just panicking. It wasn't until after she returned home and had more convulsions that it was discovered she had sepsis and other infections throughout her body.
"I kept saying, 'I think I'm dying,'" she said. "I knew something was wrong. I was not taken seriously. There is no one who should determine the level of risk for a women's life and health other than that woman."
She said she doesn't want any restrictions on abortion "because I don't believe in restrictions on women's lives. And people talk about being pro-life and I am. I am also pro-women's lives, too."
College affordability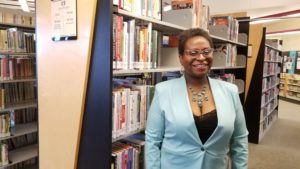 Stephens said she's consistently opposed tuition increases as a Nevada regent. But beyond that, she said she's encountered students who still have trouble getting enough food and could use a food bank on campus.
"We've got to look at more than just tuition," she said. "We need to look at reducing student loan debt and we need to look at creating other avenues for funding so that students can actually afford to attend college.
"I also think that in addition to that, we need to understand what the issue actually is, and the quick, easy fix won't do the trick," she said.
Guns
Asked about what steps she might take to prevent gun violence, she said she doesn't think there's a single solution.
"I think it's multifaceted and there's a lot going on there," she said. "We're talking about another mental health issue."
But she does oppose assault rifles among the civilian public.
"I don't think anyone needs an assault rifle. We don't need to be militarized on our streets," she said. "I also think that we should be supportive of people exercising their Second Amendment rights and so there are ways to do that, but when there needs to be a ban on something, let's step up and take assault rifles, take all of this militarized weaponry, away from our everyday citizens. That's inappropriate."
As for what needs to be done with background checks, Stephens said "just handing over guns without an adequate background check doesn't make sense. What the specific details of that is in how that plays out, then those are things that I would need to develop over time by listening to constituents."
Health care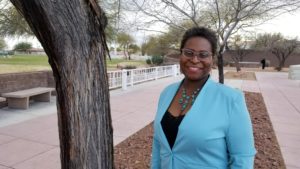 Stephens works at DaVita Dialysis and is working on her third degree in health care. Asked whether she supports Medicare for All, she said she supports "universal access to health care."
"I think we've been bogged down again and someone from Washington telling us that it has to be even universal coverage, which is an insurance piece," she said. "But insurance coverage, which we expanded through the Affordable Care Act, doesn't impact the availability of doctors."
Stephens' son has an auditory processing disorder as well as juvenile arthritis, and it's only been recently that they've been able to find a juvenile rheumatologist in-state.
"So yes, we need to figure out that insurance payment mechanism, but we also need to understand the other issues that are affecting people's ability to access health care, like my son. Is there a doctor, a specialist in town?" she said. "And so there are some pieces of legislation and things that we can do to get to that point of universal access, not just universal coverage, not all these little mitigation steps."
As a regent, she said, she's attempted to address some of that physician shortage by overseeing the development of the UNLV Medical School, the expansion of nursing programs and the opening of a speech pathology master's program at Nevada State College.
"Businesses have not wanted to come here because we don't have a health-care infrastructure," she said.
Beyond that, she said she wants to focus on transparency in costs.
"There's a lot of talk about affordability, but nobody even knows how much it costs to provide health care," she said.
Minimum Wage
"I'm not putting a number on it right now, and the reason is because the number has become a moving target," she said about what the minimum wage should be. "The cost of living continues to increase. Fifteen dollars, I think, should be the minimum at this point."
But she said it could go up if Congress waits too long.
"Congress has been stagnated and so we're going to need to keep working with people to see what we can do to push that upwards so that people can afford to put food on the table for their families," she said.
She's also interested in finding ways to make child care more accessible after struggling with the costs when her children were younger.
"There were so many years that, upfront, half my check went to daycare and as a young adult trying to move forward in my career, it was a real challenge," she said. "In our state, the cost of child care outpaces the cost of higher education."
Public Lands
Stephens said she wanted to study up further on the prudence of transferring federal land to state control.
"I know for sure that there are some areas where that land needs to be transferred over to Nevada," she said. "I would need to make an informed decision about whether or not to support a full transfer or not."
Yucca Mountain
Stephens does not support using Yucca Mountain for a nuclear waste disposal, but said she empathized with the people in Nye County who want it for economic development purposes.
"I do not support and will not support Yucca Mountain development at this point, not for a nuclear repository," she said. "I just don't think that that's the right way to go, but I do understand the concerns of people who, again, want to put food on the table, who like me have to figure out how to pay child care costs."
Comment Policy (updated 4/20/2021): Please keep your comments civil. We reserve the right to delete comments or ban users who engage in personal attacks, use an excess of profanity, make verifiably false statements or are otherwise nasty. Comments that contain links must be approved by admin.