Supporters cheer for Massachusetts Sen. Elizabeth Warren, a 2020 Democratic presidential hopeful, at her town Hall in Carson City on Wednesday, Oct. 2, 2019 (Andrea Laue/The Nevada Independent)
One forum and many campaign stops keep presidential candidates busy from dawn to dusk
October 2nd, 2019 - 11:06pm
They came, they spoke and then they spoke again. Somewhere else.
That was the order of operations for Democratic presidential candidates who flocked to Las Vegas on Wednesday for a forum addressing gun violence. But before or after their 30-minute, scheduled time slots at the forum, the nine participating candidates fanned out across Nevada — squeezing every ounce of productivity out of their trips to this early caucus state. 
For Julian Castro, that meant a 7:30 a.m. appearance at a Hispanics in Politics gathering. The former Housing and Urban Development secretary — a frequent visitor to the Silver State — jogged through a variety of familiar talking points, including the crisis at the Mexican border. As attendees nibbled on breakfast at Doña Maria Tamales, Castro called for an immigration court system independent from the Department of Justice.
"No more playing games with people at the border who are seeking asylum. We can ensure that we honor their asylum claims and give them an answer — either yes or no," he said.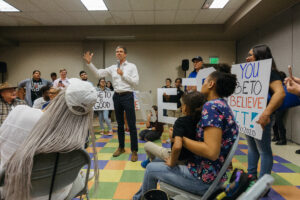 Just a few blocks away in downtown Las Vegas, a largely female crowd was growing at The Smith Center for Performing Arts. Parked outside: a pink- and orange-colored bus with the Supermajority Education Fund, a new activist group focused on women.
This was the final stop of the organization's cross-country bus tour. Cecile Richards, former president of Planned Parenthood and co-founder of the Supermajority Education Fund, called it a fitting end given Nevada's distinction as the only state with a majority-female Legislature.
But the organization's first featured guest, Massachusetts Sen. Elizabeth Warren, turned attention to her male colleague and competitor. Vermont Sen. Bernie Sanders canceled his Las Vegas appearances after undergoing a heart procedure overnight to receive stents. 
"I know everyone here wishes him well and wants to see him strong and back on the trail as soon as possible," she said, drawing applause.
The rest of the conversation focused on the issues and questions brought forward by women in the room — reproductive rights, protections for transgender people, her proposed wealth tax, health care and immigration reform, among others. As she has in the past, Warren took a firm stance on strengthening a woman's health care and reproductive rights. 
Warren said she would reverse changes made by the Trump administration to the federal Title X family planning program, which prohibits abortion referrals unless there's a medical emergency. She also wants to repeal the Hyde Amendment, which bars federal funds from being used for abortions in most situations. Beyond that, Warren said it's time Congress memorializes the Supreme Court's landmark Roe v. Wade decision, which recognized a woman's constitutional right to an abortion.
She wrapped her argument in a sports analogy: Rather than let the courts play defense with the decision, Warren said Congress should be playing offense to protect it.
"We have watched as the ledge we stand on has gotten narrower and narrower and narrower as it has eroded," she said.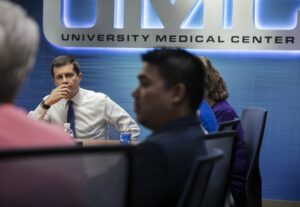 As Warren headed to the forum, South Bend Mayor Pete Buttigieg traveled in the opposite direction toward University Medical Center, where trauma surgeons, nurses and other hospital workers gathered in fifth-floor conference room. The public hospital — which treated 104 people injured at the Route 91 Harvest music festival shooting two years ago — is the region's only Level I trauma center. The medical staff performed more than 20 surgeries within 24 hours after the Strip massacre.
But Dr. Paul Chestovich, a trauma surgeon, credited the team's response to its practice, nearly every night, treating gunshot wounds. The doctors and nurses, as a result, have become "very experienced" mending victims of gun violence, he told Buttigieg.
"That in and of itself is its own problem," Chestovich said. "We did what we do every night — just on a much, much grander scale."
The frequency of shootings, however, has created a ripple-effect outside the hospital walls. Elizabeth Bolhouse, a UMC nurse, said she taught her teenage son how to apply a tourniquet before he attended the Life is Beautiful music festival. The grim lesson made Bolhouse feel like she had failed him in some way.
"Part of what is changing the conversation is this moral urgency among young people," Buttigieg said in response to her story. "I would say at least half the time when I get a question from somebody not old enough to vote at a campaign event, it's on this topic. You can see the trauma on kids, even if they're not directly exposed."
For the second time that day, Buttigieg explained his thinking on how to combat gun violence: universal gun background checks, red flag laws and a ban on the sale of assault weapons. 
The Navy veteran lamented the fact that programs such as "Stop the Bleed" have become more of a focus than CPR training.
"I learned how to do a tourniquet because I was training to go to a war zone," Buttigieg said.
The round table discussion ended with Buttigieg shaking hands and, just like any other campaign stop, posing for photos. But after he departed, the other participants stayed and a new message appeared on the room's giant television screen: "UMC Welcomes Senator Kamala Harris."
In a town brimming with presidential hopefuls, some candidates traveled similar paths. Harris and Buttigieg visited the UMC hospital workers. Then, after speaking at the forum, Harris attended the Supermajority Education Fund event, where Warren had kicked off her morning. 
Later in the afternoon, New Jersey Sen. Cory Booker attended a gun violence conversation with students and phone bank launch, while former Texas Rep. Beto O'Rourke held a town hall in North Las Vegas. Castro also attended several afternoon events, including a town hall with teachers.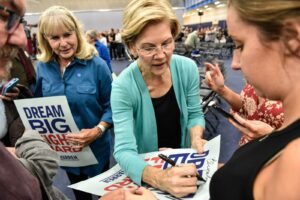 Warren and Biden, after speaking at the gun forum, boarded planes bound for Northern Nevada, where they held dueling rallies Wednesday evening about 30 minutes away from each other in Reno and Carson City. Biden's rally at Truckee Meadows Community College drew roughly 800 attendees, about half of the 1,550 people who gathered to see Warren in a multipurpose athletic center in conservative Carson City, where there are only 9,812 registered Democrats out of 32,828 total voters.
Through the campaign, Warren has become known for drawing crowds of thousands to her events and staying around for hours after to take selfies with rallygoers. That growing enthusiasm has also been reflected in the polls, which have shown Biden's poll numbers high but stagnating and hers surging ahead to meet his.
Where Biden spent most of his time in Reno ratcheting up his rhetoric against Trump, Warren doubled down on her indictment of what she described as a corrupt Washington that works for corporations but not the American people. 
"We can't make 2020 only about Donald Trump," she said.
From the moment Warren landed in Reno, the Massachusetts senator drew protests from Trump supporters who followed her through the Reno-Tahoe International Airport, as she got into her car and even to Carson City, where one demonstrator interrupted her remarks. 
"You should be ashamed of yourselves," he shouted. "You are betraying the president."
Biden reserved most of his ire for Trump. 
"The abuse of power is the defining characteristic of the Trump presidency," Biden said. "The American presidency is an office of immense power. That's why character matters."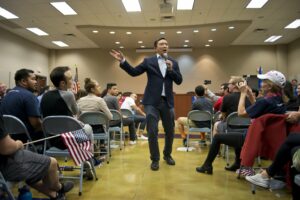 Trump wasn't the focal point in a union hall in Las Vegas, though. Entrepreneur Andrew Yang drew a crowd of more than 200, filling the sweltering room to standing-room-only capacity as the sun set over the valley. After a short delay when the candidate found himself stuck in the downtown rush hour, Yang finally entered the room to raucous chants of "math, math, math" — a catchphrase of Yang's that's become core to his campaign messaging. 
Standing amid the crowd, Yang spent the better part of 45 minutes rolling through a freewheeling stump speech that attacked a modern economy Yang said left workers behind, and he railed against a partisan Washington that he said failed to protect the working class — all peppered with jokes about math and PowerPoint presentations at the State of the Union. 
"There's been a storm brewing for decades, and the storm, unfortunately, is gaining strength," Yang said. "It's this inhuman, punishing economy that now is seeing us less and less as human beings, and more and more as inputs into a giant machine."
Yang has, in large part, staked his campaign on a promise of a form of universal basic income, what he calls a "Freedom Dividend" — $1,000 a month for every American over 18, paid for by a value-added tax on corporations that benefit from automation. 
Wednesday's visit — just his second to Nevada since he announced his candidacy in 2017 — comes at a time of a relative surge for the once-unknown entrepreneur. Yang's campaign announced this week it had raised $10 million in the third quarter of 2019, more than tripling its fundraising haul from the quarter prior and putting him among the top echelon of fundraisers in the still-crowded primary field. His national polling average has steadily inched up in the past month from 2 percent to just over 3 percent. 
"I'm going to ask you all, is it harder to go from anonymous to fourth in the polls, or fourth to first," Yang said. "I think we've already done the hard part, now's going to be the easy part, the fun part."
The topic of candidate viability also surfaced Wednesday evening at the Smith Center, where roughly 120 people had gathered to hear Harris speak. The crowd turnout matched that of Warren's visit earlier in the morning. 
Harris said she bristles at the notion that America isn't ready for a female president.
"Here's my response to that: We cannot wait for other people to give us permission, to tell us what is possible," she said.
Which is why, under a darkening sky outside, a black Cadillac Escalade awaited Harris. Her day hopscotching the city wasn't over. She still had one more campaign event in Las Vegas before waking up and doing it all over again Thursday in Reno.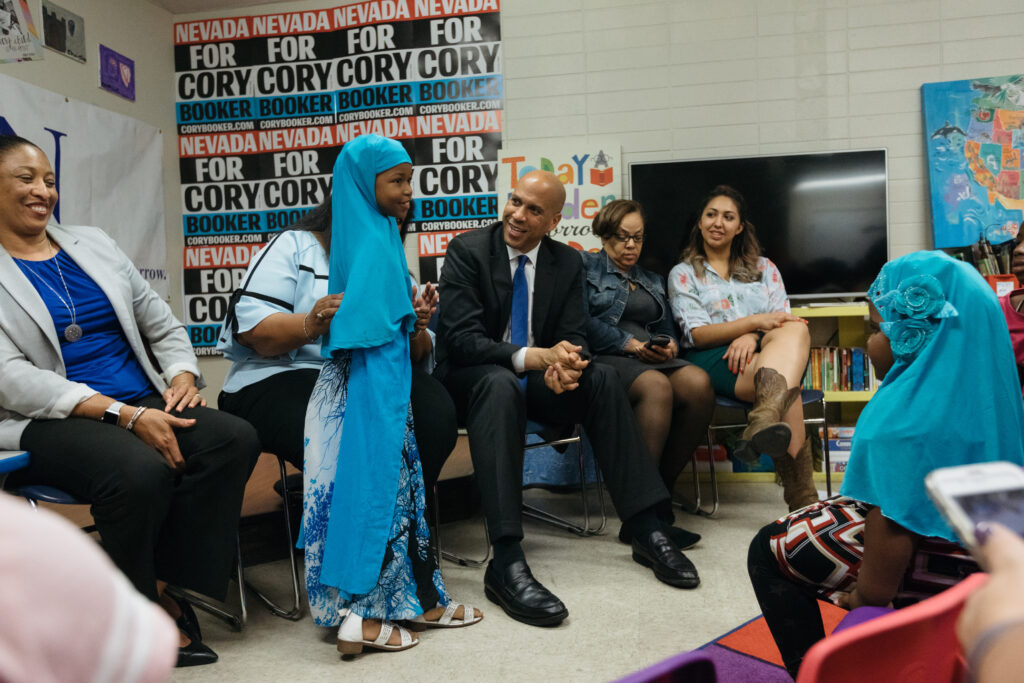 Reporters Shannon Miller, Mark Hernandez and Megan Messerly contributed to this story.
Stories
Candidate Trackers
Endorsements, Ads, Policies, Visits
& More
visit now
Comment Policy (updated 10/4/19): Please keep your comments civil. We reserve the right to delete comments or ban users who engage in personal attacks, use an excess of profanity, make verifiably false statements or are otherwise nasty.