Vice President Mike Pence during a campaign stop at the Reno/Tahoe International Airport on Thursday, Oct. 29, 2020. (Trevor Bexon/The Nevada Independent)
Pence promises that COVID vaccine is 'weeks away,' touts Trump's economic chops during likely last campaign trip to Nevada
October 29th, 2020 - 6:37pm
Vice President Mike Pence promised that a COVID-19 vaccine is "just a few weeks away" while rallying supporters in Reno on Thursday, making a likely final pitch to Nevada voters with the election just days away.
Vice President Pence's campaign rally and nearly 45-minute speech was held at a private hangar near the Reno Tahoe International Airport and is likely to be the last major top-of-the-ticket candidate appearance in Nevada for the 2020 presidential race.  
The trip also underlies the strategic importance of Reno and Washoe County in the view of both the Trump and Biden campaigns; Democratic vice presidential candidate Kamala Harris stopped in Reno on Tuesday.
Pence — who said the "road to victory goes right through Nevada — directly addressed Harris's comments from her recent Nevada trip about measuring the success of an economy by the status of working people, rattling off statistics about increases in Nevada's average median household income and average hourly earnings over the first three years of Trump's presidency. He said that Trump's track record on the economy spoke for itself.
"When it comes to this economy, it's a choice between a Trump boom and a Biden depression," he said, deriding the former vice president as "a career politician who spent 47 years in Washington DC, raising taxes, stifling the economy under an avalanche of regulations (and) waving a white flag of economic surrender on trade."
Pence, who heads the White House Coronavirus Task Force, also addressed the administration's often-criticized response to the pandemic, touting the president's decision to shut down travel to China in the early weeks of the pandemic and saying it "saved untold American lives."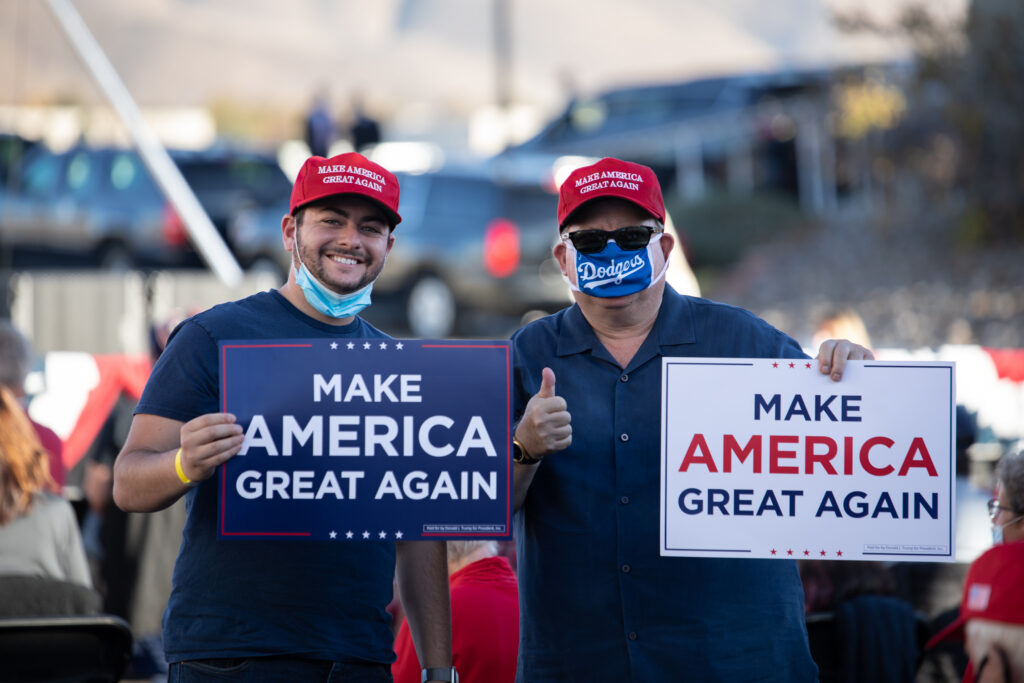 Referencing recent news that France and Germany were planning second nationwide shutdowns in response to the pandemic, the vice president said that a Biden administration would pursue another shutdown "right at the moment that the American economy is coming back." He promised that the country was "just weeks away" from having millions of doses of a COVID vaccine ready to distribute, though most experts expect wide-spread development and distribution of a vaccine will likely come in early 2021.
"As we see cases rise here in the West and around the country as the winter approaches, people in Nevada can be confident," he said. "We're gonna continue to move heaven and earth to make sure our doctors and nurses have all of the resources that they need to give anyone impacted by the coronavirus the level of care that we want a member of our family to have. I promise you that."
Though Pence referenced the coronavirus sparingly — focusing most of his speech on the Trump administration's economic accomplishments — the virus's impact was nonetheless felt and seen through the facial coverings, reminders to distance and other safety precautions.
Prior to the event, event organizers had agreed to follow state rules on large gatherings, including six-foot social distancing of seats, a maximum capacity of 250 people and near-universal mask compliance. It proved a striking contrast to the president's previous-day rally near the Nevada border in Bullhead City, Arizona, with tens of thousands in the crowd and many opting to not wear protective facial coverings.
The rally also came as Washoe County health officials met with the state earlier Thursday over the county's alarming increase in COVID-19 testing and hospitalization trends over the past several weeks, including the setting of a one-day record of new cases on Thursday. Health leaders agreed shortly before the vice president's speech to roll back capacity limits to a maximum of 50 people.
The capacity limits prompted a complaint from Nevada Republican Party Chair Michael McDonald, who spoke before the event to compare the president's rally in Arizona on Wednesday to the socially distant, capacity-limited event.
"We have a broken leader in this Democratic state, leadership, governor whatever you want to call him, I feel bad for the way he's ruling us," he said. "But look what he's done to us. We can fill this ten times over, right here. But, we're sitting here, like this."
Pence — who arrived at the event wearing a mask — focused his remarks on the administration's economic accomplishments, including the replacement of NAFTA, the late 2017 tax cut bill and the recently released news of a 33.1 percent increase in the gross domestic product in the third quarter.
He also addressed domestic issues — promising that the Trump administration would never "defund the police" while criticizing Biden's answers regarding police having "implicit bias" against minorities and that the county has a problem with systemic racism.
"We don't have to choose between supporting law enforcement and supporting our African American neighbors and friends and minorities and everyone that lives in our major cities," he said. "We've done both for the last four years, and will keep doing both for four more years."
The event is Pence's second trip to the state in October, following a trip to Boulder City earlier this month.
Comment Policy (updated 4/20/2021): Please keep your comments civil. We reserve the right to delete comments or ban users who engage in personal attacks, use an excess of profanity, make verifiably false statements or are otherwise nasty. Comments that contain links must be approved by admin.