Trump's bullishness on a Nevada victory belied by attempts to sow doubt in the electoral process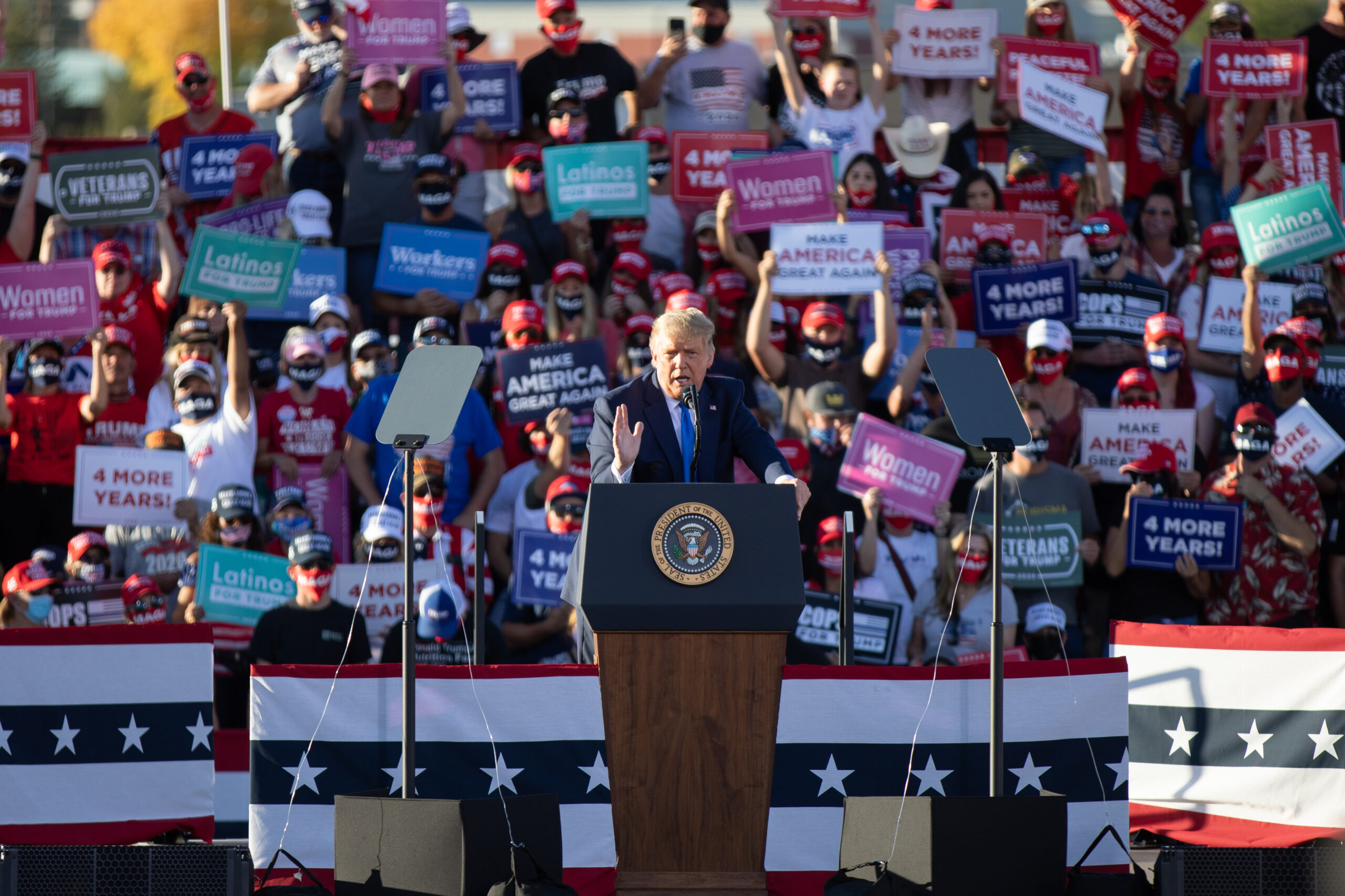 President Donald Trump predicted that he will win Nevada in the presidential election in six days while laying the groundwork to dispute a loss, voicing vague concerns that ballots are "floating around" and incorrectly asserting that Gov. Steve Sisolak, a Democrat, has the ability to "add" votes up to two weeks after the election.
Trump's closing argument to Nevadans, made just across the state's southeastern border in Bullhead City, AZ Wednesday afternoon, not only sought to undermine confidence in the electoral system in the Silver State but paralleled the process playing out at the same time more than 500 miles away in a Carson City courtroom, where Trump's attorneys alleged a lack of transparency in the mail ballot counting process.
Trump has repeatedly criticized Nevada's decision to send mail ballots to all active registered voters amid the ongoing coronavirus pandemic, alleging a lack of security in the electoral process. During the Wednesday rally, he appeared to again voice concerns about those mail ballots.
"You got a lot of ballots floating around in Nevada," Trump said.
Nearly two times as many Democrats than Republicans statewide have cast their ballots by mail so far, meaning that any stop to the mail-in ballot counting process, as Trump's attorneys have asked for in court, would disproportionately hurt Democrats and benefit Republicans. Nearly 50,000 more Democrats than Republicans have cast their ballots so far statewide, between mail-in voting and in-person early voting.
Trump went on to say that Nevada had mailed "millions" of ballots, though the state only has 1.8 million active voters, and that military ballots with the name "Trump" on them had been found in a trash can, an apparent reference to a situation in Pennsylvania, not in Nevada.
"We got to be careful with the ballots," Trump said. "We do have law enforcement watching in your state, you know, we have law enforcement because it's illegal to do bad things."
Election officials in Nevada have repeatedly stressed the processes they have in place to ensure the integrity of the election, including an election management system to ensure that each voter only casts one ballot, and the U.S. attorney in Nevada, Nick Trutanich, has appointed a prosecutor to oversee any complaints of election fraud and voting rights concerns. Additionally, casting a ballot in someone else's name — including that of a deceased relative or a pet — is a felony.
During the rally, Trump additionally incorrectly suggested that Sisolak, as governor, has the ability to "add" votes up to two weeks after the election. No one in Nevada has the authority to "add" votes after the election; rather, mail ballots can still be counted in Nevada if they arrive up to a week after Election Day, so long as they are postmarked on or before Election Day.
"Some of these people, in Nevada, they want to have the election, they want to have the count weeks after Nov. 3," Trump said. "So let's all wait for the governor to count them up good and how many is he going to add during that two weeks?"
Because many more Democrats are voting by mail than Republicans and because many Democrats are likely supporting former Vice President Joe Biden, it is likely that more of the late mail-in ballots will net votes to Biden than Trump. Republicans, by contrast, are turning out at higher levels than Democrats during in-person early voting and will likely also beat Democratic turnout in-person on Election Day.
Sisolak, during a press conference Wednesday afternoon, said he doesn't "have anybody's ballots" and has "never seen or found any ballots in a garbage can."
Trump's efforts to discount the electoral process in Nevada come as polls have him lagging Biden by an average of about 5 percentage points in the Silver State. The president, however, told rally goers he had heard he was "up" in Nevada.
Trump took further aim at Sisolak during the Wednesday rally, dismissing him "a politician" who "headed the political club," which he said is "some club in Nevada." The president has previously called Sisolak a "clubhouse governor," though it isn't clear exactly what he meant by that, nor to which club he was referring to on Wednesday.
Sisolak, in response, said that he's a Democrat and a Nevadan, if those are the clubs the president was referring to.
"I don't know what club he's talking about," Sisolak said. "I mean, sometimes he gets talking about things and I can't follow exactly where he's going. But those are the clubs that I'd be a member of, if that's what he's talking about."
Trump again urged Nevadans to tell Sisolak to "open up" the state, though it wasn't clear exactly to what extent he wants the state to be open. Casinos, bars, restaurants, churches and movie theaters are all open with capacity restrictions across the state; the only businesses not open are nightclubs and brothels.
"And Arizona, you're opened up," Trump said. "But Nevada, get your governor to open up your state, please, get him to open up your state, Nevada, get him to open, get him to open it up."
The president, during the rally, repeated his claim that the country is "rounding the turn" on the coronavirus pandemic as COVID-19 cases climb in Nevada and across the U.S. The average number of new cases reported each day in Nevada, calculated over a seven-day period, however, continues to climb and is currently about two-thirds of the prior peak in cases over the summer.
"We are not rounding the corner. I don't care who says it. We are not rounding the corner," Sisolak said. "Anyone who says to the contrary is lying. They are trying to intentionally deceive people and have them let their guard down."
Earlier in the day, Trump was endorsed by three conservative groups — the Nevada Trucking Association, the Retail Association of Nevada and the Associated Builders and Contractors, Nevada Chapter — during a press conference at his hotel in Las Vegas. The visit marked the president's third trip to the state ahead of the general election and came just 10 days after he rallied supporters in Carson City.
Democratic vice-presidential nominee Kamala Harris attended voter mobilization events in both Reno and Las Vegas on Wednesday, and Vice President Mike Pence will address supporters at the Reno-Tahoe International Airport in Northern Nevada on Thursday. Biden, who was last in Nevada earlier this month, is not expected to return to Nevada before Election Day.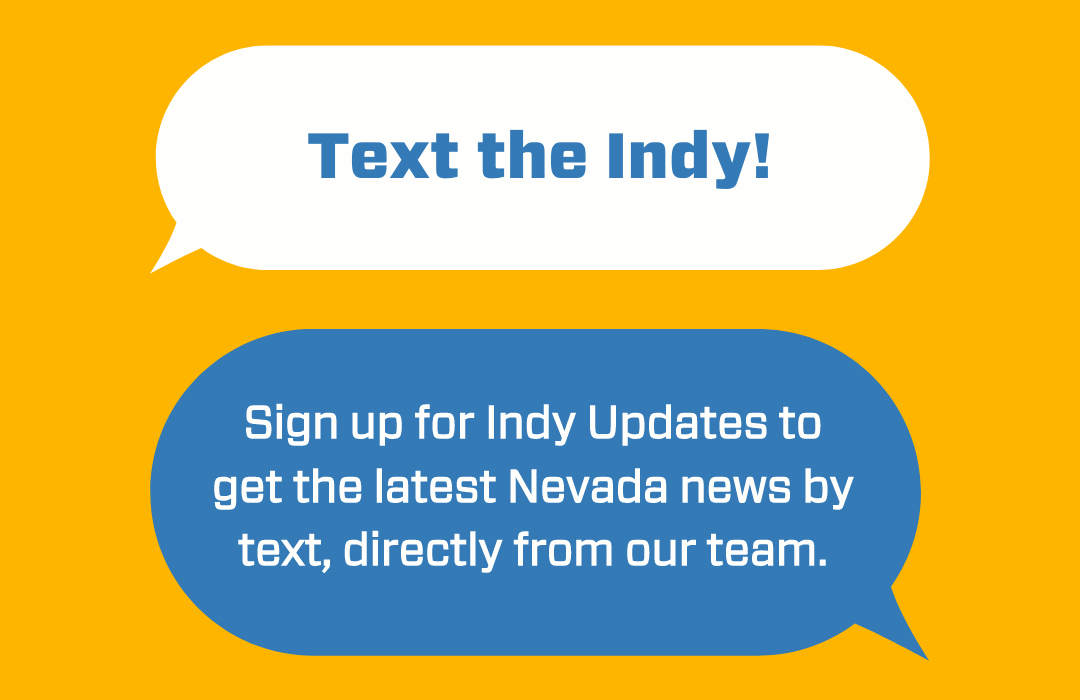 Featured Videos