At Carson City airport rally, Trump promises hard-hit Nevada an economic revival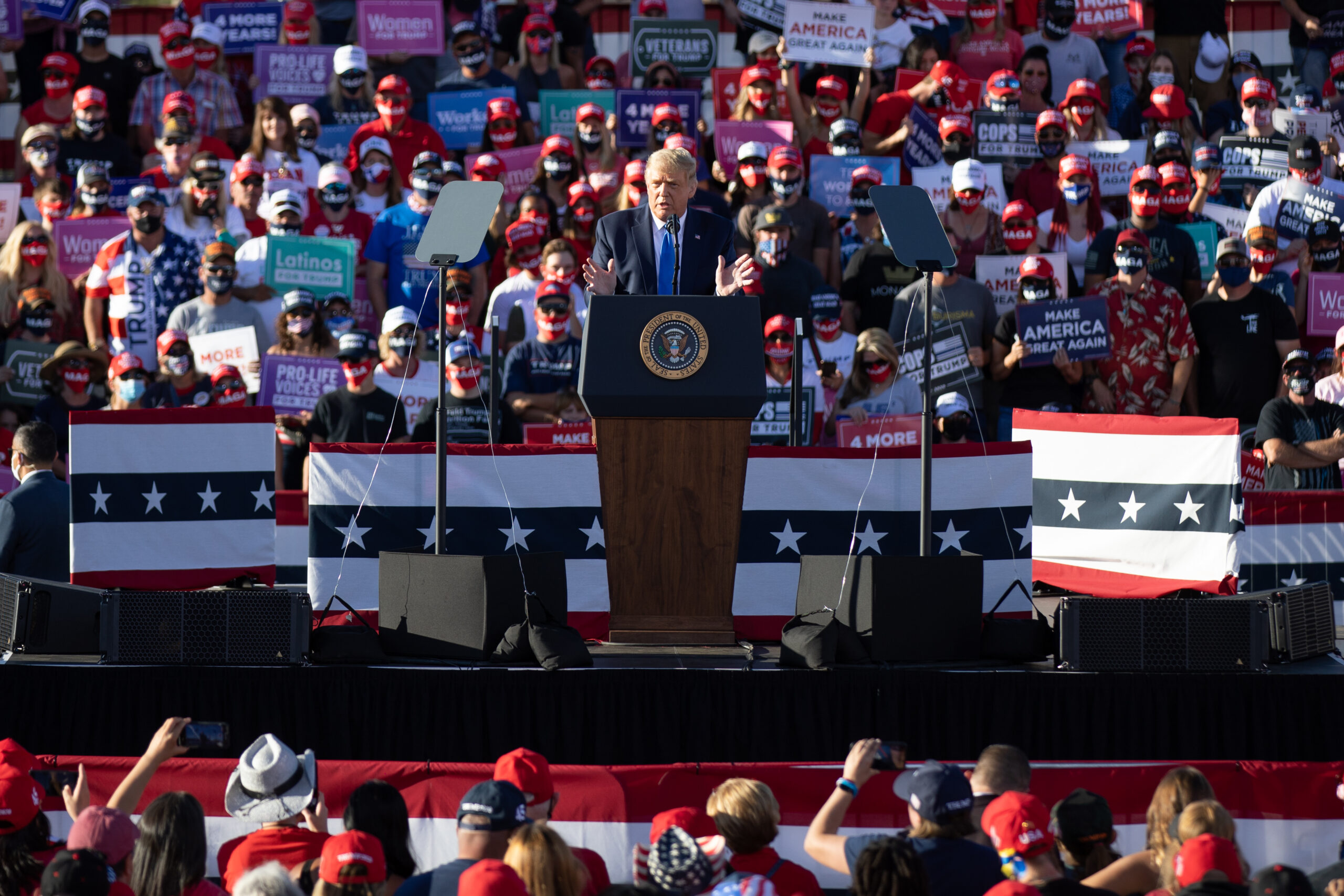 President Donald Trump predicted that Nevada's battered tourism industry would "come roaring back" under his leadership, warning that the lights of Las Vegas and Reno would be extinguished under a Joe Biden presidency and that Carson City, where he rallied supporters Sunday evening, would turn into a ghost town.
Trump, against a backdrop of blue skies, brown mountains and vintage airplanes at the Carson City airport, painted a rosy picture of Nevada's economic future post-COVID even as experts in the state have projected the travel-dependent economy will continue to operate at only partial capacity for the next few years. The president cautioned that electing Biden would result in another lockdown that would further damage the economy in a state that already has the nation's highest unemployment rate.
"If I listened totally to the scientists, we would right now have a country that would be in a massive depression, instead of, we're like a rocket ship, take a look at the numbers," he said in an 80-minute speech.
Campaign and law enforcement officials estimated there were 13,000 people who turned out to the rally on a warm October day, which comes just a few weeks after Trump held similarly large rallies in Minden and in Henderson in violation of the state's limits on public gatherings. Most rallygoers at the Sunday event did not wear masks.
His swing out west over the weekend included a visit to a Las Vegas church whose leaders have long been supportive of him and a fundraising stop in Newport Beach, California.
Trump said he was hopeful that next year "will be the greatest economic year in the history of our country," unless Biden is elected. A Nevada fiscal analyst, however, last week said he is much more concerned about the state's economy operating at 70 to 80 percent for the next three years — as fear about the safety of travel and large conventions persists — than he is about productivity being reduced to 20 to 30 percent for a few months because of government-ordered shutdowns.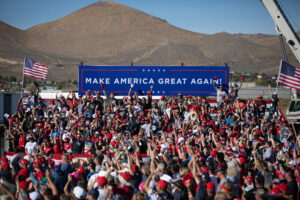 Unlike his previous rallies in the state, Trump infrequently touched on Nevada-specific themes during his address on Sunday, instead spending significant time talking about North Carolina, Michigan, Ohio and neighboring California — where a significant number of the rallygoers hailed from.
He falsely asserted that he is leading in the polls in Nevada, when all recent public polls in the state have shown Biden ahead by between 6 and 11 percentage points — or the two candidates statistically tied.
With 16 days until Election Day, Democrats have cast ballots at much higher rates than Republicans have in Nevada, though most of those have been mail-in ballots, which some Republicans are skeptical of because of the doubt Trump has sowed over the integrity of that process. He did not, however, repeat those claims about the mail-in voting system on Sunday.
Trump also made little mention of Gov. Steve Sisolak or the state's limits on gatherings amid the coronavirus pandemic. Instead, he generally urged his supporters to "tell your governor to open up," though it was not exactly clear to what extent Trump wants Nevada to open with casinos, restaurants and bars all back in business with capacity limits.
Surrogates who spoke ahead of the president did, however, take aim at the governor and new expanding mail-in voting. Nevada Republican Party Chairman Michael McDonald told the audience that "they awoke a sleeping giant when they tried to steal your vote."
Trump also asked former Attorney General Adam Laxalt, who is a co-chair of Trump's Nevada campaign, if he and "Nick" — Nick Trutanich, U.S. attorney for the District of Nevada, and Laxalt's former chief of staff — had found "any bad things" happening with the ballots. Though Laxalt no longer has any formal law enforcement role in the state, Trutanich announced on Friday that he had appointed a prosecutor to oversee election fraud and voting rights concerns.
"Can you please watch very closely, Adam?" Trump said. "He's got the most important assignment there is because a lot of bad things, they're finding those things in creeks, they're finding them in riverbeds."
In one instance in Wisconsin, mail, including several absentee ballots, were found in a ditch off of a highway — though there was no evidence of wrongdoing. Laxalt, meanwhile, has been stoking fear about voter fraud.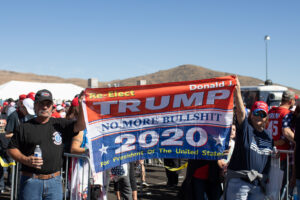 In a nod to the state's significant bloc of Hispanic voters, Trump riffed on how much he loves Hispanics. He highlighted his positions on abortion, support for school choice and support of Catholic schools, which he said are helping him reach high levels of approval among Hispanic voters.
A recent poll from Equis Research shows he has about 26 percent support among Nevada Latinos.
"Joe Biden would crush everything Hispanic Americans have worked for, wiping out your small businesses with lockdowns and regulations and devastating your families with massive tax hikes," he said.
He also harkened to Black Lives Matter protests in Nevada over the summer, saying that demonstrators "burned Reno." After a demonstration in May, a group of people were seen smashing the windows of City Hall and starting a fire inside the building, although it was extinguished while it was still small.
"Joe Biden will appease the rioters, looters and anarchists, and I'm having them arrested," Trump said.
Attendees who spoke with The Nevada Independent before the Sunday rally had mixed feelings about the president's chance of winning.
Virginia City resident Ben Carlson, 34, said the polls he's seen have him worried, even though he generally doesn't believe in polls after Trump defied expectations in 2016. Seventy-five-year-old Roy Boller — a fellow Virginia City resident who said he supports Trump because "he's perfect, he's perfect!" — is even more concerned about the outcome.
"We're voting Trump, but we're worried," he said.
But Ali Hurlbert, 52, pointed to the large crowd in Nevada and in other rallies around the country as evidence of an enthusiasm gap.
"If it was an even playing field and we didn't think there was any voter fraud, I think it would be a complete landslide and embarrassing for the left," said Hurlbert, a second-grade teacher from Reno. "I think the emotion, the passion... We're so different now, the right to the left that I think people can't fathom going to the left, so I think the turnout's going to be tremendous."
Earlier in the day, Trump attended church at the International Church of Las Vegas in Southern Nevada where Pastor Denise Goulet prophesied that Trump would win his re-election campaign. Pastors similarly prophesied over and prayed for Trump at the church in October 2016.
"A second wind — if you add D — it's the Holy Spirit," Goulet said, "and the Lord showed me today, he showed me today that you were coming to get a second wind, another infilling of the Holy Spirit because the Holy Spirit makes you able to finish, take this to the end, Mr. President."
The visit was the president's second trip to the state since securing the Republican presidential nomination. Biden and Vice President Mike Pence have each visited the state once this fall, while Democratic presidential nominee Kamala Harris has visited the state twice.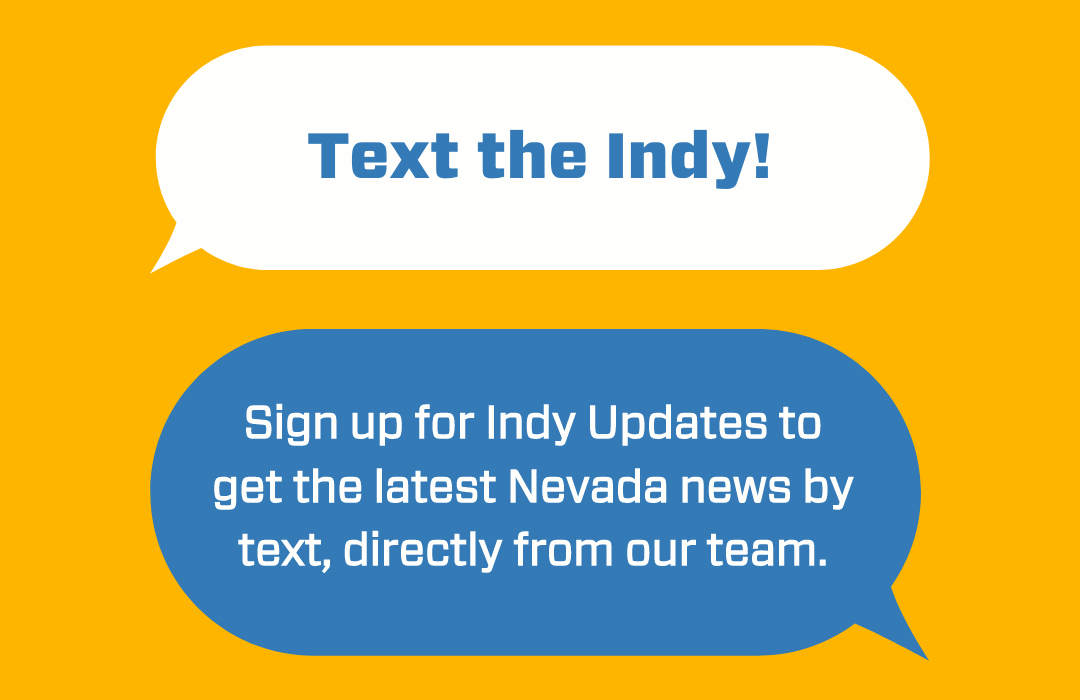 Featured Videos