Trump sows doubt on election integrity with false assertions at Douglas County rally amid coronavirus pandemic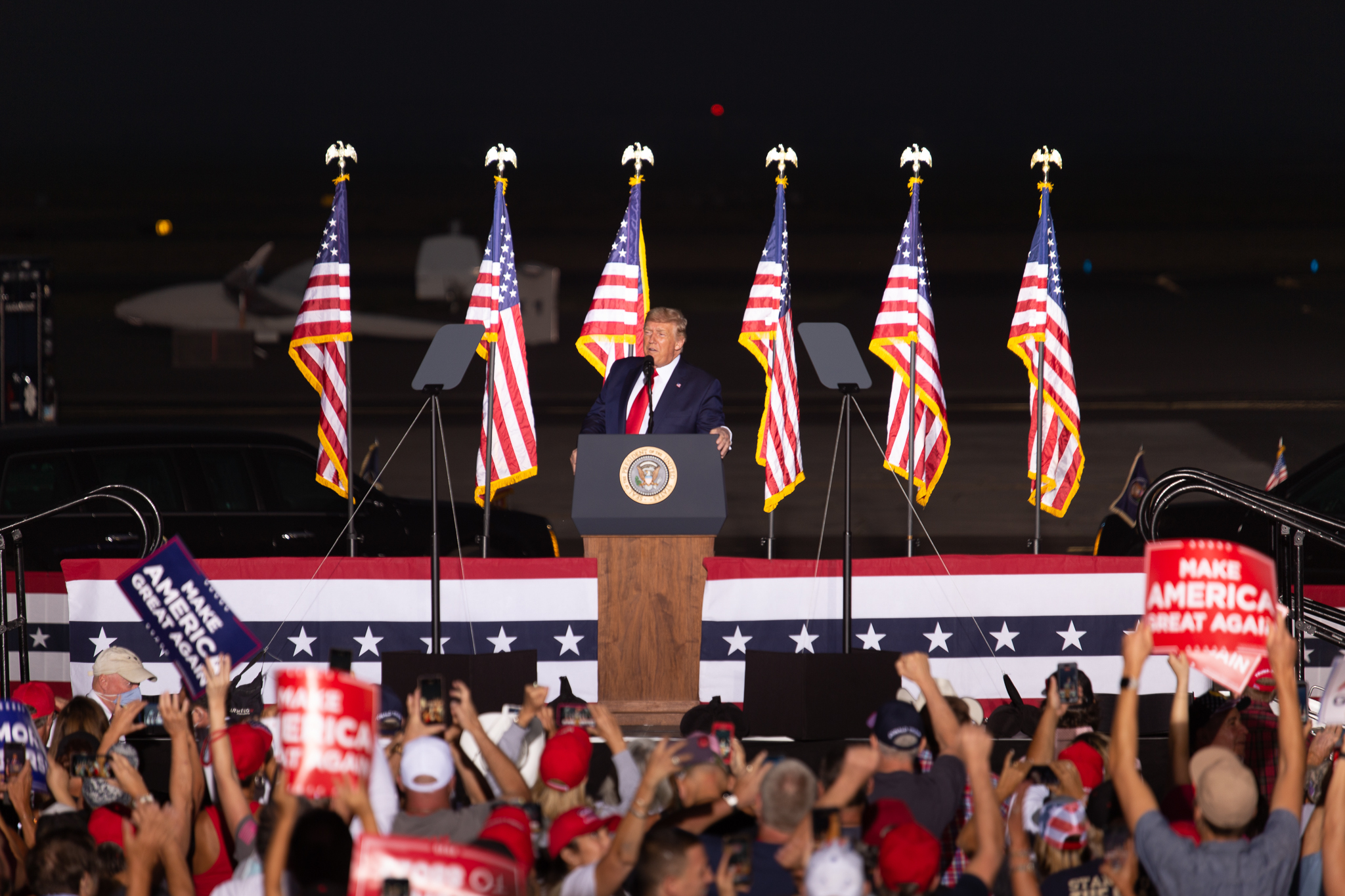 President Donald Trump sought to undermine confidence in the electoral process in Nevada during a rally in Minden Saturday evening, falsely telling a packed crowd of supporters that Democratic Gov. Steve Sisolak controls millions of votes, that mail-in ballots can be accepted without signatures and that Republicans likely wouldn't be sent mail-in ballots but dogs and dead people would.
Trump, in an hour-and-a-half-long speech at the Minden-Tahoe Airport, positioned himself as an oppositional force to Sisolak, the state's moderate first-term Democratic governor, by painting him with the broad brush of national, and far more liberal, Democrats, incorrectly suggesting that Sisolak had sympathized with rioters and voiced support for defunding the police. Trump also asserted that Sisolak had personally called different venues trying to prevent them from hosting Trump's rally, a suggestion the governor's office flatly denied.
Thousands of the president's supporters, some from Nevada and others from out of state, gathered to hear Trump speak at the airport in defiance of a state coronavirus directive limiting public gatherings both indoors and outdoors to 50 people. While some rallygoers wore masks, the vast majority did not, with others wearing masks and gaiters around their chins and necks.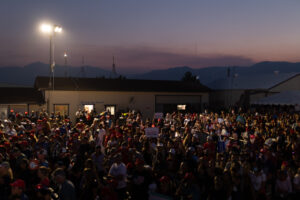 The event was also attended by congressional candidate and former Assemblyman Jim Marchant, Nevada Republican Party Chairman Michael McDonald, Senate Republican Leader James Settelmeyer, Assemblyman Jim Wheeler and former Attorney General Adam Laxalt, who Trump preemptively endorsed Saturday evening for governor, should Laxalt decide to run again in two years after losing to Sisolak last cycle.
Trump kicked off his rally by blaming Sisolak for the last-minute change of venue from Reno to Minden, which happened after officials at the Reno-Tahoe International Airport informed the company that leased the hangar where the rally was originally slated to be held that the event would violate the state's emergency coronavirus directive and could not proceed. The president, however, said that Sisolak was responsible and had "tried very hard to stop us from having this event tonight."
"Here's a guy calling venues telling them not to have the rally, calling different venues, 'Don't have the rally. We're not going to let you have the rally,'" Trump said.
The governor's office said earlier this week that it had "no involvement or communication with the event organizers or potential hosts" regarding the Trump campaign events and a spokeswoman for the governor tweeted Saturday night that the governor's office did not call different venues telling them not to host Trump's rally.
According to the Record-Courier, Douglas County spokeswoman Melissa Blosser "said that after careful consideration and weighing the authority of state directives versus 1st amendment rights, the county ultimately decided to welcome the sitting President of the United States to our community."
The president additionally suggested during the rally that Sisolak had permitted riots to occur in both Las Vegas and Reno in defiance of the state's health and safety mandates on COVID-19, when the governor, in fact, told rioters to "get the hell out of town." Trump also exaggerated the extent to which rioters had caused damage amid a series of protests against police brutality this summer.
"They can burn the hell out of the Strip. They can burn the hell out of Reno," Trump said. "They can do whatever the hell they want if it's a riot."
While rioters did set fire to the City Hall in Reno, no portion of the Las Vegas Strip was ever set on fire. Three men were charged with setting a police vehicle on fire during a protest in downtown Las Vegas.
Trump also said that Las Vegas Metro Police Officer Shay Mikalonis, 29, was shot and paralyzed during a Black Lives Matter demonstration in June by a "vicious criminal left, it was a left person, a left, he was a real left all right." However, the suspect told detectives during an interview that he "had fired a shot" but "was just trying to scare the protesters into leaving and did not even know police were there."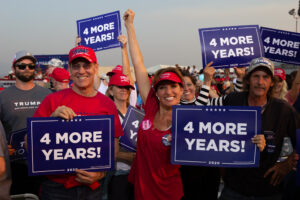 Trump told his supporters that if asked they should refer to the campaign rally as a "friendly protest" to avoid being penalized under the state's limit on gatherings. He additionally suggested that Nevada is under a "heavy lockdown," though in-person dining, movie theaters, gyms, salons, casinos and churches are all allowed to be open with capacity restrictions.
The president went on to cast doubt on the integrity of the upcoming presidential election in Nevada and across the nation, suggesting that mail-in ballots would be sent only to "Democrat areas" and not Republican ones. In Nevada, ballots will be mailed out statewide to all active registered voters, including Republicans, Democrats, nonpartisans and those registered with other political parties.
The president drew a direct line between the distrust he suggested that his supporters should have for Sisolak after his campaign had to change the rally venue and distrust in the electoral process. Trump said, without evidence, that Sisolak controls "millions of votes," though it is the Republican Secretary of State Barbara Cegavske charged with overseeing the election in Nevada and there are only about 1.7 million active registered voters in the state.
"This governor, who's a political hack, he was a political hack and then he became governor, and this is the guy we're entrusting with millions of ballots, unsolicited ballots, millions and millions and then we're supposed to win these states," Trump said.
Trump laid groundwork to call the results of the election in Nevada and elsewhere into question by saying that there was no possibility that he was tied with former Vice President Joe Biden. The most recent presidential poll of voters in the Silver State, a New York Times/Siena College survey released Saturday, showed Biden 4 points ahead of Trump but within the margin of error, a statistical tie.
"And then you read these fake reporters and they say, 'President Trump is tied in Nevada.' Tied. I don't think so," Trump said. "The only way we're tied is if they screw around with the ballots, which they will do in my opinion. Okay? We're not tied anywhere."
Trump also falsely said that ballots in Nevada don't need to have a valid signature, when in reality mail-in ballots will be rejected if the signature on it does not match the voter's signature in their voter file. About 6,700 ballots were not counted in Nevada's mostly mail-in primary election in June because officials could not match the signatures on the ballots.
"You don't have to have an authorized signature on a ballot? No. They're trying to rig an election and we can't let that happen," Trump said. "I hope you're all going to be poll watchers, I hope you are."
Trump warned his supporters about ballots being mailed to dead people and dogs. While ballots are often sent to dead people, studies show that dead voters are possible but rare; and while pets have been accidentally sent voter registration forms by third-party groups, registering dogs to vote is a felony. The president additionally posed to his supporters a scenario in which a postal worker takes thousands of ballots and hands them to "some Democrat political operative," which would also be a crime.
Trump said that the "good news" is that his campaign is "in front of a court" challenging Nevada's newly approved mail-in voting law "and hopefully the court is going to rule because this is the greatest scam in the history of presidential politics." However, Trump's campaign actually moved to narrow the scope of its lawsuit earlier this week and is now only challenging a provision allowing ballots received up to three days after the election to be counted if their postmarks are unclear.
The president positioned himself as the best candidate to "bring prosperity to Nevada" and the rest of the country following economic devastation resulting from the coronavirus pandemic. Nevada's unemployment rate hit 3.6 percent in January, the lowest rate dating back to 1976, when modern record keeping began, before hitting a new record high this spring as the coronavirus pandemic sent unemployment sky high.
"But under my administration, before the virus, we quickly achieved the lowest unemployment rate in the history of Nevada and we'll soon have it back again," Trump said.
Trump will be in Las Vegas on Sunday for a full day of campaign events, including a morning Latinos for Trump roundtable at Treasure Island Hotel and Casino, a fundraiser, and an evening rally at Xtreme Manufacturing in Henderson.
Tabitha Mueller contributed to this report.
The Nevada Independent is raising $200,000 by Dec. 31 to support coverage of the 2024 election.
Tax-deductible donations from readers like you fund this critical work.
If you give today,your donation will be matched dollar-for-dollar.
Give + Get Matched
Featured Videos