Trump campaign moves to narrow scope of lawsuit challenging Nevada's expanded mail-in vote system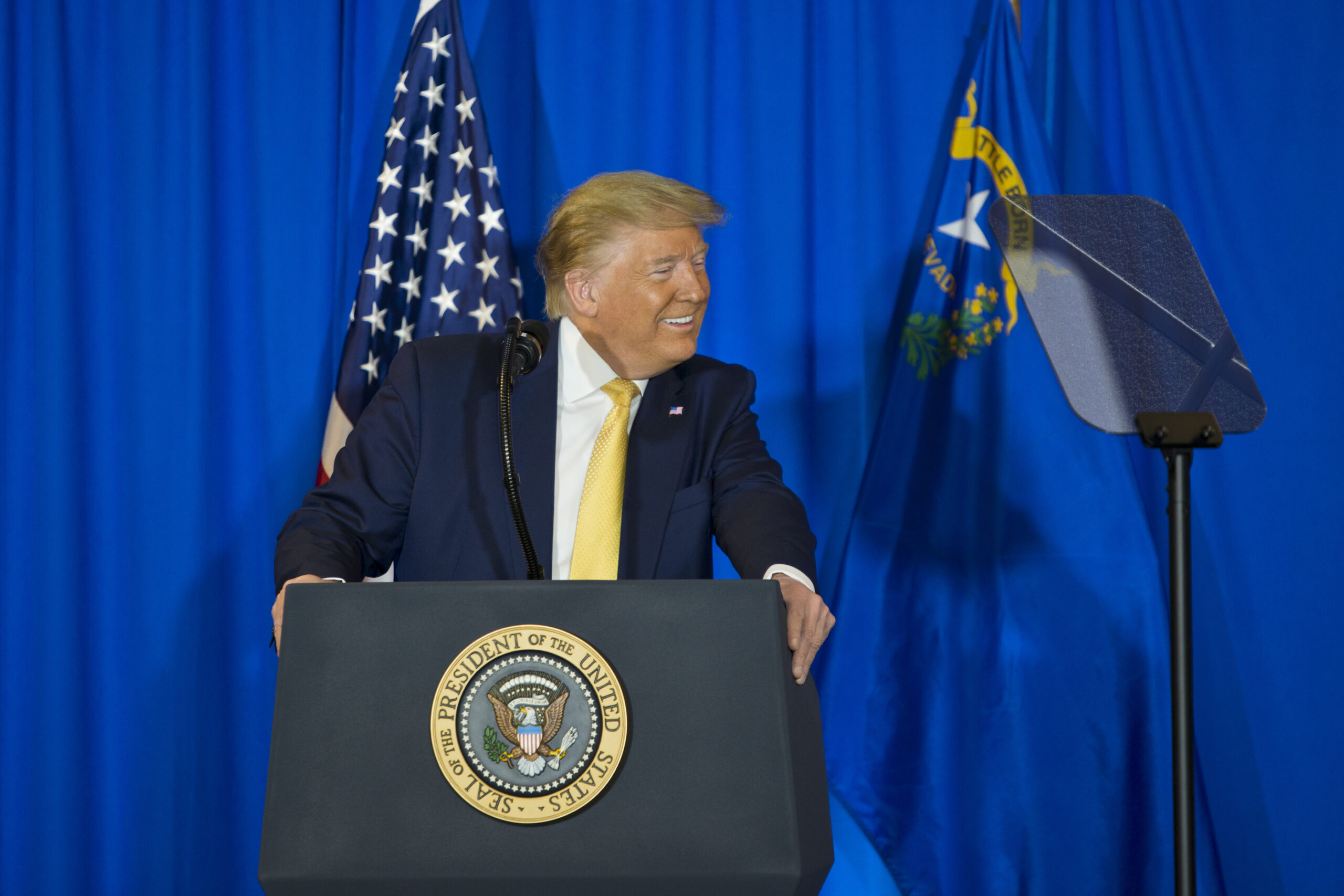 President Donald Trump's campaign is narrowing its focus in a lawsuit against Nevada's expanded use of mail-in ballots for the 2020 general election, now specifically challenging a provision allowing ballots received up to three days after the election to be counted if their postmark is unclear.
In a motion for summary judgment filed on Friday, attorneys for the president's re-election campaign narrowed their legal challenge against AB4, the law approved during the late summer special session of the Legislature. The measure requires a mail-in ballot be sent to all active registered voters for the 2020 election, sets mandatory minimum numbers of polling places in Clark and Washoe counties, makes changes to the signature verification process and allows for non-family members to turn in ballots on behalf of voters.
The Trump campaign filed an initial challenge to the law shortly after it was approved in early August, asking a federal court to block enforcement of the new law amid allegations of a host of constitutional issues including disparate treatment of rural counties, lack of a uniform ballot counting procedure from county to county, and the postmark issue. Those allegations are being disputed by attorneys for Nevada Secretary of State Barbara Cegavske (a Republican and named defendant in the lawsuit) as well as state and national Democratic groups that have filed to intervene in the case.
But in the motion for summary judgment filed last week, the Trump campaign is narrowing that legal challenge and request to block the entire law (made "for the sake of efficiency," according to a footnote) to instead focus its fire on the section allowing mail votes without a clear postmark date to be accepted if they're received within three days after Election Day.
"Disputes about unpostmarked ballots received after Election Day will not exist if the law no longer allows counting unpostmarked ballots received after Election Day," attorneys wrote in the motion. "The Court should invalidate [that section] to ensure that only ballots cast on or before Election Day — the deadline federal law sets — will be counted."
The section of AB4 referring to postmarked ballots was initially put into law by the state's Democrat-controlled Legislature in the 2019 session through AB345, which, among many other changes to election law, specifically allowed for the three-day post-Election Day window for mail ballots without a clear postmark. That provision was copied over into AB4 during the 2020 special session.
Attorneys for the Trump campaign wrote in the motion that allowing those ballots to be counted after Election Day violates federal law requiring ballots to be cast on or before the actual day of the election. They point to public comments made by the U.S. Postal Service that "there can be breakdowns or exceptions to this process which could prevent a ballot from receiving a postmark," and the ability of first-class mail to be delivered in a timely fashion.
The motion includes an exhibit from the Trump campaign's director of Election Day operations, Jesse Law, who testified that as an experiment he sent 10 pieces of first-class mail through different post offices in Clark County to two locations in the county, and that nine of the 10 test letters were delivered the next day.
The campaign wrote that those two factors could lead to "persons dissatisfied with Tuesday night's election returns have an opening to try to distort and improperly influence any races whose preliminary outcomes displease them."
They also raised concerns that the provision may "facilitate" improper behavior, pointing to the large number of ballots in Clark County that were returned as "undeliverable" during the state's June primary election.
Those undeliverable ballots included more than 93,500 sent to voters classified as "active" — meaning their address is up-to-date with election officials. Attorneys with the Trump campaign included an email between a campaign official and Clark County Registrar Joe Gloria stating that notices went out too late to inactivate that group of voters, meaning they'll be mailed a ballot for the 2020 general election even though the prior attempt to mail them a ballot for the primary election was marked as undeliverable.
In past court filings, attorneys representing the secretary of state's office as well as local and national Democratic groups have pushed back on the claims that the postmark provision is unconstitutional.
An attorney for the secretary of state wrote that the challenge was "speculative" and didn't identify a clear injury requiring immediate court action; attorneys for the Democratic groups similarly wrote that the claims about postmark issues were "unduly speculative and generalized."
Action on the lawsuit is threatening to run up against state-imposed deadlines for the mailing of general election ballots. According to the secretary of state's office, overseas and military voters will receive ballots by Sept. 19, and a handful of rural counties plan to mail out ballots by Sept. 24 at the earliest.
The deadline for ballots to be mailed out to voters is Oct. 14.
The Nevada Independent is raising $200,000 by Dec. 31 to support coverage of the 2024 election.
Tax-deductible donations from readers like you fund this critical work.
If you give today,your donation will be matched dollar-for-dollar.
Give + Get Matched
Featured Videos