In Nevada, Kamala Harris contrasts Biden, Trump on climate change, coronavirus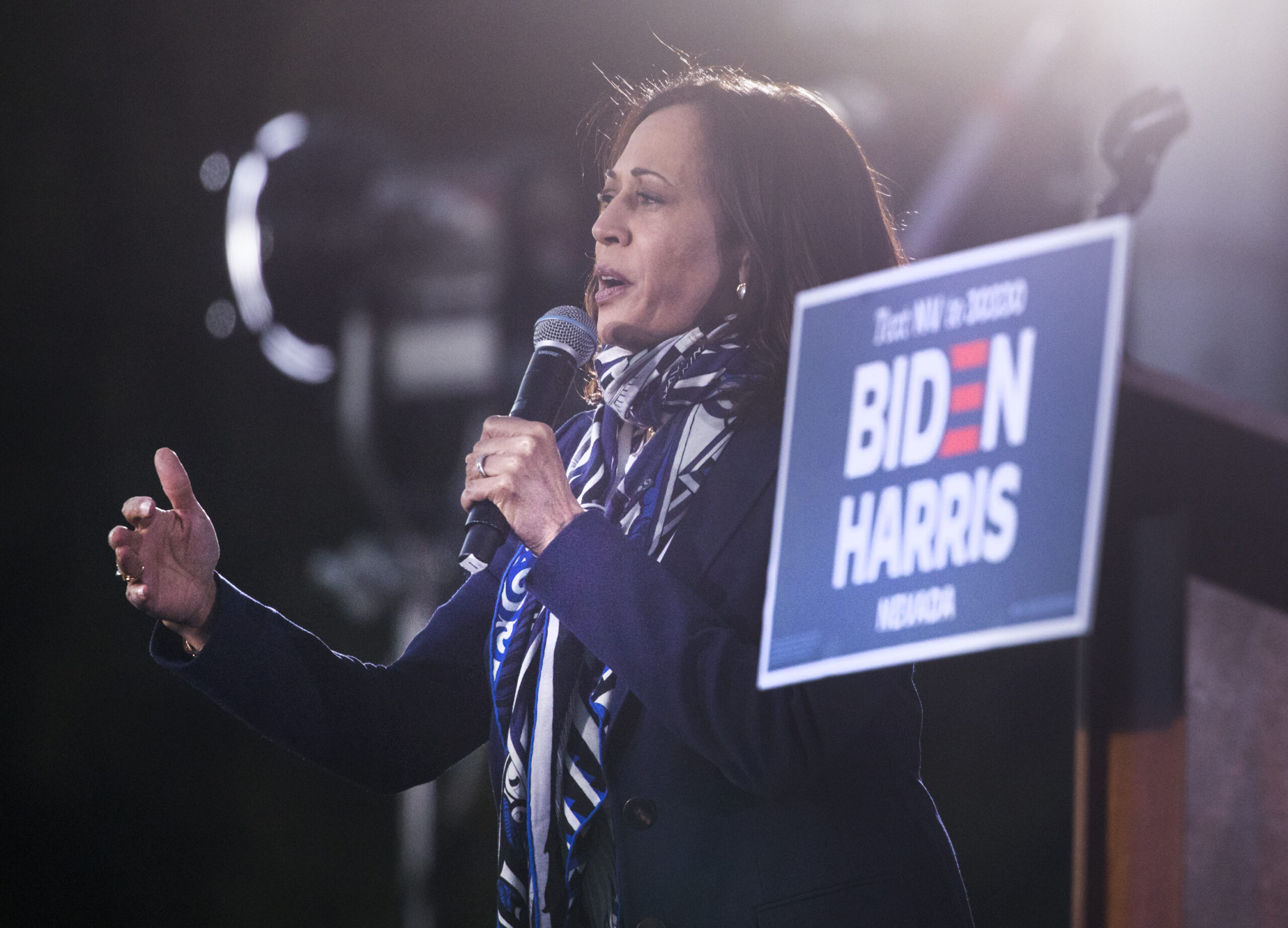 Vice presidential candidate Sen. Kamala Harris made the case for a Joe Biden administration in a series of whirlwind Nevada campaign stops a week before Election Day and as nearly half of the Silver State's voters have already cast a ballot.
Harris spoke to about 100 supporters in a socially distanced outdoor rally at the Bartley Ranch Regional Park in Reno, with about two of every three seats in the sunny amphitheater marked off with orange tape to prevent crowding. From a stage festooned with red, white, blue and orange pumpkins, Harris drew contrasts between Biden and President Donald Trump on health care, the Black Lives Matter movement and climate change — something she noted was acutely important in Reno after California wildfire smoke oppressed the region for much of this fall.
"Joe Biden says 'look, we've got to pay attention to science here and do it with a sense of urgency and put timelines in place, because the clock is ticking,'" she said.
By contrast, she said, Trump recently commented on the issue of how to address climate change by suggesting "I don't think science knows."
"Mr. President, science knows," she said. "And we know."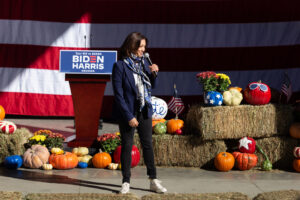 She also nodded to her vote Monday against the confirmation of Amy Coney Barrett to the Supreme Court, arguing that tens of millions of Americans have already cast their ballots and deserved a say in who will be the next president and, in turn, which justice will hold the seat for life.
"It has been an illegitimate process from the beginning, to push through and cram through a nomination of someone while the American people are voting," she said.
Trump has the authority through the end of his term in January to nominate a justice to replace Ruth Bader Ginsburg, who died in September, and the pick can be confirmed by the Senate on the simple majority that Republicans have.
Monday's confirmation was first in modern history without any support from the minority party, however. It was also the closest such Senate approval has been to an election, and came under fire by Democrats who said Republican Senate leadership did not hold hearings on President Barack Obama's nominee Merrick Garland after the early 2016 death of Justice Antonin Scalia, citing the fact that it was an election year.
Harris' tour also took her to Idlewild Park in Reno, where she stood in the bed of a truck and gave a short speech to Unite Here canvassers lauding union priorities of quality health care and a livable wage. Before her arrival, the canvassers — many wearing shirts saying "one job should be enough" — beat a drum and chanted "sí se puede," Spanish for "yes, it can be done."
Later in the day, Harris attended a picnic-style rally at Kianga Isoke Palacio Park in historic West Las Vegas attended by about 200 supporters in masks spaced out on red, white and blue socially distant blankets. A backdrop across the stage in orange and yellow with a silhouette image of the Las Vegas Strip in blue and black proclaimed, "Viva Las Voting!"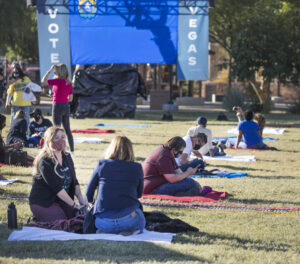 During a half-hour speech, Harris honed in on the coronavirus pandemic and the Trump Administration's response to it. Nevada has been not only hit hard by the virus, which has infected more than 97,000 Nevadans and claimed the lives of nearly 1,800, but also has had a significant economic impact.
"Here in Nevada, one in seven families is describing members of their household as being hungry. Here in Nevada, one in seven households is describing a difficulty paying the rent, if they were able to pay it all last month. One in four small businesses are out of business," Harris said. "And he said, 'We're rounding the corner.' Come on, man. That's a Joe Biden thing. 'Come on man.'"
She framed the virus as an "accelerator" that has exacerbated inequalities across the country.
"People who were doing badly before are doing even worse," she said.
Harris also stressed combatting attempts at voter suppression by urging supporters to turn out to the polls to make their voices heard.
"Let us not let anybody ever take our power from us," Harris said." At election time, the power of our voice is our vote and so we, Nevada, will do everything that is necessary to remind our neighbors and our family members and our friends and our coworkers, you've got the power and don't let anyone take your power from you."
Her stops in Reno and Las Vegas come as Democrats have built up a lead in ballots cast in Clark County, their "firewall" against more Republican-heavy Washoe County and rural areas, but not an insurmountable one. With Biden polling an average of 4.6 percentage points above Trump in Nevada, both candidates appear to view the state as still in play.
"Joe and I feel very strongly Nobody's supposed to vote for us, we need to earn their vote. And that's why we are traveling around the country … telling people what we intend on doing," she told reporters on the tarmac of the Reno airport before leaving for more events in Las Vegas. "There's a plan for getting control of this virus. Donald Trump has had no plan."
Trump, meanwhile, scheduled a rally on the Arizona side of the Nevada border on Wednesday, and Vice President Mike Pence is planning a campaign rally on Thursday in Reno. Those stops are part of a packed calendar of rallies Trump has planned in the waning days of the campaign.
Harris' trip to Nevada is her third since accepting the vice presidential nomination, with the most recent in early October. Her current swing out West will continue with stops in Arizona and Texas.
Reno rally attendee Adrienne Morgenroth, 62, told The Nevada Independent she was so excited to see Harris at the amphitheater rally that she couldn't sleep last night. She's confident Nevada, with its diverse electorate, will go for Biden at the end of the day.
"I think they're really wasting their time," she said of Trump and his surrogates' campaign plans this week. "They think they can get in our head here in Nevada, but I don't think so."
Biden, on the other hand, paid his last visit to Nevada earlier this month. Biden's travel schedule in the home stretch of the campaign includes stops in Georgia, Florida, Pennsylvania, Iowa and Wisconsin — some states that are considered stretch goals for Democrats but signaling confidence from the campaign.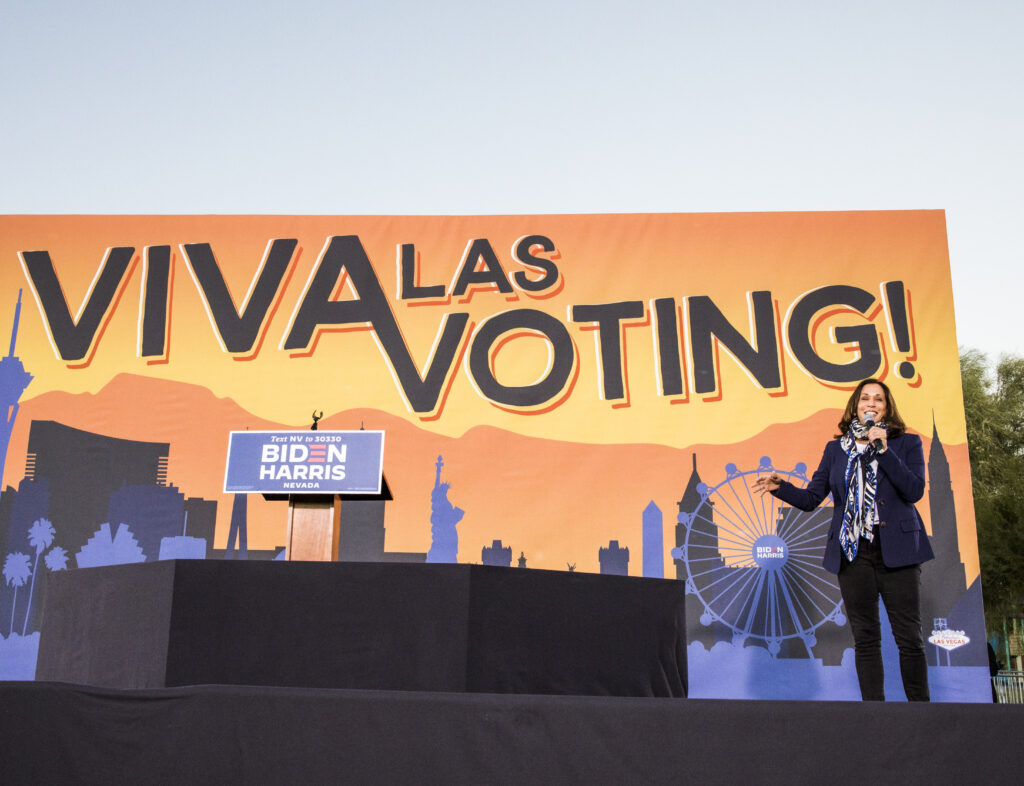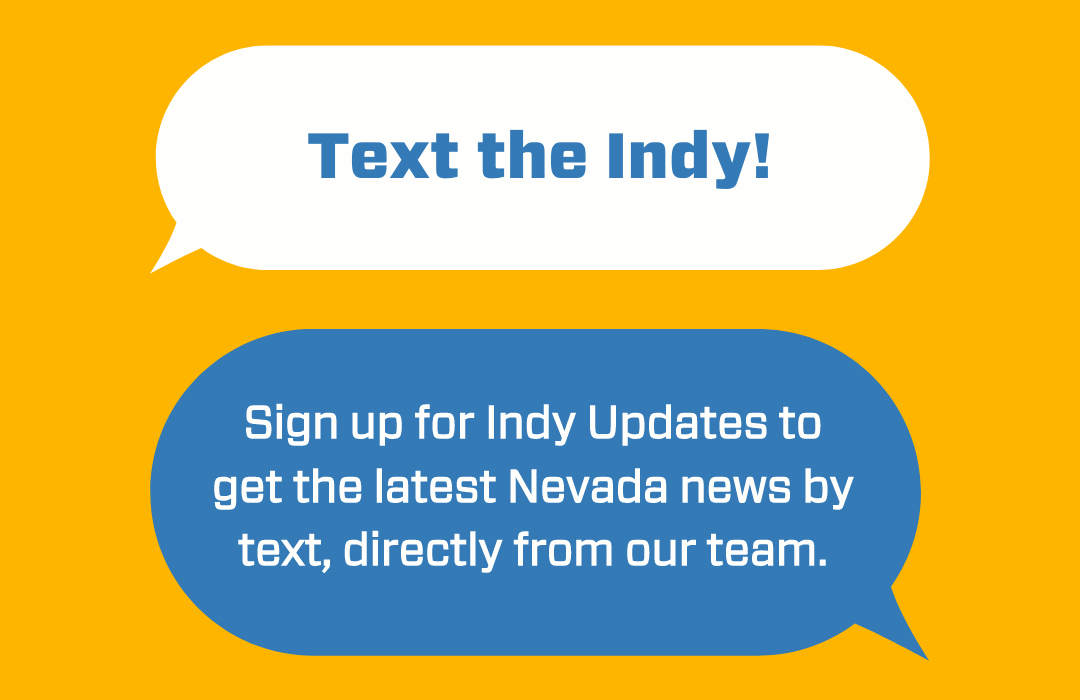 Featured Videos