Poll: Cortez Masto holds strong among Latino voters, as Sisolak has lost ground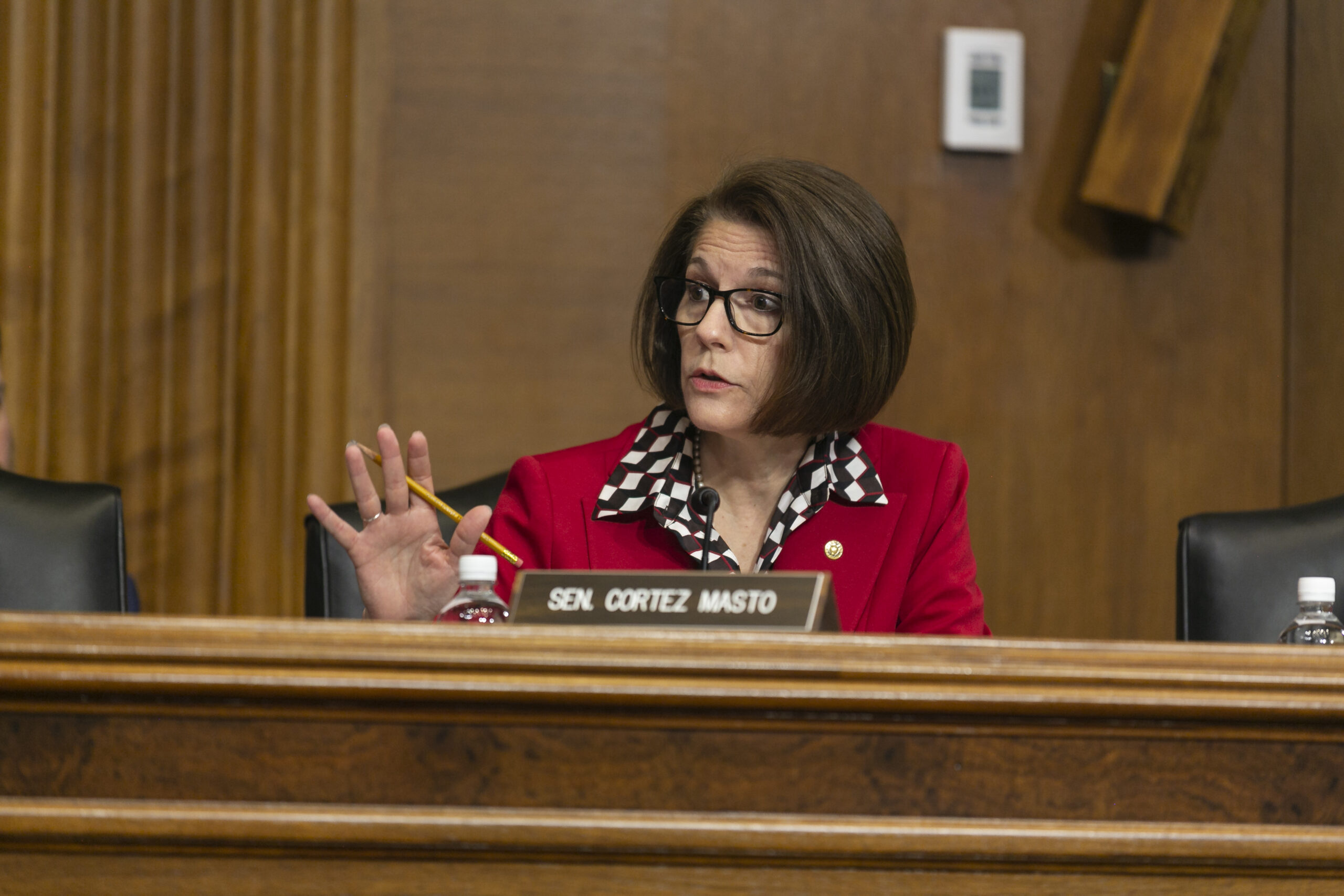 In a hypothetical general election matchup, Democratic Sen. Catherine Cortez Masto holds a commanding 38-point lead over Republican Adam Laxalt among Hispanic and Latino likely voters in Nevada, according to a new poll from the Democratic-aligned groups Future Majority and America's Future Majority Fund.
And though Democratic Gov. Steve Sisolak also holds sizable leads in potential matchups against a pair of Republican candidates — Clark County Sheriff Joe Lombardo (53 percent to 31 percent) and former Sen. Dean Heller (52 percent to 29 percent) — Hispanic and Latino likely voters view Cortez Masto, the country's first Latina senator, more favorably than the governor.
"Cortez Masto has been around longer. She is a Latina. There's been a lot of investment and name ID from her campaign and from others around that. So, to me, it would be logical that she does perform better," said Andres Ramirez, a veteran Democratic strategist who worked with Future Majority on the poll.
Sisolak, who carried smaller leads over his likely opponents, was rated less favorably (52 percent) than Cortez Masto (60 percent), and a larger percentage of respondents expressed an unfavorable opinion of Sisolak (33 percent) than they did of Cortez Masto (23 percent).
Sisolak also saw a significant drop-off in support, compared with Cortez Masto. Her lead among Latino voters in a hypothetical matchup with Laxalt nearly matched Sen. Jacky Rosen's 2018 margin of victory over Heller among Latino voters (+37 points). But just over half of respondents expressed support for Sisolak in the general election, marking a large decrease from 2018, when 66 percent of Latino voters supported him over Laxalt in the governor's race.
With some Latino voters undecided (around 10 percent), Ramirez said he thinks Sisolak still has the opportunity to pick up those votes.
"If Sisolak chooses to invest resources in courting Latinos, there's a pocket where he could raise his path to victory much more quickly by doing so," he said.
The poll, conducted by consulting firm Bendixen & Amandi International (rated "B/C" for accuracy as a pollster by FiveThirtyEight), surveyed 600 Hispanic and Latino likely general election voters in Nevada from May 12-18. The poll had a margin of error of 4 percentage points. The group also surveyed 600 such voters in Pennsylvania and Arizona. Those two states, alongside Nevada, feature competitive, "toss-up" Senate races that could determine which party controls the U.S. Senate after 2022.
Despite poorer results for Sisolak, the overall outcome was a positive sign for Nevada Democrats, as the party has lost ground among Latino voters in recent years, and Republicans have boosted their efforts to target Latino voters this year. Respondents rated the Democratic Party much more favorably than unfavorably (+23 points), compared with the Republican Party (-7 points).
"The data shows that Latinos are open to supporting Democratic candidates, which is contrary to some of the national narrative that says that Democrats are losing support among Latinos," Ramirez said.
Mark Riddle, president of Future Majority, wrote in a memo about the polling that the results show Democratic candidates are continuing to perform well among Latino voters, despite negative opinions about President Joe Biden and concerns about inflation and the economy.
Nearly half of respondents either named inflation or jobs and the economy as the most important issue facing the country, and respondents had a slightly favorable view of Biden (53 percent approve to 45 percent disapprove).
"While it may be true Democrats have lost ground with Latinos in other states, we are not finding it here, in these states, in these polls," Riddle wrote.
But Riddle also cautioned that the Latino electorate, which "has a higher share of new, younger and infrequent voters than the overall electorate" is more prone to midterm drop-off, meaning it will take "significant investment and focus" from Democrats to get out the vote in that group.
Abortion
The poll found that Latino voters in Nevada strongly support abortion rights. Two-thirds of respondents believe abortion should be legal, and nearly 80 percent of respondents agreed that "that every woman should be able to make a choice about whether to have (an abortion) or not," regardless of their own position on the issue.
"The Latino voters are solidly pro-choice," Ramirez said. "And that, to me, runs counter to conventional wisdom of what most people think that Latino voters are religious and conservative on this issue."
Thirty percent of respondents said the expected U.S. Supreme Court decision to overturn Roe v. Wade and eliminate federal protections for abortion would not affect their voting decisions in the general election this year. But 40 percent said it would make them more likely to vote for the Democrats, and 18 percent said they would be more likely to vote for the Republicans because of the decision.
Still, abortion was not top of mind for many Latino voters, as just 7 percent of respondents identified it as their top issue, though it ranked ahead of immigration (5 percent) and health care (4 percent).
Inflation
Inflation was the top issue of concern with 27 percent of voters citing it when asked "what is the most important problem or issue facing the United States."
That was followed by jobs and the economy (22 percent) and immigration and the border (5 percent).
The poll comes as inflation hit a nearly 40-year high in April. Republicans, including Lombardo and Laxalt, have seized on the economy — especially inflation and fuel prices — as a core campaign issue, often tying Sisolak and Cortez Masto directly to spending policies they argue overheated the economy and created the inflation problem.
But Ramirez said Democrats can take heart that Latinos chose Democrats, 53 percent, over Republicans, 36 percent, on a question asking which party does a better job "creating opportunity for you and your family to get ahead and have a better life."
"That concept of who's going to do better for you and your family, again, the Democratic Party is leading, pretty substantially on that question," Ramirez said. "And that to me bodes extremely well that Latino voters believe that the Democratic Party is better at this. That if they set a message for them and court voters on that premise that they have a great [chance] of increasing support."
Ramirez added that, historically, whichever party does better on the question wins.
Find the poll toplines and crosstabs here.
Future Majority NV Latino V... by Sean Golonka