Poll: Cortez Masto leads Laxalt for Nevada Senate; ominous signs over Biden approval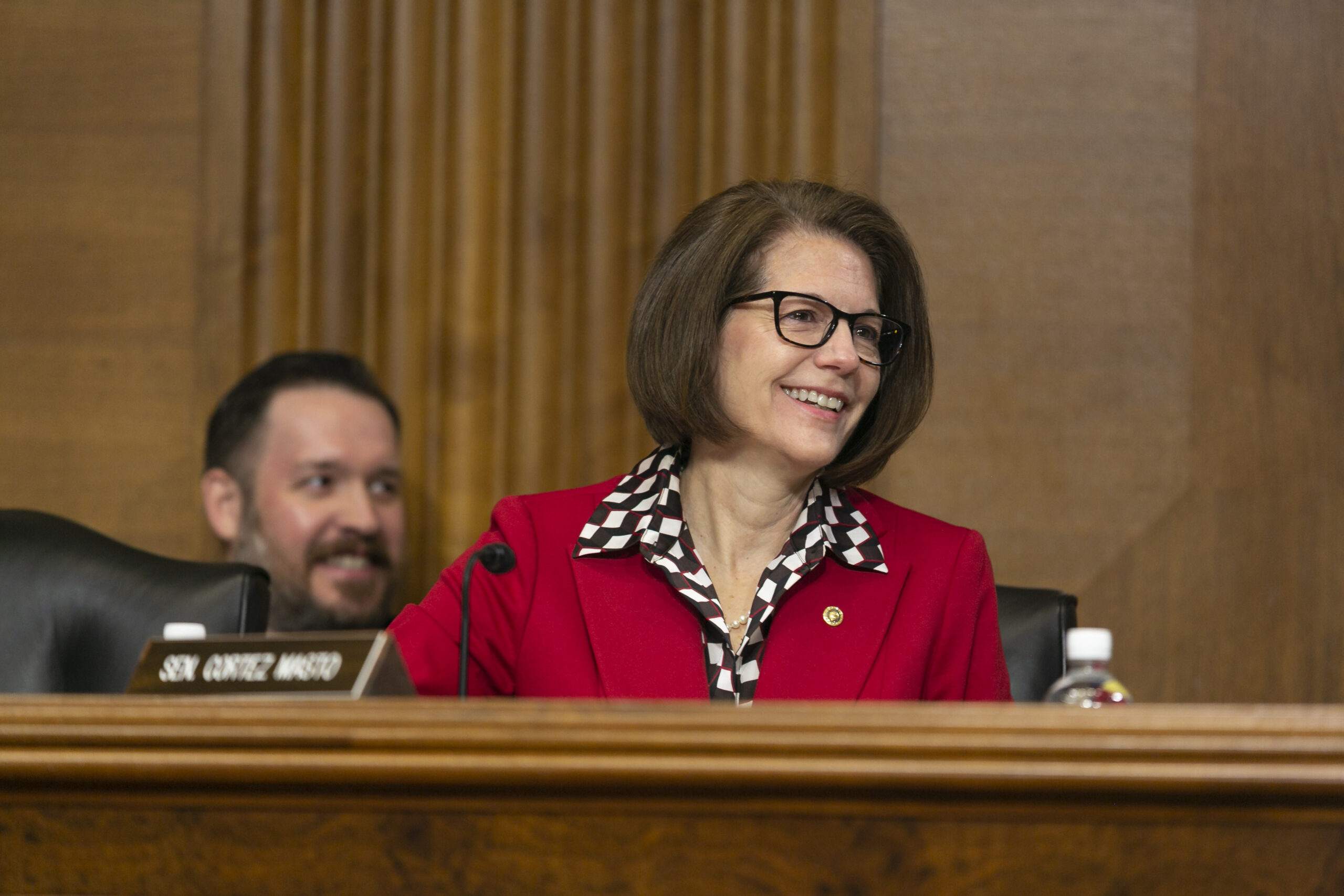 Sen. Catherine Cortez Masto (D-NV) leads likely Republican opponent and former Attorney General Adam Laxalt by 8 percentage points, but voter economic angst and President Joe Biden's low approval rating — lower than former President Donald Trump is viewed right now — could threaten her re-election bid, according to a new Nevada Independent/OH Predictive Insights poll.
The Nevada Democrat "is really going to have quite the fight on her hands," Mike Noble, the chief of research and managing partner of OH, said in an interview Friday.
According to the poll, 52 percent of Nevada voters said they disapproved of the job Biden has done and 43 percent approved. Asked how they viewed Trump, 51 percent said they viewed him unfavorably and 46 said they viewed Trump favorably. The former president has endorsed Laxalt, who, in turn, served as co-chair of Trump's 2020 campaign in the state.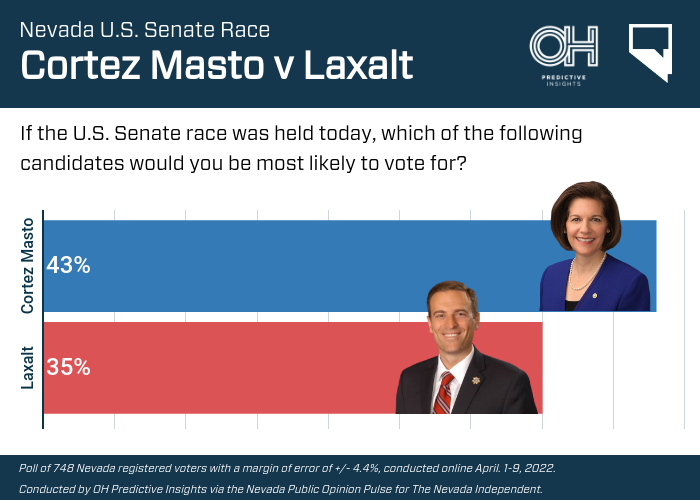 The poll also showed that Cortez Masto received 43 percent of voters' support compared to Laxalt, who received 35 percent. In a head-to-head match-up against veteran and businessman Sam Brown, who is challenging Laxalt for the GOP nomination, Cortez Masto received 42 percent and Brown received 34.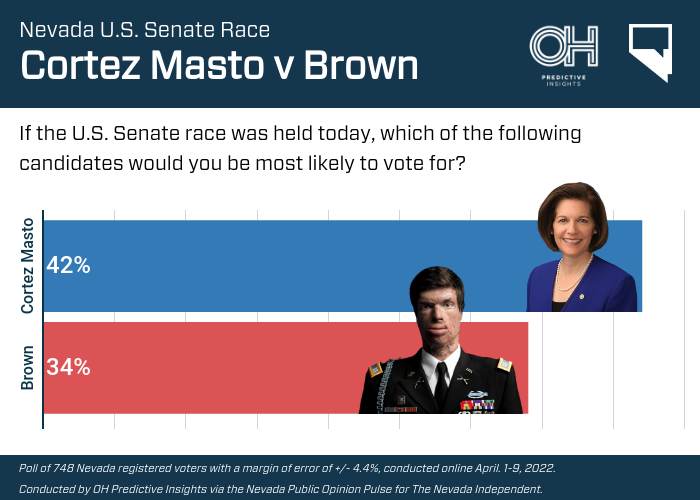 The result was similar to a poll conducted by OH in February, which showed Cortez Masto with a 9-point lead and similar Biden headwinds.
The online opt-in panel poll,conducted between April 1 and April 9, included 748 registered Nevada voters and has a 4.4 percent margin of error.
The OH poll follows one recently released by the Reno Gazette-Journal and conducted by Suffolk University. It showed Cortez Masto trailing Laxalt by 4 points and Brown leading her by more than half a point.
Noble said the differences between the polls stem from the approaches taken. The OH poll surveyed registered voters, which tend to skew to the left, while the Suffolk poll surveyed likely voters, which tend to skew to the right. Noble also stressed that the results reflected that the November general election remains far off in most voters' minds.
But he said both polls showed similar trends, including that Cortez Masto — well below 50 percent — is in a vulnerable position. He pointed to her need to improve in rural Nevada to stay competitive. The poll showed Cortez Masto losing to Laxalt by 31 percentage points in the 15 rural counties outside of populous Clark and Washoe. Cortez Masto loses the rurals to Brown by 27 points.
Cortez Masto has become one of the national Republican Party's top targets this cycle, and is one of just a handful of incumbent senators whose re-election bids may tip the balance of a narrowly divided Senate.
Despite regularly polling below 50 percent, Cortez Masto has continued to post record-setting fundraising amounts, most recently securing more than $4.4 million through the first three months of 2022. The money has allowed a likewise record-setting spending spree from her campaign, which has already reserved $10 million in ad space in the final eight weeks leading up to the general election.
Still, Noble said that it's no wonder that the National Republican Senatorial Committee, the Senate GOP's campaign arm, is trying to nationalize the race with Biden posting poor marks on the economy and blamed for high gas prices.
The economy was the most important issue for voters surveyed, with 36 percent listing it as their top area of concern, followed by education with 21 percent and health care with 12 percent. When asked how Biden has done on the economy, 57 percent said they disapproved of Biden's handling of the economy, while 36 percent said they approved.
The rise in inflation has stoked concern about the economy. The poll comes as inflation rose 8.5 percent from March 2021 to March 2022, the fastest increase in 40 years. The most significant factors in the inflation rate were the cost of food and fuel. Gasoline prices rose 18 percent last month alone and 48 percent between March 2021 and March 2022.
When asked who or what was primarily responsible for higher gas prices, 41 percent of voters blamed Biden, while 33 percent blamed the war in Ukraine. The White House has stressed the conflict's role in the prices over the last month.
Voters showed a tolerance for some gas price increases but expected them to be temporary. Sixty percent of voters said they expect gas prices to be higher in a month. But only 39 percent said they expected higher prices in a year.
Voters also indicated that they preferred Trump to Biden on the issue of Ukraine. Forty percent of voters said Trump could handle the situation in Ukraine better. Twenty-nine percent of voters said they preferred Biden.
Reporter Jacob Solis contributed to this report.
This story was updated Monday, April 18, 2022, at 8:50 a.m. to include the poll questions and crosstabs.
The Nevada Independent is raising $200,000 by Dec. 31 to support coverage of the 2024 election.
Tax-deductible donations from readers like you fund this critical work.
If you give today,your donation will be matched dollar-for-dollar.
Give + Get Matched
Featured Videos