Poll: Cortez Masto leads Laxalt in Senate race, but Biden disapproval rating foreboding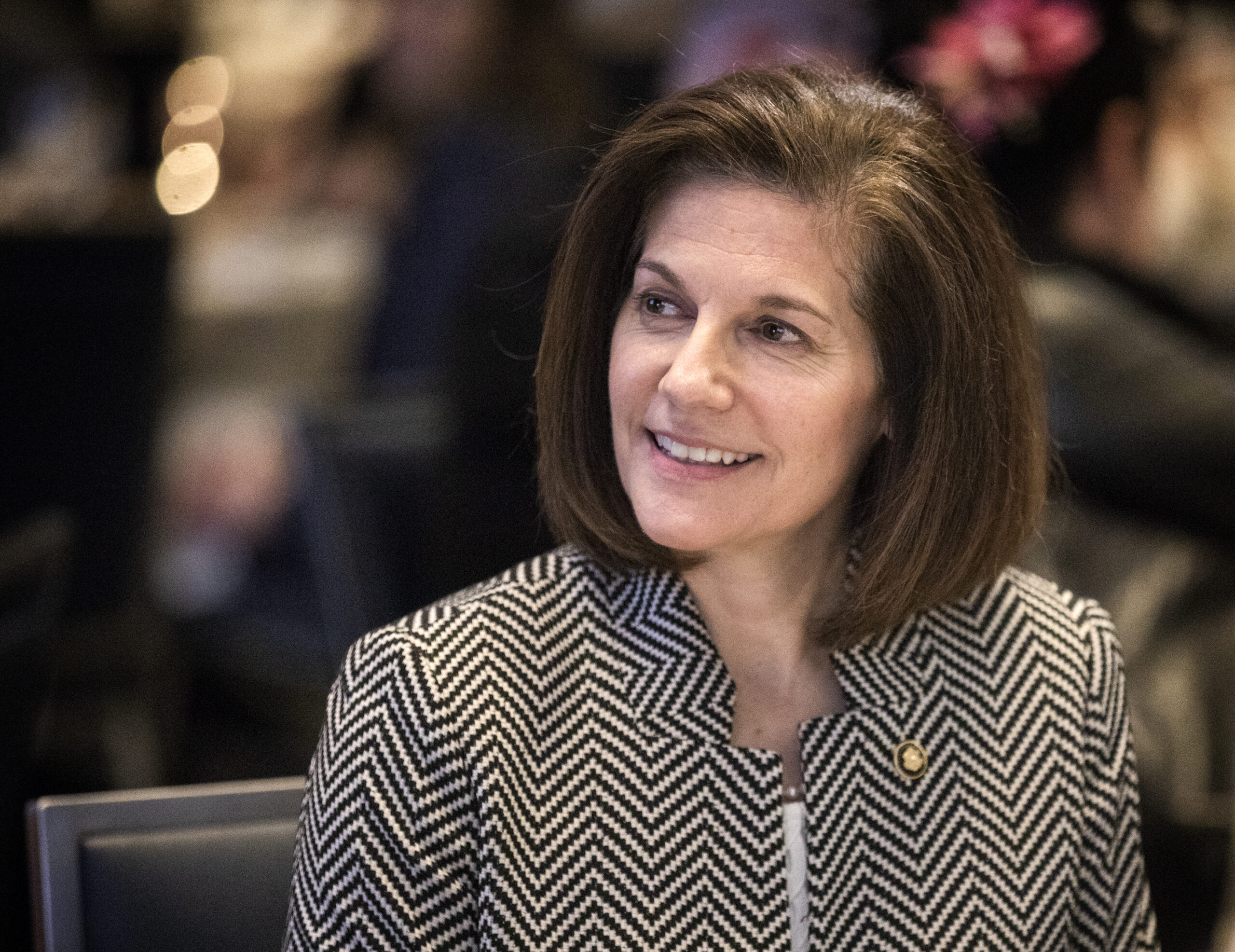 Sen. Catherine Cortez Masto (D-NV) has a 9-point lead over her likely Senate race challenger, former Republican Attorney General Adam Laxalt, according to a new Nevada Independent/OH Predictive Insights poll — but President Joe Biden's sizable disapproval rating may play a major role in the race as November draws nearer.
Mike Noble, the chief of research and managing partner of OH, said in an interview Tuesday that the national political picture generally tends to be more indicative of the outcome of midterm elections, particularly Senate races.
Cortez Masto will face headwinds with 52 percent of registered Nevada voters disapproving of the job Biden has done so far, while 41 percent approve, according to the online opt-in panel survey poll, which was conducted of 755 registered Nevada voters between Jan. 19-26 and has a 3.5 percent margin of error.
"[There is a] strong connection between U.S. Senate races and presidential job approval and the party of power," Noble said in an interview Tuesday. "They're just incredibly aligned."
The poll comes after Cortez Masto was deemed the cycle's most vulnerable by National Journal, citing Biden's low approval rating.
Previous polls have shown a tighter race. One from December showed Laxalt leading Cortez Masto by 4 points with a 4 percent margin of error.
A poll commissioned by The Nevada Independent and released in October showed Cortez Masto with a 4-point lead, also within the margin of error.
Democrats questioned in the poll were more in favor of their candidate than Republicans were of Laxalt. Cortez Masto won the support of 84 percent of Democrats; Laxalt won 76 percent of Republicans. Noble said that could partially account for differences with other polls to date.
Democrats face a hurdle in motivating voters as they control the House, the Senate and the White House. In addition, former President Donald Trump is not on the ballot. Democrats' dislike of Trump helped unite both progressives and moderates to vote against him.
"Once you have all three, you're not really motivated," Noble said. "And the boogeyman, Donald Trump, has been kind of removed. That was one thing that unified a very diverse coalition."
Of the 230 self-identified Republicans polled, 37 percent said they would vote for Laxalt and 14 percent said they would vote for military veteran Sam Brown, who is running a long-shot campaign to take on Cortez Masto. Forty-nine percent of Republican voters said they were still unsure.
Laxalt raised more than $1.35 million from October to December last year, marking a slight dip from the $1.4 million he raised in the third quarter. His campaign reported about $1.7 million cash on hand at year end.
Last month, Brown reported roughly $1 million in fundraising for the second straight quarter, and has more than $700,000 cash on hand.
The poll also tracks the growing sway of independent voters. Registration numbers for nonpartisan and non-major party voters have outpaced those of either Democrats or Republicans in Nevada.
The poll showed that 21 percent of voters said they were unsure which way they would vote in the general election, including 36 percent of independent voters. Cortez Masto and Laxalt split the remaining independent voters evenly, with both winning 32 percent.
Noble marveled that a small slice of the independent vote, what he called "true-true independents", will likely determine the outcome of the race.
"The wild thing is that 36 percent are unsure. Those independents truly are going to be the ones that decide whether Masto stays or there's a new senator representing Nevada after 2022," Noble said.
And Cortez Masto could face a hurdle in winning those voters. The poll found that 55 percent of voters disapprove of how Biden has handled the economy. Jobs and the economy were the most important issue facing the state, 33 percent of voters said.
That was followed by education, which 23 percent of voters said was the most important issue.
Noble said the importance of education to voters could leave Democrats vulnerable to how Republicans used the issue in Virginia, where GOP candidate Glen Youngkin won the race by energizing parents over issues including critical race theory (CRT), even though it is not part of the curriculum in the state.
"Youngkin showed kind of that playbook [to] galvanize and push out your white share of the vote, or [the] suburban folks that shifted away during the Trump era," Noble said. "They think CRT is kind of that way to really get those suburban white voters to kind of come back over to the GOP."
But Noble again stressed that Biden's overall approval is the likely bellwether.
"The incumbent president's job approval is a leading indicator for what's going to happen down ticket," Noble said.
View the results of the poll here. The Nevada Independent will release additional results of the poll in the coming days covering a range of Nevada topics, including likely 2022 ballot questions and COVID-19. Polling on the governor's race can be found here.