More voters, less party affiliation 2 years into automatic voter registration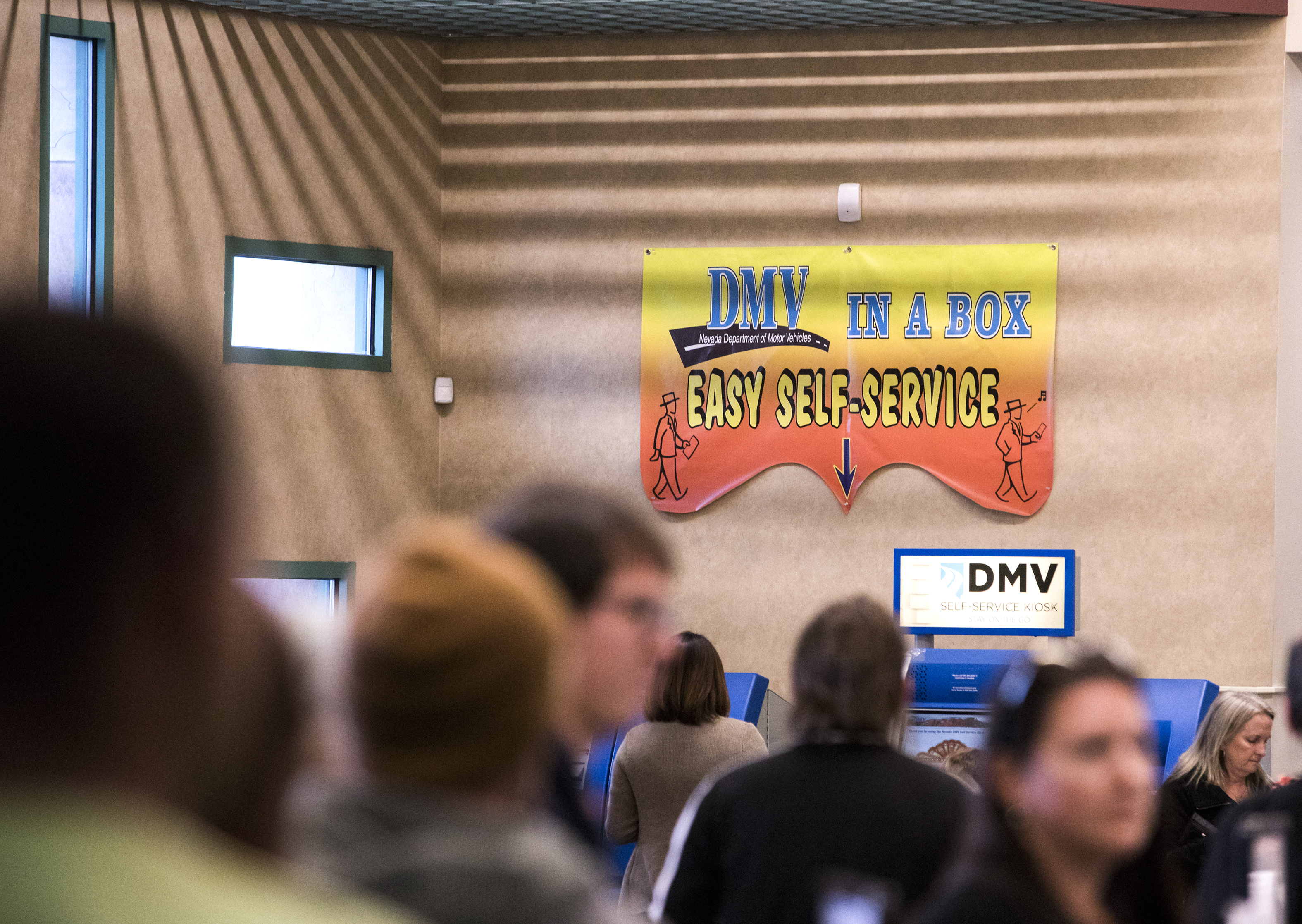 Nevada has backed the winning presidential candidate in every election since 1912 except for 1976 and 2016, a tendency that distinguishes the state as a political battleground not reliably tied to either major party.
That trend has shifted in recent years, including in 2018 when Democratic candidates took control of almost every major state and federal elected office in Nevada.
But heading into the 2022 midterms, Democrats no longer have a clear advantage in voter registration, as non-major party voters surpassed Democratic and Republican voters for the first time in state history last August.
That change was largely driven by Nevada's automatic voter registration (AVR) system, which has added more than 320,000 new voters since its launch in 2020 and even helped set a record for active registered voters in the state in August. Nevada has also seen a significant rise in the percentage of residents aged 18 and older who are registered to vote — that rate rose from 66 percent in July 2019 to 76 percent in July 2021, according to data from the U.S. Census Bureau and secretary of state's office.
The majority of new voters from AVR have registered as nonpartisans, diversifying the state's voter pool and clouding Democrats' long held upper hand among registered voters.
As both major parties have seen their share of registered voters in the state reduced, several of Nevada's top Democrats, including Gov. Steve Sisolak and Sen. Catherine Cortez Masto, have been pegged as vulnerable ahead of the reelection campaigns in 2022.
Kerry Durmick, Nevada state director for All Voting is Local, a progressive-leaning organization that works to expand voting access, said AVR has helped provide a new point of access to people who may not have been motivated to register through previously existing methods.
"Thousands of people now have expanded access to registration through the Nevada [Department of Motor Vehicles (DMV)], and they have been able to register to vote when maybe in the past, they haven't had the access, or it just hasn't been on the forefront of their mind," Durmick said.
Under the prior "opt-in" system, voters had the opportunity to choose to register through the DMV. Instead, the AVR system automatically registers eligible voters or updates their records during many common DMV transactions, unless they opt out. Eligible voters are registered as nonpartisan by default, but they can choose to fill out an additional form to select or update their party affiliation.
Implementing AVR
A majority of Nevada voters approved the automatic voter registration measure when it was on the statewide ballot in 2018. That initiative followed the veto of an AVR measure in 2017, with Republican Gov. Brian Sandoval rejecting it over concerns the law would "increase the possibility of improper registration." Though the measure was originally passed along party lines in the Legislature with only Democrats in favor, greater voter turnout — as a result of more registrations — does not necessarily benefit either party.
Implementation of the system has at times been a rocky process, however. A system error with the MyDMV portal resulted in 44,000 voters having their party affiliation changed to "other." The error, which began in August 2020, occurred when the option for party affiliation was left blank during certain online DMV transactions.
Deputy Secretary of State for Elections Mark Wlaschin noted that some of those voters have already changed their party affiliation or have had their registration canceled, but the issue has since been resolved. In December, those voters were notified of the change by their county, and the online transactions instead mirror the in-person registration process, which preserves a voter's existing party affiliation if they are already registered.
"At the end of the day, this is extremely important with our closed primary system," he said. "We don't want people to find out about their party affiliation in June, we need them to find out now, so that they can update their information."
Two years in, Clark County Registrar of Voters Joe Gloria said the AVR system has been "very successful" for his office, easing the process of registering new voters.
"It has actually reduced the work in my office and we've seen a decrease in those folks that come in from different agencies at election time to register people in the field," Gloria said. "The main benefit for us is that we don't have to struggle to read paper, handwritten applications that come in because that comes in electronically."
Since its launch in January 2020, the AVR system has exceeded Gloria's own expectations for the program. During a legislative hearing in March 2017, Gloria estimated that AVR would add up to 120,000 new voters in Clark County, based on Oregon's experience with the policy. But 24 months in, the county has already seen about 230,000 new registrations through AVR.
"We've literally made it as easy as we possibly can for voters in Nevada and Clark County to get out and register to vote," Gloria said.
Implications for political parties
The automatic registration system added more than 323,000 new voters from January 2020 through December 2021, driving the state to record an all-time high number of active registered voters last August.
That month, the secretary of state's office reported that there were 1.87 million active registered voters in Nevada, about 4,000 more than the previous peak reported in November 2020. Registration numbers are typically highest around presidential elections, and the 2020 general election also saw registrations increase through Nevada's new same-day voter registration process.
As more voters have registered through AVR, both major parties have seen their share of registered voters in the state decrease. Out of the new voters registered via AVR, about 60 percent registered as nonpartisan — the default option for new registrants who do not choose a party affiliation. Spurred by AVR, non-major party voters make up a plurality of registered voters in Nevada, including in populous Clark and Washoe counties.
During a panel discussion in October at IndyFest, The Nevada Independent's annual policy and politics conference, pollster Mark Mellman characterized many of those non-major party registrants as so-called 'closet partisans.' A September poll from The Nevada Independent and the Mellman Group found that the rates of non-major party voters in the state who think of themselves as most closely identified with Republicans, Democrats or independents tracked almost exactly with the rates of the voter base as a whole.
"There's a small number who really are on both sides — swing voters who could really go either way," Mellman said. "But the overwhelming majority of these nonpartisan registrants are actually just partisans who don't want to take a party label."
Still, the major parties continue to lose ground when it comes to registrations. In recent months, thousands of Democratic and Republican voters in Nevada have shed their party affiliation, switching their registration to nonpartisan. Nevada State Democratic Party Chair Judith Whitmer said there are challenges to mobilizing and engaging those unaffiliated voters.
"Everyone that I'm talking with doesn't feel that there's an overriding need to be affiliated with a party per se," she said. "In the past, we've depended a lot on party loyalty. I don't think that it can be that way in the future. I think we have to really connect with voters."
But Jeremy Hughes, a longtime political consultant for Republican candidates, including former Gov. Brian Sandoval, said he thinks the rise of non-major party voters through AVR will be a "net positive for Republicans" because the national party has centralized voter files that provide them with more information on individual voters, while national and state Democrats have recently feuded over the sharing of voter data.
"​​The candidate or the party that has a better understanding of how a person is looking to lean is going to end up being able to turn them out," Hughes said. "I think that's where Republicans get the bigger advantage."
Though Gloria said party registration is not considered when estimating turnout and preparing for an upcoming election, nonpartisans typically turn out at lower levels than voters affiliated with a major party.
Voter turnout among registered voters in Nevada's last midterm election in 2018 was 64 percent for Democrats, 69 percent for Republicans and 50 percent for third-party and nonpartisan voters. Across all voters, turnout during the midterm election in 2018 (63 percent) was significantly higher than for the previous midterm election in 2014 (46 percent).
Washoe County Registrar of Voters Deanna Spikula said she expects turnout to be high again in 2022, especially in the wake of the high turnout for the last election (78 percent).
"People have basically been paying attention to political and election-related issues, even in this off-year," Spikula said. "I know there was some concern … that maybe if more people registered, percentage turnout would go down because fewer people would actually participate. But that's not what we saw in 2020. I think it's a good sign that people will continue to participate."
Administration changes
Even as AVR has reduced the need for some manual checks within the registration process, Spikula said that the two-year-old system has not necessarily decreased her office's workload.
"The amount of work we have is similar to what we had before. It's just concentrated more on one or two people who are the ones who are monitoring that data," Spikula said. "We still have to perform a lot of checks and balances. We're still looking at the data to make sure that it's cleaned up so we can import it into our system with minimum errors."
Gloria and Spikula also said that the increase in registered voters comes with increased costs, especially as election departments across the state navigate a mix of mail-in and in-person voting. With AB321 in effect, all county and city clerks are required to send every active registered voter a mail ballot before each primary or general election, unless they have opted out via the secretary of state's form. But election officials still must prepare for the possibility of any number of registered voters to vote in person.
Despite the challenges that come with an increasingly large pool of voters, Spikula said that a key benefit of AVR has been simplifying the process of updating existing voter registrations.
"I think we're getting that updated residence [and] address information quicker than we were in the past," Spikula said. "We'll have more current rolls for when we're mailing ballots out, so that's going to be fewer that we're going to mail out that are going to be undeliverable or returned to our office undeliverable."
Durmick noted that through those updates, AVR also provides a simple way for people to engage in the political process.
"This is another way that people are expanding their freedom to choose their political party and their affiliation and their access," Durmick said. "Based off the 2020 election, I think that people are maybe becoming more engaged in ways that we haven't seen in the past."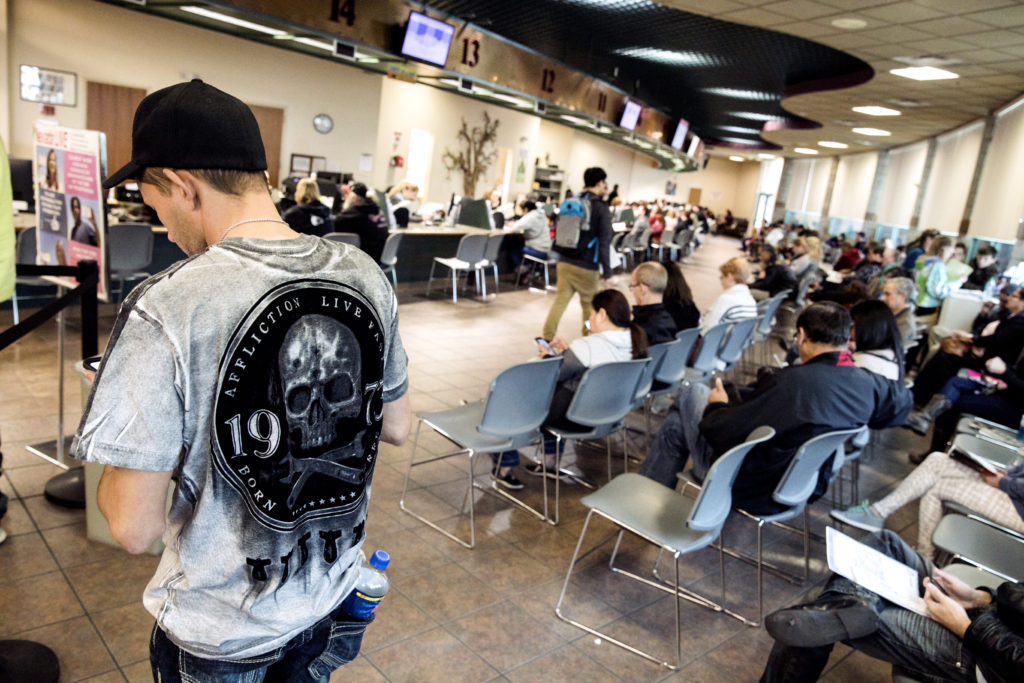 System security
Critics of AVR, including Republican former attorney general and U.S. Senate candidate Adam Laxalt, have raised concerns that there are not enough back-end checks on the voter registration list to ensure noncitizens are not being registered through AVR. An expansion of AVR to other state agencies also faced opposition from Republican lawmakers.
In December 2020, Laxalt filed a lawsuit against fellow Republican Secretary of State Barbara Cegavske, alleging that her office failed to keep noncitizens from registering to vote because it "has not adopted systematic or routine checks of the citizenship of those on Nevada's statewide voter registration list." The plaintiffs dropped the case in March 2021.
However, Gloria noted that the checks used to keep the state's voter rolls clean are the same as they were for paper registrations, and DMV officials have highlighted the protections in the registration system, including how those deemed ineligible for AVR, such as people who submit a permanent resident card for documentation, are sent a Notice of Ineligibility. The DMV application also excludes noncitizens and holders of Driver Authorization Cards, which are commonly used by non-citizens, from being registered through AVR.
Gloria said another system used by the state, the Electronic Registration Information Center, helps keep voter rolls clean by comparing voter registration data between states to identify out-of-date records. Wlaschin described the system as "extremely helpful in maintaining voter list integrity." Nevada is one of more than 30 states that uses the system.
"We've benefitted tremendously, especially when big states join us, being able to take our state voter registration list and bounce it off of other states in order to identify voters who have moved from Las Vegas to other areas," Gloria said.
An expansion of AVR
Earlier this year, the Legislature and governor approved AB432, a measure that will expand the AVR system to other agencies beyond the DMV, including the Department of Health and Human Services and the Silver State Health Exchange, starting in 2024.
But Gloria expressed concerns that other agencies would not have the resources to adequately handle the registration system.
"When they start talking about bringing the other agencies on, they don't have quite the resources the DMV does," he said. "My only caution to legislators and anybody involved with voting is that you have to do that carefully and make sure that you're putting in the resources to keep it electronic."
Also beginning in 2024, Nevada will move from a county-led, bottom-up voter registration system to a state-led, top-down system. Proponents of the change argue that it will improve the efficiency of communication in the voter registration process and make it easier to identify and prevent duplicate registrations.
Even as the number of registered voters in the state continues to rise with AVR in effect, Gloria said that Clark County could see the resources allocated to in-person voting decrease over the coming years, as mail-in voting becomes more common.
"Slowly, you'll start to see the number of early voting sites and election day vote centers decrease because we won't have a need to provide that kind of in-person activity," he said. "We won't be banking on that next year … but don't be surprised when you see the election department begin to scale back on that, probably beginning in 2024, based on turnout from the mail ballots."
The Nevada Independent is raising $200,000 by Dec. 31 to support coverage of the 2024 election.
Tax-deductible donations from readers like you fund this critical work.
If you give today,your donation will be matched dollar-for-dollar.
Give + Get Matched
Featured Videos