Laxalt files new lawsuit challenging Nevada's alleged inability to keep noncitizens off of voter rolls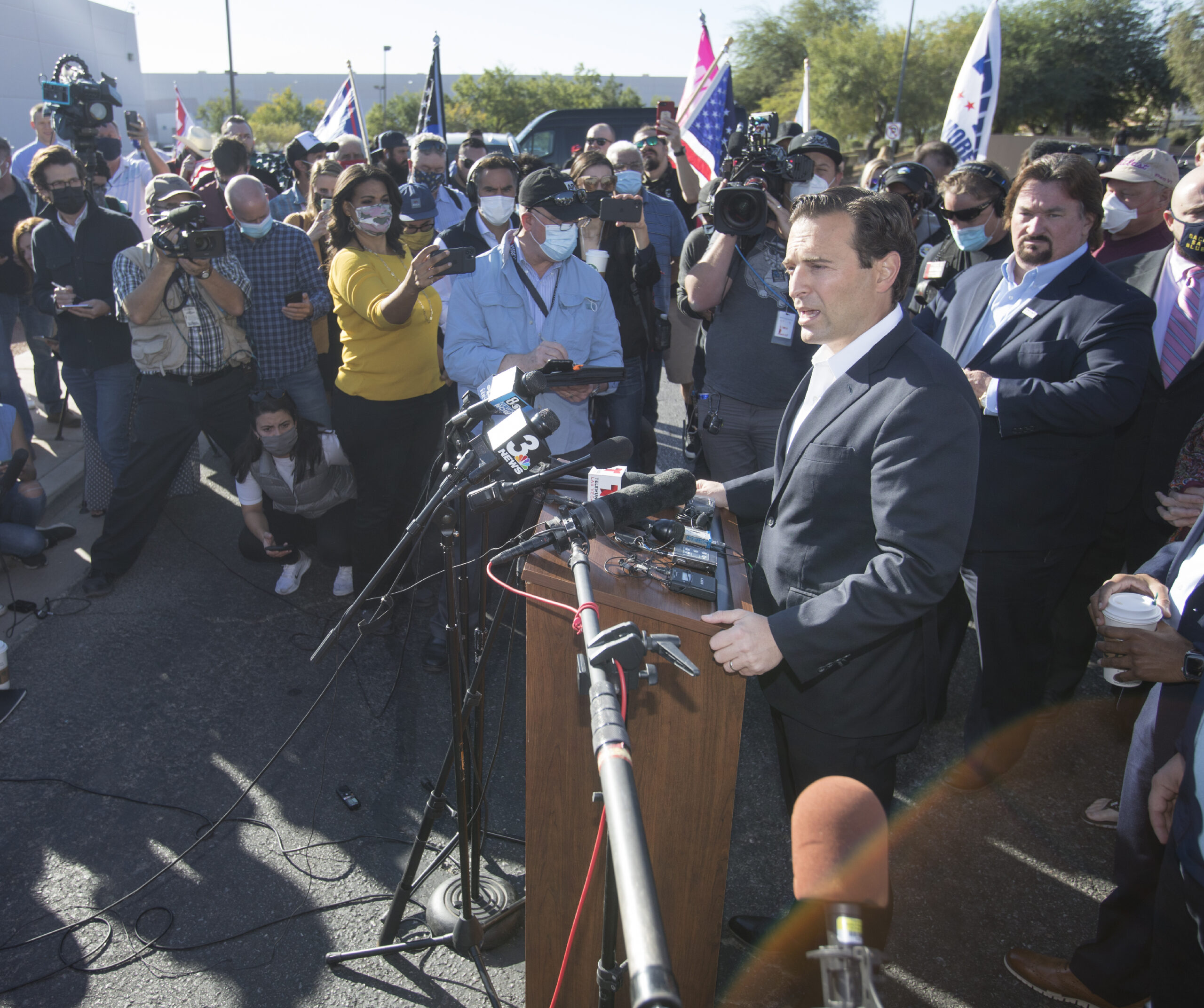 Former Attorney General Adam Laxalt has filed a lawsuit against Secretary of State and fellow Republican Barbara Cegavske on behalf of several plaintiffs, including a former Republican legislator, over an alleged inability to keep noncitizens off the state's list of registered voters.
The lawsuit, which was filed last week in Carson City District Court names three conservative-aligned plaintiffs — former Republican Assemblyman Al Kramer, former Washoe County District Attorney Dick Gammick and Roger William Norman — who say their votes were improperly diluted by an alleged failure to keep noncitizens from registering to vote in state elections.
"The Secretary of State, by not verifying the citizenship of those on the voter rolls, is allowing the dilution and discount of Plaintiffs' votes because noncitizens are on the voter rolls and have voted in the past," the complaint states. "Thus, Plaintiffs' right to participate in Nevada elections on an equal, undiluted basis has been infringed."
While not directly challenging the state's 2020 election results, the lawsuit is the latest legal broadside against the state and Cegavske's conduct and oversight of election management, much of which stems from President Trump's repeated and unsubstantiated claims of mass voter fraud in the 2020 election.
In a "Facts vs. Myths" document posted to the secretary of state's website, Cegavske's office wrote that as of Dec. 18, it has not been presented with any evidence that noncitizens voted in the 2020 election. The same document states that the office is pursuing several "isolated" cases but has not seen any evidence of "wide-spread fraud."
The lawsuit claims the secretary of state's office "has not adopted systematic or routine checks of the citizenship of those on Nevada's statewide voter registration list," despite past instances of noncitizens allegedly voting in the state and the "swelling" of the state's voter rolls after passage of an automatic voter registration initiative in 2018. The state and DMV typically require the checking of a box stating a person's citizenship, but the lawsuit essentially alleges that there is no back-end verification of citizenship status after the voter registration process is completed.
As evidence, it cites a handful of public reports about noncitizens attempting to vote in recent elections, including Cegavske's 2017 announcement that the office had discovered that at least three non-citizens cast a vote in the most recent election (2016), and the arrest of a noncitizen in 2014 for voting in the 2010 and 2008 elections. Laxalt was serving as the state attorney general in 2016.
It also cites a "recent analysis" made on behalf of the Trump campaign as part of another lawsuit that alleged nearly 4,000 noncitizens voted in the state's 2020 election, assertions that have been questioned by immigration law experts and were not included in the campaign's election contest lawsuit because of timing issues.
"These published reports prove that noncitizens can and do end up on the statewide voter registration list," the lawsuit states. "Yet the Secretary of State has not established a system to verify citizenship at any point in the voter registration process in Nevada."
But that claim rests on thin evidence — the Trump campaign subpoenaed documents from the Nevada DMV showing a list of names and addresses of individuals who had over the past five years applied for a driver authorization card, which are offered to noncitizens as a way to legally drive on state roads. It then compared that list to a list of registered voters in the state, coming up with 3,987 alleged noncitizens who voted in the 2020 election.
But immigration experts say that applying for a driver authorization card isn't sufficient proof of a lack of citizenship — individuals legally present in the country may have applied for a card, and then later obtained their citizenship without updating their license.
The lawsuit requests a judicial order requiring the secretary of state's office to actively check the state list of registered voters with information detailing a person's citizenship status, including but not limited to information from the Department of Homeland Security and its Systematic Alien Verification Entitlements program, or information about non-eligibility for jury duty because of a person's immigration status.
Laxalt, the state's former attorney general who was defeated in his gubernatorial bid against Democrat Steve Sisolak in 2018, has served as one of the public faces of the Trump campaign's unsuccessful efforts to challenge the results of the state's 2020 election in court.
Laxalt spoke at two press conferences arranged by the Trump campaign, one shortly after Election Day challenging alleged casting of improper mail ballots, and another in mid-November that asked a judge to award the state's six electoral votes to Trump or declare them null over alleged issues with the election process. Judges dismissed both cases, citing a lack of evidence.
After leaving office after 2018, Laxalt joined the law firm of Cooper & Kirk and was named co-chair of Trump's re-election campaign in Nevada.
Other attorneys on the case include David O'Mara, who served as local counsel on several other failed election-related challenges arising out of the 2020 election.
Correction: An earlier version of this story misidentified one of the plaintiffs in the lawsuit. The plaintiff is Roger William Norman, not Don Roger Norman.
The Nevada Independent is raising $200,000 by Dec. 31 to support coverage of the 2024 election.
Tax-deductible donations from readers like you fund this critical work.
If you give today,your donation will be matched dollar-for-dollar.
Give + Get Matched
Featured Videos