Presidential hopefuls tout Nevada bona fides, carve out areas of distinction at pre-caucus political gathering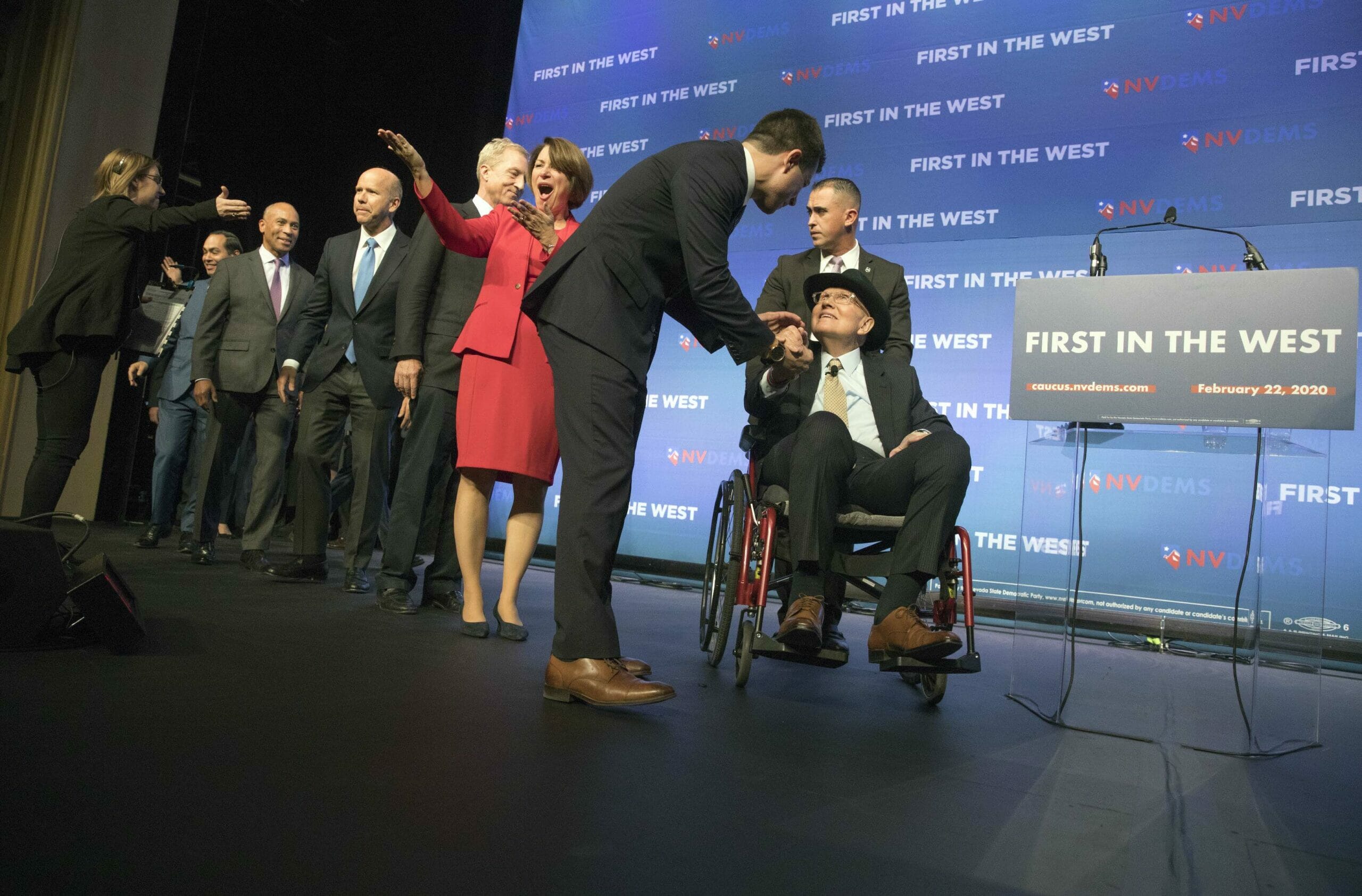 Fourteen Democratic presidential hopefuls flocked to Las Vegas on Sunday with the goal of wooing Nevadans.
But the Sunday night gathering at the Bellagio Hotel and Casino wasn't an extended courtship. It was a speed-dating session.
Candidates had a maximum of 10 minutes to sell themselves — a change from their usual campaign rallies and town halls that can stretch anywhere from 20 minutes to over an hour — to a packed ballroom of more than 1,600 potential caucus-goers.
It was a hard sell. The vast majority of attendees showed up to support a particular candidate, packing into designated sections of seats purchased by the campaigns while wearing T-shirts and holding thundersticks in their campaign's signature color. A smaller minority, who were seated in a general admission section toward the front, were there to suss out their preferred presidential choice.
It was also a change of venue for many of the candidates, who have been spending most of their time campaigning in Iowa and New Hampshire. The Nevada State Democratic Party's First In The West Event allowed the candidates to pitch themselves to a more diverse populace, one that party leaders tout is more reflective of the nation as a whole than either of the two early nominating states.
"Our caucus couldn't be more crucial to this presidential primary," Nevada State Democratic Party Chair Will McCurdy told the crowd. "In the Silver State, we are the voice of diversity, we are the voice of union brothers and sisters, and we are battle born voices."
The candidates largely delivered condensed versions of their traditional stump speeches at the roughly four-hour event. But those shortened speeches drove at the heart of how the candidates are selling themselves on the campaign trail.
Former Vice President Joe Biden's pitch was simple.
"We better be real careful about who we nominate, because the risk of nominating someone who wouldn't beat Trump is a nation and a world our children and our grandkids won't want to live in," Biden said. "I can beat Trump. I can beat him."
What Biden — who holds a substantial lead in several Nevada-specific polls — is selling is a return to the normalcy of the pre-Donald Trump era.
After securing the White House, Biden said he would work on restoring a sense of dignity, building on the momentum from his years in the Obama administration. He framed himself as the candidate who could make visions come to fruition, particularly on the issue of health care, where he has proposed a more moderate public option that would allow Americans to buy into a government-run health insurance plan.
"I think you've got to ask yourself, 'Who has done it? Who's got the idea?' A lot of people have the ideas, a lot of people have a vision, a lot of people have a plan, but who's actually got it done? Who's actually got it through the United States Congress? And got it passed?" Biden said. "I'm the only one on the stage that was part of getting that done, and I've done it and I can do it again."
But some of his opponents in the crowded Democratic field hyped the need for more dramatic change in the wake of a Trump presidency. Vermont Sen. Bernie Sanders, for instance, repeated his calls for a "revolution," touting bold proposals such as canceling $1.6 trillion in student debt and implementing a Medicare-for-all health care system.
"In this unprecedented moment in American history, we need an unprecedented response," Sanders said. "We need a political revolution."
Massachusetts Sen. Elizabeth Warren, meanwhile, reiterated her desire for sweeping changes she said would reduce "corruption" and stop the erosion of the middle class. In addition to highlighting her support for Medicare-for-all, she pitched her plans to enact a 2 percent wealth tax on assets above $50 million, provide tuition-free college, and offer universal child care and pre-K.
"We're not going to change it by a nibble here and little bit of a change over there," she said. "We're going to change it with big structural change."
Warren and Sanders are polling roughly even in Nevada, but well behind Biden, according to several recent polls.
While many of the candidates referenced the fight for the White House, South Bend Mayor Pete Buttigieg asked Nevadans what kind of nation they'd like to see the hypothetical day after Trump leaves office. For instance, he talked about uniting Americans on climate change and showing how environmentally friendly policies support both the auto worker in Indiana and the solar worker in Nevada.
"I will never allow us to get so wrapped up in the fight that we start to think the fighting is the point," he said. "The point is what lies on the other side of the fight, and that's the hope of a better future."
Buttigieg, as he has previously, also touted the powerful Culinary Union, which represents 60,000 hotel workers across the state, in defending his health care plan. He has criticized the Medicare-for-all plans backed by Warren and Sanders by saying they would strip hard fought health insurance plans from unions, while his so-called "Medicare-for-all-who-want-it" would allow workers to keep them.
"If you are a Culinary worker who negotiated a plan you like, you should have the option to keep it," Buttigieg said.
New Jersey Sen. Cory Booker, who has been struggling in the polls in Nevada and nationally, made a hard sell on his positive message.
"You can fight with a ferocity but without being cruel," Booker said. "You can fight with strength without being mean. You can lift folks up without tearing others down."
Other candidates put a Nevada-specific spin on their speeches. Minnesota Sen. Amy Klobuchar lauded recent electoral victories in Nevada, mentioned the Las Vegas shooting two years ago and praised passage of a state worker collective bargaining bill in the last legislative session, while tech entrepreneur Andrew Yang highlighted Nevada's position as the most vulnerable state to automation.
Billionaire Tom Steyer lauded the Legislature for passing bills to increase the minimum wage to $12 an hour, restore voting rights to formerly incarcerated individuals and implement a 50 percent renewable portfolio standard by 2030.
"This is a state that's the template for what has to happen, not just grassroots, but actual change that the people want," Steyer said.
California Sen. Kamala Harris touted her work going after banks during the foreclosure crisis as attorney general of her state alongside Sen. Catherine Cortez Masto, who was then Nevada's attorney general.
"When I was the attorney general of California representing the second largest department of justice in the United States meant taking on the five big banks of the United States who had been engaged in predatory lending practices here in Nevada, in California," Harris said, 'working with Catherine Cortez Masto to say, 'No, we will take you on and you cannot get away with taking advantage of our families and there will be consequences.'"
Former Housing and Urban Development Secretary Julian Castro, who has visited Nevada more than any other presidential hopeful this cycle, talked about talking with the homeless who live in the storm drains beneath the Las Vegas Strip and his plans to visit the Anaconda Copper Mine near Yerington on Monday to learn about local groundwater contamination.
Castro added that Las Vegas "represents the future of our nation."
"One that's growing, one that is diverse, one that is young, one that is aspiring," Castro said. "That's what I want for all of our communities, places of opportunity, places where if you work hard you can get ahead."
Three infrequent visitors to the state this cycle — former Reps. John Delaney and Joe Sestak, and Colorado Sen. Michael Bennet — also attempted to introduce themselves to Nevadans at the event.
The event featured a tribute to former Senate Democratic Leader Harry Reid, who retired from the Senate after three decades of service in 2016. Democratic presidential hopefuls filed onto the stage during the tribute as the state song "Home Means Nevada" played in the background to honor the senator.
"Nevada is a diverse state and we're proud of it. We're proud of Nevada," Reid said. "We're a state where people can accomplish anything, and that's why someone like me has been able to do good things, because Nevada is that way."
Other attendees of the event included Gov. Steve Sisolak, Cortez Masto, Sen. Jacky Rosen, Reps. Steven Horsford and Dina Titus, Assembly Speaker Jason Frierson and Senate Majority Leader Nicole Cannizzaro.
The pep rally-style atmosphere that kicked off the event — thunder sticks, glow sticks, banners and chants — began to peter out as the evening progressed. Many attendees left after the top-tier candidates spoke, creating rows upon rows of empty seats. Casino workers even began rolling garbage cans down the aisles and picking up discarded items as the final speaker — former Massachusetts Gov. Deval Patrick, who just entered the race last week — took the stage.
"We have learned to shout our anger and whisper our kindness and it is completely upside down," Patrick said, rising to a crescendo as the evening wound down. "We need to learn again to shout our kindness, to shout our sense of justice. If we do that, we will rebuild of the character of the country."
The mass departures irked 34-year-old Erin Bovenzi, a Yang supporter who stayed until the very end. She wanted to hear every candidate speak and was dismayed others didn't share that goal.
"In the end, I'm just glad I stayed," she said, while reiterating her enthusiasm for Yang. "He's going to be the nominee."
Not all attendees came with a preferred candidate in mind. Julie Liebo, 66, sported five campaign buttons on her shirt — one each for Sanders, Klobuchar, Booker, Buttigieg and Castro. The buttons reflect her indecision less than 100 days out from Nevada's caucus.
"I think it's a little crowded, yes," she said, referring to the Democratic field. "It does harm us a little bit."
This was the first year Liebo, an administrator at a nursing home, and her wife, Charlotte Morgan, a pastor, attended the First In the West Event. They consider the coming election a crucial point in American history that could change the trajectory of things like health care for the better or LGBT rights for the worse.
Liebo left the political gathering with even greater enthusiasm for Buttigieg, whom she sees as an intelligent leader with a clear plan who isn't afraid to speak about his faith.
"Thank God we have the ability to have this happen tonight and have all these people here," she said. "I love being a part of this. I'm going to do everything I can to get everybody I know out to vote."

The Nevada Independent is raising $200,000 by Dec. 31 to support coverage of the 2024 election.
Tax-deductible donations from readers like you fund this critical work.
If you give today,your donation will be matched dollar-for-dollar.
Give + Get Matched
Featured Videos