Principals say community engagement efforts key as schools transition to in-person learning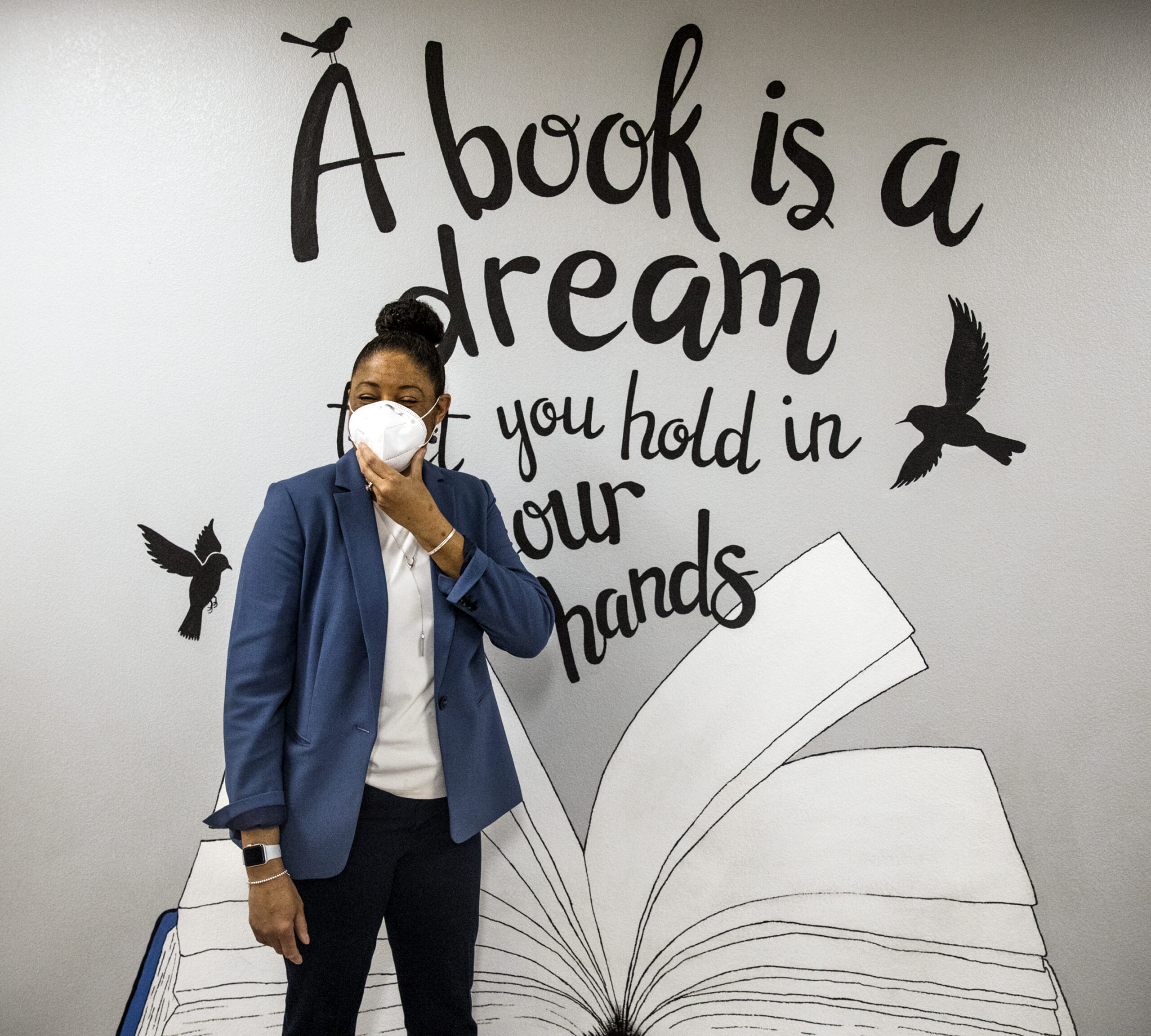 There will be no need for backpacks when Shannon Smith's second-graders enter their West Prep Academy classroom for the first time on Monday.
Each tiny desk contains colored pencils, crayons, scissors, pencils and a sharpener, an eraser, glue stick, highlighter, notebook, miniature whiteboard, water bottle, supply pouches, folders — and a see-through plastic barrier to curb the spread of respiratory droplets.
Welcome to a classroom in the age of COVID-19. Under the Clark County School District's hybrid model — which begins Monday for pre-kindergarten through third-grade students — cohorts of students will rotate between in-person and remote learning. Plastic bins adorned with name tags in the back of Smith's room will store each student's supplies, an attempt to prevent any mingling of germs.
"I've been prepping them for the past two weeks," Smith said last week while standing in her socially distanced classroom, where hand sanitizer and disinfectant wipes are plentiful.
She has been giving her students virtual tours. Their major questions, she said, pertain to recess and materials they see set up in the classroom.
More than half of her students have opted to return for in-person learning. The dozen students will be split between two cohorts that come to school two days a week and learn from home the other three days. A handful of students chose to remain in full-time distance education.
The decision made by her students' families mirrors that of the school at large. About 150 students in pre-kindergarten through third grade — roughly half of children enrolled in those grades — will return to classrooms this week.
West Prep Academy, which serves students in pre-kindergarten through 12th grade, is a neighborhood school that sits near Lake Mead and Martin Luther King boulevards. All students are eligible for free or reduced-price meals. Knowing the family dynamics — such as pandemic job loss, students being raised by grandparents or parents who don't speak English — has been vital in the school's quest to communicate and gain trust with families about sending their children back in person, Principal Monica Lang said. The school has a wellness team that regularly checks in with families to ensure they have the support they need.
"Now that we're going to face to face, if they have any questions, they're able to answer those questions as well because they're calling those families weekly," said Lakeisha Myers, assistant principal for for West Prep's elementary school.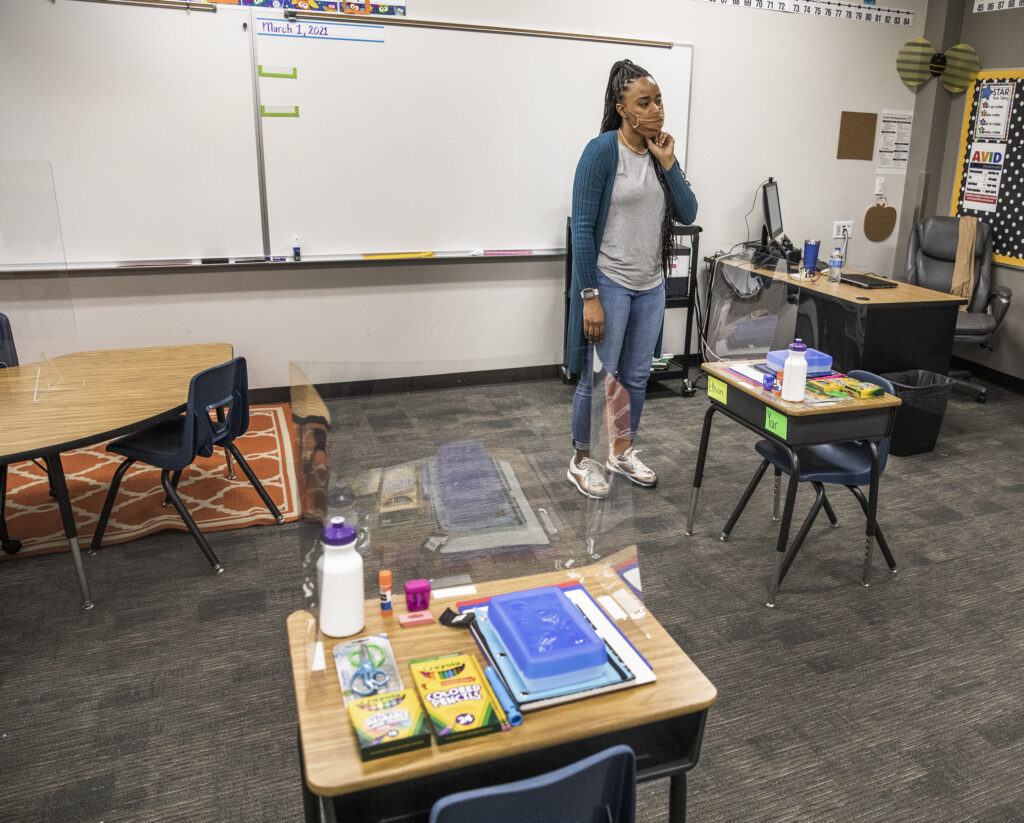 The Clark County School District has released results of a survey showing that, overall, 56 percent of families preferred the hybrid model, while 43 percent indicated a desire to continue full-time remote learning. But families' preferences varied by geography and race. Families living in affluent Summerlin or Henderson neighborhoods, for instance, signaled more interest in the in-person hybrid model than those in central or eastern Las Vegas or parts of North Las Vegas.
A larger share of white students — 67 percent — showed interest in returning to brick-and-mortar classrooms compared with any other racial group, according to the family survey results. Roughly 54 percent of Black and Hispanic students also preferred the hybrid model, while only 39 percent of Asian students did. Meanwhile, 49 percent of Pacific Islander students, 64 percent of Native American students and 58 percent of multiracial students indicated they would likely return to in-person learning.
In Trustee District C, which includes West Prep, about 54 percent of families preferred the hybrid option. West Prep's in-person enrollment numbers are on par with that, which the school's leaders say didn't happen by chance.
Their messaging efforts to students' families began back in October, well before the school district had even pegged a reopening date.
Lang said the school sent eight surveys and made 430 calls to families in an attempt to share information and better predict how many students would return when allowed. She and Myers have been working Saturdays to get it all done.
"It's to make sure that kids don't fall through the cracks because mom is working 12-hour shifts every day and is not there at night when we're making the calls," Lang said.
Jasmine Buford is among those parents who are sending their children back to in-person instruction at West Prep. She didn't struggle too much with the decision, though. Buford said over the past year she has witnessed her third-grade daughter, Dianeli, regress socially. She's not as comfortable around extended family members and wants to retreat to her tablet device.
"It's causing her to turn into like this hermit crab," she said.
Plus, from a health and safety standpoint, Buford said she leaves their house every day for her job at the Regional Justice Center.
"Realistically, if I'm not stopping going to work, why am I stopping her from going to school?" she said.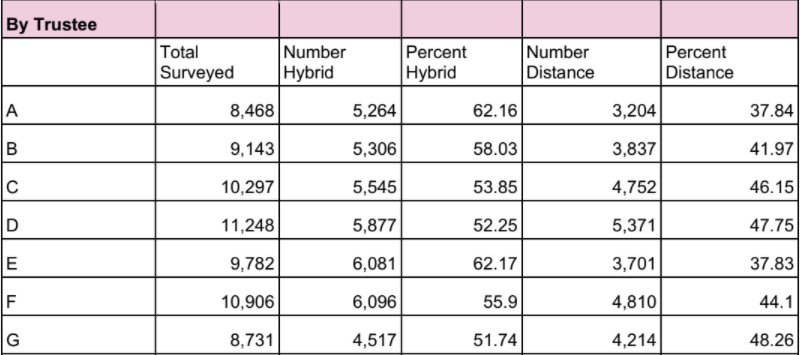 West Prep's leaders expect in-person enrollment numbers to grow as parents see the hybrid model in operation and feel more comfortable. Brenda Swann, principal of Kay Carl Elementary School, also expects her in-person enrollment numbers to swell but for a different reason: Many of her students' families did not want to disrupt their schedules for only two days of in-person learning. Only 82 students — 45 in one cohort and 37 in the other — are returning for the hybrid model, said Swann, who noted the "majority were happy to stay online."
That could change in a little over a month. Last week, Clark County Superintendent Jesus Jara announced a staggered reopening timeline that would allow all elementary students to attend school in person five days a week starting April 6.
Swann said she's "thrilled" by that decision because she thinks it will entice more families to send their children back in person. Kay Carl Elementary School is in Trustee District B, where, overall, roughly 58 percent of families preferred the hybrid model.
"I'm excited to be able to do a soft opening and then we will be gangbusters on April 6," she said.
In the meantime, Kay Carl Elementary School will continue leaning on its existing community engagement efforts to keep remote-learning families in the loop, Swann said After the pandemic forced virtual learning, the school launched a radio station, 87.9 KCES, that broadcasts in a 1,000-foot radius around the building. Families visit the school every other Wednesday to pick up learning materials, such as new books or printed worksheets. While they wait in the drive-through line, signs instruct them to tune into the radio station.
Swann described the operation as "Chick-fil-A meets Amazon," and it's in addition to videos and written messages sent to parents via online learning portals.
"It was the perfect situation," she said. "They were sitting in their cars. I've got you captive."
Bradley Marianno, assistant professor of education policy at UNLV, said he commends principals and schools staff tasked with quickly creating new schedules, rearranging classrooms to meet social-distancing requirements and communicating with families who have many questions about how it will all work. Despite all those efforts and mounting studies showing low risk of COVID-19 transmission in schools, he said, some families still need "additional reassurances or deeper understanding" of in-person learning procedures.
Marianno said he hopes the district provides some leeway for parents who want to send their children back after their own nervousness dissipates. On the flip side, he said families should remember that the Clark County School District isn't blindly entering the reopening phase. Many large school districts across the country, including the Washoe County School District in Reno, have already been offering in-person learning.
Whatever the school district can do to mitigate unevenness regarding in-person enrollment, the better off students will be in the long run, he said.
"We know kids learn better in the classroom and if we continue to see a significant proportion of our most vulnerable kids opt out of a return and remain in distance learning, that's only going to continue to expand learning gaps," he said.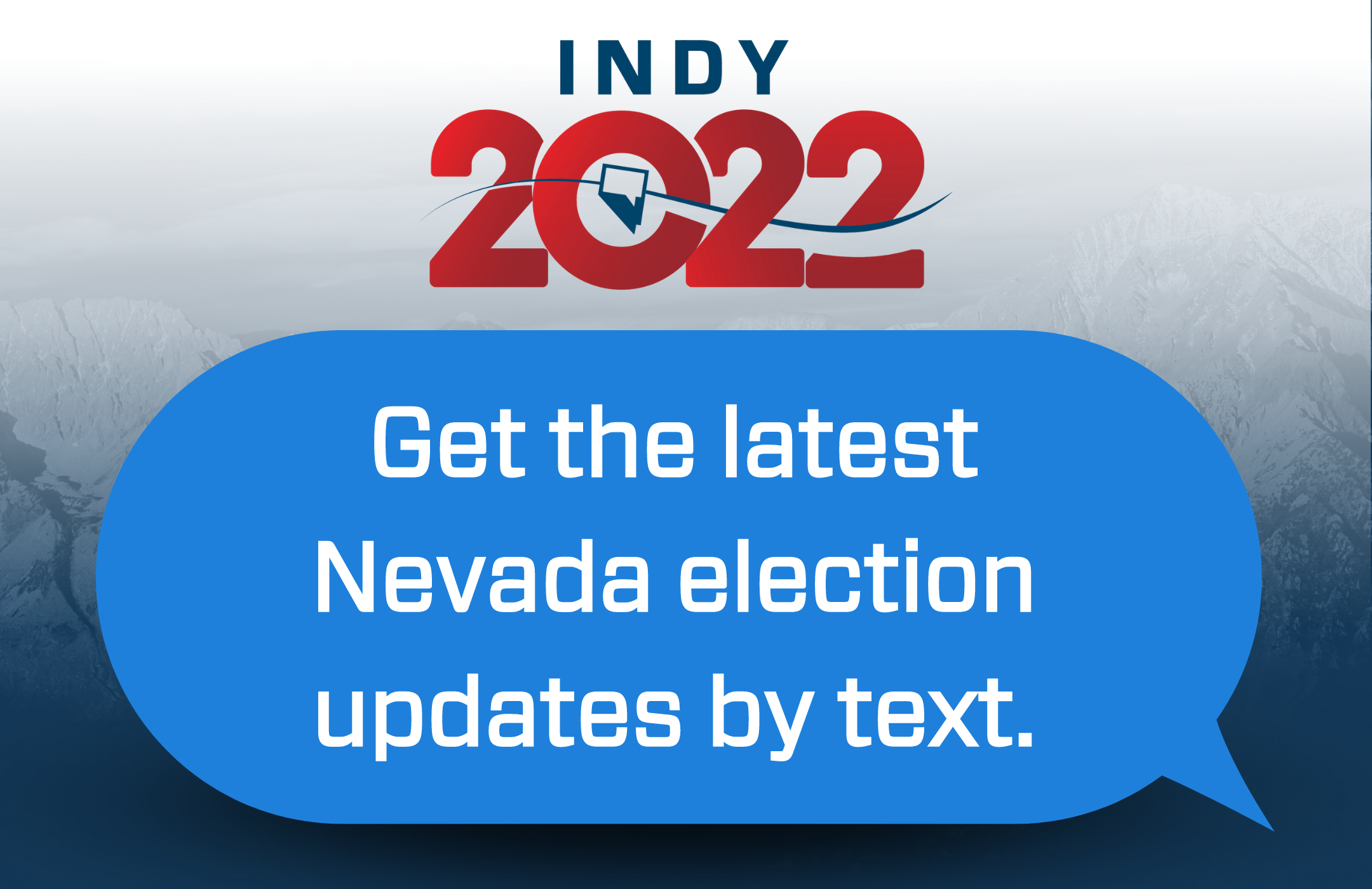 Featured Videos
Comment Policy (updated 4/20/2021): Please keep your comments civil. We reserve the right to delete comments or ban users who engage in personal attacks, use an excess of profanity, make verifiably false statements or are otherwise nasty. Comments that contain links must be approved by admin.