Progressive group launches seven-figure voter mobilization effort targeting Nevada Latinos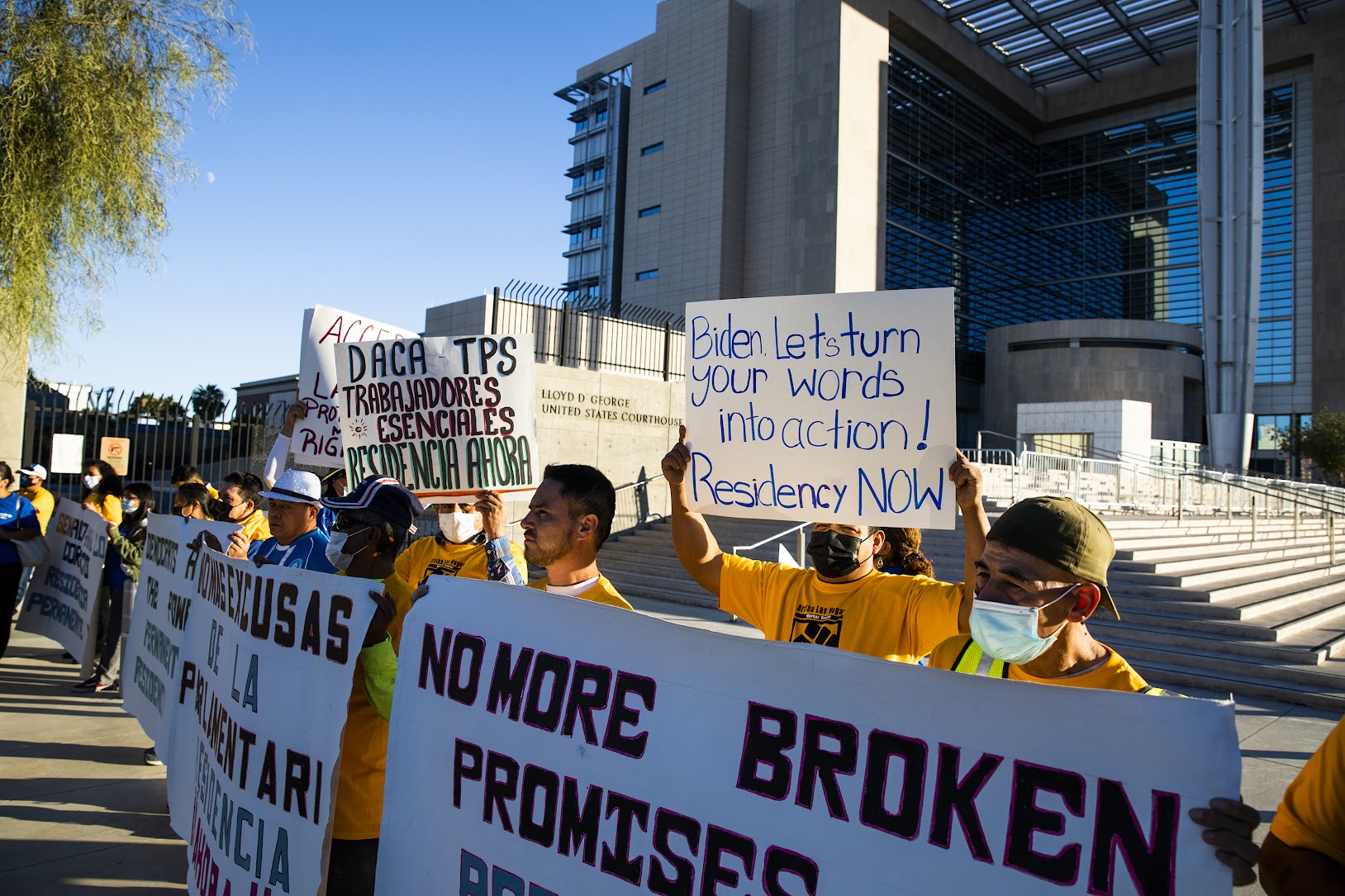 Make the Road Action Nevada, a local nonprofit focused on Latino and Hispanic voter engagement, launched a seven-figure voter mobilization campaign Thursday to reject "MAGA Republicans" running for office in Nevada.
During a press conference Thursday, Leo Murrieta, director of Make the Road Action, said his team of canvassers will work to ensure that the Latino vote turns out in November. He was joined by Las Vegas City Councilwoman Olivia Diaz and Nevada State Board of Education President Felicia Ortiz.
The push comes as Democrats hope to stave off any more movement toward the Republican Party among Latinos. In Nevada, the Democratic ticket lost ground from 2016 to 2020, with a smaller percentage of Latino voters backing now-President Joe Biden compared with Hillary Clinton in the previous election.
Nevada's Democratic candidates have also been supported by wide-scale canvassing efforts led by the politically powerful Culinary Union, which represents 60,000 hospitality workers in Nevada, who work primarily at Las Vegas' hotels and casinos. Through early October, a political committee called We Vote We Win with ties to both the Culinary Union and Nevada State AFL-CIO, a coalition of labor unions, has reported spending more than $1.3 million on canvassing efforts in support of Democratic Sen. Catherine Cortez Masto and the state's three Democratic House incumbents.
On Thursday, the Nevada Republican Party announced its "Operación ¡Vamos!" voter mobilization effort targeting Latino voters had, since it launched in April, "surpassed the combined total for GOP Hispanic voter contact efforts in the Silver State across the last six years."
In 2020, the Pew Research Center reported that Latinos made up nearly 20 percent of the Nevada electorate with 400,000 eligible voters.
"We [will] make sure that we elect leaders who are going to protect our freedoms," Murrieta said in a speech. "And we're going to make sure that they protect our families."
The group is supporting two incumbent Democrats — Cortez Masto for Senate and Gov. Steve Sisolak in the gubernatorial race — and Cisco Aguilar, also a Democrat, for secretary of state.
Ortiz told the group of more than 50 canvassers that Latino and Hispanic voters need to choose leaders who prioritize family, education, jobs and "making a good living."
"We're voting [for] people that are going to mirror our morals and values," she said. "And the things that we hold dear to our hearts."
The organization has been knocking on thousands of doors in Spanish-speaking communities and communities of color since April. Murrieta said canvassers knock on at least 3,000 doors each day.
Maria Navarrete, a paid canvasser with Make the Road Action, said she is passionate about informing the community about the voting process. When going door to door, she said she often meets people who do not know about the importance of the midterm elections.
"What's important to me is making sure people know who their local representatives are so they're not left in the dark," Navarrete said in an interview while canvassing. "But I see that a lot of Latinos are apathetic to the voting process."
She joined the organization in April of this year and was hired in May. She said some Latinos are apathetic toward voting because they feel like many politicians have made "empty promises."
Navarrete, along with Murrieta and the rest of the canvassers (made up different ethnicities and mostly people of color) said their work is important because they are connecting with "ordinary people" who are too busy with work to stay informed on politics. If residents do not answer the door, canvassers leave door hangers with information about the candidates they are supporting, their campaign promises as well as important dates such as early voting.
"Each election is an opportunity to make sure that our community does not get ignored, that our community does not get put aside," Diaz said during the press conference. "They have been talking about, especially in the Latino community, that we're the sleeping giant."