Protest over teacher pay disrupts Clark County school board meeting
It was the second time protesters have interrupted a board meeting this month as negotiations between the union and school district remain at a standstill.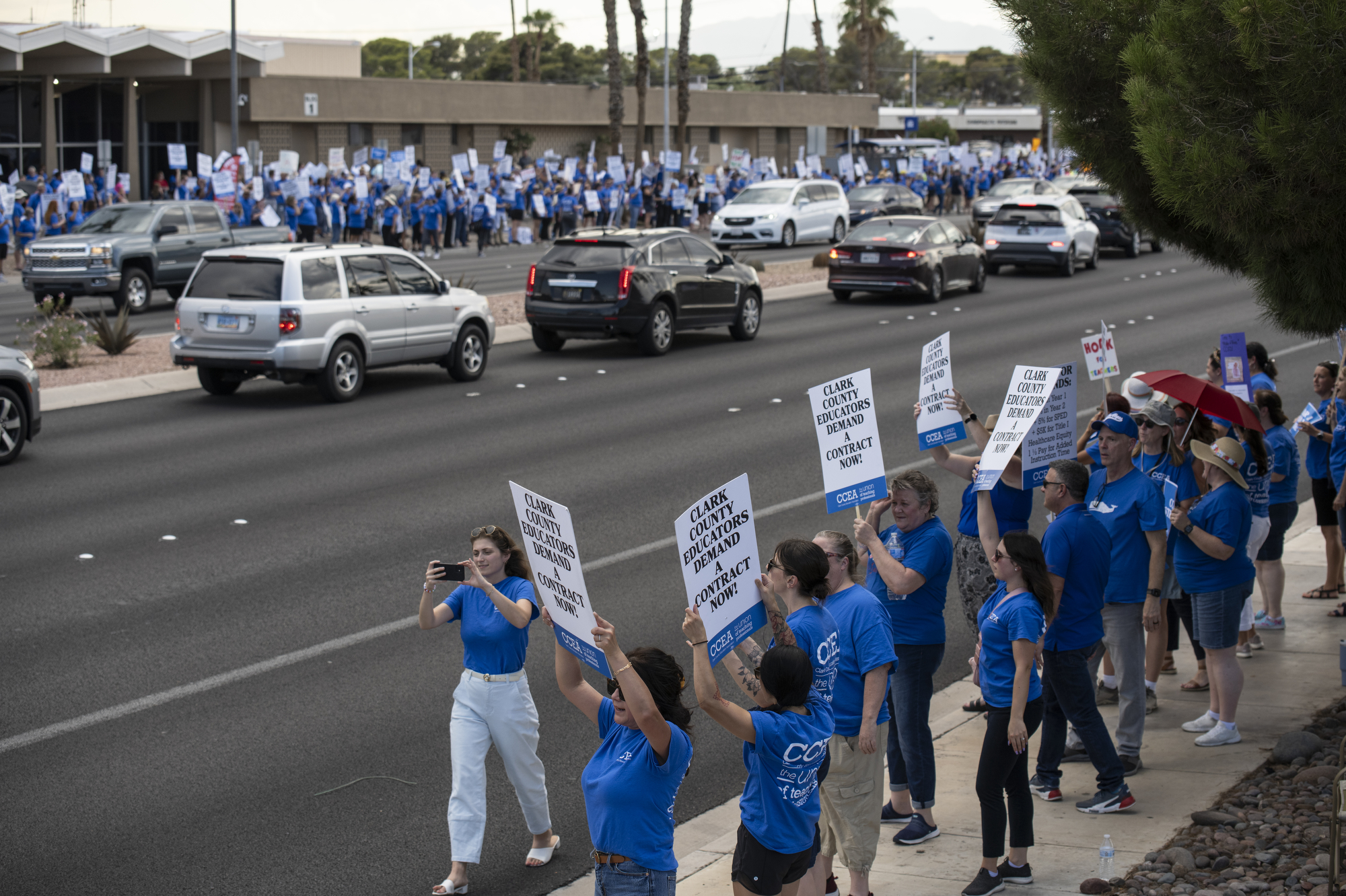 Tensions ran high at Thursday's Clark County School Board of Trustees meeting, with teachers accusing Superintendent Jesus Jara of prioritizing administrators over educators as the union and school district remain at odds over a proposed pay increase for teachers.
Hundreds of teachers, parents, community members, lawmakers and other supporters participated in the Thursday protest held outside district offices by the Clark County Education Association, which represents about 18,000 licensed educators in the district. Protesters filled up sidewalks in front of the school board building and across the street, holding up signs that read "Teachers just wanna have funds" and "Teachers need more than apples."
Many drivers passing by honked in support.
The union continues to push for pay raises of 18 percent over the next two years. In addition, the union has asked for:
An additional $5,000 salary increase for all educators at certain schools with high numbers of vacancies and hard-to-fill positions
A 5 percent increase for special education teachers
An increase of 1.5 times a teacher's salary for all hours worked after contract time and a salary increase for coaches
The district to address class sizes and caseloads
A sick leave buy back proposal
An increase in the district's contribution to teacher health care costs
Adjustments to teachers' salary schedule.
The protest comes days before a Saturday meeting where the union is expected to vote on possible actions it may take against the Clark County School District (CCSD) if a contract is not settled on before then.
Only a limited number of teachers and other community members, including members of the media, were allowed into the school board room for the actual meeting.
Seven minutes into the meeting, chants of "Jara is a liar" and "CCSD is on fire" erupted from inside the boardroom.
School district police officers and additional security guards removed three people from the board room, including CCEA Vice President Jim Frazee. Of those, two were placed in handcuffs while they were escorted out and cited for disrupting a public meeting, according to a CCSD spokesman. That included kindergarten teacher Kristan Nigro, who is also on the union's executive board.
"As stated at Thursday's board meeting, violating the law by disrupting a public meeting results in consequences," CCSD officials said in a statement after the meeting adjourned. "CCSD is charged with educating Clark County's children, and those who seek to disrupt the district's business operations will not deter us from fulfilling our mission."
Things settled down after a group of CCEA's members stood up and voluntarily left the board meeting, joining other teachers who stood outside the building. At times, the loud chants from those outside could be heard inside during the meeting — called to focus on other issues including chronic absenteeism.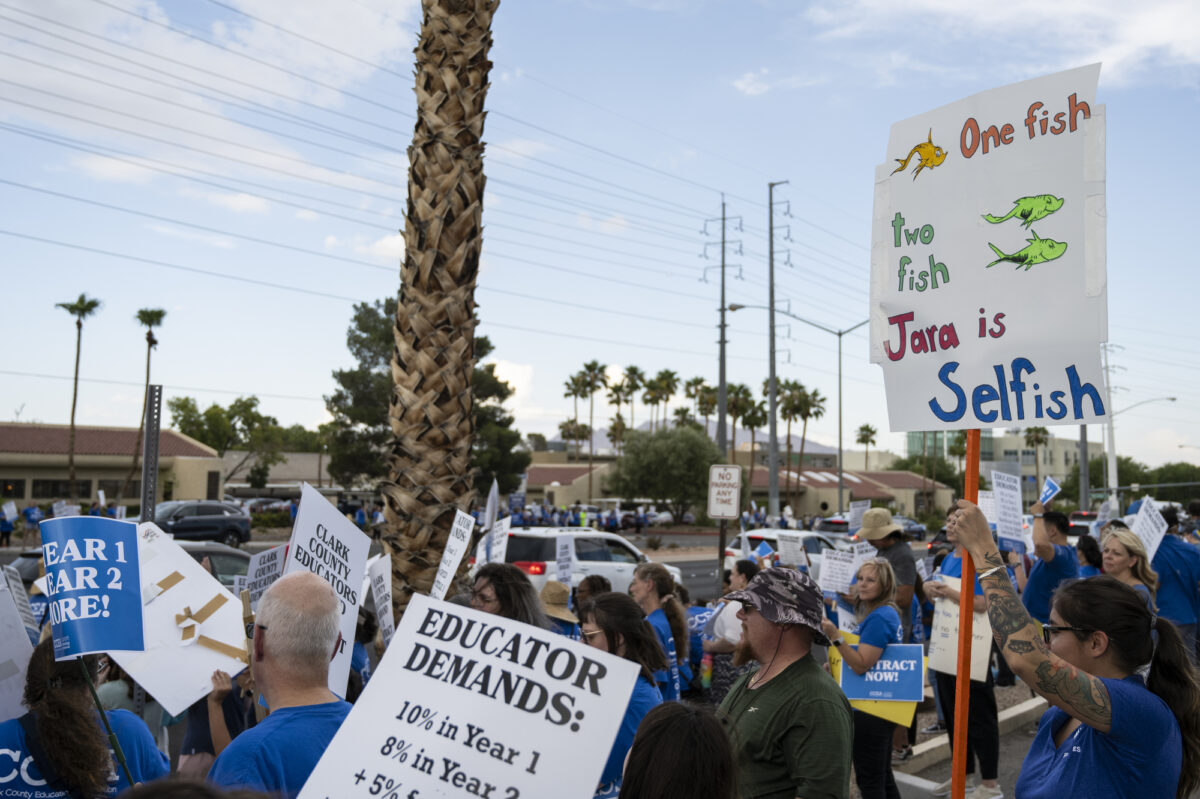 The criticisms against Jara come after the school board approved a pay increase of more than 12 percent for administrators represented by the Clark County Association of School Administrators and Professional-Technical Employees (CCASAPE).
Last month, the school district announced it added seven associate superintendent positions to provide increased support to schools.
During the 2023 legislative session, Jara came under fire by lawmakers for issuing $400,000 worth of raises to members of his executive cabinet in 2021.
Jared Gomez, who was wearing a blue CCEA shirt, told the trustees the previous board was on the right track for firing Jara in 2021, and called the board's decision to rehire Jara a few weeks later a disservice.
"If you really want to represent your constituency, put some restraints on your superintendent," he said. "His number one priority should be teachers. His priority is administrators."
The school district has previously proposed a 10.5 percent pay increase for licensed educators over the next two years. That would increase the starting salary from about $50,000 to $53,000.
In addition, the school district is proposing reforming teachers' salary schedule to "realign teachers hired after August 2016 based on their years of service and education." CCSD said this would result in pay increases for more than 3,300 employees. CCSD has also offered pay increases for coaches, club advisers and certain teachers with students with special needs.
The school district said it's also willing to contribute about $14 million more to the licensed educators health care plan, Teachers Health Trust, in 2023-2024 and about $7.7 million more in 2024-2025.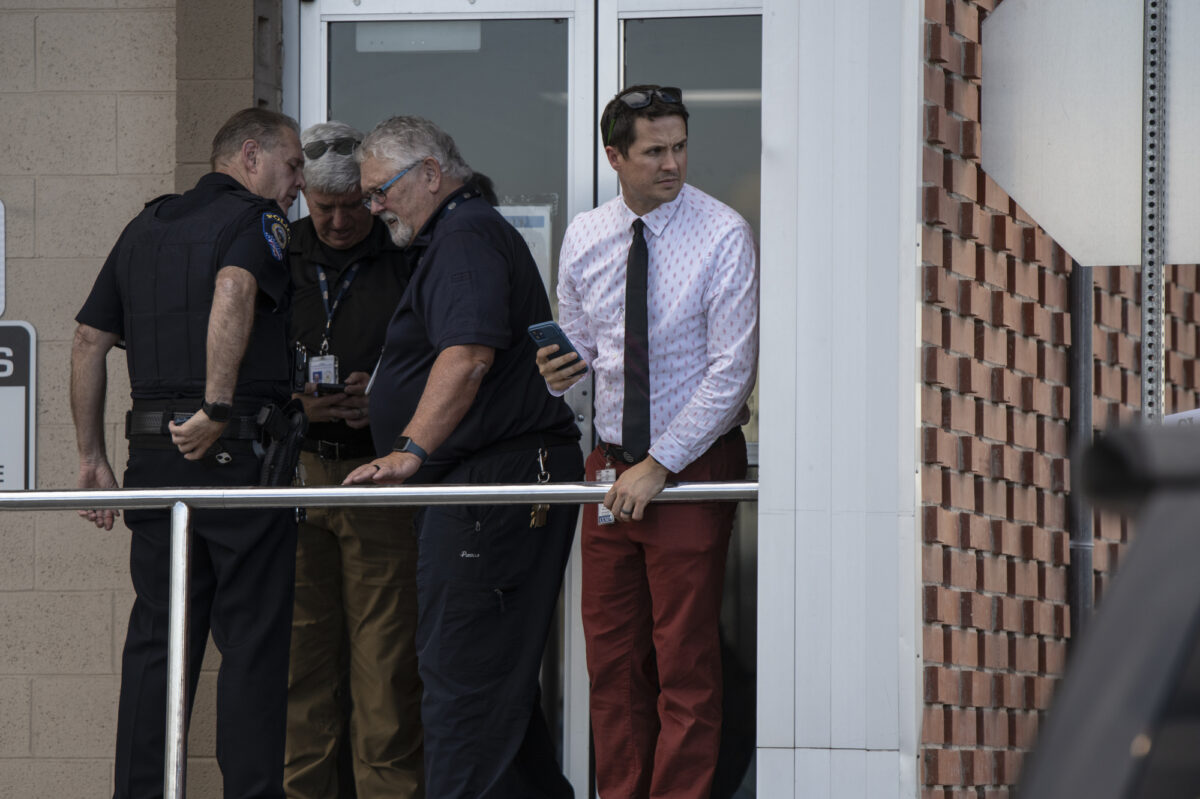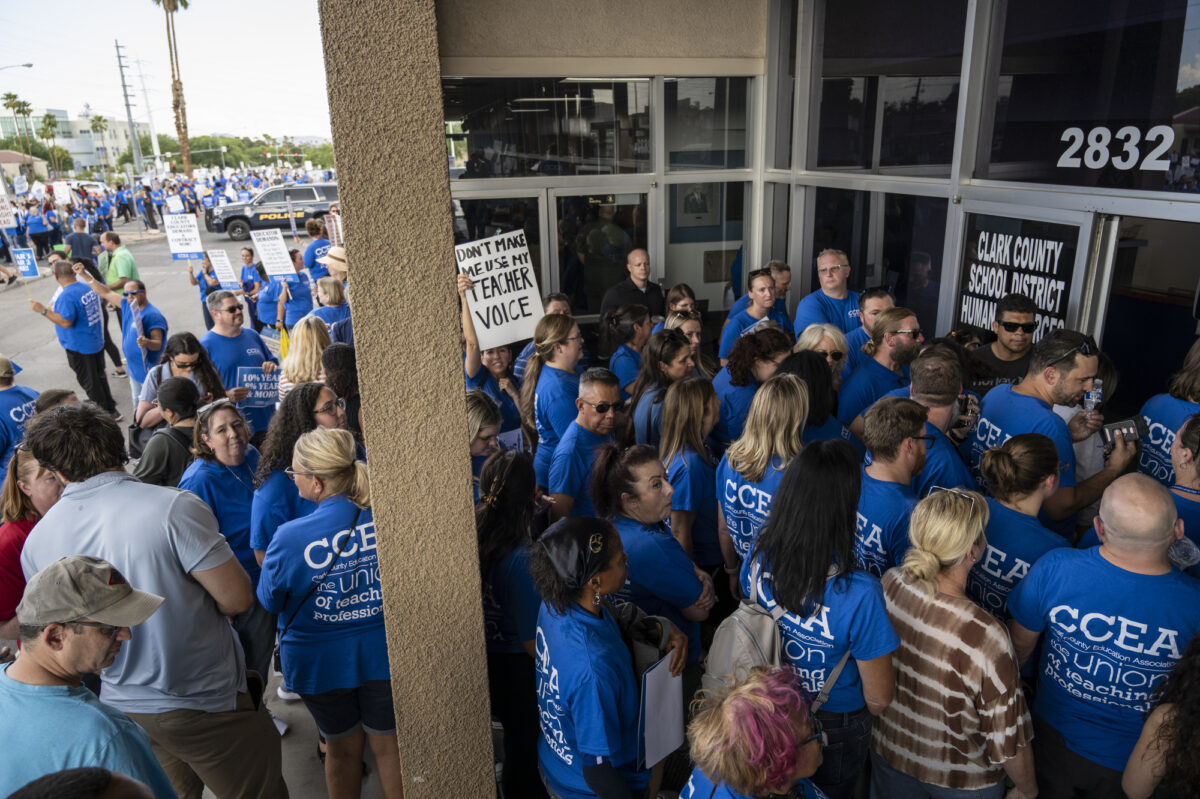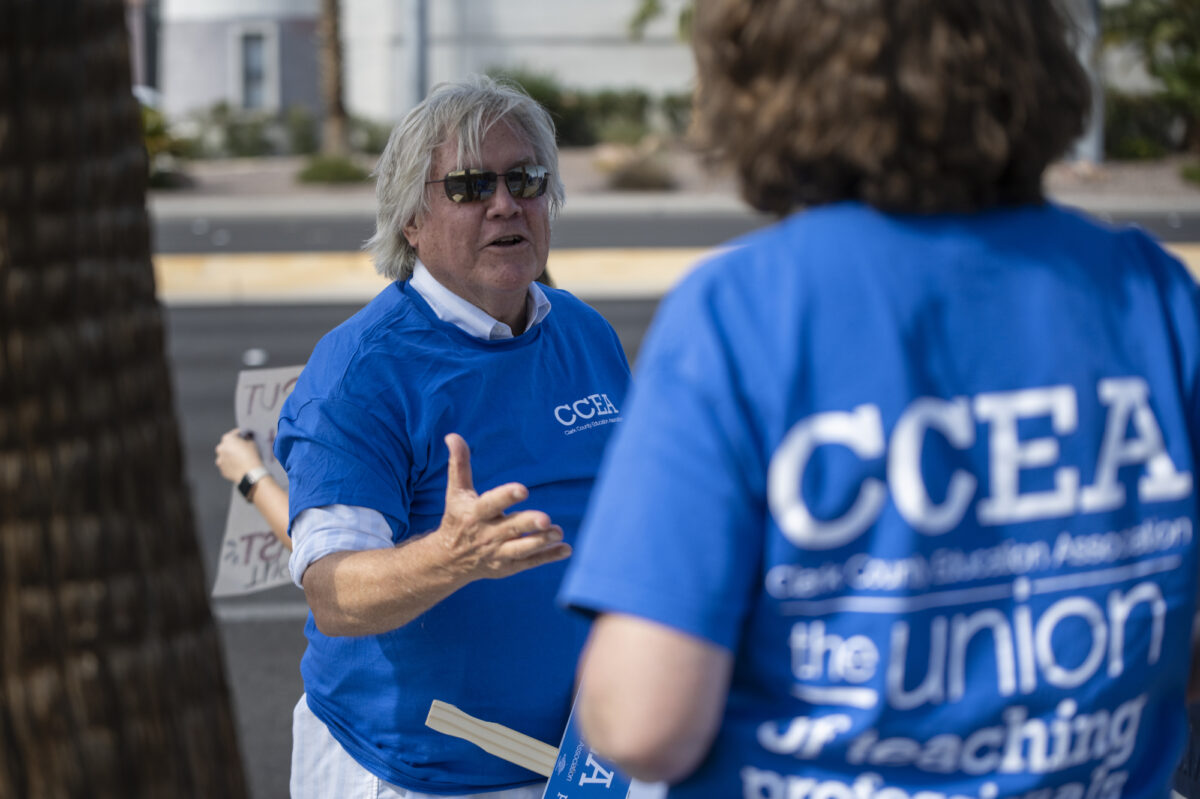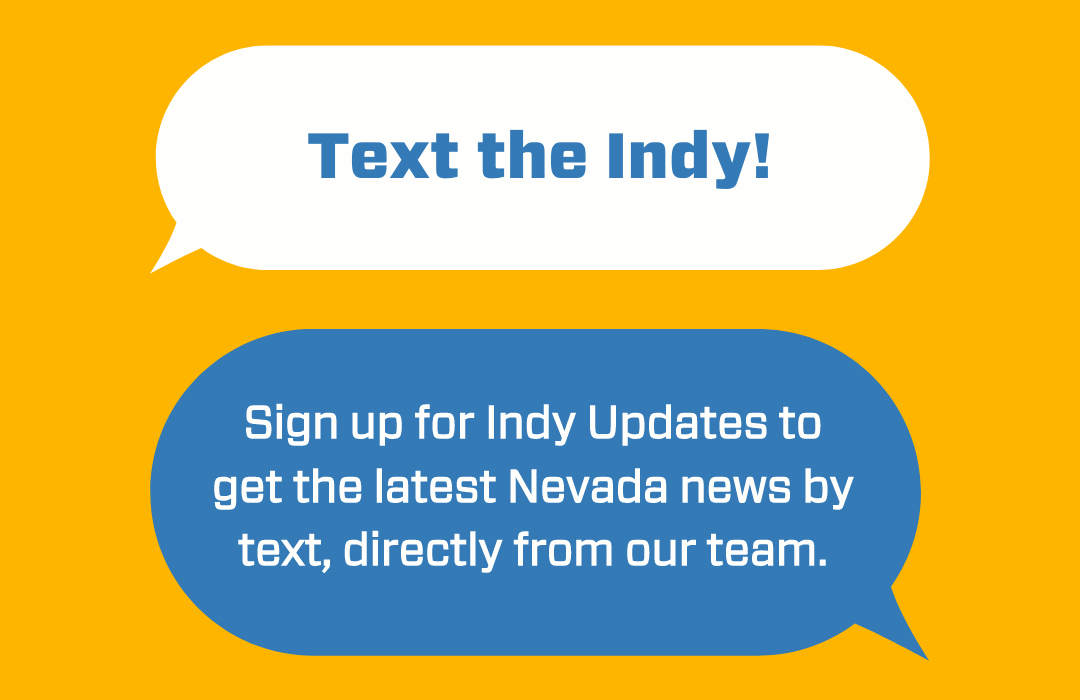 Featured Videos