Former Representatives for Nevada's 4th, Steven Horsford, left, Democratic candidate, and Republican candidate Cresent Hardy talk during the Hispanics in Politics breakfast meeting in Las Vegas on Wednesday, Sept. 5, 2018. They running against each other in the CD-4 race. (Jeff Scheid/The Nevada Independent)
Race for Nevada's 4th Congressional District is a rematch, but now with Trump in the middle
November 2nd, 2018 - 2:15am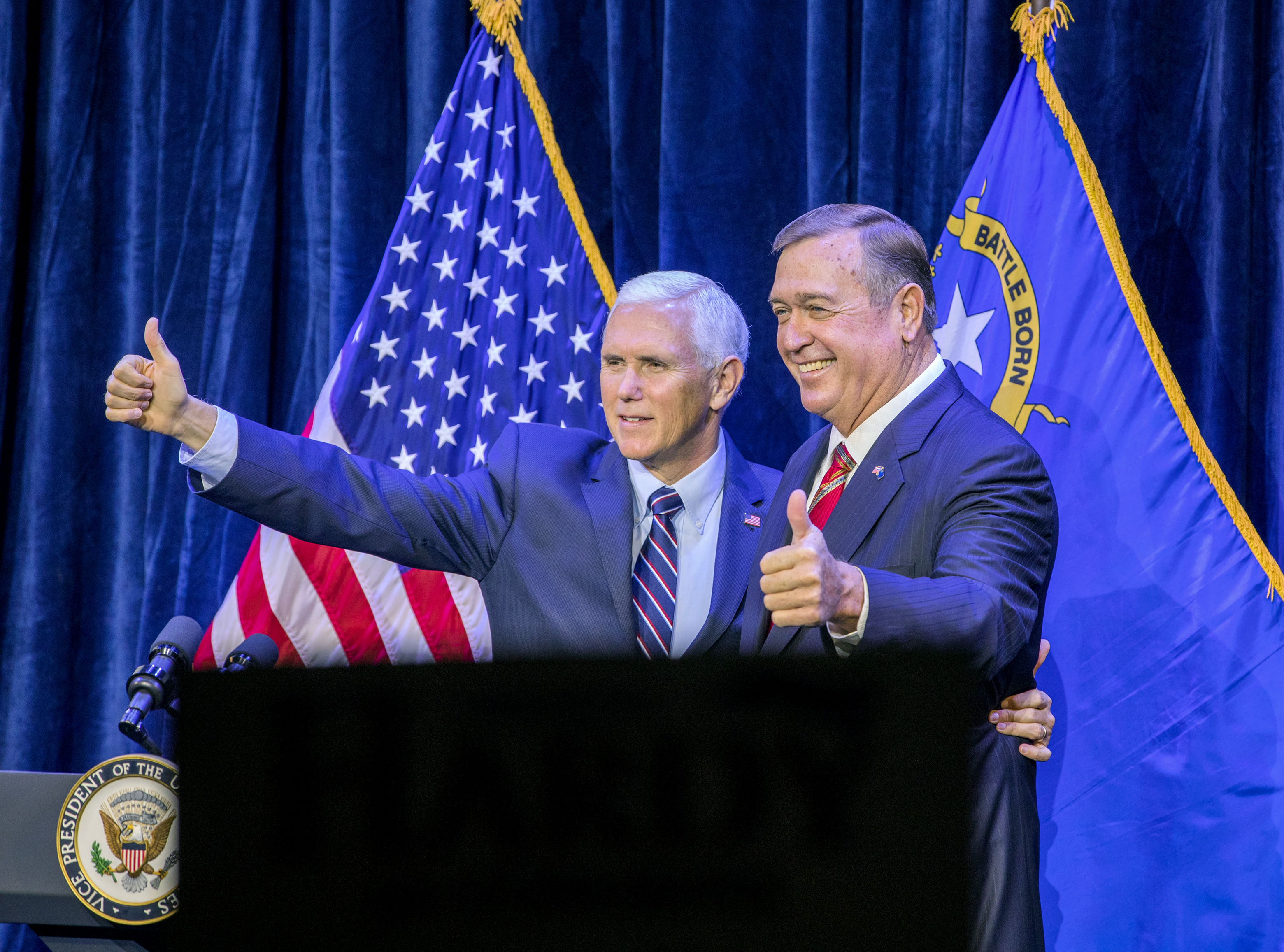 On a stage in the Venetian Showroom last weekend, a vice president known for smoothing the rough edges of the politicians he works with spoke in glowing terms about the national economy and Republican congressional candidate Cresent Hardy.
Mike Pence spoke of Hardy having "Nevada values in his veins," as someone who never quits, who someone will make a great teammate for President Donald Trump, who — like the giant banners behind him declared — was "Nevada Tough." But when Hardy took the stage, before criticizing his Democratic opponent Steven Horsford for staying in Washington D.C. after losing the same seat in 2014, he added a disclaimer that's characteristic for the folksy candidate.
"I'm first to admit right off the bat I'm not a polished speaker, I'm a 40-year construction worker," he said. Trump might have quite the "vernacular," Hardy added, but "mine's like dynamite — who knows what's going to come out of my mouth."
On the campaign trail in a tough race for a Democratic-leaning district, the self-effacing former congressman touts his roots as fifth-generation Nevada born to a dad with only a fifth-grade education, although he's no stranger to public office as a former state lawmaker with extensive experience on government boards.
"Cresent strikes an important balance; he is tough and driven, yet he's also incredibly warm, down-to-earth, and genuinely invested in serving Nevadan families," Republican National Committee spokeswoman Keelie Broom said about Hardy's appeal as a candidate.
He's not afraid to admit a mistake — he says he regrets his decision in the 2016 race to un-endorse President Donald Trump, and Pence, Eric Trump and Donald Trump Jr. are among the party leaders who have forgiven the comments of the past and come to gin up support for him in the Democratic-leaning district in the final weeks of the campaign.
Hardy now speaks in reverent tones about the Trump administration, crediting it with an economic comeback and adding of the president: "his policies are my policies."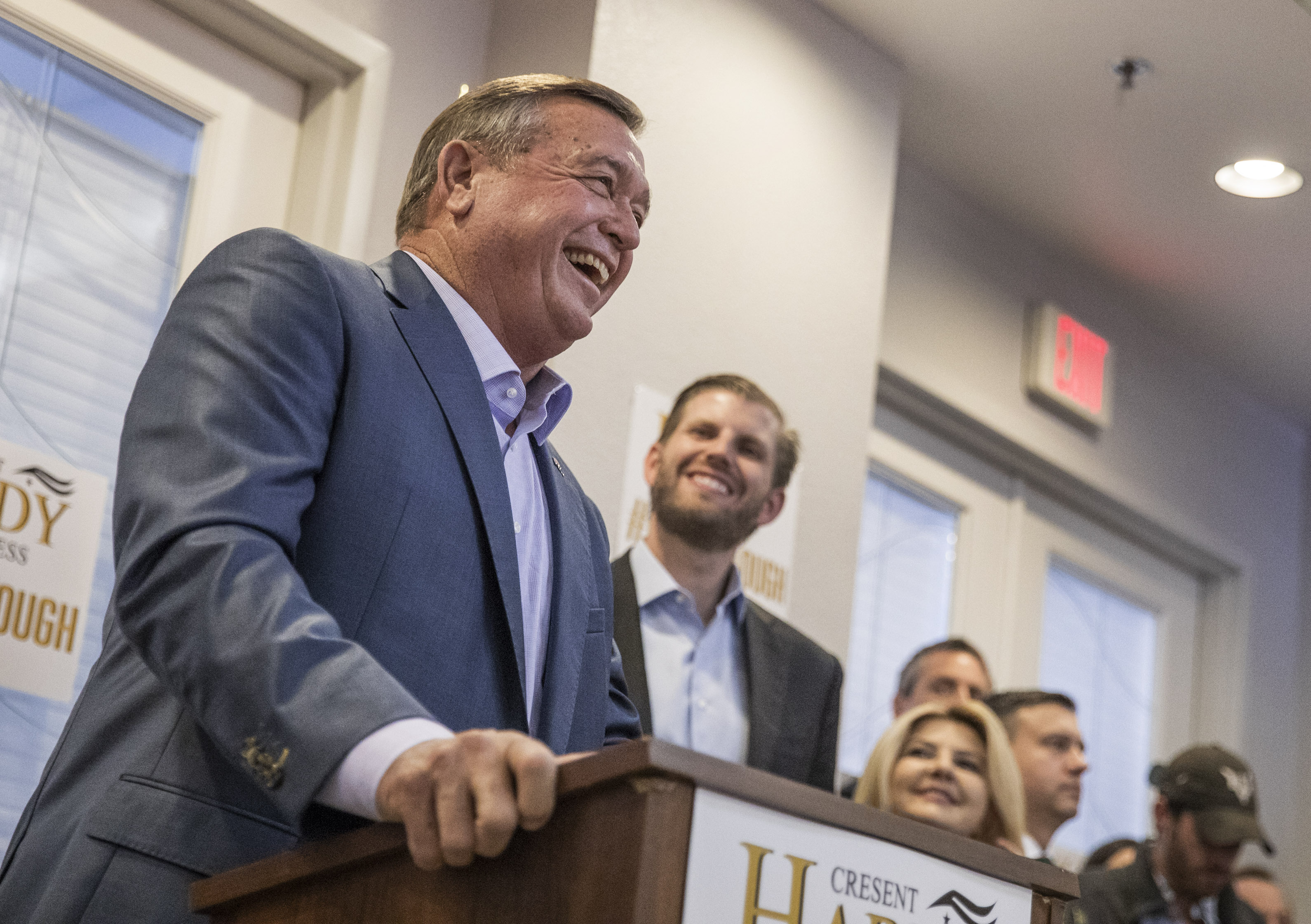 But that's exactly the problem, according to Horsford. The day of the rally, Horsford was stationed a few miles north outside the Doolittle Senior Center early voting site in historic West Las Vegas, wearing an apron that read "Men Who Cook" and serving barbecued hamburgers and hot dogs to people wearing "I voted" stickers.
"People know what's at stake in this election. The energy no matter what part of the district you're in, people are turning out to make sure their voice is heard," he said. "They want a representative that's going to be a check on this administration, not another rubber stamp for Donald Trump and his agenda."
Horsford isn't taking chances even if the district has a 10-point Democratic advantage. A former head of the Culinary Union's training academy and former state Senate majority leader, he served a single term in the House before he suffered a tough upset to Hardy in 2014.
This time, there was a bus parked near the barbecue with a giant blue Horsford banner on the side. It was making rounds picking people up in the district and shuttling them to polling places by the dozen.
"I let 'em know this race is close because in 2014 I lost by about 3,000 votes and a lot of us took that for granted and we're not going to let that happen again," Horsford said. As for how it's different this time — "We've run a very grassroots, issue-oriented campaign."
Horsford rattles off a litany of issues he wants the campaign to be about, including protecting pre-existing condition coverage, protecting Medicare and Social Security, and "having the courage to finally do something around gun safety in our country." He chafes at the Republican narrative that a $1.5 trillion tax cut and slashed regulations have created an economic euphoria, and he argues that many voters are turning out because they haven't seen the benefits of the tax package.
"Mike Pence, come over here to North Las Vegas and 89106 and tell the people in this community," he said, referring to the economically distressed ZIP code where the Doolittle Center is located. "I know what the unemployment rate is in my community. It's not a talking point on some stage at the Venetian. It's about real lives that are being affected here in this community."
Race outlook
The 4th Congressional District shouldn't have been open at all, but turned into one of Nevada's most watched contests when incumbent freshman Rep. Ruben Kihuen faced allegations of sexual harassment last December and later announced he would not seek re-election. It's one of two pickup opportunities in the state for Republicans, who hope to maintain their majority in the House and avoid the potent backstop that would be a Democrat-controlled House.
Republicans believe the district — which was created in 2012 and which both Hardy and Horsford have represented for a term — is within reach. It includes portions of urban Las Vegas and North Las Vegas, as well vast tracts of rural central Nevada and Hardy's home turf of Mesquite.
Two competing polls were released in August. A survey released by Hardy supporters showed a tied race but was based on strong Republican turnout; another released by Horsford showed the Democrat with a 10-point advantage, but tracked exactly with the voter registration pattern of the district.
But early vote returns are evidence that the Democratic turnout machine has put their resources where their mouth is, investing heavily in a ground effort in the district and determined not to repeat the mistakes of that low-turnout midterm four years earlier.
Registered Democrats in the Clark County portion of the district (which makes up the vast majority of the district) have a lead of about 12,000, or 11.2 percent, over Republicans in ballots cast as of Thursday. That will be difficult for Hardy to overcome on Election Day.
"It's always going to be whatever it is on Nov. 6," Hardy said of the early returns after his Pence rally, adding that he wanted to keep talking to his supporters and hosting attention-grabbing events like the Pence rally in the home stretch. "I do what I can control. In politics, there's not a heck of a lot you can control."
Horsford said he was encouraged that the turnout looks nothing like the dismal levels of the year he lost.
"From what I see, we have three times as many voters coming out than turned out in 2014," he said. "This is all about organization, mobilization, and turnout and we know how to turn out our voters and we're doing that to make sure we win throughout the ticket."
Horsford has also notched a fundraising advantage, raising about three times more than Hardy in the most recent campaign finance reporting period.
His side is also ahead on outside spending in the race. Of the more than $10 million spent so far by outside groups, Democratic-backing expenditures accounted for about three-quarters of spending.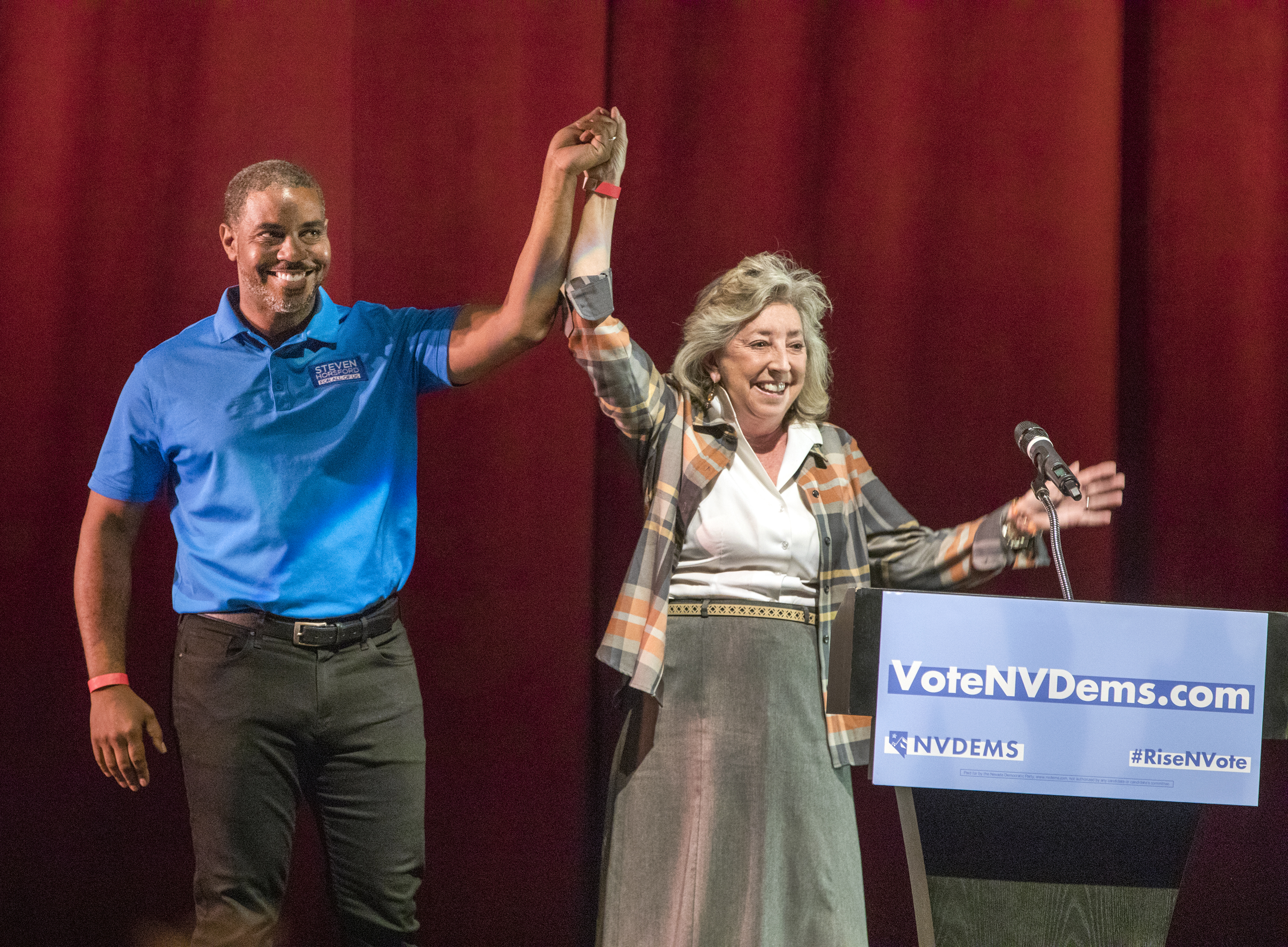 Key attacks
While not as high-pitched as those in the 3rd congressional race that pits businessman and frequent candidate Danny Tarkanian against education advocacy group leader Susie Lee, the ads in the race between Hardy and Horsford have featured some sharp attacks.
Hardy — and a large slate of Democratic primary opponents before him — hammered Horsford for moving out of the district after his 2014 loss. Horsford ended up buying a home in Arlington, Virginia, and his family lives there; the former congressman started a business called Resources+ that has been referred to derisively in Republican-backed ads by his opponent as a lobbying firm.
In fact, it's a public relations firm that focuses on developing a diverse workforce, according to Horsford's campaign. Aides note that the company works to develop community partnerships and a diverse workforce, but does not advocate for the passage of legislation and is not registered on the lobbyist list.
Horsford defends the move as a way to stay close to his family during his time in Congress. After his loss, he said, it was time for him to allow his wife — Sonya Douglass Horsford — to pursue her own career as a professor.
Hardy, on the other hand, points out that he returned to Nevada after his loss and helped a friend build a pig pen. Surrogates (and Hardy) joke on the trail that it must be some metaphor for preparing for a return trip to Washington.
On the economy, Pence argued that Hardy would fight for lower taxes and fewer regulations, fairer trade deals, a wall on the border, a stronger military and pro-life policies.
Democrats have centered their attacks on Hardy's votes to repeal the Affordable Care Act and his goal, stated in an interview in 2014, that the retirement age should be raised to 75. The Democratic Congressional Campaign Committee backed an ad that features a grandfather celebrating his birthday, only to accuse Hardy of trying to make seniors work well into their golden years.
Protections for pre-existing conditions have also taken a prominent role in the campaign as Republicans have tried to roll back Obamacare and as a contingent of attorneys general led by Texas is suing to finish off the law. If the suit is successful, it would end the requirement that insurers cover people even if they have a condition such as diabetes, asthma or cancer.
The issue is personal, as both men suffered heart problems in recent years. Horsford had a six-way bypass in 2013, and Hardy was admitted to the hospital near the end of his unsuccessful 2016 campaign for a stent; the condition was initially described as a heart attack but he was quickly discharged from the hospital. Hardy also has diabetes.
In spite of siding with congressional Republicans for several votes in 2015 to repeal the Affordable Care Act — a move that would have rescinded the pre-existing conditions protections — Hardy says he supports keeping them and has called them one of the few things he likes about Obamacare.
Even Pence told an audience forcefully that Hardy would never take away pre-existing conditions protections. Asked afterward how he would preserve them, Hardy said he wanted to work on some sort of more targeted solution.
"I think it's specific legislation. It doesn't have to be tied in some health care bill. It's something we can solve, what that looks like exactly … but it has to be something in individual legislation and understanding how we're going to pay for it, how it's going to affect insurances across the board," Hardy said. "Politicians don't know everything about everything, so you bring professionals in, you find out what the issue is, find out how we can fix it, and find out cause and effect before you pass it."
Asked about Hardy's promises to preserve health coverage, Horsford gets fired up.
"They're lying. They're literally in court suing to prevent the Affordable Care Act from being able to be implemented. And the protections for pre-existing conditions. They are absolutely lying to the American people," he said. "But fortunately, I think the American people see through that lie because they know they've never been for protecting health care. They've been for taking it away. They've been for sabotaging it. They've been for cutting the benefits for Medicare and Medicaid. We've been fighting to expand coverage and our record is solid; theirs is not."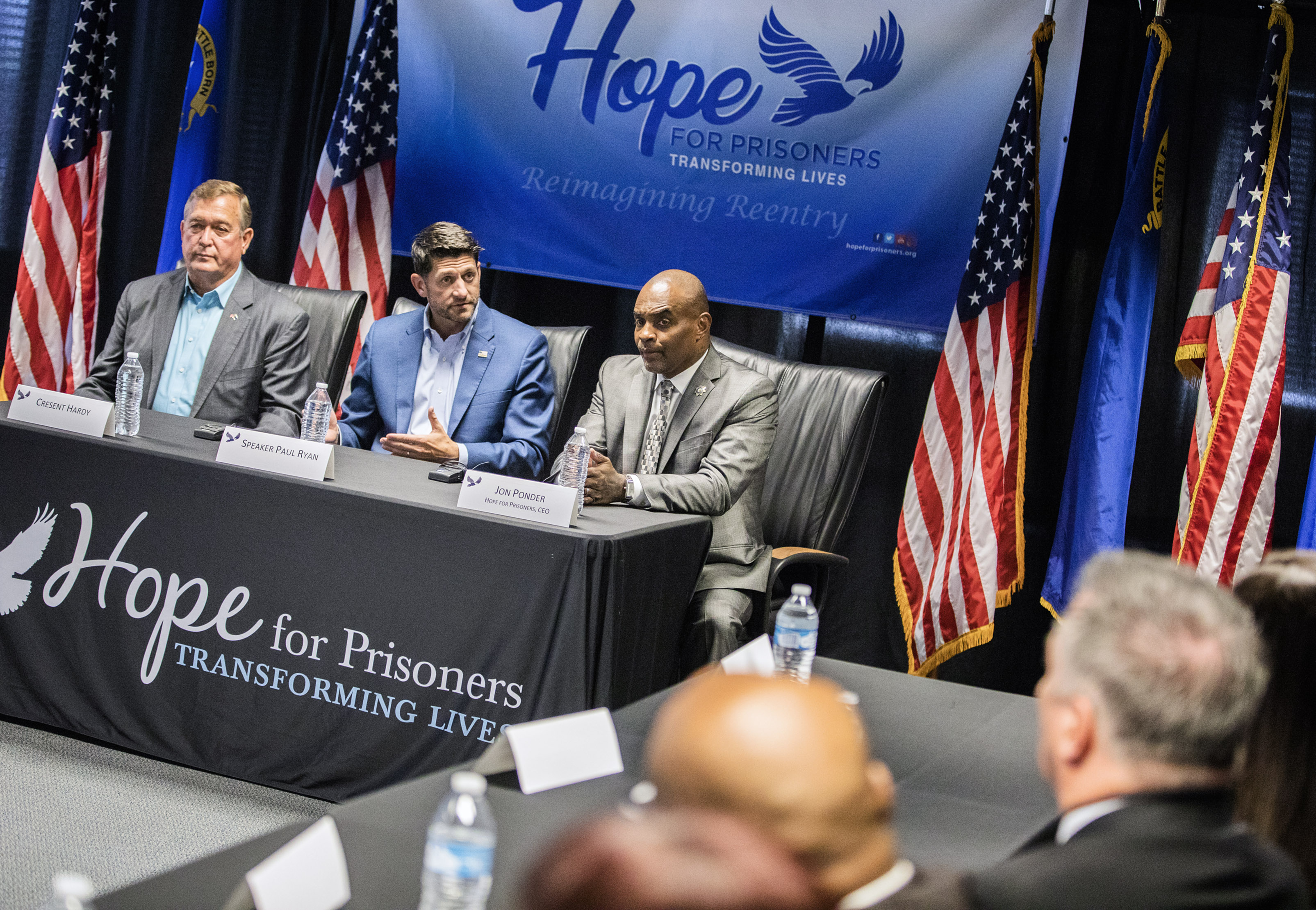 On the ground
The Republican National Committee has put its faith in an enhanced ground game this cycle. Officials pointed out that they had 2,000 Republican Leadership Initiative fellows in the state who had been trained to build "neighborhood teams" that could expand their influence.

"The race – as with all of the Nevada races – will be tight, and that's where our ground game can and will make a difference," said RNC's Broom. "We know that targeted voter contact drives votes, and with 2 million targeted voter contacts and counting under our belt to date statewide, we are very confident that we will deliver victories not only for Cresent but for our whole ticket on Tuesday."
Democrats count on the support of unions, including the Culinary Union and those affiliated with the AFL-CIO. Powered by union-funded canvassers including reinforcements from out of state, the AFL-CIO is on track to knock 500,000 doors by the end of early voting, including both union and non-union households.
"2014 was not a good year for us with regards to our union member participation and our outreach and our get out the vote efforts. It was after that, in 2016, that we made a commitment that we wouldn't let that happen again," said Rusty McAllister of the AFL-CIO.
The Culinary Union, meanwhile, has a team of 250 canvassers that work up to 10 or 12 hours a day, six days a week, reaching out to union members and their families. Statewide, they knocked 190,000 doors in the seven weeks preceding early voting and plan to ramp up their force to 300 in the three days leading up to and including Election Day.
They leave bilingual hangers on the door that picture Horsford, as well as Democratic Senate candidate Jacky Rosen and gubernatorial candidate Steve Sisolak.
But ultimately, the decision in the race lies with people like 62-year-old Bill Bufano, a retired member of the Air Force who previously worked at the Veterans Administration and came to a rally for Hardy featuring Eric Trump. He said he's thrilled with what the president has accomplished in his first term and wishes he could do more if Congress would help him out.
He likes that Hardy is "more of a blue collar guy, not anybody way up high," he said. And he voted for Hardy "just basically because of the ideas and values that the Republican Party stands for."
But it will also lie with people like 40-year-old Janise Wiggins, who came to Horsford's barbecue after voting early at the Doolittle Center. She and her sorority sisters from Delta Sigma Theta Sorority Inc. had come to the polls together.
"I'd just like to see that we maintain somebody in there that's going to be very dedicated to health care and making sure that they do everything on the federal level to make sure they support the Affordable Care Act," said Wiggins, who added that she supported Horsford after working with his office when he was in Congress. "And if there are changes that need to be made to the Affordable Care Act, give very careful consideration to what those changes should be."
She's also not buying the argument that the Trump administration is responsible for the strong economy.
"It's kind of like people are taking credit for something that was already in motion," she said. "If anything, I think maybe they're doing some things that can actually reverse the momentum that has been built over the several years."
Stories
Candidate Trackers
Endorsements, Ads, Policies, Visits
& More
visit now
Comment Policy (updated 10/4/19): Please keep your comments civil. We reserve the right to delete comments or ban users who engage in personal attacks, use an excess of profanity, make verifiably false statements or are otherwise nasty.