Reno City Council appoints Miguel Martinez to open Ward 3 seat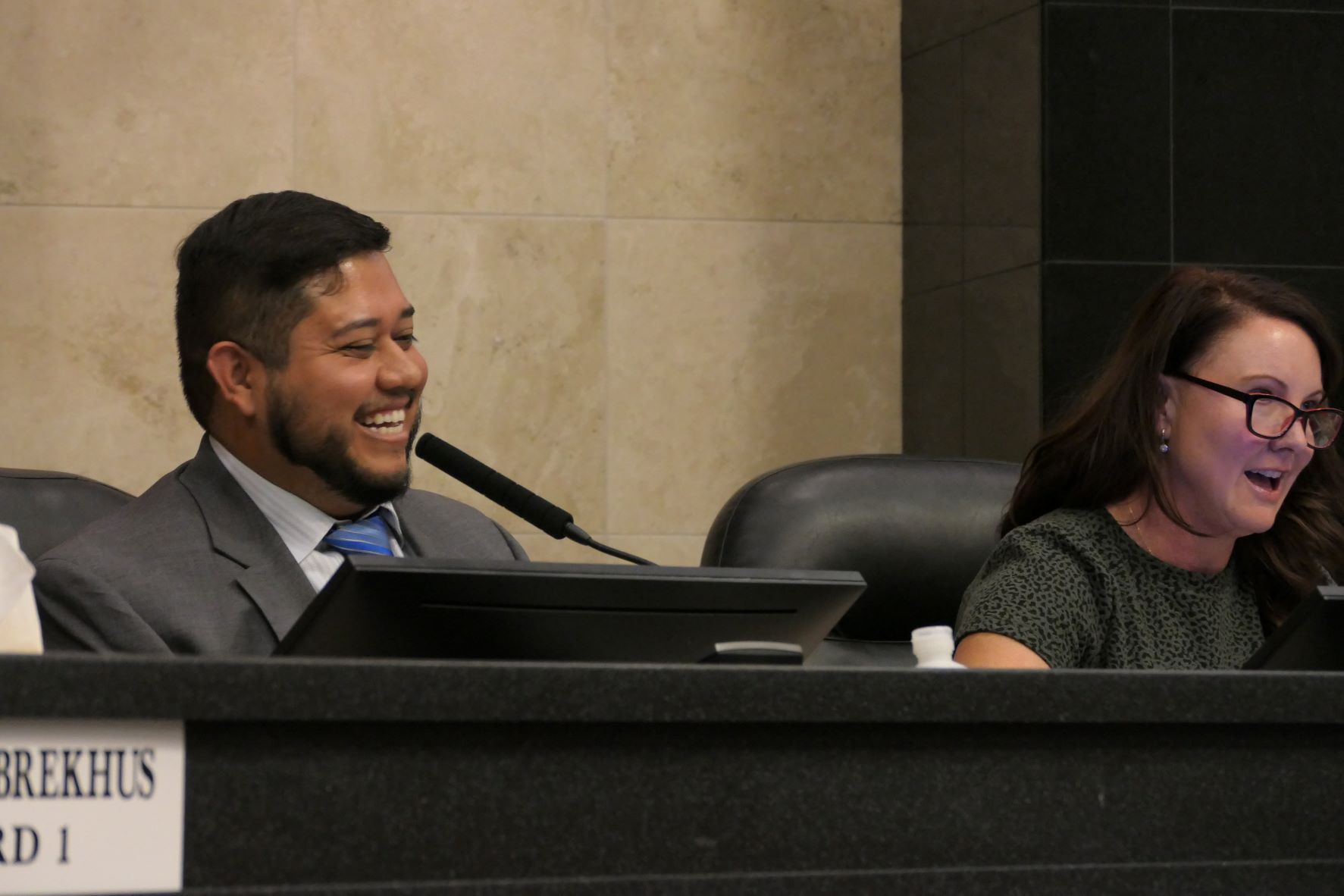 Miguel Martinez, an equity and inclusion coordinator at Truckee Meadows Community College, was appointed late Wednesday to the Reno City Council representing Ward 3, making him the third council member in the last three years who has been appointed rather than elected.
Martinez was appointed on a 5-to-1 vote, with Councilwoman Jenny Brekhus in opposition. Several members of the city council referenced Martinez's intimate knowledge of Ward 3 — which extends from just east of UNR down to the eastern side of South Reno — where Martinez grew up and still lives today, as a main contributing factor to his appointment. 
"Regardless of your decision today, I already feel like I've won," Martinez said during his interview. "I say that because someone with my background, with my story is standing before you as a finalist."
The council selected Martinez over three other candidates for the seat after former Councilman Oscar Delgado resigned to focus on his role as chief executive officer for Community Health Alliance, a health care provider with clinics throughout Northern Nevada. He will serve out the rest of Delgado's term, which runs through 2024.
Martinez told The Nevada Independent after the appointment that he was so happy he could "shimmy out" of the meeting — if he hadn't been trying to maintain a professional demeanor.
Martinez also said he planned on using his skills working with students at TMCC to ensure everyone gets equal opportunities within Ward 3. He also wants to focus on infrastructure, a prominent issue within the ever-growing city.
Kyle Edgerton, an immigration and criminal defense attorney and the immigration program director for Catholic Charities of Northern Nevada, said though he was disappointed to not be appointed, he was interested in possibly serving on Ward 3's Neighborhood Advisory Board. Mayor Hillary Schieve encouraged all the candidates to apply for vacancies on that board.
Martinez also was chosen over Courtney McKimmey, an officer in the Nevada Army National Guard and deputy campaign manager for secretary of state candidate Cisco Aguilar, and Sean Savoy, the head of spiritual care at Renown and one of the creators and later a chairman for the Reno Human Rights Commission.
The city council decided to appoint the newest Ward 3 member after interim Registrar of Voters Jamie Rodriguez told the council that a special election would have to be held after the upcoming midterm election, leaving the seat open until late March at the earliest. That's the same reason the council opted for an appointment to fill the Ward 5 seat in early September.
Still, the city council was met with criticism from the public and from within for not holding a special election. Community members also criticized the council's choice of Ward 3 finalists after the two candidates receiving the most public support at the meeting — Lily Baran, a local activist and policy manager for the ACLU of Nevada, and Chaz Blackburn, a chaplain and director of volunteer services at Circle of Life Community Hospice — did not make it to the final round.
Baran received no votes from the council to become a finalist. Blackburn received one vote from Councilwoman Bonnie Weber, but not enough to become a finalist.
While voting to appoint Martinez to the city council, Councilwoman Jenny Brekhus — who also did not participate in the appointment process for the Ward 5 vacancy — said she would not be voting in favor of the appointment on procedural grounds.
"My objections to this decision [to make an appointment] by the council to take this path are well known," Brekhus said during the meeting. "I want Mr. Martinez to come to this seat not owing me anything. And that's what this process does: He owes you all something … it's not an objection to him personally."
Kathleen Taylor, who was appointed to fill the vacancy as Ward 5's representative after Neoma Jardon took the position as Downtown Reno Partnership's new executive director in early August, disagreed with Brekhus.
"Mr. Martinez, I will welcome you with open arms. You owe me absolutely nothing … sitting here right now, nobody has made me feel that way. That I owed them something through this process," Taylor said.
Updated 10/27/2022 at 11:14 a.m. The original story said Martinez was appointed with a 6-to-1 vote. Because Delgado is no longer on the council, leaving the council with 6 council members, Martinez was appointed with a 5-to-1 vote.
The Nevada Independent is raising $200,000 by Dec. 31 to support coverage of the 2024 election.
Tax-deductible donations from readers like you fund this critical work.
If you give today,your donation will be matched dollar-for-dollar.
Give + Get Matched
Featured Videos