The entrance to Corley Ranch, site of the fourth annual Basque Fry, a fundraiser put on by Morning in Nevada PAC on Saturday, Aug. 25, 2018 in Gardnerville, NV. (David Calvert/The Nevada Independent)
Republican candidates at Basque Fry warn against California policies, progressive agenda
August 26th, 2018 - 2:10am
Nevada Republican candidates and popular party figures urged voters to push back against the progressive reaction to the Trump administration Saturday at the 4th Annual Basque Fry, an event in Gardnerville hosted by Attorney General and gubernatorial candidate Adam Laxalt.
At stake in the midterms, the candidates argued, was stopping the state from turning into California, border security, preventing Nevada from becoming a sanctuary state and keeping the economy strong. Sen. Dean Heller, facing a tight race against first-term Congresswoman Jacky Rosen, promised to support conservative justices, if re-elected, and help grow the economy.
Heller also pledged to secure the U.S. border with Mexico and take a tough immigration stance.
"When I'm re-elected — I promise you this — Nevada will not become a sanctuary state," he continued during brief remarks at the lamb fry. "Las Vegas will not become a sanctuary city."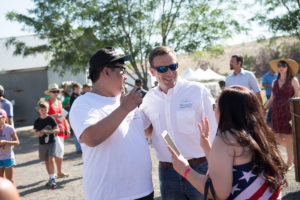 The Nevada Independent was denied credentials to the event by the Laxalt campaign but obtained audio of the fry. Two Indy reporters and a photographer covered the event last year.
Other speakers at the event included Rep. Mark Amodei, who represents Northern Nevada; State Senator James Settelmeyer; Kellyanne Conway, counselor to President Donald Trump; National Rifle Association (NRA) spokesperson Dana Loesch; and Rep. Devin Nunes of California.
Assemblyman Jim Wheeler, who represents Douglas County where the gathering was held at Corley Ranch, opened the event by talking about how Nevada will buck the blue wave.
"I don't think it's going to happen in Nevada," he said.
Wheeler warned against Nevada becoming more like California, criticizing the neighboring state's legislature for passing laws that could raise gas prices and release prisoners early.
Several speakers on Saturday directed their ire toward California, but no speech centered more on the spectre of California progressivism than the one from the the NRA spokesperson. Loesch, a Texan, went as far as to say there was a "scourge" of Californians migrating into Nevada and her home state.
"You have all of these progressives — not from your state — moving into your state and they are bringing their socialist values with them," she said. Before the media and all the George Soros-funded entities get it wrong: I love me some good conservative Californians… It's the ones who think we can't have guns, we have to have high-taxes, and the government has to tell us what to do every second of our lives; those are the individuals with whom I have a problem."
Loesch added that she had sometimes wanted to stem the migration of Californians into Texas by asking the president to build "another wall" around Texas, alluding to the border wall.
"Maybe you need that here in Nevada too," she said.
The event came amid a difficult week for the White House and congressional Republicans, as Trump's personal lawyer Michael Cohen and campaign manager Paul Manafort pled guilty or were found guilty on a number of crimes, including tax evasion, bank fraud and campaign finance violations.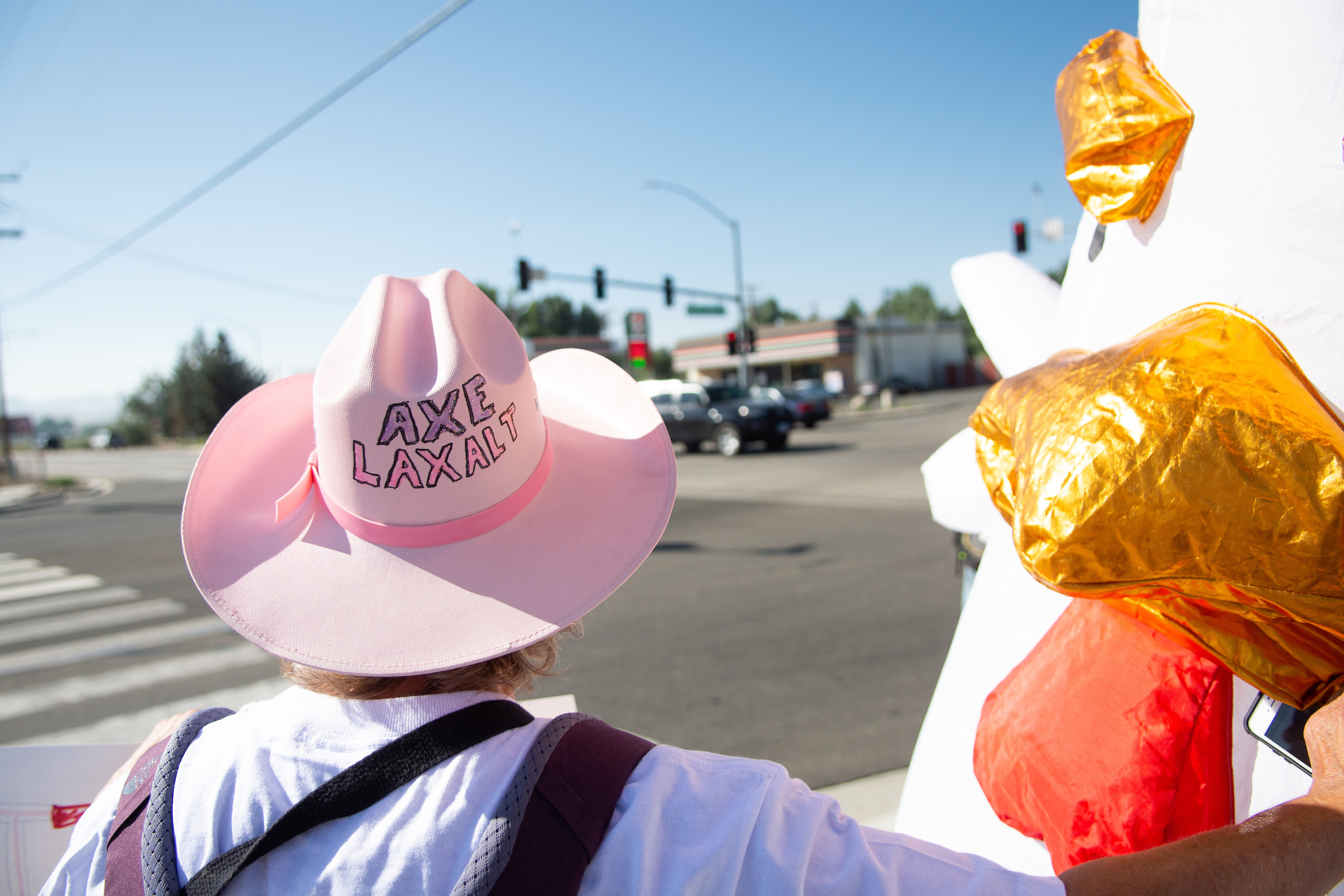 Outside the event, approximately two dozen protesters gathered in shirts that showed Laxalt's face with Trump's hair. The backs of the shirts included a quote from "Sweet Promised Land," a book by Laxalt's great-uncle Robert Laxalt, a famous Basque writer and chronicler of Nevada history.
The quote read: "...they had forsaken home and family, and gone into the unknown of a new land with only courage and the hands that God gave them, and had given us in our turn the right to be born American." It was a reflection of a two-hour protest that would center largely around the immigration policies pushed by Trump, who endorsed Laxalt's bid for governor.
Democratic activist and Clark County Commissioner Chris Giunchigliani, who attended the protest, criticized the attorney general and gubernatorial hopeful for lacking compassion. She took umbrage at the fact that Laxalt, who was born in Reno, has spent most of his time living outside of Nevada.
"We want you to understand our principles," she said in an interview Saturday morning. "I'd hope Adam would read Robert [Laxalt's] books, because he very much had a conscience."
Giunchigliani lost to Laxalt's challenger, Democratic Clark County Commissioner Chairman Steve Sisolak, in a heated primary and said that she does not plan on endorsing in the race.
But when asked if that meant she'd be voting for Laxalt, she said "No, I'm not."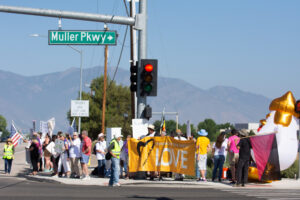 In an effort to link the Basque Fry, Laxalt and Heller to Trump, protesters inflated a chicken with a cartoon-ish depiction of Trump's head. At times, the protesters, camped out on US 395, received jeers from passersby and highway drivers, including one who waved a "Make America Great Again" hat.
"With Laxalt, Heller and a couple of other people who are attending this function, you cannot trust them," said Pamela Parducci, a protester. "Trump has them under lock and key."
Until a few weeks ago, The Nevada Independent had planned to cover the Basque Fry, which was open to other media outlets, including the Las Vegas Review-Journal and the Reno-Gazette Journal. 
When The Nevada Independent reached out to attain media credentials, the Laxalt campaign sent an email that said, "We will not be granting media credentials to the Indy for this year's Basque Fry. It's a simple decision based solely on your editor."
According to an audio recording of the event, several speakers on Saturday went after the media, including Heller, who said he didn't expect to see fair coverage from the Reno paper.
"I guarantee you that the Reno Gazette-Journal over the next 73 days will be telling you every day we can't win," Heller said. "They will write articles — puff pieces for all Democrats — and they will do negative articles on every Republican. And they will be doing that for the next 73 days."
Conway, in her speech, emphasized that she was there representing herself personally and gave a strong speech endorsing Laxalt as a champion for private property, a bulwark against regulation and a leader who will address the opioid crisis in tandem with the White House.
Conway criticized Sisolak as pro-choice and someone who is hostile to people of faith.
"He might as well just call you irredeemable and deplorable," she said of Sisolak in her speech. "Because people who are in public service should be like Adam Laxalt. They should be running for the right reasons and not afraid to say that … we kneel for the Lord and stand for the flag."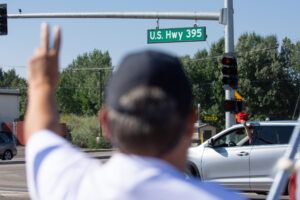 She applauded Laxalt for standing up against environmental regulations under the Obama administration. As attorney general, Laxalt filed lawsuits or amicus briefs, sometimes in cases when Gov. Brian Sandoval did not request them, on several Obama-era environmental rules.
Conway's pitch for Laxalt included his support for not raising taxes.
"Adam will be a great steward of resources and tax dollars," she said.
Laxalt has pledged to repeal the Commerce Tax, one of Sandoval's signature achievements. Revenue from the tax on large businesses helps to fund K-12 education programs. Sandoval has said he is not endorsing in the race.
Throughout the event, speakers offered tributes to Paul Laxalt, the legendary Nevada governor and senator, who passed away Aug. 6 just four days after his 96th birthday. Paul Laxalt worked with President Ronald Reagan when he was in the White House and also governor of California. The senator, Adam Laxalt's grandfather, was known as Reagan's "first friend" and brought the Basque Fry to Washington. The younger Laxalt re-started the tradition four years ago.
Former Gov. Bob List, Laxalt's campaign manager, said the senator, who he called a "giant of a man" was at the Saturday event in spirit, "toasting you all and all of us from heaven."
"Thank you, Paul," he said. "Thank you for all you did for us. Thank you for your service. And thank you, most of all, for passing on your values to your great grandson Adam Laxalt."
Update: An earlier version of this story said the Clark County Commissioner Chris Giunchigliani "attended the event," suggesting to some readers that she attended the Basque Fry. The story has been updated at 7:04 p.m. on Sunday, Aug. 26 to clarify that the commissioner attended the protest. 
Disclosure: Steve Sisolak

 and 

Chris Giunchigliani

 have donated to The Nevada Independent. You can see a full list of donors here.
Comment Policy (updated 10/4/19): Please keep your comments civil. We reserve the right to delete comments or ban users who engage in personal attacks, use an excess of profanity, make verifiably false statements or are otherwise nasty.