Republican plans to mass challenge voter registrations fall flat in Nevada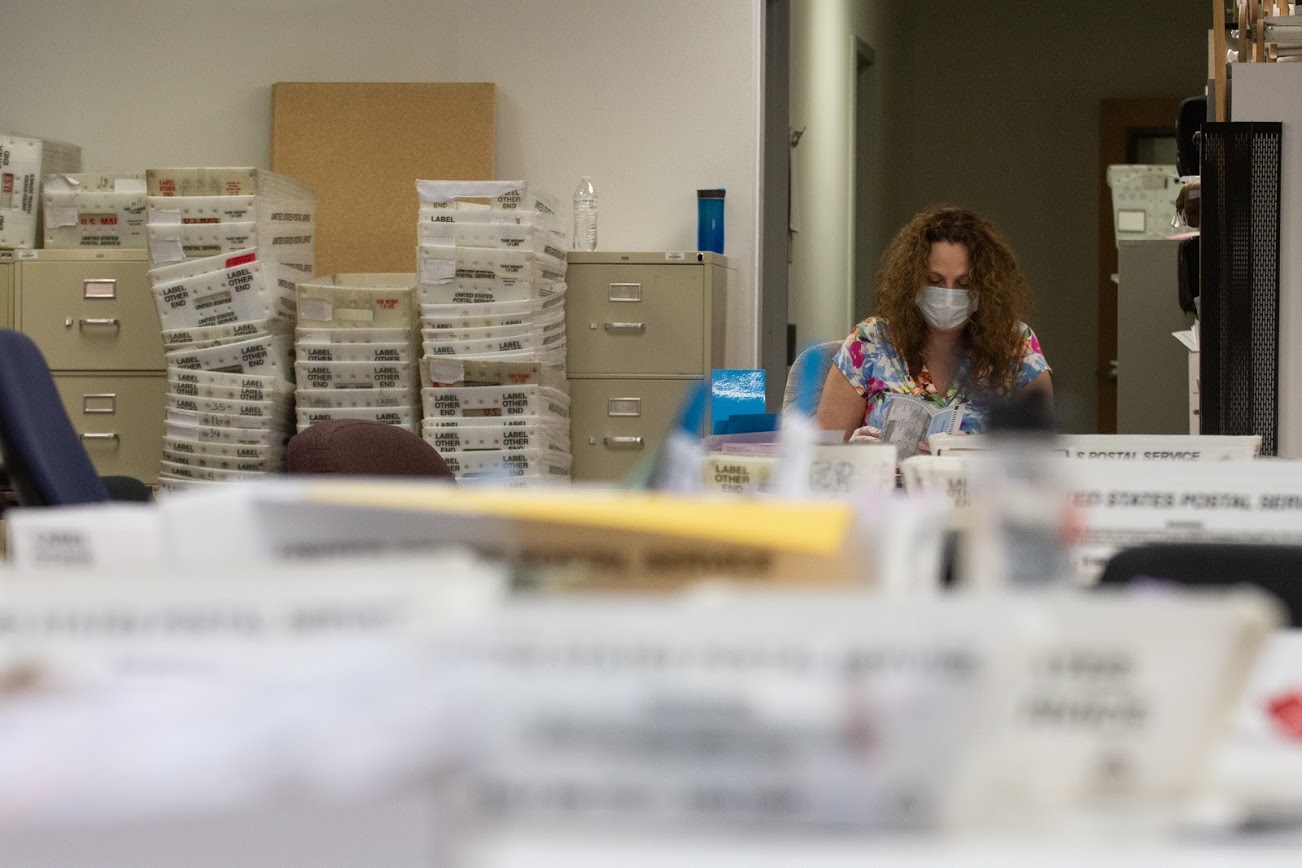 For years, conservative groups have sought to link inaccurate voter registration data to fraud and have aggressively pursued efforts to trim or "clean up" voter rolls.
But ahead of Nevada's 2022 election, Republican-led efforts to cancel any registrations have fallen flat.
Loosely organized plans to challenge registrations en masse failed in Washoe County, a swing county that Democratic President Joe Biden won by 4.5 points in 2020. A spokesperson for the secretary of state's office said it received no reports of any challenges filed in the state's 16 other counties.
Earlier this month, a group of seven Washoe County voters filed more than 300 challenges based on data received from Robert Beadles, a wealthy Republican donor who has promoted conspiracy theories and pushed to reshape Nevada politics.
But none of the challenges, submitted during Nevada's brief five-day window (Oct. 10-14) for voter registration challenges, were deemed valid, a Washoe County spokesperson told The Nevada Independent this month.
That included challenges of 260 voters who were already inactive (meaning they do not receive election mail but are still eligible to vote), 42 whose registrations were already canceled and five duplicate challenges.
"Because those records were not active, those challenges could not be verified and the process stopped," the spokesperson wrote.
The remaining 27 challenges were verified, "meaning that the voter was active and lived in the same precinct as the challenger," according to the county. However, a letter submitted with the challenges indicated they were based on data from the National Change of Address program, meaning they did not adhere to state law requiring that "the challenge is based on the personal knowledge of the registered voter."
"It has been determined by our District Attorney's Office that the challenges are not valid and no further action is required," the spokesperson wrote.
In a Substack newsletter published on Oct. 14, Janice Hermsen, one of two Washoe County residents who delivered the challenges, highlighted the group's goal of "cleaning up the voter rolls and maintaining integrity so voters can trust the election system again." She also identified the source of the data.
"The group was provided the lists from Robert Beadles, an entrepreneur known for fighting for election integrity across the country," Hermsen wrote. "They have an additional 30,000 challenges just in Washoe County. There are many more across Nevada."
Hermsen did not return a request for comment.
Republican groups seek challenges statewide
The recent push to remove certain voters from county-level registration lists stems largely from the 2020 election, when questions about the legitimacy of the election focused, in part, on claims that thousands of mail ballots were delivered to addresses of voters who had moved or died.
Attorneys for the Nevada Republican Party and Trump campaign claimed to have identified more than 3,000 votes cast in Clark County by voters who changed their address to a non-Nevada one through the National Change of Address database. The secretary of state's office has found no evidence of widespread fraud based on such claims.
This year, Republicans in Nevada and across the country have sought to prevent such hypothetical cases of voter fraud from ever happening by preemptively challenging the registrations of thousands of voters.
In Georgia, right-wing groups have filed tens of thousands of such challenges, seeking to disqualify voters who may have moved to a new county or state or who have died. There have been similar efforts in Texas, Iowa and Michigan, along with several battleground states.
The dearth of challenges in Nevada comes in spite of broader plans for contesting registrations promoted by multiple groups, including the Nevada Republican Party and Look Ahead America, a conservative political advocacy group led by Matt Braynard, a former Trump campaign aide.
In an October 2021 email obtained by The Nevada Independent, Elko County Republican Central Committee Chair Lee Hoffman wrote to the county's top election administrator that the state party had plans for challenging registrations in each county.
"They want every county party to challenge, on a precinct by precinct basis, names of voters who they claim are no longer Nevada residents," Hoffman wrote. "They have about 2,000 names in Elko County that they believe should be challenged and they plan to provide training on how to do that."
In an August interview, Hoffman said those plans came from the state party, but he did not recall the exact details. On the party's website, a "get involved" page includes a volunteer option for "voter roll challenges." The Nevada GOP did not respond to a request for comment.
In Washoe County, the group pushing registration challenges also expressed interest in removing thousands more voters from the rolls. In a letter submitted to the county registrar of voters, the challengers said they had included a list of 12,000 additional voters they believed should be removed based upon National Change of Address data. The group also wrote that it was reviewing "another 30,000 records," allegedly consisting of deceased voters, people who voted from a business address and "many other irregularities."
"We need our voter rolls cleaned … and WE THE PEOPLE demand a resolution," the group wrote.
County election officials must adhere to state laws for canceling voters' registrations. If a voter moves to a new county in Nevada and registers there, their previous registration will be canceled. If a voter does not respond to certain mailed notices and does not vote in two consecutive general elections, a county clerk is required to cancel that voter's registration.
Election officials also rely on data from other agencies and states to cancel certain registrations, including state vital statistics for removing deceased voters from the rolls. Nevada is also one of more than 30 states that participate with the Electronic Registration Information Center, which allows states to compare voter registration data and helps states remove voters who have moved across the state lines. The system has been targeted by false right-wing conspiracy theories.
Another group seeking to challenge voter registrations, Look Ahead America, published a state-by-state guide for its "ballot challenge program" in early October.
State laws governing challenges can range from strict — in Ohio, only election officials may challenge a voter's registration — to being conducive to mass challenges, such as in Georgia, where a 2021 law now allows people and groups to submit an unlimited number of challenges. In one case earlier this year, a Georgia man challenged the eligibility of more than 13,000 voters. Voting rights groups have raised concerns about these challenges targeting or disenfranchising voters of color.
In Nevada, individual challenges must contain the name of only a single person and must be submitted in a brief window, 25 to 29 days prior to Election Day. The voter must have firsthand knowledge of the registration being challenged.
Look Ahead America has an online form for voters in nine states to participate in the program and request voter registration data that can be used to submit challenges. The group did not respond to a request for comment.
Braynard, the group's executive director, appeared on a show hosted by Steve Bannon, who worked as a strategist for former President Donald Trump, to discuss the groundwork for the program.
"The problem in 2020 was that we tried to fix the problem after the votes had been cast and counted. We're trying to do it now preemptively ahead of the election," he said. "I can share with you some preliminary numbers. In Arizona, we've identified over 55,000 of these voters; in Georgia, 125,000; in Pennsylvania, 142,000."
Braynard said those are voters who "have filed permanent change-of-addresses" out of the state they are registered in, a reference to the same data used to justify the Washoe County challenges. The National Change of Address database, maintained by the U.S. Postal Service, includes millions of permanent change-of-address records, which are collected through change-of-address forms submitted voluntarily to local post offices.
However, data from the National Change of Address program may not prove as reliable for determining a voter's actual address, as someone may temporarily change their address for the purpose of receiving mail, while not changing their permanent residential address for voting.
In 2020, the Brennan Center for Justice, a nonprofit law and public policy institute at the New York University law school, wrote to county election officials in Georgia highlighting several cases in which someone may have changed their address through the program but not changed their voting address, including a student attending college out of state or a member of the armed forces stationed outside of their home state.
Look Ahead America's guide for challenges also references state laws that allow for challenges during the voting period. In Nevada, these differ from pre-election written challenges, which seek to cancel a voter's registration, and instead, they involve contesting a person's qualifications to vote as they seek to cast their ballot.
State law allows registered voters to challenge someone else applying to vote on several different issues, from claiming they have changed addresses to claiming they have already voted in the ongoing election.
Like the pre-election registration challenges, these require "personal knowledge" of the reason behind the challenge.
The Nevada Independent is raising $200,000 by Dec. 31 to support coverage of the 2024 election.
Tax-deductible donations from readers like you fund this critical work.
If you give today,your donation will be matched dollar-for-dollar.
Give + Get Matched
Featured Videos