Republicans gain seats in the Legislature in spite of Democratic wins higher on the ticket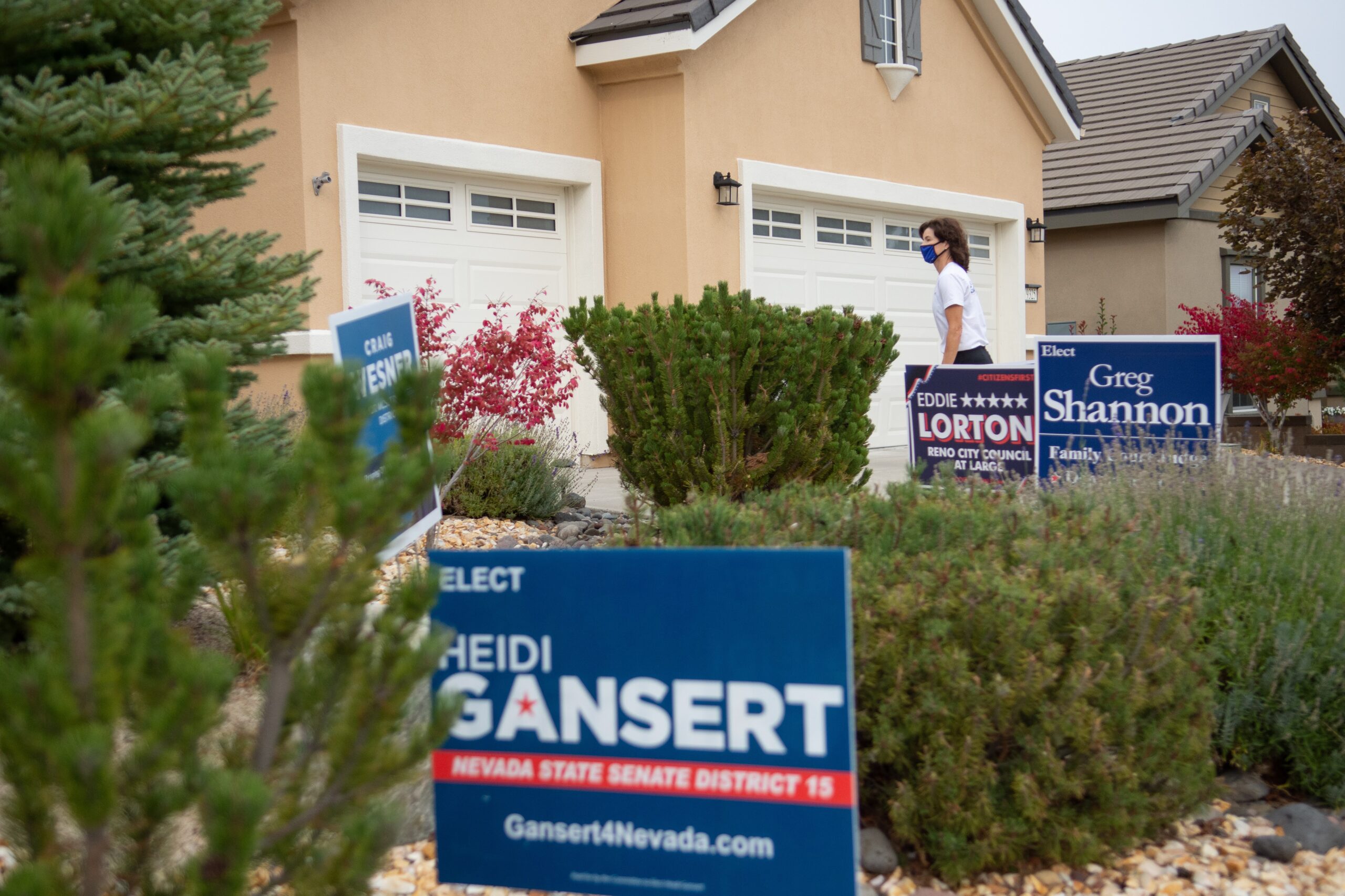 While Joe Biden emerged victorious in the presidential race in Nevada and Democrats won narrow, but decisive margins in two competitive congressional seats, the blue trend did not extend down the ballot where Republicans picked up four competitive seats in the Legislature.
Republicans will return to Carson City next session with three more Assembly seats and one Senate seat, stripping Democrats of their supermajority in the lower chamber and narrowing their majority in the upper one. The change in balance in power stands to have a significant impact on the 2021 legislative session, where lawmakers are expected to be faced with difficult budget cutting conversations and possible votes on increased revenue, which will require two-thirds support in each chamber.
Without supermajorities in either chamber, Democrats will be required to get buy-in from at least two Republicans in each chamber to pass any tax proposals. Democrats will have a 12-9 majority in the Senate and a 26-16 majority in the Assembly.
The biggest upset Saturday morning, when a final batch of results tabulated from about 58,000 provisional ballots in Clark County were released, was in Senate District 5 where Republican Carrie Buck emerged the winner. Democrat Kristee Watson had been leading in the race for the final few days, but it was Buck who ended up with the edge on Saturday, a 0.5 percentage point lead, or 329 votes.
Buck's victory represents an unusual upset given that both of the Assembly districts nested inside her Senate district swung for Democrats this cycle.
Senate Democratic Leader Nicole Cannizzaro, meanwhile, managed to hang on in her competitive race in Senate District 6, where she beat Republican April Becker by a 0.9 percentage point margin, or 631 votes.
In the Assembly, the Saturday morning results cemented Republican leads in two competitive Southern Nevada seats.
In Assembly District 4, in northwest Las Vegas, former Assemblyman Richard McArthur, a Republican, won back his seat from Democratic Assemblywoman Connie Munk, by 5.1 percentage points, or 2,140 votes. And in neighboring Assembly District 37, in the Summerlin area, Democratic Assemblywoman Shea Backus lost to Republican Andy Matthews by 1.8 percentage points, or 657 votes.
"This cycle, the Assembly Republican Caucus was determined to do things differently and use its limited resources wisely," Republican Assembly leader Dr. Robin Titus said in a statement. "Our narrow and methodical approach allowed us to focus on winnable races to get out of the super minority."
Matthews' race, the closest of all legislative contests, was the last to be called.
"It's obviously exciting to win this pivotal, crucial seat, but it's just really an honor to have this trust placed with me," he said. "Obviously there was a bit of a wait to get the final results and I understand that. That doesn't diminish at all the success that I think we saw in this campaign."
Democrats managed to hang onto a third competitive Assembly district in Southern Nevada. Democratic Assemblywoman Lesley Cohen defeated her Republican challenger, Steven DeLisle, by 2.5 percentage points, or 885 votes.
In Northern Nevada, Republicans have also picked up an additional Assembly seat. Former Assemblywoman Jill Dickman, a Republican, defeated Democratic Assemblyman Skip Daly by 3.5 percentage points, or 1,356 votes.
While Republicans found pickup opportunities further down the ballot, it was Democrats who carried the top of the ticket.
President-elect Joe Biden was declared the winner of the presidential race in Nevada and nationally a week ago, though his vote has at times expanded and narrowed as votes continued to be tallied. As of Saturday morning, Biden's lead over President Donald Trump stands at 2.42 percentage points, or 33,999 votes.
In Nevada's 3rd Congressional District, Democratic Rep. Susie Lee's margin of victory over Republican challenger Dan Rodimer narrowed on Saturday to 3 percentage points.
Democratic Rep. Steven Horsford's lead is 16,242 votes or 4.89 percentage points in the race for the 4th Congressional District, where he faced Republican former Assemblyman Jim Marchant.
Question 1 has failed, with the final round of results in Clark County putting the measure down by 3,706 votes statewide, or 0.3 percentage points. The measure sought to remove the regents overseeing higher education from the Nevada Constitution, and its loss comes even as proponents rolled out a series of endorsements from labor unions and business groups.
Democrat Ross Miller, the former secretary of state, has defeated Las Vegas City Councilman Stavros Anthony by the thinnest of margins in the race for the Clark County Commission District C race. Miller is ahead by a mere 10 votes out of more than 150,000 cast in the race, which means that the contest could go to a recount. Any candidate who loses an election in Nevada can request a recount.
Clark County is not expected to release the results of any more ballots before they canvass their ballots on Monday, which is when the vote tallies are made official. Washoe and Lyon counties still have outstanding provisional ballots to count.
Updated 11-14-20 at 9:23 a.m. to correct Carrie Buck's lead over Kristee Watson in Senate District 5. It is 329 votes, not 32,740 votes.
The Nevada Independent is raising $200,000 by Dec. 31 to support coverage of the 2024 election.
Tax-deductible donations from readers like you fund this critical work.
If you give today,your donation will be matched dollar-for-dollar.
Give + Get Matched
Featured Videos