Resource Guide: Where to find food, cash assistance and other help during coronavirus outbreak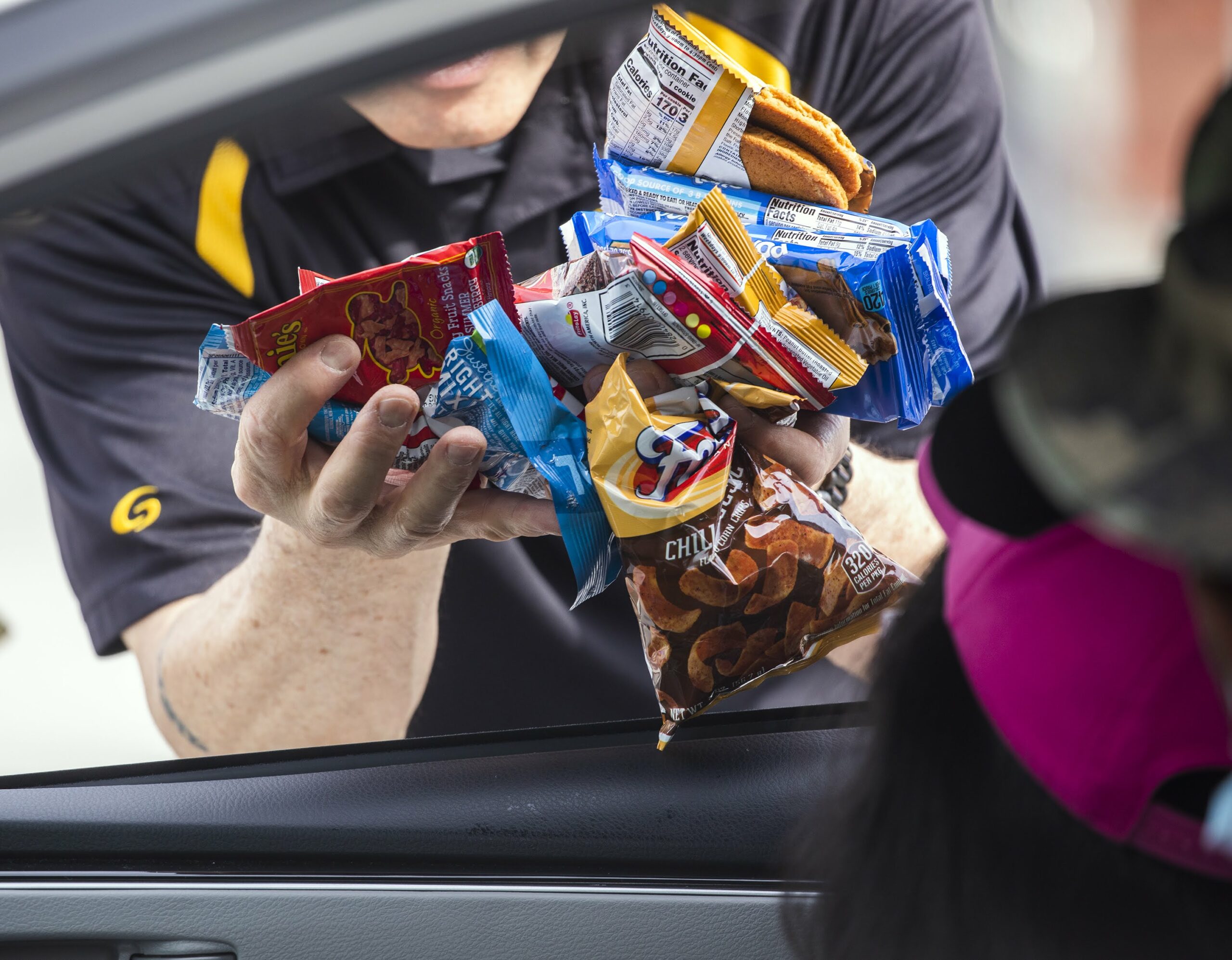 Amid the economic uncertainty of the COVID-19 pandemic, government agencies and other organizations are offering tangible assistance to those affected. The Nevada Independent is curating this list of resources so families can access food, unemployment benefits and services during business closures and office shutdowns.
The Nevada Legislature's Research Division has also compiled a list of resources for Nevadans, which can be accessed online, as has Clark County Commission Chair Marilyn Kirkpatrick, whose resource guide is accessible here.
The U.S. Department of Agriculture has put out a COVID-19 Federal Rural Resource Guide.
Additional information that may be helpful:
What should you do if you think you might have the novel coronavirus?
What you need to know about Nevada's eviction moratorium
A translated version of this guide is also available in Spanish.
Resources:
---
During the 2020/2021 school year, Clark and Washoe Counties are providing free meals to all children ages 2-18.
Nevada schools in other districts will distribute meals according to the National School Lunch Program, meaning to only students who meet free and reduced-price meal guidelines will be able to receive meals at no cost. Families who are not already participating in the program but meet eligibility requirements should contact their school district to apply.
Students returning to school under full-time or hybrid models will be able to pick up meals on days they attend school in person.
For Clark County, which is operating under a full-time distance learning model, students will have access to food daily at meal distribution sites located throughout the region.
Clark County School District
Meals will be distributed daily at over 300 distribution sites in Clark County beginning Aug. 24. Parents and students can find the location nearest to them online.
Students and parents are able to pick up one breakfast and one lunch each day as long as they can present valid identification proving they or their children are enrolled CCSD students. Acceptable forms of identification include student ID cards, student numbers, or a student's name, grade, and enrolled school.
On Fridays, families will be able to pick up three breakfasts and three lunches per child to provide for weekend meals.
Students and parents are also required to wear face coverings.
Breakfast and lunch are free to all students.
Meal sites are open Monday through Friday and closed on holidays. Operating times are as follows:
Elementary Schools: 7:00a.m. to 10:00a.m.
Middle Schools: 10:00a.m. to 1:00p.m.
High Schools: 11:00a.m. to 2:00p.m.
Distance learning students- all districts
Many districts are offering opportunities for meal pick-up or delivery for students studying online. Students participating in full-time distance learning programs in all districts should contact their district's nutrition services department.
Online applications and contact information by district:
Carson City: Online meal application, (775)283-2150
Churchill: (775)428-2700
Clark: See above
Douglas: (775)782-7613
Elko: (775) 738-1456
Esmeralda: (775) 485-6382
Eureka: (775)237-5700
Humboldt: (775)623-8109
Lander: (775)635-3332
Lincoln: (775)728-8000
Lyon: (775) 575-3429
Mineral: (775) 945-2403
Nye: (775)727-7743
Pershing: (775)273-2176
Storey: (775)847-0983
Washoe: Online meal order form, (775)325-8410
White Pine: (775)289-4811
For Northern Nevada, Food Bank of Northern Nevada operates the Kid's Cafe program which distributes meals to children in after school programs. Children attending programs will eat their meals on-site, but all children are allowed to pick-up meals at the following sites:
Lois Allen Elementary School
Desert Skies Middle School
Donner Springs Elementary School
Dodson Elementary School
Hidden Valley Elementary School
Hug High School
In Southern Nevada, starting Aug. 24, Three Square will be serving food through its Kid's Cafe program. Contact the organization at (702) 644-3663 for information on nearby sites.
Northern Nevada
Food Bank of Northern Nevada is continuing to operate in Washoe County and surrounding counties.
Households can determine what distribution site is closest to them at either of the above links or by calling (775) 331-3663.
Healthy Communities Coalition of Lyon and Storey Counties is operating three food pantries in Lyon County. Following is the newest update to location and hours:
Dayton Food Pantry: 209 Dayton Valley Rd, Dayton, NV 89403, Tuesday through Thursday, 10:00 a.m. to 4:00 p.m.
Silver Stage Food Pantry in Silver Springs: 1775 US Highway 50 East, Silver Springs, NV, 89429, Wednesday and Thursday, 10:00 a.m. to 4:00 p.m.
Yerington Food Pantry: 124 W Bridge St, Yerington, NV 89447, Tues at 2:00 p.m. to 5:00 p.m., Wed at 10:00 a.m. to 5:00 p.m., and Thurs at 10:00 a.m. to 1:00 p.m.
Southern Nevada
In addition to school meal sites, Three Square Food Bank has set up 43 emergency food distribution sites across Southern Nevada. Three Square has temporarily suspended normal food distribution to any agency partners that are not on the emergency distribution list.
Delivering with Dignity is available in Northern and Southern Nevada for those in low-income households who are at a higher risk of contracting the virus, including seniors and those with underlying medical conditions and their family members living in the same household.
In the Reno/Sparks area, those with questions about qualifying for meals should call (775) 391-0525.
In Clark County, those with questions about qualifying for meals should call (888) 603-3548.
Nevada COVID-19 Aging Network (Nevada CAN) is a website available through Nevada 2-1-1 which allows elders and caregivers to request help in specific areas of need.
The network focuses on three areas of need:
Essentials for daily living (food, prescription medications, etc)
Telehealth services
Social support services
In addition to the website, seniors can access services by calling 2-1-1 or 1 (866) 535-5654 or texting their zip code to 898211.
Three Square Food Bank also has services available for seniors. Between 9 a.m. and 5 p.m. Monday through Friday, anyone in Southern Nevada over the age of 60 can speak to an advocate at (702) 765-4030 to help determine what services are available to help them access food.
Senior shopping
Smith's food and drug stores are offering special shopping hours for seniors. On Mondays, Wednesdays, and Fridays from 7:00 a.m. to 8:00 a.m., stores will be open only to seniors, allowing them to avoid busier shopping times.
Additionally, Smith's is waiving the pick-up fee for curbside pickup online orders for customers who are over 60 years of age. The fee waiver will last through April 18, 2020.
Smith's will continue its temporary store hours of 8:00 a.m. to 10:00 p.m. for all other customers until further notice and are evaluating the option of extending pharmacy hours for seniors.
These stores are also offering accommodations to seniors:
Target: Senior hour Tuesdays and Wednesdays, 8:00 a.m.- 9:00 a.m.
Dollar General: Senior hour every day, 8:00 a.m.- 9:00 a.m.
Whole Foods: Senior hour every day, 8:00 a.m.- 9:00 a.m.
---
Health care, recovery, and insurance
---
Nevada's eviction moratorium has been extended through Oct. 14, and evictions and foreclosures for non-payment of rent for residential properties cannot be initiated prior to Oct. 15.
Anyone who receives an eviction notice is encouraged to contact Nevada Legal Services.
Northern Nevada:
Reno* Office: (775) 284-3491
Reno* Tenants' Rights Center: (775) 284-3491 x. 316
Indian Law Project: (775) 284-3491
Elko Office: (775) 753-5880
Carson City Office: (775) 883-0404
Yerington Office: (775) 463-1222
Southern Nevada:
Las Vegas** Office: (702) 386-0404
Las Vegas Tenant's Rights Center: (702)383-6095
*Serves Washoe, Carson City, Douglas, Churchill, Eureka, Humboldt, Pershing, White Pine, Lander, Mineral, Elko, Storey, and Lyon Counties
**Serves Clark, Nye, Lincoln, White Pine, and Esmeralda Counties
Rental Assistance
Residential: City of Reno
The City of Reno will be providing financial assistance to applicants financially affected by COVID-19 and the business shut down as long as applicants can prove they have income to sustain the household once the assistance period ends.
Applicants must meet the income guideline of 80 percent Area Media Income or below and meet one of the following criteria:
Homeless- staying in a place not meant for human habitation
Homeless- staying in an emergency shelter
Fleeing domestic/partner violence
Leaving a transitional housing program
Facing eviction within 30 days
Doubled up and must leave current housing
Sudden significant loss of income
Unpaid bills that will lead to eviction
To apply, contact Jamie Peek at (775) 530-9050 or [email protected] or Jessica Hillman at (775) 657-4619 or [email protected].
Commercial rental assistance
Small businesses and non-profits will be able to apply online for the Nevada Commercial Rental Assistance Grant between August 24 and August 31, 2020.
Tenants can receive up to $10,000 in grants which do not have to be payed back and their landlords will not be able to commence eviction proceedings against the tenant for 90 days following receipt of payment. Tenants must meet the following criteria to be eligible:
Be a licensed for-profit business or a non-profit organization with Nevada as its principal place of business.
Have 50 or fewer full-time employees.
Have been in operation for at least six months prior to March 1, 2020.
Demonstrate at least a 30 percent loss of gross monthly revenue after March 1, 2020 as a direct result of COVID-19.
Have a physical commercial location with a current, active lease on commercial property in Nevada.
Must not have previously received more than $5,000 in funds from the Paycheck Protection Program or other COVID-19 rental assistance programs.
Must not have any outstanding tax liens.
Under the CARES Act, all tenants with federally backed or GSE-backed mortgages have the right to request and obtain up to 180 days of forbearance.
The following institutions are offering mortgage assistance independently:
Additionally, these institutions encourage members to reach out for more information:
The Nevada Public Utilities Commission has a webpage devoted to utility shutoff information for the following categories:
NV Energy
NV Energy resumed disconnections for non-payment on Sept. 1. Customers who are on a payment plan with the company will not be disconnected.
In Southern Nevada, the company has expanded project REACH, which was previously established to assist senior citizens, to cover any adult who meets certain income requirements, or has been financially impacted by COVID-19.
In Northern Nevada, the company is offering energy bill assistance through its Special Assistance Fund for Energy program.
More information on these programs can be found at NVenergy.com/assistance.
NV Energy can be reached at:
Southern Nevada: (702) 402-5555
Northern Nevada: (775) 834-4444
City of Boulder City
The City of Boulder City will be suspending utility disconnections on a case-by-case basis. Residents can contact (702) 293-9244 to discuss potential suspension.
Overton Power District
Overton Power District 5 is suspending all service disconnections and penalties for late and missed payments for those directly affected by COVID-19, including customers:
Under self-quarantine orders
Who have contracted COVID-19
Have been furloughed from work
These suspensions also apply to the district's local business partners. Customers and can reach the Overton office at (702) 397-2512 and the Mesquite office at (702) 346-5710 to discuss payment arrangements.
Additionally, the following organizations have closed their physical offices:
Natural gas utility information
Southwest Gas
Southwest Gas is suspending all service disconnections indefinitely. The company is also offering flexible payment options which can be managed online or by contacting customer assistance at (877) 860-6020.
Decision Data, an organization that compares home services to help customers make purchasing decisions, provides information on the importance of access to internet in the home for students as well as listing federal and nonprofit run programs that provide discounted internet access for low-income households.
These programs are:
Both nonprofit organizations connect individuals with major providers who offer discounts, but customers can also find discounts independently through provider websites. Some businesses with offers for low-income households include:
Cox: Connect2Compete provides home internet with wifi to low-income households for $9.95/month. Customers who sign up prior to Sept. 30 receive their first two months free.
Frontier: The Lifeline program offers discounts of $7.25 per month for telephone services or $9.25 per month for internet services to qualifying customers.
Spectrum: Qualified households receive a free internet modem, WiFi service at $5/month, no data caps and more.
The DETR has issued warnings regarding potential unemployment scams targeting Nevadans and advises that the department will never ask for credit card information via email. More information can be found online.
Applying for free and reduced price lunches
Applications for free and reduced price lunches must be submitted to the student's home school district. Below are links to each district's application:
Lincoln County School District
Nye County School District: No application required
---
With Clark County switching to full time distance learning and many other districts employing hybrid schedules, many parents may find themselves requiring more childcare while they are at work and their children are learning online.
The Nevada COVID-19 Task Force has set up Connecting Kid's Nevada where parents are asked to fill out a survey assessing distance learning needs and can also contact the Family Support Center between 7:00 a.m. and 6:00 p.m. Monday through Friday for issues with internet connectivity or device access at 1-888-616-2476.
The state has provided the following contacts to help parents locate child care options:
Clark and Nye counties: Contact the Las Vegas Urban League online or by phone at (702) 473-9400 or toll free at (855) 485-5437
All other counties: Contact the Children'http://aa-intergroup.org/directory.phps Cabinet online or by phone at (775) 856-6200
Clark County
These programs are also being offered Monday through Friday in Clark County for parents whose children are participating in distance learning:
*Vegas Strong Adaptive Academy is also being offered at the Dula Community Center. Parents can register online or call (702)229-7529.
United Way of Southern Nevada is also offering financial assistance for child care for families who meet the following qualifications:
Resident of Clark County with children ages 0-12
Experienced a financial hardship related to COVID-19
Have a need for care, including work and school for parents/guardians
Families can receive up to $100 per week, per child and providers can receive assistance to cover the cost of eligible children.
Families should apply through their individual childcare providers. More information is available on the UWSN website.
---
---
---
Many non-profits and service providers in Nevada are working hard to get resources to those in the community who need them the most. Many of these organizations are in need of financial donations, volunteers, and other supplies, and for those who are in a position to give, it can often be difficult to know exactly what organizations are in need and what those needs are.
The following organizations have put out specific requests, identifying what they need to best help Nevadans going forward:
HopeLink of Southern Nevada
HopeLink is an organization aimed at stabilizing families and individuals in crisis and prevent homelessness through food programs and financial assistance. Children and the elderly make up 75 percent of HopeLink's clients and 98 percent of their clients fell below the poverty line prior to the COVID-19 pandemic.
HopeLink has been providing rent and utility assistance, operating food pantries, and delivering food to homebound seniors throughout the crisis.
Donations can be made online.
HopeLink is also looking for volunteers at pantries distributing food for pick up as well as volunteers willing to deliver food and essential goods to those in quarantine or lock-down.
Interested volunteers should email Don Miller at [email protected] and include name, email, and phone number along with a preference between pantry and delivery and availability.
National Hemophilia Foundation: Nevada Chapter
The National Hemophilia Foundation is a resource for all individuals with blood disorders. During the COVID-19 pandemic they have been offering webinars and other resources to help individuals learn more about home delivery for prescriptions and their insurance options.
The Foundation receives the majority of its funding through events, and with the shut-down preventing gatherings, they are more dependent on individual donations than ever.
Individuals can donate online.
The Foundation also encourages people to show their support online by putting on a red tie or wearing red and posting a picture with the tag #RedTieCampaignNV .
Nevada CAN
Nevada CAN is a statewide collaboration led by the Nevada Aging and Disability Services Division intended to provide seniors in the state with essential resources during the pandemic.
The program is looking for volunteers interested in:
Delivering daily essentials
Providing support online or via telephone
Volunteers should fill out the online form and indicate their area of interest.
Nevada Partnership for Homeless Youth: Las Vegas
Young people experiencing homelessness are in need of the following critical donations:
Hand sanitizer
Food gift cards
Cleaning supplies
Hygiene supplies
Sealed non-perishable foods
Surgical masks
Donations also may be purchased on Nevada Partnership for Homeless Youth's Amazon wish list. In-kind donations can be mailed to or accepted Monday through Saturday, 8 a.m. to 7 p.m. at 4981 Shirley St, Las Vegas, NV 89119. The organization can also purchase these items using monetary donations, which can be made on its website.
Opportunity Village: Las Vegas
Opportunity Village is a Las Vegas based non-profit dedicated to helping adults with intellectual and developmental disabilities. The organization runs multiple programs, including PRIDE, which provides 24-hour care to individuals with profound physical and intellectual disabilities, and an employment resource center to train clients in job skills.
As of June 15, Opportunity Village has been open with 25% capacity and has been working hard to adjust to the "new normal" while keeping health, safety, and meaningful programming a top priority for its clients. The organization still offers in-home services and is expanding its online programs to provide activities such as dance classes and jam sessions that clients can participate in virtually.
The organization's biggest needs are:
Monetary donations
Gently-used items for the Thrift Store
Vinyl and Nitrile Gloves
Disposable and N95 face masks
Disposable hooded coveralls
Monetary donations can be made online.
The Opportunity Village Thrift Store, located at 390 S. Decatur Blvd, Las Vegas, NV 89107, is encouraging anyone doing their spring cleaning while staying at home to donate items. Donations can be made on site, and any questions can be answered at (702) 383-5911.
Within its Service Contracts department, Opportunity Village is in dire need of Vinyl and Nitrile Gloves of all sizes, disposable and N95 face masks, and disposable hooded coveralls. With the current concerns of COVID-19, the department has implemented thorough and extensive disinfectant services and precautions for all contracts and Opportunity Village campuses, as well as separate services regarding in-depth cleanings for contracts with positive COVID-19 cases.
To continue our services, it is of the upmost importance for all our employees and individuals to be supplied with all necessary PPE and for our customers to feel an extensive level of comfort and trust with the work we provide for them.
To make a donation of these items, please contact Kimberly at [email protected].
S.A.F.E. House of Nevada
S.A.F.E. House is a non-profit centered around helping victims of domestic violence. They operate a crisis hotline and emergency shelter in Southern Nevada as well as counseling, advocacy, and support group services.
The organization currently has to limit acceptance of donations to eliminate "walk-in" traffic. Only the following donations are currently being accepted:
Cash donations
Cleaning supplies
Personal Protective Equipment
Non-perishable items such as canned food, toilet paper, etc.
The organization's annual fundraiser was cancelled, further straining the budget. Financial donations can be made online or through the mail.
The organization is requesting community members make an appointment before dropping off items by calling (702) 451-4203.
Salvation Army of Southern Nevada
The Salvation Army Southern Nevada is seeking volunteers to help with prep and distribution of its daily boxed community meal. Volunteers ages 12 to 15 must be accompanied by an adult.
No one 65 or older is able to volunteer or work outside of their homes with The Salvation Army at this time.
Email [email protected], call (725) 777-1368, or visit SalvationArmySouthernNevada.org/volunteer to sign up.
The Shade Tree: Las Vegas
For homeless women and children in crisis, monetary donations can be made at The Shade Tree's website. For in-kind donations, delivery drop-off times can be scheduled by emailing [email protected] or by placing orders on The Shade Tree's Amazon wish list.
Donation items:
Bottled water, any size
Pads, tampons, panty liners
Diapers in all sizes and pull-ups
Baby wipes
Sealed, nonperishable food
Rubbing alcohol and peroxide
Ibuprofen, Tylenol and other NSAIDS
Towels and wash cloths
Twin sheets
Clorox wipes
Toilet paper, paper towels, tissues
Hand sanitizer
Gift cards: Visa, Target, Amazon, Walmart
Batteries (AA, AAA, D, 9-volt)
Latex gloves
United Way of Southern Nevada
United Way of Southern Nevada partners with 700 companies and non-profit organizations in the region to combine efforts and assist the community in the most effective possible way. Currently, the organization is operating the Delivering with Dignity program which delivers meals to qualifying low-income, vulnerable households.
The organization currently has two major needs.
Donations
UWSN is taking donations to their Emergency Assistance and Community Needs Fund to assist those impacted by COVID-19. Community members can donate online.
Volunteers
UWSN is looking for volunteer drivers for their Delivering with Dignity program. Volunteers should be currently employed or on laid-off status, have a valid NV drivers license and auto insurance, and not be a member of a high-risk community as defined by the CDC. Volunteers will be screened in order to guarantee the safety of the vulnerable populations they serve.
UWSN is asking that those wishing to volunteer DO NOT CALL but rather get in touch through the website or over email at [email protected]
The Nevada Independent is raising $200,000 by Dec. 31 to support coverage of the 2024 election.
Tax-deductible donations from readers like you fund this critical work.
If you give today,your donation will be matched dollar-for-dollar.
Give + Get Matched
Featured Videos