Rising rents, enrollment growth have university students facing new kind of housing crunch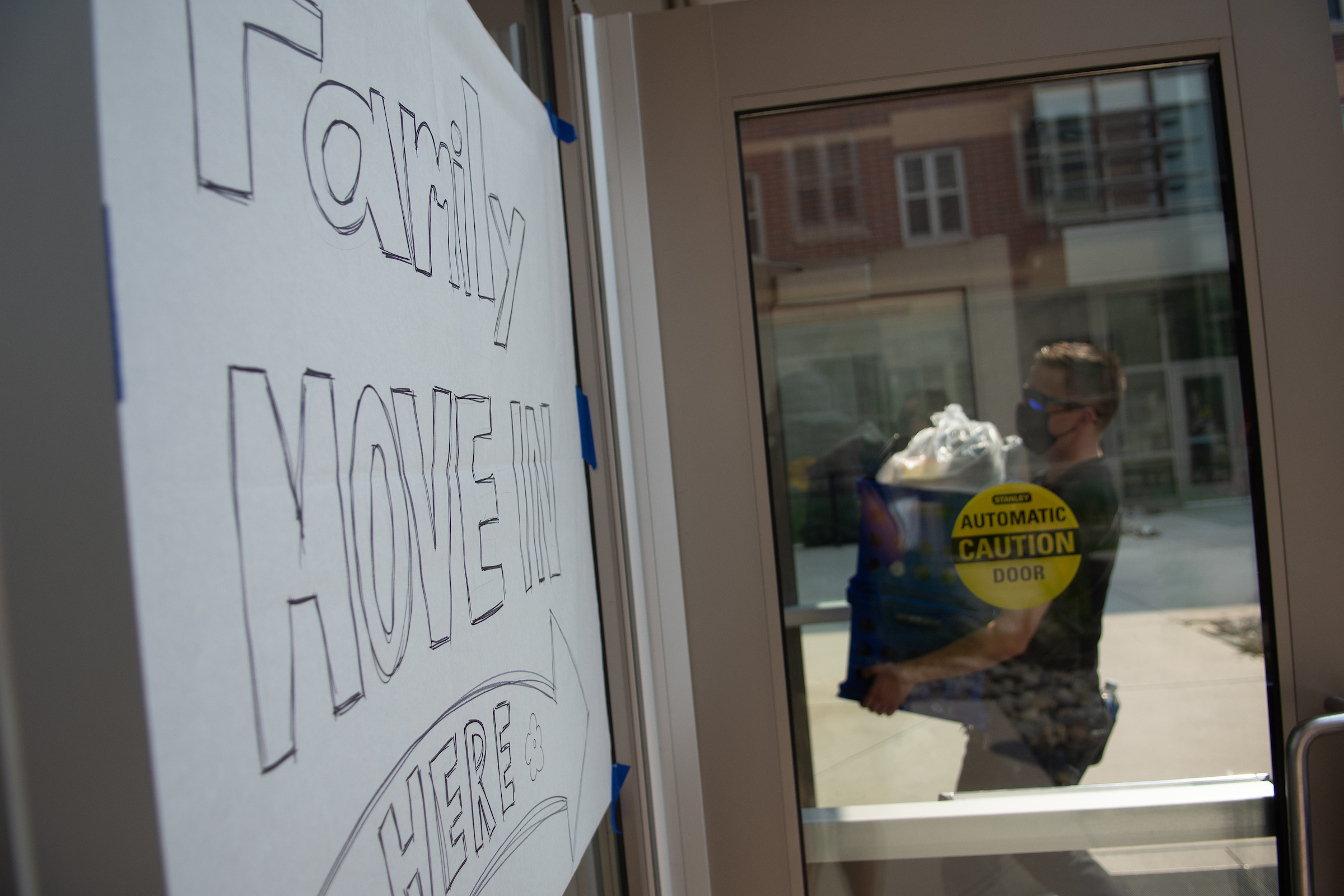 During his first year at UNR, one of Nathan Noble's three suitemates caught COVID-19. It was the first reported case on campus, and all four roommates went into quarantine.
But Noble said that isolating and then watching as university officials turned one of the floors in his dorm into a quarantine hall was not the worst part of the experience. Instead, the hardest part was navigating a tumultuous relationship with one of his roommates.
"At the end of the day, I don't ever want to voluntarily be in a position where I have no say in who I live with, if I can help it," Noble said.
But Noble, and many other students like him, face an increasingly difficult challenge: nailing down a place to rent.
Searching for student housing in Reno (and to a lesser extent, Las Vegas) is no easy task. With UNR's on-campus housing prices up almost 27 percent over the last decade and off-campus rent prices at an all-time high, students have to get creative. Some couchsurf with friends or live in their cars until they find a place but many end up sharing apartments, splitting rent with roommates.
When Noble found an affordable under-construction student apartment that would be finished in time for his sophomore year, he thought he hit the jackpot and quickly signed a lease. But by the time fall came around, construction was nowhere near completion and the owners instead housed Noble and his roommates in the tower of the Circus Circus, a hotel and casino in Downtown Reno.
Limited on-campus housing options for students have given university administrators pause, but other, more immediate problems — such as the need to expand space in the university's fastest-growing colleges — have taken attention away from the question of adequate housing even amid continual undergraduate enrollment growth.
For the time being, UNR and UNLV have no immediate plans to develop more undergraduate housing and are relying on an increasingly unforgiving rental market to house students.
Noble said he was lucky. Though he was looking forward to cooking for himself and having a communal apartment space with friends, he was not paying anything beyond the $825 a month he originally committed to in the apartment lease.
"I'm anticipating living right here for the foreseeable future, and just trying to make myself as comfortable as possible in the situation," Noble said of Circus Circus. "Every time they delay construction, they offer us more money, which is nice. It helps offset the costs that I still have as a broke college student."
Noble is just one of thousands of students navigating housing dilemmas — where to live, whom to live with and how to keep debt to a minimum. As rent prices increase and on-campus housing becomes tighter, university officials are also monitoring the situation and assessing where to allocate resources to keep attracting and supporting students.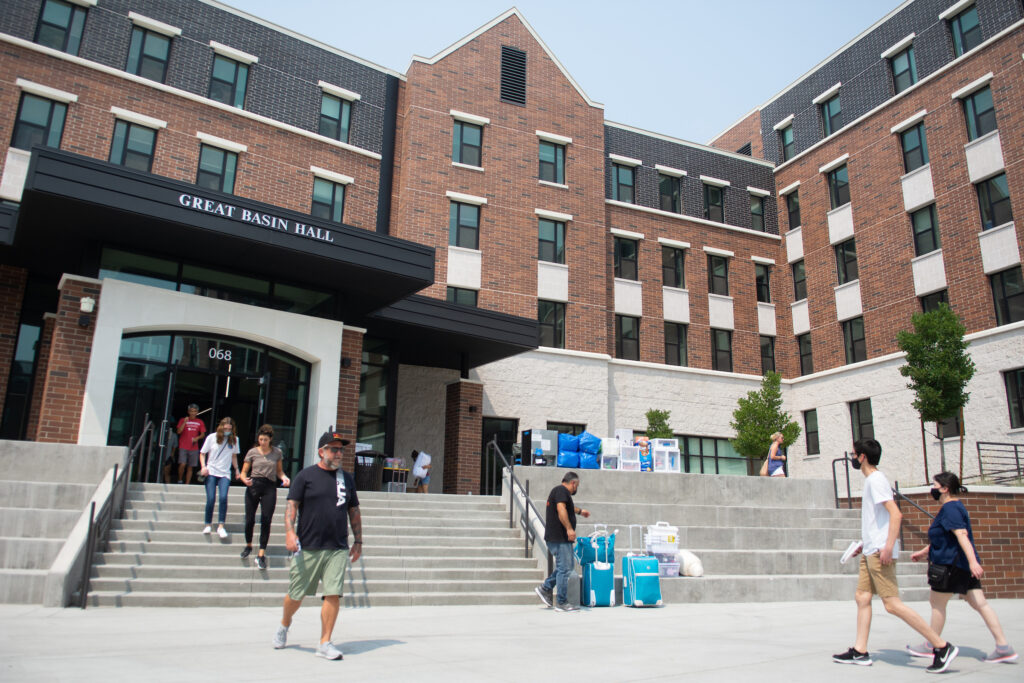 The 'opportunity cost' of housing
At both of Nevada's public universities, officials are balancing on the knife's edge between growth and sustainability. Strong enrollment numbers after the recession and concerted research efforts through the ensuing decade paid dividends in late 2018 for both UNLV and UNR, which achieved the coveted "Carnegie R1 Very High Research Activity" status — a mark of distinction for just 130 universities nationwide.
Now, as the COVID pandemic has rocked the foundation of the state's higher education system — triggering everything from sharp dips in enrollment to state-level budget cuts — administrators are tasked with threading the needles of multiple crises without losing ground gained over the last 10 years.
At UNR, those conversations have emerged in part through the process of generating a new master plan, a months-long process that will culminate in a new guiding document to be presented to the Nevada System of Higher Education Board of Regents next June.
Part of that expected master plan includes more than a quarter-billion dollars in planned spending on a handful of massive campus projects — $100 million for a new building for the business school, $80 million for a new life sciences building and another $80 million in major renovations to the state's public health laboratory housed on UNR's campus.
But noticeably absent from the university's long-term vision of expanding the so-called "Gateway District" and bridging its long-isolated campus with downtown Reno is student housing.
Vic Redding, UNR's vice president for administration and finance, told The Nevada Independent that there was an "opportunity cost" to building one kind of project instead of another. While the university looks to expand its footprint and support its fastest-growing colleges, he said housing remains an area where "the private sector can be part of the solution."
"The private sector really can't do lab buildings or instructional buildings or public health labs or those types of things, so that's really where we have to step in," Redding said. "But with the growth, and all the [private student housing] around campus, and the scarce real estate that we have, I'm not really sure I see another university-owned housing complex on the horizon for undergraduates."
More than that, housing officials said there were simply some housing needs fulfilled by private operators that couldn't be fulfilled by limited or aging university facilities — especially as the number of on-campus beds has ebbed and flowed through a post-recession surge in enrollment.
Perhaps most notably, the massive Argenta Hall and neighboring Nye Hall were knocked out of commission after a sudden boiler explosion ripped through Argenta in the summer of 2018. The blast sheared off the building's brick facade and turned the first floor cafe — a staple of the university's on-campus dining — to rubble.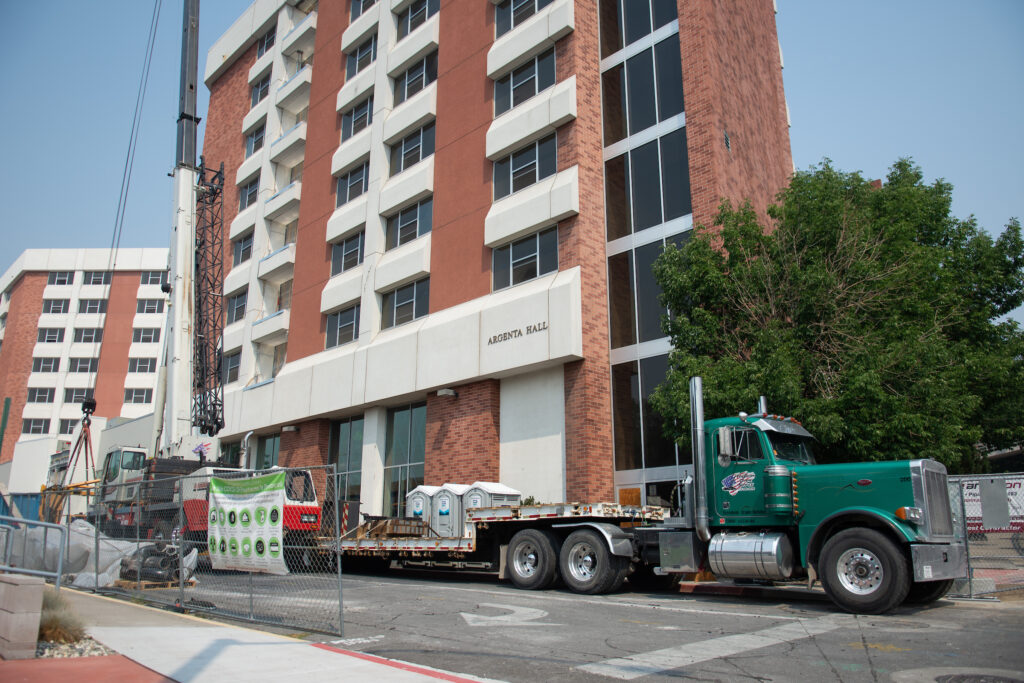 Eight people were left with minor wounds, and eventually 1,300 students were shifted off-campus to one tower of Reno's Circus Circus hotel, temporarily dubbed "Wolf Pack Tower."
Though repairs to Nye were completed last year, the expected reopening of Argenta — and its accompanying 800 beds — has been delayed to 2022 under pressures from the pandemic. In the interim, the university shored up capacity with more private contracts, this time housing more than 800 students across two private student complexes.
In the other direction, UNR has added beds through construction of two new residence halls: Peavine in 2015, and Great Basin Hall in 2018. Together, the pair added enough space for roughly 1,000 students, all housed in themed STEM or health-based communities with sparkling new amenities.
Nevada's research universities' turn to private housing companies as a means to fulfill demand has taken the form of both official partnerships — such as UNR's deals with downtown complexes to house displaced Argenta residents or a UNLV partnership with a private complex that roughly doubled its on-campus capacity to roughly 3,000 — as well as the unrelated development of private student-centric housing.
That growth has been particularly acute at UNR, where more than a half-dozen private student complexes now ring the university's hourglass-shaped campus, with another dozen less than a mile away.
The story of student population growth can also be told in part through on-campus occupancy numbers. In 2010, UNR housed just 2,342 students, but by 2016, that number swelled by more than a third, peaking at nearly 3,200.
After holding steady above 3,000 for years, UNR's occupancy fell below that mark for the first time amid the pandemic, bottoming out at just 2,258 in the fall of 2020. Even so, Kennedy said, he expected interest in on-campus living not only to rebound, but to increase as students rushed back for the in-person college experience.
"[Between] the student-focused housing properties that are currently existing and those that are being developed, I anticipate more and more students wanting to live close to campus, because they have 18 months of not having that social, academic, engaging conversations and connections," he said.
Such numbers, however, are a fraction of the total student population, which grew from almost 17,500 in 2010 to more than 21,000 by 2016. Enrollment held steady at that number until 2020, when the pandemic dropped UNR's headcount below 20,000 for the first time in six years.
All the while, as the Reno housing market grew more expensive, rates for university housing inched upward, too. Between 2010 and 2021, the average cost for a double dorm with space for two students in the fall semester rose from $2,900 to $3,675 — an approximately 27 percent increase.
Directly comparing on-campus housing costs to off-campus costs is difficult, in large part because the two bear little resemblance to one another. From requirements for various university meal plans on-campus to in-unit kitchens off-campus, certain amenities or locations inherent to on-campus residence halls cannot be replicated even by self-described luxury student complexes.
"The properties that are close to campus, they're student-focused apartment complexes, period," Kennedy said. "We compete, a little bit, but once students and their families find out the level of support [from UNR] that students get when they live on campus, I would say we are in a different league."
Despite those differences, costs have continued to rise on both ends — leaving all students, but especially those in graduate studies, footing the bill.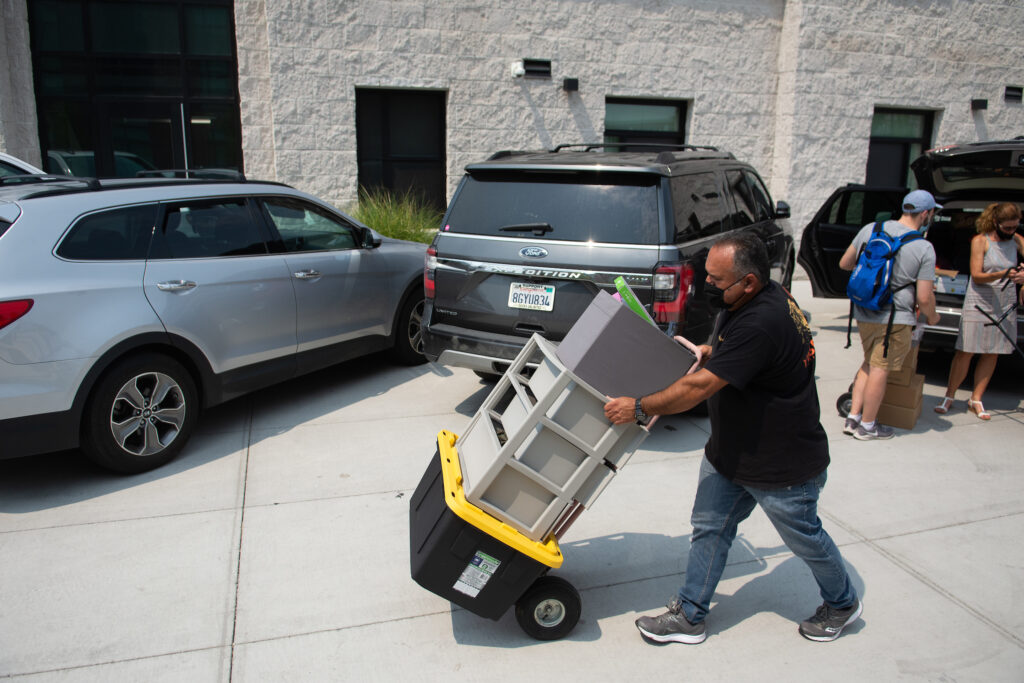 Walking the tightrope between housing and education costs
One question plaguing UNR administrators: how to affordably house graduate students, faculty and staff at the university?
Though undergraduate enrollments have ticked down year-over-year since peaking in 2016, graduate enrollments have continued to grow, according to UNR Vice Provost for Graduate Education David Zeh.
Even so, Zeh said, the rapidly rising cost of housing mixed with stagnant university-provided stipends for some graduate students has begun to squeeze graduate program growth in the short-term as budgets have frozen or fallen over the last three years..
"The stipend relative to the average cost of a rental — our situation has deteriorated significantly," Zeh said. "So we are losing some students because of that."
At UNR, the base 10-month stipend for graduate students in a doctoral program ranges from $21,600 for students in humanities programs to $22,800 for those in STEM programs. Graduate assistants in a master's program have a base stipend of $19,200 for the same time period, with both generally limited to about 20 hours of work per week.
Zeh characterized the stipends — which range from between $1,600 to $1,900 per month for the roughly 30 percent of students supplementing their costs with graduate assistantships — as "middle of the pack" compared to other similar institutions. And though those stipends are set to increase by about $1,000 over the full 10-month period, Zeh said the issue is complicated by the sheer speed at which the market moves — and how quickly the university can react.
To afford the average apartment rent prices in Reno while paying 30 percent of income (a typical benchmark for affordable housing), a graduate student would need to earn monthly wages of $4,916. That's $3,016 more than a STEM doctoral student makes in a month through the stipend, and $3,316 more than a master's student.
UNR administrators who spoke to The Nevada Independent said that several possible solutions to cost problems are in the works — though few have moved past the brainstorming phase.
"If I could figure out how to solve this problem, I could probably patent it and make a fortune," Redding said. "But it is, I think, on my list of things that we're cognizant of that could artificially limit our growth."
UNR graduate student Vardan, who declined to give his last name over concerns of potential future difficulties in finding housing, experienced the housing crunch first-hand.
The secondary education student relocated from Las Vegas to attend UNR just before the pandemic, moving with his partner into a small one-bedroom apartment for a monthly rate of $1,050 not including utilities. But after his relationship ended, he needed to move out.
The problem? He lacked connections for possible roommates because he was unable to make close friends while studying remotely, and the rent for a studio or one-bedroom apartment was too high for him to afford alone. Ultimately, he was able to find a place in UNR's on-campus graduate student housing for roughly $700 a month.
"I don't know anywhere in Reno with rent prices like that," Vardan said. "If every single unit in graduate student housing was occupied, I don't know what I would have done."
The Nevada Independent is raising $200,000 by Dec. 31 to support coverage of the 2024 election.
Tax-deductible donations from readers like you fund this critical work.
If you give today,your donation will be matched dollar-for-dollar.
Give + Get Matched
Featured Videos