Sandoval, Heller push back as Department of Energy proposes storing excess weapons-grade plutonium at Nevada Test Site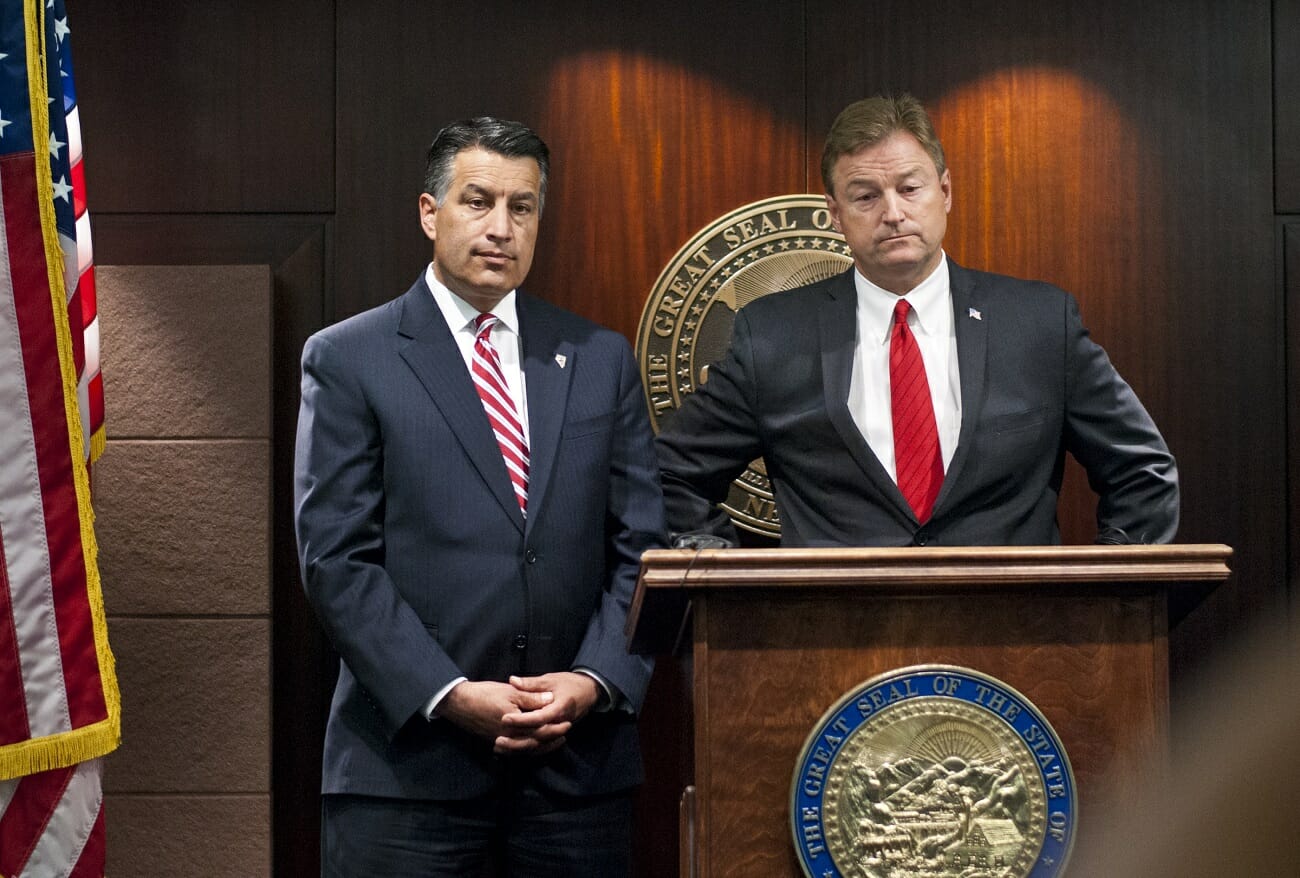 Gov. Brian Sandoval and Sen. Dean Heller are pushing back on a Department of Energy proposal to store weapons-grade plutonium at the Nevada National Security Site.
The plan to store plutonium in Nevada is the result of the Department of Energy and the National Nuclear Security Administration's failure to meet a deadline to complete construction on a South Carolina facility that's meant to repurpose excess plutonium into fuel for nuclear reactors, according to a press release issued by Heller's office on Thursday. A federal district court in May ordered that one metric ton of plutonium be removed from the site.
Heller faulted the federal government for their failure to finish the South Carolina facility, called the Mixed Oxide or "MOX" Fuel Fabrication Facility, and said the latest proposal was an attempt to correct a wrong by committing a second wrong.
"DOE should not move forward with its proposal to store weapons-grade plutonium in Nevada before fully evaluating the health, safety, and environmental impact that it would have on our state," Heller said in a statement. "Not only does shipping up to one metric ton of plutonium across the country likely present risks to the Americans living along the proposed transportation routes, storing this type of material just a few miles outside of Las Vegas could threaten the health and safety of Nevadans and have a devastating effect on our state's tourism economy."
Plutonium is a radioactive, silvery metal that was used in some of the earliest atomic bombs and is still used in the manufacturing of some nuclear weapons. Sandoval spoke out against the plan to store it in Nevada in two tweets on Thursday afternoon.
"I have been made aware that @ENERGY intends to store plutonium in #NV with no timeline for removal. I will fight this at every level," he wrote. "I reached out to the #NV congressional delegation this morning and I encouraged them to join me in this fight."
Brad Crowell, director of the Nevada Department of Conservation and Natural Resources, said the state had been given a general sense in May that there might be a new mission involving plutonium in store for the site, which was previously known as the Nevada Test Site and where nuclear bombs were tested for decades until the end of the Cold War. The U.S. is in a period of expanding its nuclear weapons arsenal and the plutonium is considered part of the active stockpile.
While the Nevada site does take in plutonium, Crowell said it's for very specific testing purposes and not for indefinite storage. He said federal officials released a "halfhearted" supplemental environmental analysis Aug. 31 arguing that under the terms of existing environmental assessments, a ton of plutonium could be moved to the site. Nevada officials believe that's a stretch and the plan diverges significantly from the activities permitted under the older environmental reviews.
Greg Lovato of the Nevada Division of Environmental Protection noted that there are existing protocols for moving such toxic material around, although there are still risks that the material could be intercepted during transport or spilled through some sort of crash. But he said the bigger risk is that if policy changes, the plutonium is no longer needed and it is reclassified as waste, its presence in Nevada would become a slippery slope toward more widespread nuclear waste storage in the state.
The press release from Heller's office noted the close proximity of Las Vegas to where the plutonium would be stored at the Nevada National Security Site's Device Assembly Facility, which is about 90 miles from the city. Nevada officials have often noted the proximity of the Nevada National Security Site to Nevada's largest urban center in arguments against Department of Energy plans to store high-level nuclear waste long term at Yucca Mountain, which is also inside the test site.
Crowell said that while Yucca Mountain and the plutonium plan aren't directly connected, it would be "convenient" for the federal government to have the plutonium waiting so close to Yucca if that nuclear waste repository were to open as the Trump administration hopes. The state also questions why the plutonium shipment isn't being sent to Los Alamos National Laboratory in New Mexico for storage.
Heller has urged Energy Secretary Rick Perry to conduct a full environmental impact analysis before moving forward with plans to relocate the plutonium. He asked for a response from Perry by Sept. 20.
"DOE's desire to expeditiously pursue this proposal does not outweigh the rights of Nevadans to be safe in their own backyard," Heller wrote to Perry. "I strongly believe that it is completely inappropriate to consider the proposal before Nevadans have the opportunity to fully understand the potential health, safety, and economic risks it presents."
The order calls for one ton of plutonium to be moved by 2020 and another ton to be moved the following year — a process that is complex and would need to be started quickly to meet that deadline, according to state officials. They plan to draft a letter to the federal government from Sandoval's perspective, and also explore the legal options for fighting the plan.
"The bottom line biggest concern is Nevada is getting all the risk and no reward," Crowell said. "It doesn't enhance the mission of the site, doesn't create new jobs."
Perry quietly visited the Nevada National Security Site late last month, putting out a press release after the fact that said he "answered questions from employees and highlighted the progress and future of the NNSS missions." It is unclear if the visit is linked to the new plan.
Updated at 2:10 on Sept. 6, 2018 to add additional details from Nevada officials.
The Nevada Independent is raising $200,000 by Dec. 31 to support coverage of the 2024 election.
Tax-deductible donations from readers like you fund this critical work.
If you give today,your donation will be matched dollar-for-dollar.
Give + Get Matched
Featured Videos