Schieve and Lorton rematch for Reno mayor; two council members defend seats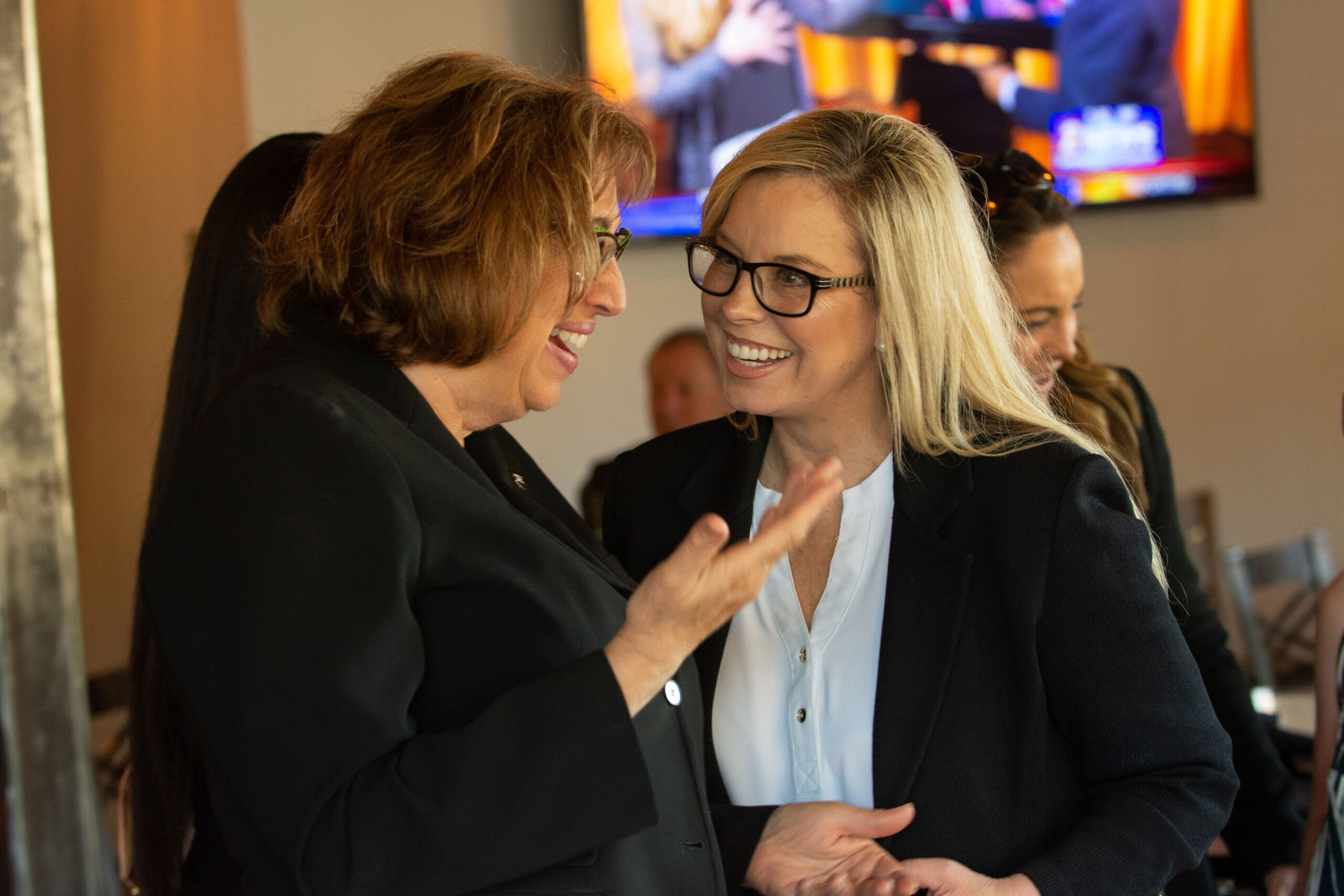 In the four years since Reno City Council incumbents took office, the city has dealt with a global pandemic, administering $51.1 million in federal pandemic aid, civil unrest from racial justice protests of 2020 that led to the high-profile breach of City Hall, a homelessness rate that doubled from 2020 to 2021 before receding last year and skyrocketing median home prices.
It's been an eventful four years for the seven council members, who are in charge of evaluating and at times approving or denying policies dealing with infrastructure, parks, some business operations and public safety such as police and fire.
Now, three incumbents are running for re-election in this midterm election cycle.
Two-term Reno Mayor Hillary Schieve is facing frequent candidate George "Eddie" Lorton. Two-term Ward 2 Council Member Naomi Duerr, who runs a small mineral prospecting business, is up against Doughboy Donuts owner Jay Kenny. And Ward 4's Bonnie Weber is running for a second term against first-time candidate and health care benefits analyst Meghan Ebert.
Candidates for city council run in nonpartisan races, meaning that no party affiliation is listed next to a person's name on the ballot. City council members — including the mayor — are limited to serving three four-year terms. Five of the seven city council members represent a ward (a geographical area of the city) and are elected by residents of that ward, while the mayor and an at-large council member are elected city-wide.
The winners will have sway over a city that has struggled to keep up with infrastructure demands after taking on roughly 22,000 more residents between 2017 and 2021, according to the U.S. Census Bureau. The city is dealing with both growing pains and promising developments, including plans for a new water treatment center outside of Stead to provide Reno residents with more drinking water, a future Moana Springs Community Aquatic Center and more.
Here's a look at the three seats up for grabs this election cycle:
Mayoral race
This is the second time George "Eddie" Lorton and Hillary Schieve have faced each other in a mayoral election. Schieve, who was first elected Reno mayor in 2014, won re-election in 2018 after defeating Lorton by 29 percentage points.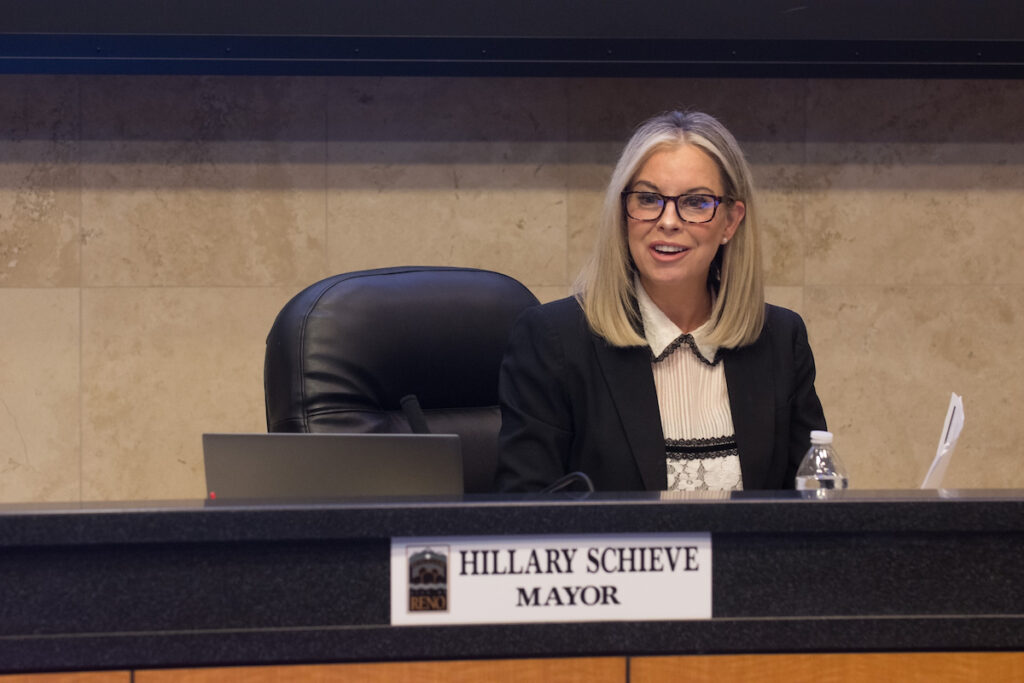 In an interview, Schieve said she's focused on developing new condo buildings, art investments on Virginia Street, and more entertainment districts, such as the RED District, incorporating lessons she learned from being elected during a period of high foreclosures and unemployment.
"I really focused on diversifying our economy, so that we didn't just have predominantly gaming," Schieve said. "And so that's what we've really focused on is attracting other types of industry so that if we hit a downturn … that we recover much quicker."
Schieve's methods of developing housing, response to homelessness and crime were criticized by Lorton in an op-ed submitted to the Reno Gazette-Journal and a far-right blog.
"As mayor, and as a successful businessman who believes in utilizing existing buildings before you construct more, I would never have allowed the too-little-and-too-much approach that Schieve has used to ruin our city while in the developers' pocket," Lorton wrote in his op-ed.
Lorton, a businessman who owns E T Carpet Cleaning in Reno and has investments in real estate, is making his fourth bid for a council seat, after running unsuccessfully for mayor in 2014 and 2018 and for an at-large seat in 2020. He came in second place in the 11-person primary for mayor in June.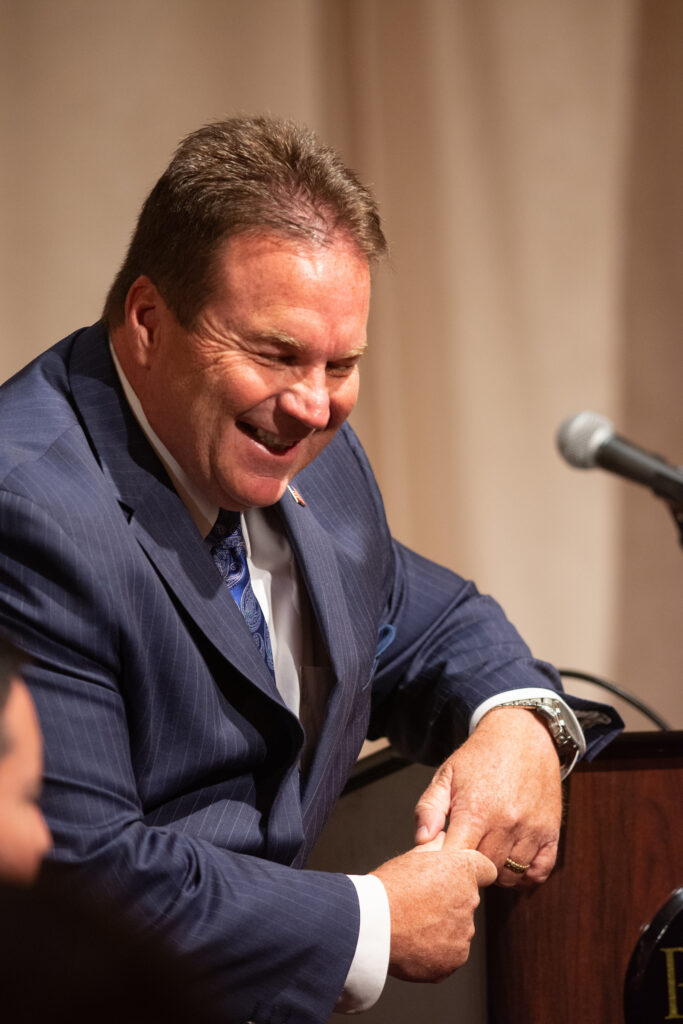 Lorton says on his website that he would like to pay down Reno's debt by selling city-owned surplus properties, cleaning up blighted properties, and redirecting money that is going to the Aces Stadium and Parklane Mall developers to public safety departments. Lorton also said that he wants to give the responsibilities of the downtown Reno homeless shelter to the county.
Lorton declined an interview with The Nevada Independent.
Lorton isn't the only one who has criticized the incumbent. Schieve was criticized by the ACLU of Nevada for enforcing curfew when City Hall was broken into and a fire was set after a Black Lives Matter protest in 2020. Others have criticized her after the publication of stories by ProPublica investigating the council's decision to allow developer Jacobs Entertainment to tear down motels where low-income residents were living while people struggled to find affordable housing.
Though Jacobs promised to build affordable housing units along with its projects, some citizens have criticized the lack of action Jacobs took on developing the empty lots that used to hold motels.
"Rather than a vision, can we get a commitment, or at the very least a timeline on when we can know for sure if these units will ever exist?" Ana Perez-McKay, a local Reno artist, asked during an online meeting held in January.
In an interview with The Nevada Independent, Schieve said she stands by her decision to tear down the old motels, saying that they often charged people $300 to $400 a week and were in unsafe condition. She also stood by her decision to do sweeps of homeless camps along the Truckee River that many activists spoke out against, saying that camping near the river is "very unsafe" and could lead to people being hurt or killed.
"Imagine if we lose hundreds of people that are living along the river. You know, they'll say, 'Mayor, you did nothing.' So that's kind of the approach we took … [we] sat down with the advocates and said, 'How can we do this better?'" Schieve said.
In February, after the approval by city council, the nonprofit organization Reno Initiative for Shelter and Equality, or RISE, began a 16-month contract with the city's Clean and Safe Program to help the most shelter-resistant individuals.
If re-elected, Schieve said she wants to focus on making Reno more environmentally sustainable by expanding efforts in lessening the need for cars, such as improving bike lanes downtown and keeping walkability in mind when building out or improving infrastructure. So far, Reno has seen an increase in low-cost, shareable Bird electric scooters — which have had mixed reviews because they can create an eyesore when abandoned on sidewalks — and an expanded bike lane downtown.
Schieve, in collaboration with Gov. Steve Sisolak and Washoe County Commissioner Bob Lucey, also brought an energy and emissions tracker to Reno in an effort to become more environmentally conscious.
Schieve would also like to open a 24/7 mental health facility that the city is working with the county and state to put on the Northern Nevada Adult Mental Health Services campus. She is hopeful this accessibility will not only help people deal with mental health issues but also ease the strain on jails and hospitals.
Schieve has been an advocate for mental health, particularly during the pandemic when the city council unanimously voted to invest $1.3 million in TalkSpace, a free online counseling service for Reno residents. In an interview with the Reno Gazette-Journal, she said that the mental health problems in her family have inspired her to invest more in mental health for Reno residents.
To read Schieve's full interview with The Nevada Independent click here.
Ward 2
Incumbent Naomi Duerr finished 17 points ahead of challenger Jay Kenny — both beating first-time candidate Tyler Hinman in the primary election — and the two will face off in the general election. Ward 2 runs from the Virginia Lake area to the end of South Reno, and includes many upscale suburban homes, luxury apartments and new developments.
Duerr, who was elected in 2014, runs a small business that prospects minerals primarily for domestic and international mining companies. During her time on the council, she has focused on water management, development and bolstering small businesses.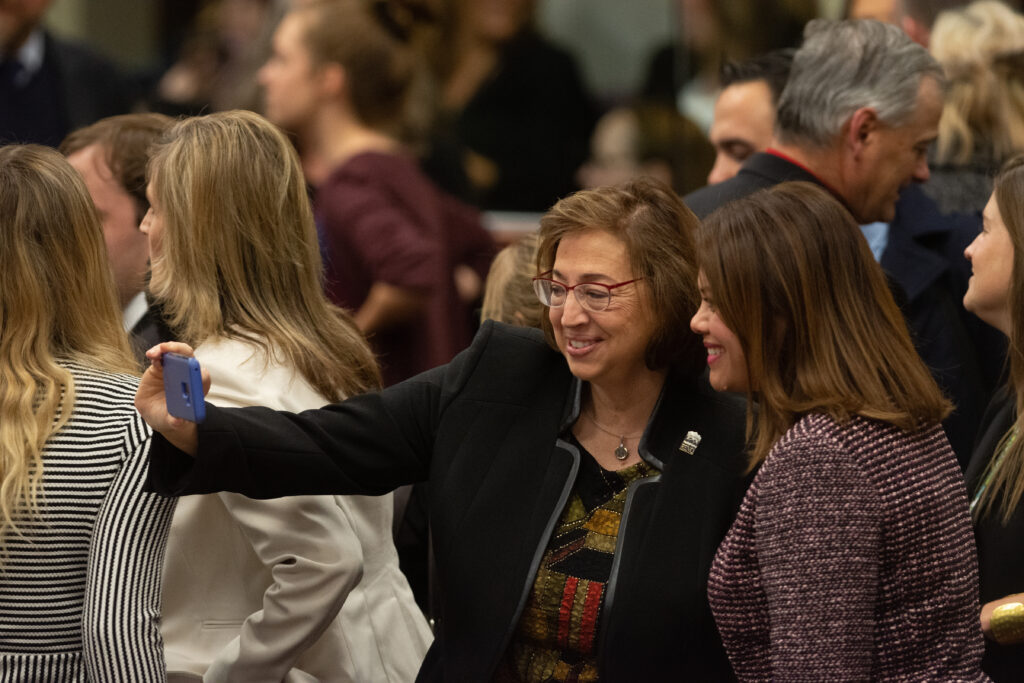 If re-elected, she said she wants to focus on sustainable growth, referencing a time she helped a developer in Ward 4 near the Bonanza Casino redesign a multifamily housing structure to preserve an endangered plant species, and her support of the collaborative OneWater Nevada project in an effort to make the city more drought resistant.
"We've done a lot of things that make it so that even if the worst of the droughts hit, we can at least provide water to the people," said Duerr, who was the state's water planner from 1993 to 2000. "But we can protect and provide water for the people who are here. Doesn't mean we won't have to conserve in a big drought."
She would also like to further help small businesses by being mindful of them when developing infrastructure, referencing as an example the council's expansion of Midtown sidewalks to accommodate outdoor dining. If re-elected, Duerr said, she would also like to invest in training programs for businesses to combat the worker shortage.
"Generally, whether it's hotels, restaurants, entertainment, all of them, every one of them are hit with the same issue about getting qualified, interested, committed employees," said Duerr, who is the president of the Western Nevada Development District, an entity that helps coordinate economic development planning.
For her current ward, Duerr wants to focus on providing residents with "80/20" housing, meaning 80 percent are market-rate units and 20 percent are affordable housing units in one complex. She is also looking to provide affordable units for veterans and expand lanes on Steamboat Parkway to help residents navigate the high volume of traffic in South Reno.
Duerr would also like to develop city-owned trails in the Virginia Foothills to provide residents with hiking and running options. Right now, she said there aren't any bigger parks in far South Reno so people use trails that are not publicly owned, inadvertently trespassing.
Kenny is also a small business owner, running Doughboys Donuts shops in Reno and Sparks. Despite being a first-time candidate, Kenny has raised more than $50,000 since April 1 toward his campaign, receiving contributions from several local businesses including Joey and Jerry Scolari from Scolari's grocery store chain, the owners of the Silver Legacy Hotel and Casino, and the car dealership Dolan Lexus.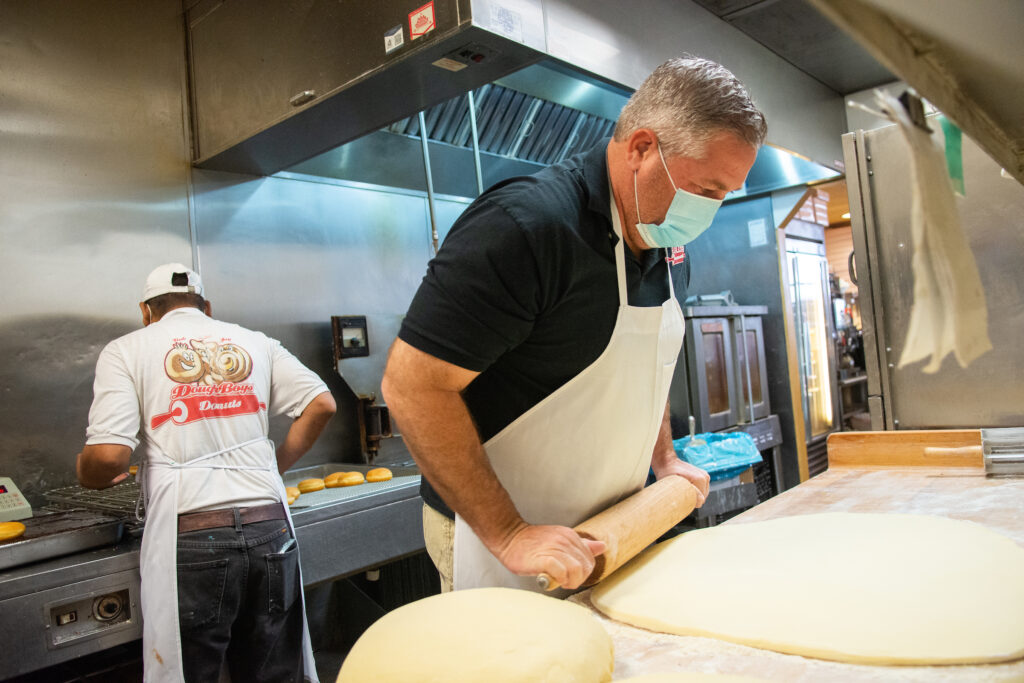 Kenny said his experience as a business owner and employer would bring change to the city council. He also said that being an outsider to city politics will make him more of a spokesperson for the public. If elected, he would like to focus on bolstering small businesses, as well as focusing on the needs of workers, families, seniors and veterans.
"I think Reno has the power … to make an economic impact on people's lives by making it easier for people to run a business and open their doors and get people back to work," Kenny said. "We can help small businesses create jobs. I think we can strengthen the workforce which then … helps families and gets them to reinvest back in the community."
Both Duerr and Kenny, like most candidates in Washoe County, told The Nevada Independent they support expanding law enforcement funding because of the city's growth, saying the police are understaffed and underfunded.
According to the Reno Police Department's 2020 annual report, there were around 1.5 police officers per 1,000 residents. Las Vegas, on the other hand, had almost two officers per the same amount of residents, the Las Vegas Metropolitan Police Department reported that year.
Duerr and Kenny also have similar views on keeping a consistent and direct line with constituents.
"I think I'm just very devoted to that," Duerr said. "The people touch me, you know, their personal issues. They call me all the time. I answer my phone. I try to respond to most of my emails."
Kenny, similarly, said that his employees have an open-door policy with him and can call any time, a practice he'd like to use when communicating with the residents of Ward 2.
To read Kenny's full interview with The Nevada Independent, click here.
To read Duerr's full interview with The Nevada Independent, click here.
Ward 4
Incumbent city council member Bonnie Weber, who has served on the city council since 2018 and served three terms as a Washoe County commissioner before that, will face first-time candidate Meghan Ebert, a health care benefits analyst, in the general election for Ward 4. That area includes northeast Reno to the North Valleys and Cold Springs.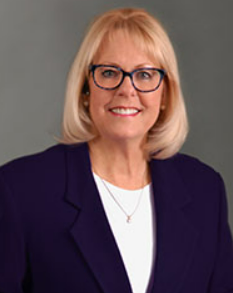 "I am a first-time candidate running because I am unhappy with the development happening in my ward. And I am unhappy with the way the Swan Lake catastrophe was handled in my ward." Ebert told The Nevada Independent in a phone interview. "I am also unhappy with the conflicts of interest regarding the campaign donations given to the current council member and the impact of developer money in our local politics."
The 2017 Swan Lake flood occurred when the city pumped excess stormwater into Swan Lake after heavy winter rain melted a large snowpack causing the 2017 Reno flood. Following the city's actions, several Lemmon Valley residents sued claiming the city did this despite knowledge that Swan Lake would likely flood and cause damages to more than 60 homes.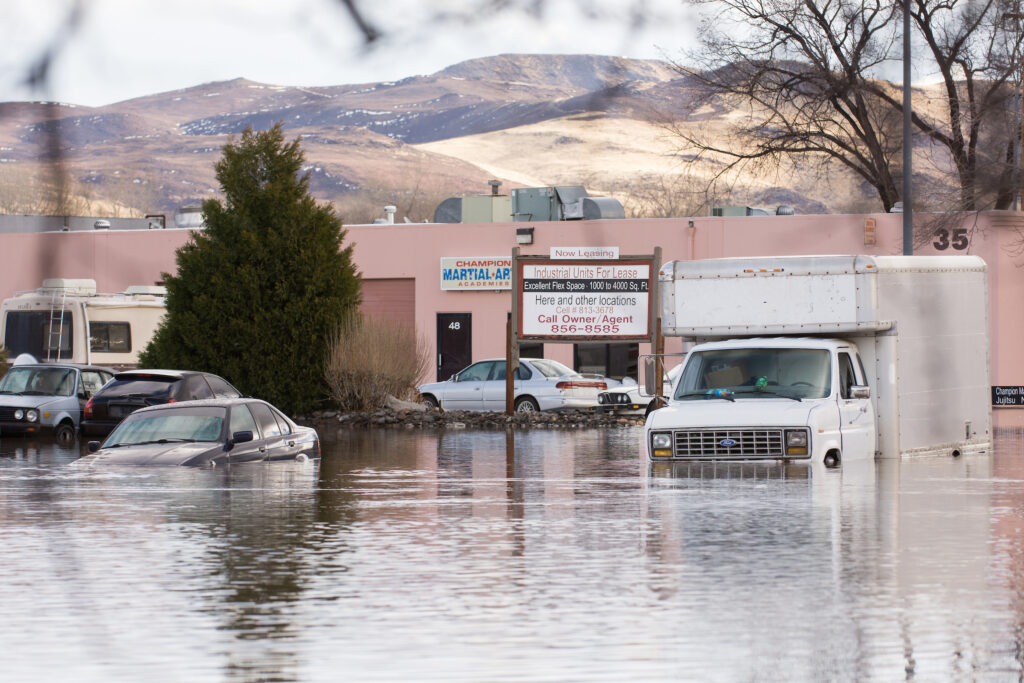 Going forward, Ebert would like to follow the master plan more closely and conduct more environmental evaluations with flooding and resident impact in mind before granting special-use permits.
Ebert said she would also like to work with environmental groups and be mindful of the Nevada wilderness when development prospects come to Ward 4.
"Would it be possible to put solar panels over parking lots from our building? That would be a great way to have shade in our areas, and also provide electricity for our community. These are things that we could start doing when we're doing development," Ebert said.
While Ebert supports funding going to police, she thinks the police should have more diversified services — noting the bike police operating downtown as an example — to serve the diverse needs of the community.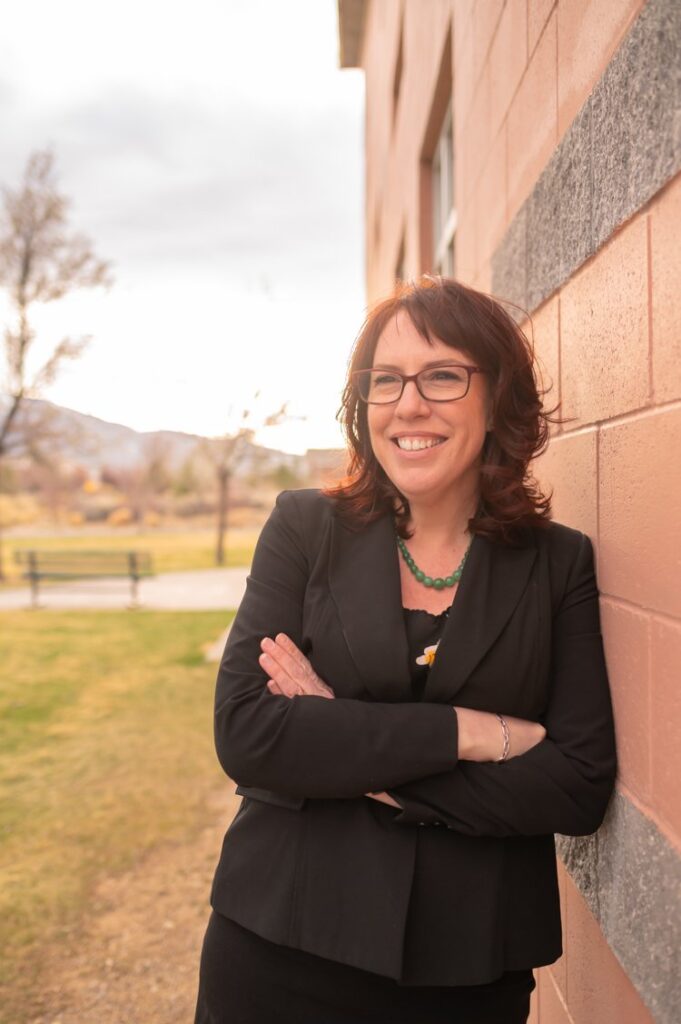 When asked how she plans to combat the rapidly rising cost of living, Ebert said she plans to partner with organizations and unions to provide people with job training to get higher-wage jobs.
In an interview with the Reno Gazette-Journal, Weber said she would like to focus more on developing the restaurants in the North Valleys to mimic the feel of Midtown. On her campaign website, Weber also mentioned the importance of focusing on issues that can be acted on locally, while noting the importance of working with the state and federal governments on issues outside the realm of what the council has direct power over, such as land use.
Land use is a particularly thorny issue in Reno, because while the area needs more infrastructure, the city is running out of land that is cheap to develop. Because Reno is in a basin, the land development options are either a hillside, which takes longer and is more expensive to develop, or build on existing developed land.
The North Valleys is a suburban area north of central Reno, full of more affordable houses and new developments. Though there are a few outdoor malls, restaurants, and parks, the area does not have a centralized urban core.
Weber also emphasized working together on development and speaking up for the North Valleys, which she said appears to be forgotten often when discussing the region.
Weber did not respond to interview requests from The Nevada Independent.
To see Ebert's full interview with The Nevada Independent, click here.
Featured Videos
Comment Policy (updated 4/20/2021): Please keep your comments civil. We reserve the right to delete comments or ban users who engage in personal attacks, use an excess of profanity, make verifiably false statements or are otherwise nasty. Comments that contain links must be approved by admin.