Schieve wins third term as Reno mayor; other Northern Nevada incumbents ahead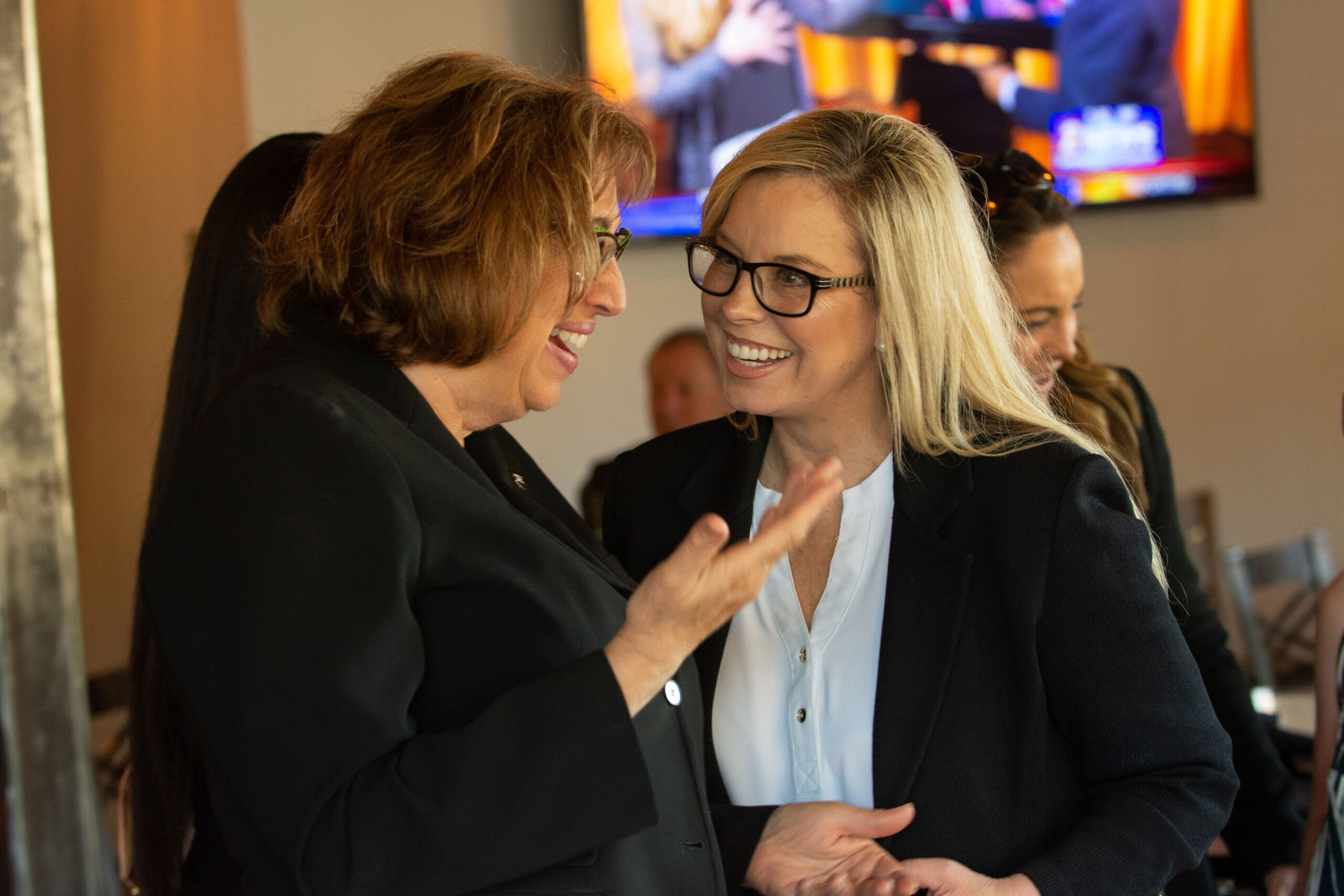 Across Northern Nevada, incumbent candidates running for Washoe County Commission and city councils in Reno and Sparks largely won re-election with a few notable exceptions.
Based off of election results released late this Wednesday, Reno Mayor Hillary Schieve and Councilwoman Naomi Duerr will win another four years on the Reno City Council, while incumbent Bonnie Weber has been defeated by challenger Meghan Ebert.
Winners in this midterm election will govern the second-most populated county in the state for the next four years.
Here's a look at those races:
Reno Mayor
Incumbent Mayor Hillary Schieve won re-election against opponent Eddie Lorton, marking the beginning of her third and final term as Reno's mayor.
As of this Wednesday, Schieve had a roughly 16,000-vote lead over Lorton, a multi-cycle candidate who ran for mayor in 2018.
"I hope and pray that our newly elected officials will demonstrate the strength, vision, and integrity to fulfill their obligations for the betterment of all of us. I look forward to offering my help and guidance in working through our challenges to move Reno forward while maintaining our distinctive charm and history," Lorton said in a Wednesday morning Facebook post six days after Election Day.
In a Sunday Twitter post, Schieve celebrated her victory by thanking everyone who voted for and campaigned with her.
"I share this win with so many of you who supported, stood in line, walked, donated, etc. I can never thank you enough because no one can ever achieve success alone," Schieve said.
During her eight years as mayor, Schieve has faced many challenges and criticisms as the city has gone through massive growth, a housing shortage, social justice protests and a pandemic.
Before she was elected mayor in 2014, Schieve was sworn in as the at-large council member in 2012 — meaning she will have served 14 years on Reno City Council by the time she terms out of office in 2026.
Schieve said she looks forward to her final term as mayor with plans to further diversify Reno's economy, develop the city to become more pedestrian and bike friendly — and, in turn, make the city more environmentally friendly — and further invest in mental health services for Reno residents.
Specifically, Schieve would like to open a 24/7 mental health facility at Northern Nevada Adult Mental Health Services with the cooperation of other local and state officials.
"I'm really thankful and proud of the clean campaign we ran," Schieve said in a phone interview with The Nevada Independent on Wednesday morning.
Reno City Council Ward 2
Incumbent Naomi Duerr has won re-election to a third and final term as Ward 2's representative on the Reno City Council, posting a more than 13 percentage point advantage over her opponent, DoughBoys Donuts owner Jay Kenny, as of this Wednesday.
Ward 2 runs from the Virginia Lake area to the end of South Reno, and includes many upscale suburban homes, luxury apartments and new developments.
"Thank you to the incredible supporters out there — voters & campaigners alike — who assured me a 3rd term as a [City of Reno] Councilwoman. My focus on public safety & managing growth clearly resonated," Duerr said in a Twitter post on Sunday.
Duerr, the owner of a small business that prospects minerals primarily for domestic and international mining companies, has focused on water management, development and bolstering small businesses during her time on council.
In an August interview with The Nevada Independent, she said her priorities if re-elected would be to keep working on providing South Reno residents with more "80/20" housing, meaning 80 percent are market-rate units and 20 percent are affordable housing units in one complex, expand major roadways in South Reno and develop a network of city-owned trails in the Virginia Foothills to provide residents with hiking and running options.
Reno City Council Ward 4
First-time candidate Meghan Ebert has claimed victory over incumbent Bonnie Weber after a neck-and-neck for the Ward 4 seat, representing an area that includes northeast Reno to the North Valleys and parts of Cold Springs.
Ebert pulled ahead of Weber by only 138 votes as of Wednesday night, six days after Election Day.
"My victory sends a clear message that the Ward 4 and North Valley voters would like our city leaders to address our infrastructure, traffic and lack of amenities issues and I look forward to working with the other city council members in a constructive way to solve these problems," Ebert said in a Facebook post.
"It's a privilege to serve in public office and it was a greater privilege to serve you. I've met so many wonderful Ward 4 neighbors these short four years and I'm proud of the work we accomplished together," Weber said in a statement released to the press Tuesday morning.
Ebert, inspired to run in part because she was unhappy with how the city handled the 2017 Swan Lake Flood and the development happening in her ward, wants to focus on developing the North Valleys with the environment in mind. She said she would take a closer look at the city's master plan to conduct more environmental evaluations with flooding and resident impact in mind before granting special-use permits to developers.
Sparks Mayor
Incumbent Mayor Ed Lawson has reclaimed his seat on Sparks City Council, defeating challenger Christine "Chris" Garvey, a dental hygienist who served three terms on the Clark County School Board before recently moving back to Sparks.
"This is my happy face, thank you Sparks for electing me again," Lawson posted on Twitter along with a selfie of himself smiling.
With another four years ahead of him, Lawson said he would like to ease Sparks' growing pains. Specifically, he would like to focus on building up rather than out as Sparks — surrounded by difficult-to-develop or federally owned land — continues to run out of developable land. This vertical development may ease economic strain on municipal services such as police and fire, he said.
Sparks City Council Ward 2
Incumbent Dian VanderWell has defeated Victorian Square bar owner John Eastwick for another term as the Ward 2 representative on the Sparks City Council.
"What I'm looking forward to is what I said throughout the campaign … I want to serve our neighborhoods, so that they are clean, safe, affordable places to raise our families and where small businesses can thrive," VanderWell said over email this Thursday afternoon.
VanderWell, appointed to the city council in 2020, previously worked in real estate.
Eastwick had said he was inspired to run by what he considers the city council's favoritism toward big casinos over small business owners. He had said he wants to be a voice for citizens and small businesses if elected.
"It's disappointing for sure. I was hoping to support small businesses in Sparks from the inside [of local government] but from the outside there's not much you can do," Eastwick said about his loss on Thursday
Ward 2 covers northwest Sparks, from just west of the Wildcreek Golf Course to east of Wedekind Regional Park. The ward also covers part of Pyramid Lake Highway, Sparks Middle School and Alice Maxwell School.
Sparks City Council Ward 4
Incumbent Charlene Bybee is headed to a third and final term on the Spark City Council after posting an almost 43 percentage point lead over her opponent, first-time candidate Damon Harrell.
Bybee represents Ward 4, an area of Sparks that zigzags across northeast Sparks, containing parts of Pyramid Lake Highway, Spanish Springs, Red Hawk Golf Club, and Bud Beasley School.
In an election night phone interview with The Nevada Independent, Bybee said she was excited, positive and thankful for the support shown to her campaign.
"I thought it was a good race and I fully support Charlene moving forward," Harrell said mid-morning Wednesday.
Bybee, longtime Washoe County resident and former American Airlines flight attendant, wants to focus on improving the Truckee Meadows Water Reclamation Facility and building up Sparks' "soft" infrastructure, such as the fire and police services.
Washoe County Commission District 2
Washoe County Assessor and Republican candidate Mike Clark has defeated Democrat and retired Reno city engineer Keith Lockard and Libertarian candidate Daniel Banuelos for the seat on the Washoe County Commission representing District 2, which lies just south of the Reno-Tahoe International Airport and extends to the southeast corner of the county in the Washoe Valley.
As of this Wednesday, Clark is more than 8 percentage points ahead of Lockard, his closest competitor.
"On Saturday I phoned Mr. Clark to congratulate him on this successful outcome and wish him well on his next four years of service to the citizens of Washoe County," Lockard said in a statement sent to The Nevada Independent on Tuesday morning. He also thanked all the people who supported him throughout his campaign.
Clark left a voicemail with The Nevada Independent, but has not yet provided comment.
Clark has said if elected, he wants to reduce homelessness, as well as focus on development and transparency in government.
Clark drew headlines after he sent out anonymous mass mailers containing court documents, public records and a photo of a county official in a bikini last year. Clark defeated incumbent Commissioner Bob Lucey with help of Robert Beadles, a far-right cryptocurrency millionaire and political activist.
Washoe County Commission District 3
Mariluz Garcia — the executive director for UNR's Dean's Future Scholars program — will claim victory over opponent Denise Myer for the position of Washoe county commissioner for District 3, which covers an area just north of the Reno-Tahoe International Airport and extends to the southern parts of Sun Valley in Reno and some western parts of Sparks.
Garcia, a Democrat, has an almost 25 percentage point lead as of this Wednesday evening over Republican challenger Myer. Neither candidate has returned calls seeking comment.
Garcia has said she wants to spend the next four years keeping families' needs in mind while developing smart infrastructure, affordable housing and access to services.
Washoe County Commission District 5
Commissioner Jeanne Herman has gained victory over opponent Edwin Lyngar, a Truckee Meadows Community College English professor, to reclaim her seat on the Washoe County Commission to represent District 5. It's the largest district in Washoe County in terms of land mass, extending at its southernmost border to Mogul and north to the Oregon and California borders.
Herman, a Republican, leads by more than 7 percentage points over Lyngar, a Democrat, as of this Wednesday.
First elected in 2014, this marks Herman's third and final term as a Washoe County commissioner. Herman is also a licensed Realtor in Oregon, California and Nevada and serves on two National Association of Counties (NACo) committees that deal with issues relating to land-use and cattle.
"It was always going to be a tough race, but I'm happy with how the campaign went," Lyngar said in a Wednesday morning phone interview with The Nevada Independent.
In a Saturday Twitter post, Lyngar expressed his disappointment in losing, but was happy with the overall results of the election.
"During this race I witnessed the toxic politics that have damaged our country, and I'm so delighted that the overall results were so good for #democracy. To the many volunteers, donors, and campaign staff, I can never thank you enough," Lyngar said.
Herman did not return a Wednesday morning call from The Nevada Independent.
Earlier this year, Herman called for hand-counting ballots, paper ballots and stationing law enforcement at every polling station — policies that would increase the registrar's workload and increase the margin of human error. Her proposal was met with no support from other members of the commission.
Besides her initiatives to support "election integrity", Herman would like to use the next four years to provide her constituents with safer communities by investing in police and fire for the North Valleys — which are prone to wildfires and flooding — as well as secure better broadband internet for the ranches outside Gerlach.
Updated 11/10/2022 at 9:55 a.m. to reflect the most recent election results released by Washoe County on 11/9/2022 at 9:33 p.m. Updated again at 8:25 p.m. to add additional results from Washoe County. Updated 11/11/2022 at 8:35 a.m. to reflect that Mariluz Garcia is over 23 percentage points ahead of Denise Myer according to the most recent results from Washoe County. Updated 11/14/2022 at 9:24 a.m. to reflect the most recent results from Washoe County. Updated 11/15/2022 at 8:59 a.m. to reflect the most recent results from Washoe County. Updated again at 11:42 a.m. to include a statement from Keith Lockard. Updated 11/16/2022 at 8:47 a.m. to reflect the most recent results from Washoe County. Updated again at 11:57 a.m. to include a statement from Bonnie Weber. Updated 11/17/2022 at 12:19 p.m. to reflect the most recent results from Washoe County and a statement from Eddie Lorton. Updated again at 3:31 p.m. to include statements from Dian VanderWell and John Eastwick.
Featured Videos
Comment Policy (updated 4/20/2021): Please keep your comments civil. We reserve the right to delete comments or ban users who engage in personal attacks, use an excess of profanity, make verifiably false statements or are otherwise nasty. Comments that contain links must be approved by admin.