Senate Democrats celebrate win on spending bill. What will it mean for campaigns?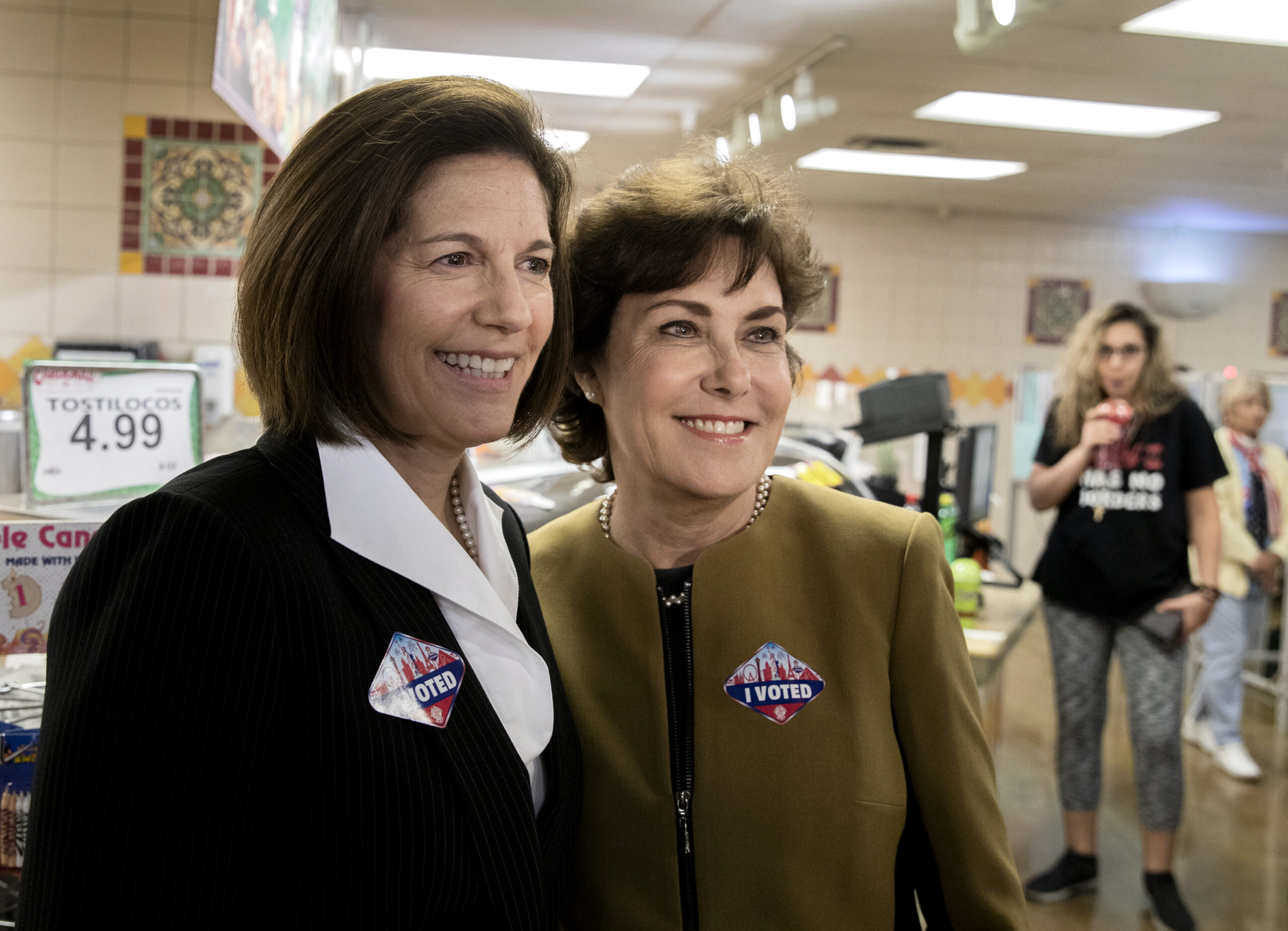 Though somewhat lost in the fracas of the FBI raid on former President Donald Trump's Mar-a-Lago residence on Monday, vulnerable swing-state Democrats have been quick to take credit for the sweeping spending package known as the Inflation Reduction Act.
The measure promises both massive investments in climate policy and health care reforms, in addition to more than $300 million in deficit reductions.
Sen. Catherine Cortez Masto (D-NV), whose bid for re-election this year could be one of just a handful of contests to decide control of the Senate in the 2022 midterms, was among those singing praise for the package. In touting the bill's passage on Sunday, she called it a "major victory for hardworking Nevadans," while also specifically praising a drought provision she added to the bill alongside Mark Kelly (D-AZ) and Michael Bennet (D-CO).
That drought money was also part of a key compromise deal for Arizona's other senator, Democrat Kyrsten Sinema, who also pushed senators to axe another provision from the bill that would have taxed wealthy private equity executives.
But as Democrats have enthusiastically taken credit for the bill, Republicans appear just as eager to let them. The bold-font title of U.S. Senate candidate Adam Laxalt's statement about the legislation pointed to Cortez Masto as "the deciding vote" on the IRA — a measure passed on a 51-50 tie-breaker from Vice President Kamala Harris — and he has repeatedly sought to attack the bill's tax provisions.
Throughout the IRA's rapid journey through Congress, Democrats have argued that the provisions won't directly increase taxes for households earning under $400,000. However, some experts have pointed to a 15 percent minimum corporate tax as a potential source of "indirect" taxation on earners below that $400,000 benchmark. Democrats have also argued that funding for the Internal Revenue Service will specifically go toward enforcement efforts aimed at curbing tax evasion among the wealthy.
Throughout the last week, Laxalt has criticized the spending on additional tax enforcement and IRS agents, characterizing Democratic pledges to audit only wealthy Americans as "false promises" and that "it's about targeting you."
Separately, he has also characterized the revenue provisions as "Biden/Cortez Masto tax hikes" and called the spending provisions "reckless" decisions that "fuel inflation."
That line on taxes has been core to Republican messaging more broadly. In a statement, a spokesperson for the Republican National Committee, for instance, reiterated that the bill constituted a tax hike and called Cortez Masto and fellow Sen. Jacky Rosen (D-NV) "out of touch" given their votes in favor.
The Democratic victory lap did not come without casualties. For Cortez Masto, that manifested in the defeat of a Democrat-sponsored provision that would have capped insulin prices at just $35 per month for individuals using private insurance. In the lead-up to the weekend's vote-arama, Cortez Masto had singled out the provision, tweeting that "No one should pay more than $35 a month for their insulin. It's just that simple."
She later cast her position as "standing up to Big Pharma," and asserted that "Big Pharma is attacking me for fighting to lower the cost of prescription drugs."
That second point was both a dig at a conservative dark money-backed ad campaign and a reference to a letter from industry group PhRMA, in which the group's CEO, Steve Ubl, told Democrats voting for the package that they "will not get a free pass" from the pharmaceutical industry.
Republicans moved to block the language, and the provision failed with only 57 votes, even with seven Republicans joining all 50 Democrats; however, a similar provision, which caps monthly insulin costs for Medicare users also at $35, did pass.
In a statement, a spokesperson for Cortez Masto's campaign still couched the Medicare provision as "a historic victory for seniors," and called Republican opposition to the insulin price caps as "outrageous."
House members ready themselves for a late-week vote on Inflation Reduction Act
As the House readies itself for a vote of its own on the IRA on Friday, the same pattern has emerged. Already, all three vulnerable Southern Nevada Democrats — Rep. Dina Titus, Rep. Susie Lee and Rep. Steven Horsford — have publicly backed the bill.
They have even attacked the GOP on its opposition, including Lee and Titus, who separately characterized the opposition as having "put profits over people."
Republicans challenging the incumbent Democrats have likewise focused almost entirely on tax provisions and funding for the IRS, often claiming (over the protestations of Democrats supporting the bill) that those taxes will harm the middle class.
Mark Robertson, running against Titus in District 1, appeared to obliquely criticize the bill in a tweet Saturday that said "it's imperative that the socialists in Carson City and Washington DC stop spending money we don't have!"
April Becker, challenging Lee in District 3, said in a fundraising email Tuesday that the additional spending was "pork" and alleged the new IRS agents would "spy and harass middle class Americans about their taxes."
And Sam Peters, challenging Horsford in District 4, has directly criticized the IRA as doing "the exact opposite of what it claims to do" and raising taxes on "every American ACROSS THE BOARD" [emphasis, Peters'].
Editor's Note: This story appears in Indy 2022, The Nevada Independent's newsletter dedicated to comprehensive coverage of the 2022 election. Sign up for the newsletter here.
The Nevada Independent is raising $200,000 by Dec. 31 to support coverage of the 2024 election.
Tax-deductible donations from readers like you fund this critical work.
If you give today,your donation will be matched dollar-for-dollar.
Give + Get Matched
Featured Videos