Sisolak, Rosen and other top Democrats oppose ranked-choice voting measure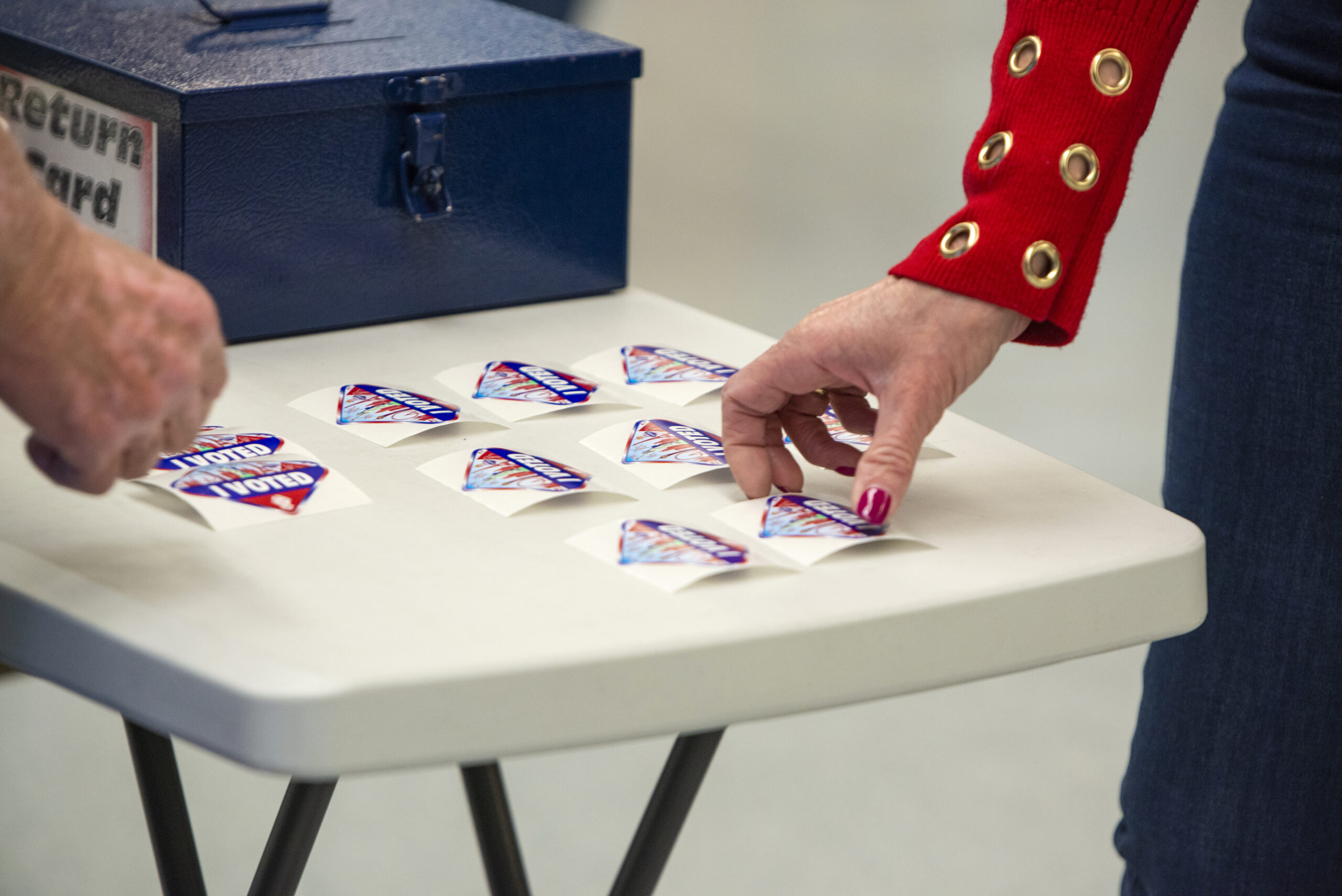 Top Democratic officials in Nevada are staunchly opposed to an attempt to bring ranked-choice voting to the Silver State.
Their opposition comes as Nevada Voters First, the in-state group backing the "Better Voting Nevada" initiative to establish open primaries and a ranked-choice general election, says it has already gathered more than the approximately 140,000 signatures needed to qualify the measure for the 2022 general election ballot.
But even with strong financial backing, the likely ballot question proposing a switch to ranked-choice voting faces significant pushback.
Last week, a coalition of left-leaning and nonpartisan advocacy groups ramped up opposition to the initiative. Those groups have been joined by prominent elected Democrats in Nevada, including Gov. Steve Sisolak and U.S. Sens. Catherine Cortez Masto and Jacky Rosen, who argued the initiative would be onerous for voters and muddle the state's electoral process.
Sisolak, in a statement to The Nevada Independent, described the measure as "a rushed constitutional change that would make our system more confusing, error-prone and exclusionary." He also highlighted recent efforts to make it "easier and safer than ever for eligible Nevadans to cast their ballots," likely referring to the permanent expansion of opt-out mail balloting approved last year.
In a statement to The Nevada Independent, Rosen said she has "serious concerns" about the initiative and that it could "make casting a ballot more confusing and time-consuming, lead to increased errors that cause eligible votes to be thrown out, and disproportionately impact communities of color."
Other top Democrats who confirmed their opposition to the proposal include state Senate Majority Leader Nicole Cannizzaro and Assemblyman Steve Yeager.
Opposition to the initiative
Alongside Democratic elected officials, several nonpartisan and left-leaning local groups have recently vocalized opposition to the proposed ranked-choice voting initiative.
The Let Nevadans Vote coalition, which includes representatives from more than 20 groups, including Silver State Voices and the Progressive Leadership Alliance of Nevada, held a press conference last Monday denouncing the measure and arguing that the initiative would make voting more time-consuming and confusing. The Nevada State AFL-CIO also declared its opposition to the initiative.
Representatives from the coalition added that the ranked-choice voting system would lead to more votes being rejected. This could happen because a voter may rank two candidates first, or not vote for candidates in every spot. Or a voter may not have their selection counted in the final tabulation, because they did not rank one of the final two candidates in their top five.
Those opponents also argued that the system could lead to confusion about how to vote and how votes will be tabulated for those who are casting a ballot for the first time or who do not speak English as their first language.
Let Nevadans Vote is also encouraging those who have signed the petition to withdraw their names — opponents have set up a website and political action committee called "Protect Your Vote Nevada" to support those efforts. The PAC is registered to Chelsey Winninger, the former executive director of the Assembly Democratic caucus.
Yeager, who serves as speaker pro tempore and is expected to be the top Assembly Democrat next legislative session, took issue with implementing the proposed election system in the Nevada Constitution.
"Enshrining this system in Nevada's state constitution would be a mistake because meaningful access to the ballot box is too critical to our system of representative government to sacrifice at the alter [sic] of an unproven and unwieldy experiment," he said in a statement to The Nevada Independent.
Cannizzaro echoed that opposition, saying in a statement that "locking this change into the state constitution is risky and would make it nearly impossible to fix if things go wrong."
Efforts to support the initiative
Though the June 29 deadline for Nevada Voters First to submit enough signatures remains about six weeks away, the group appears well on its way to surpassing that threshold.
Joe Brezny, campaign manager for the initiative, said the group has already collected more than 150,000 signatures and plans to continue gathering signatures ahead of the June deadline to ensure they have a "buffer" in case some are not valid.
In the first three months of this year, the group raised nearly $2.3 million, including $1 million from Chicago resident Katherine Gehl, an author, philanthropist and former CEO of a Wisconsin-based high-tech food-manufacturing company, who is backing other ranked-choice voting efforts through the Institute for Political Innovation.
The group also received $250,000 each from the Nevada Association of Realtors and the Clark County Education Association (through a PAC called Strategic Horizons).
Sondra Cosgrove, ​​a College of Southern Nevada history professor and supporter of the ballot measure, said the initiative is aimed at giving the growing share of nonpartisan voters more opportunities to participate in the state's elections.
In April, nearly 29 percent of Nevada registered voters were registered as nonpartisans, a trend that has been supported in part by the state's automatic voter registration system.
Cosgrove argued the open primary system would allow more people to participate in the state's elections, as the closed primary system limits participation in oftentimes decisive partisan primary elections to Democratic and Republican voters.
"It facilitates us having an open primary that allows for more voices and more people to run," she said.
Cosgrove also pushed back against criticisms that ranked-choice voting is too confusing, noting that if approved, there would be time to educate voters about how it works before going into effect in 2026. She also pointed to the widespread implementation of mail-in voting in 2020 and said groups across the state were able to educate voters on how that system worked in the span of only a couple months.
More than 50 jurisdictions across the country use ranked-choice voting, with Alaska and Maine being the only states where the practice is in place. Last year, New York City used ranked-choice voting in its mayoral election, though counting issues caused by the city's election board led to mixed reviews of the new system.
Opponents of the initiative have also said it could have a negative impact on communities of color, but Cosgrove rejected that notion, pointing to the success of many women of color in New York City Council elections last year under the ranked-choice system.
"I don't understand where that's coming from because I don't stand in front of a classroom and look at my students and think, 'Oh, my students of color are going to be more confused or have a harder time than my white students,'" she said.
How the initiative works
The initiative aims to amend the Nevada Constitution, meaning it would have to be approved by a majority of voters in 2022 and 2024 before heading to the Legislature to officially institute the change by July 1, 2025.
If the initiative makes it through that process, the open primary and ranked-choice voting system would be in place for the 2026 elections.
Primary elections would be open to all voters regardless of party registration, with the top five vote-getters advancing to the general election.
Then, voters in the general election would be able to rank up to five candidates by order of preference, though they could also choose to rank only one candidate or any number under five. The ranked-choice system would also only apply to U.S. Senate and congressional races, legislative elections and statewide office positions — not to presidential elections or lower offices.
Under the initiative, a candidate who wins an outright majority of votes (more than 50 percent) would be elected to the office. If not, the candidate with the fewest first-preference votes would be eliminated, with their "votes" redistributed based on the second preference of those individual ballots. The process would continue until only two candidates remained or when one candidate achieved a majority of votes.
The state-led effort has been called the "Better Voting Nevada" initiative, but the Institute for Political Innovation is also backing national efforts to implement the system, also called "Final Five Voting."
Legal hurdle
Nevada Voters First has already survived one early challenge to its efforts. In January, a district court judge ruled the proposal — which would affect both primary and general elections — does not violate the single-subject rule for ballot initiatives.
The decision struck down a challenge led by Nathan Helton, a Democratic voter based in Churchill County, but Helton's appeal of the ruling is pending before the Nevada Supreme Court. Oral arguments in the case have been set for early June.
Update: May 16, 2022 at 11:35 a.m. — This story was updated to reflect opposition from groups within the Let Nevadans Vote coalition.