Sisolak seeks meeting with Trump on Yucca and secret plutonium shipment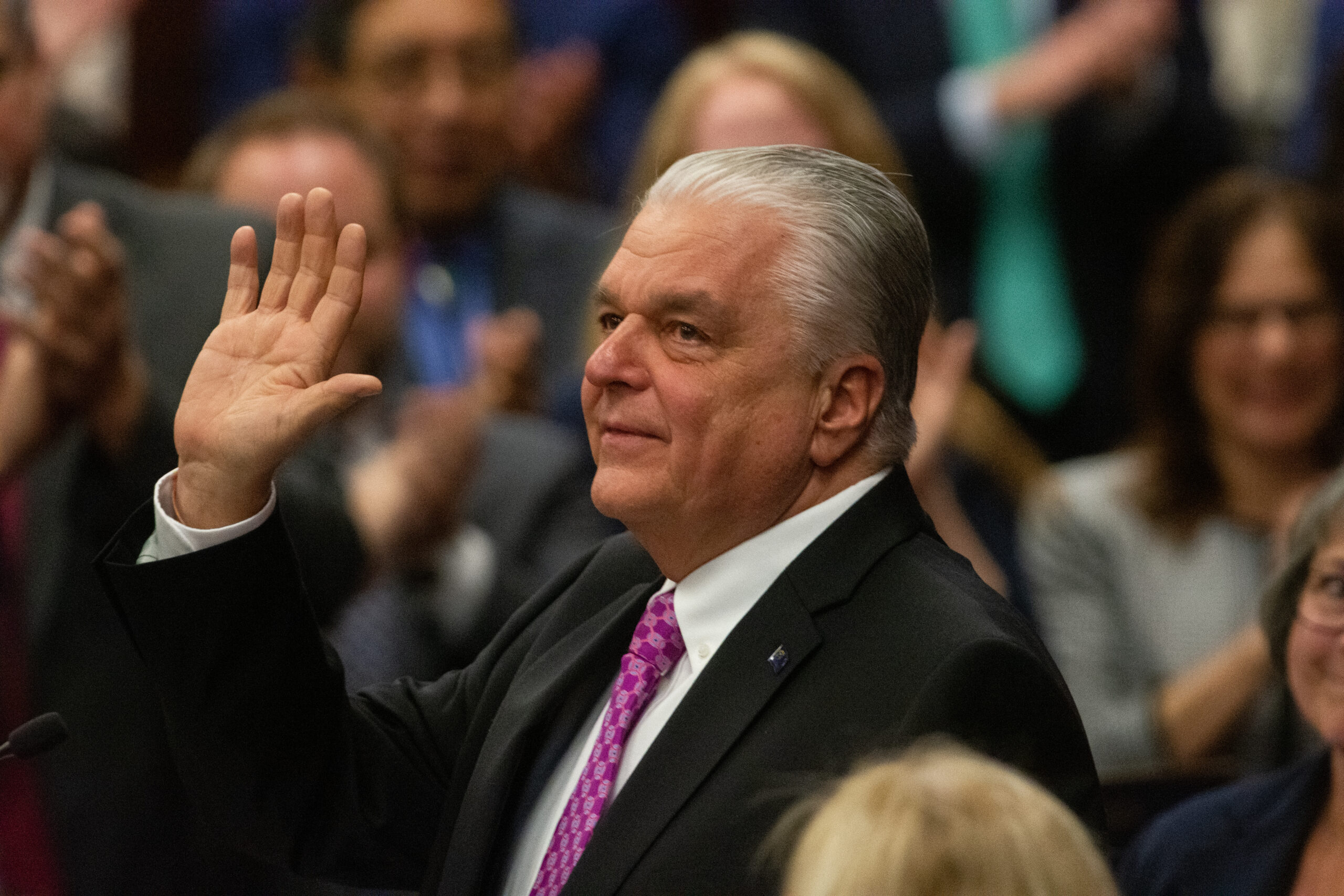 After pointedly skipping White House events last week with the National Governors Association, Gov. Steve Sisolak wants to meet with President Donald Trump to talk about efforts to build a nuclear waste repository at Yucca Mountain and a secret plutonium shipment to the state.
"As governor, I am committed to ensuring the safety of Nevada's citizens and the protection of the state's unique environment and economy from the extraordinary risks posed by Yucca Mountain," Sisolak said in a letter to Trump. "On behalf of Nevada's over three million residents, I would appreciate the opportunity to discuss with you these matters of critical importance to my state."
The White House said it was open to working with Sisolak on the issue.
"Governor Sisolak has been invited to the White House three times since his election and he has turned down all three invitations," White House spokesman Judd Deere said in an email. "The Trump Administration looks forward to building a relationship with the Governor and working on issues important to Nevadans." 
While in Washington last week for the NGA winter meeting, Sisolak refused to attend any of the events hosted by the White House.
"What's the sense of sitting down and breaking bread with them and trying to have a common sense dialogue," Sisolak told The Nevada Independent at the time. "You can't rely on anything that they tell you."
Helen Kalla, a spokesperson for Sisolak, said that he did not believe that the NGA events were the appropriate venue to talk about this issue with the White House.
"He didn't think that a lavish ball, a round table with all 50 governors to discuss broad issues that affect all 50 states were going to be an appropriate and effective venue to have a serious sit down with the administration that this topic deserves," Kalla said.
She said the governor's letter comes after the White House indicated that it was open to a meeting, though the administration did admonish Sisolak for skipping the NGA events.
Kalla said the governor remains "skeptical", but "wants to keep an open dialogue and to continue to make Nevadans voices heard that they don't want Nevada to become a nuclear dumping ground."
Sisolak's letter also comes after Republican Sen. Lamar Alexander of Tennessee quietly scheduled a visit to the facility at Yucca with five other senators. But the trip was abruptly canceled after Democratic Sen. Dianne Feinstein of California could not attend.
Alexander, who favors building a repository at Yucca, is chairman of the Senate Appropriations Committee Energy and Water Subcommittee, which oversees the budget for the Department of Energy (DOE). Feinstein is the top Democrat on the panel.
"We're going to go sooner or later," Alexander said Tuesday after noting the Yucca visit had been postponed.
DOE Secretary Rick Perry was also scheduled to go along with the six senators.
The governor said he was concerned that the state was not notified of the visit and that he learned of it through media reports.
"As a matter of simple courtesy and protocol, it would have been appropriate for the DOE Secretary to provide my office with a notice of the trip," Sisolak wrote.
He said it is reminiscent of how the DOE secretly shipped a half metric ton of weapons-grade plutonium to the Nevada National Security Site (NNSS).
The plan to temporarily store plutonium in Nevada is the result of the DOE's failure to meet a deadline to complete construction on a South Carolina facility that is meant to repurpose excess plutonium into fuel for nuclear reactors. A federal judge in May ordered that one metric ton of plutonium be removed from the site.
The state had been in talks with DOE to avoid any such shipment, but decided to sue in November after talks failed to yield a resolution.
In January, as part of the suit, the federal government disclosed it had already secretly made a plutonium shipment before November to the NNSS, which is located 65 miles northwest of Las Vegas.
While in Washington last week for the NGA winter meeting, Sisolak refused to attend any of the events hosted by the White House.
As of last week, the governor had not yet to hear back from the administration in response to a letter he wrote dated Feb. 6 asking a series of questions about the shipment. He had asked for a response to his questions by Feb. 19.
The White House is expected to release its fiscal 2020 budget request on March 11. In each of the previous three fiscal years, the administration has included funding for the project.
Democratic Reps. Dina Titus, Susie Lee and Steven Horsford wrote to the president Thursday urging him not to request funding for the project in his budget.
"[I]ncluding funding for this project would be throwing good money after bad," the letter said. "Unless and until we reform the process for the siting of nuclear waste repositories, any funding put towards the Yucca Mountain licensing process is a waste of time and resources."
Update. 3:21 p.m. to include comments from White House Spokesman Judd Deere. Updated at 2:12 p.m. to include comments from Gov. Steve Sisolak spokesperson Helen Kalla. 
The Nevada Independent is raising $200,000 by Dec. 31 to support coverage of the 2024 election.
Tax-deductible donations from readers like you fund this critical work.
If you give today,your donation will be matched dollar-for-dollar.
Give + Get Matched
Featured Videos