Power lines from Hoover Dam stretch through Eldorado Valley south of Boulder City on Friday, June 16, 2016. (Jeff Scheid/The Nevada Independent)
State officials say they can't determine the cost of a proposed constitutional amendment mandating a larger chunk of Nevada's energy supply comes from renewable sources.
In a filing submitted Wednesday, the nonpartisan Legislative Counsel Bureau's Fiscal Analysis Division said it could not determine any costs or changes in electricity prices that would come if voters approved the proposed Renewable Energy Initiative — a ballot question amending Nevada's constitution to require 50 percent of retail electric sales come from renewable sources by 2030.
"The Fiscal Analysis Division cannot determine how the constitutional provisions of the Initiative will be implemented by the Legislature or which state agencies will be tasked with implementing and administering any laws relating to increasing electricity from renewable energy sources," he agency wrote in the filing. "Thus, the Fiscal Analysis Division cannot determine the impact upon state government with any reasonable degree of certainty."
The division also said that it would be unable to predict "with any reasonable degree of certainty" changes in electricity costs for state and local governments.
Backed by Democratic megadonor Tom Steyer, the "Nevadans for Clean Energy Future" PAC in February filed to place a constitutional amendment on the 2018 ballot significantly raising the state's Renewable Energy Portfolio, nearly eight months after Gov. Brian Sandoval vetoed a similar bill in the Legislature.
Like any other constitutional amendment, the initiative would need to be approved on the 2018 and 2020 ballot to successfully be added to the state constitution. If approved in both elections, lawmakers would have until July 2021 to pass laws implementing the constitutional amendment.
Nevada law requires backers of ballot initiatives and referendums to obtain at least 112,544 signatures from registered Nevada voters, including at least 28,136 in four "petition districts" (which have the same boundaries as the state's four congressional districts.) The last day to submit signatures is June 19.
Renewable Energy Promotion In by Riley Snyder on Scribd
INDY FAST FACTS
Brian Sandoval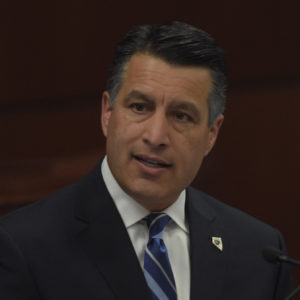 Job:
 Nevada Governor
Party:
Republican
In current office:
2011-present
Birthdate:
August 5, 1963
Education:
University of Nevada, Reno (B.A.) Ohio State University (J.D.)
Other public offices held:
U.S. District Court Judge (2005-2009) Nevada State Attorney General (2003-2005) Nevada Gaming Commission Chair (1999-2001) Nevada Gaming Commission Member (1998-2001) State Assemblyman, District 25 (1994-1998)
Total donations:
$5,035,808 (1/7/11 - 7/5/17)
Top donors:
Caesars Entertainment $245,000 Station Casinos $158,072 MGM Resorts International $160,000 Wynn Resorts $80,000 Marnell Properties LLC $70,000
From the Editor
The Nevada Independent
is a 501c3 nonprofit. We have
generous corporate donors
, but we can't survive on those alone. We need support from our readers. I know you have many commitments. But if you would
support our work
(or bump up your current donation), we would be forever grateful.
Best,
Jon Ralston