Steyer: One goal of winning Nevada, South Carolina is to prove he can 'beat Bloomberg on the economy'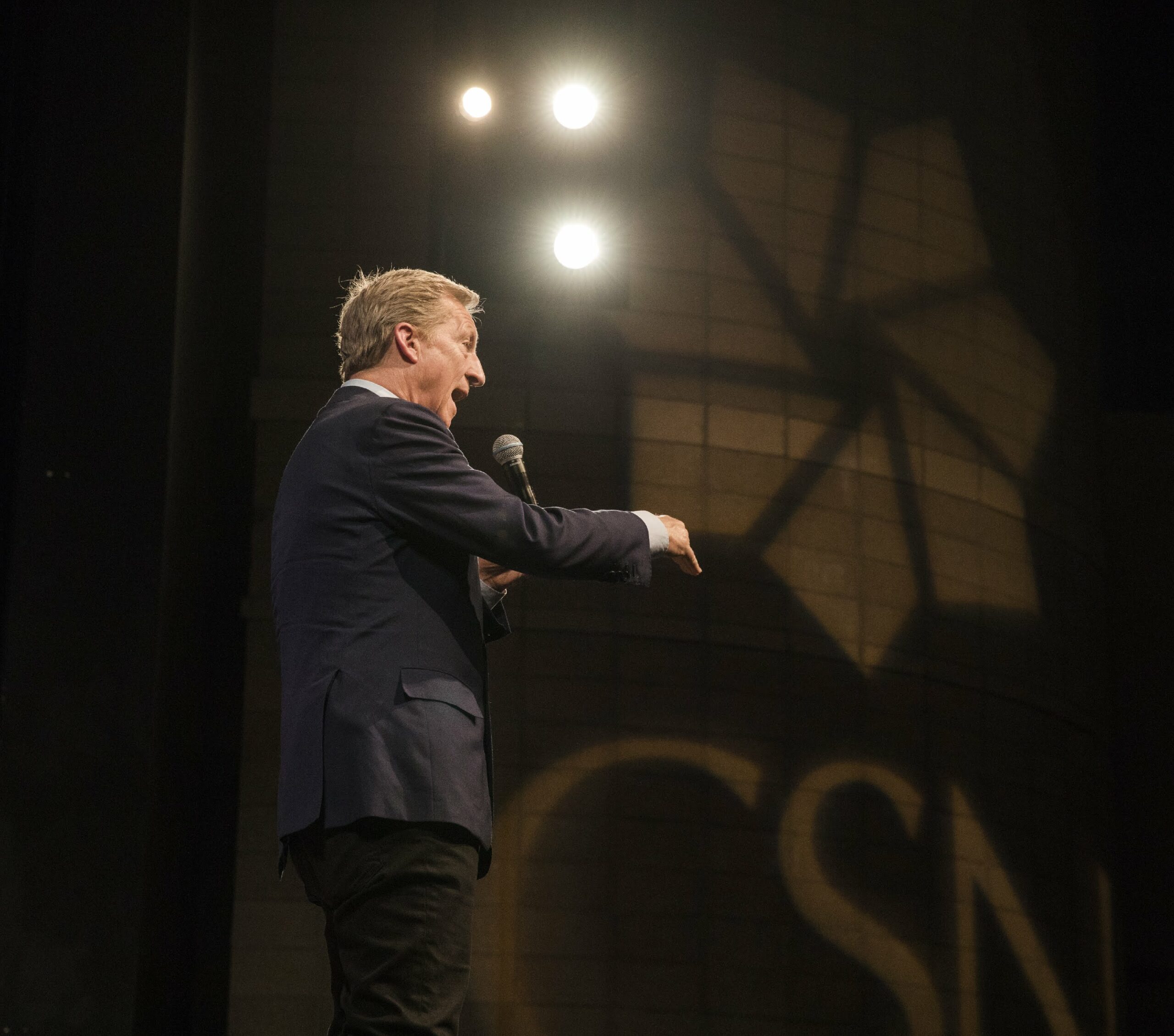 Democratic presidential hopeful Tom Steyer may be taking aim at Vermont Sen. Bernie Sanders in a new digital ad, but it is former New York City Mayor Michael Bloomberg whom he hopes to position himself as an alternative to beginning in Nevada and South Carolina.
Steyer, in an interview with The Nevada Independent on Friday, was coy about his expectations for Super Tuesday, saying that it "depends how well" he does in Nevada and South Carolina. But if he does do well coming out of the first two diverse states to participate in the Democratic presidential nominating process, Steyer says that it will prove to voters his ability to go up against Bloomberg in those 15 states and territories that cast their votes on March 3.
"I think that's the whole goal is to be able to say, 'Look, this guy is someone who can beat Bloomberg on the economy. This is a guy who can pull together a diverse coalition in states like Nevada and South Carolina,'" Steyer said. "Those are the two things that we're going to need for a candidate. Who else can do that?"
He also sought to distance himself in the interview from Bloomberg, the other billionaire in the race. Steyer is worth about $1.6 billion, while Bloomberg is worth more than $50 billion, according to Forbes.
"Look, I think that I'm different from Mike on the economy as well. I'm someone who wants to take on corporations," Steyer said. "He's not someone who wants to take on — I mean I'm someone who is literally saying corporations have bought the government … I've always been lined up with unions and I've always been lined up with working people. That's completely different from Mike Bloomberg."
He also added that he's "not the three-term Republican mayor of New York." Bloomberg had been an independent since 2001 but re-registered as a Democrat in 2018 as he was toying with a presidential bid.
Steyer struggled to catch fire in the first two early nominating states. In Iowa, he finished with only 0.3 percent support, and only fared a little better in New Hampshire where he captured 3.6 percent of the vote. Asked whether his supporters here should be concerned about his poor performance in those states, Steyer shrugged the question off, saying that the race is still a "muddle."
"There's still a bunch of people involved, and I think I can win in Nevada and South Carolina," Steyer said. "And so I think the polling that we've seen has been second or third place here, and I think that I can be better here."
A new poll from the Las Vegas Review-Journal released Friday showed Steyer with 11 percent support, behind Vermont Sen. Bernie Sanders, with 25 percent support, former Vice President Joe Biden, 18 percent, and tied with Massachusetts Sen. Elizabeth Warren.
As far as his new digital ad targeting Sanders over his support for Medicare for all, Steyer framed his opposition not so much as with the policy itself but with how the Vermont senator plans to pay for it. Steyer favors the creation of a government-run public health insurance option over a single-payer system.
"I agree with Senator Sanders and his goals," Steyer said. "All I said was I think Senator Sanders should do what Senator Warren did, which is explain how we're going to pay for it, because I think if you're going to, particularly in Nevada, where this is such a contentious issue with unions who've negotiated for their health care over decades and feel strongly about it, I think if you're going to insist that someone has to give up what they have and that if you don't do what the government says you're breaking the law, then you have an obligation to explain how it's going to paid for."
Sanders has, however, released a plan including different options that could be used to pay for Medicare for all, expected to cost about $32 million, he just hasn't narrowed down the universe of options.
Asked why he hadn't targeted Warren in the ad, who also supports Medicare for all, Steyer said Warren had explained how she would pay for it. Warren estimates that her Medicare-for-all plan will cost $20.5 trillion, which will be paid for by employer contributions, taxes on the wealthy, and taxes on the financial sector and large corporations, among other methods.
"Don't you think that's a relevant question when you're talking about tens of trillions of dollars? Actually putting the numbers on the table?" Steyer said. "I can't go after Elizabeth Warren for not detailing how she'd pay for her plan, because she tried to detail it."
The Nevada Independent is raising $200,000 by Dec. 31 to support coverage of the 2024 election.
Tax-deductible donations from readers like you fund this critical work.
If you give today,your donation will be matched dollar-for-dollar.
Give + Get Matched
Featured Videos