Tom Steyer targets Sanders, Medicare for All in new digital ad buy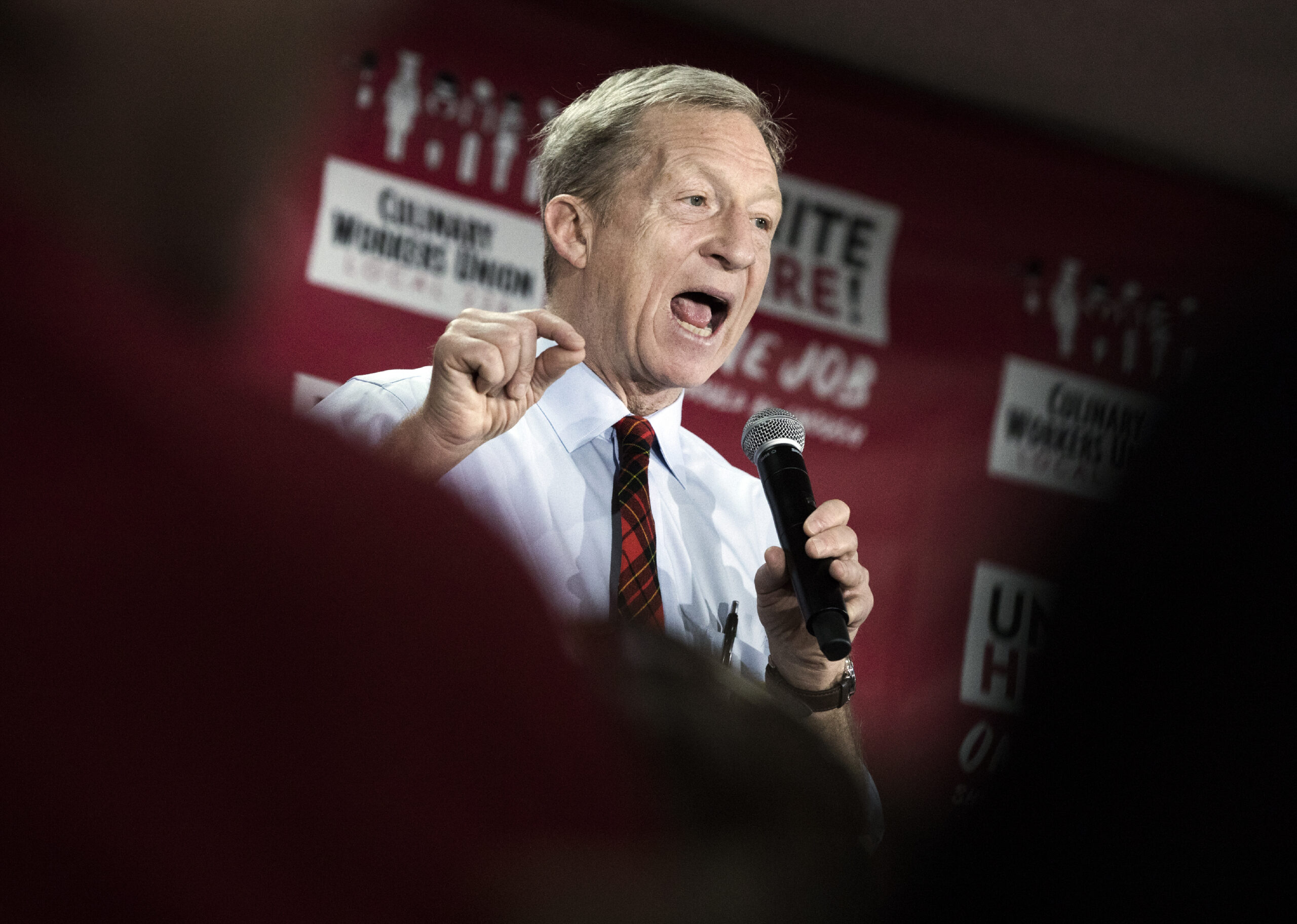 California billionaire Tom Steyer is taking direct aim at Vermont Sen. Bernie Sanders in a new digital ad launched today, attacking the senator on the price and popularity of his Medicare-for-all plan just one day before early voting is set to begin in Nevada's Democratic presidential caucus.
The minute-long ad features news clippings overlaid with a narrator criticizing Sanders' single-payer, government-run health plan, including saying that "there is a reason people are nervous about Bernie Sanders scrapping Obamacare" and adding that "Bernie can't — or won't — give us a price tag."
The ad then goes on to tout Steyer's own health plan, a so-called public option, that "doesn't tear down Obamacare." That stance has become standard among Democratic moderates, who have largely coalesced around a dual-use of private and public health options as a means to attain universal coverage.
The ad is Steyer's first foray into using advertising to hit back at other Democratic contenders in Nevada, a state where he has invested heavily in advertising since the end of last year. It's unclear whether that advertising will pay off during the caucuses, but recent polls show Steyer doing well in Nevada relative to his poor showings in Iowa and New Hampshire, maintaining about 10 percent support since the end of last month.
The ad also comes as Steyer looks to capitalize on a fracturing inside the moderate wing of the Democratic party, as five candidates — former Vice President Joe Biden, South Bend Mayor Pete Buttigieg, Minnesota Sen. Amy Klobuchar, billionaire Mike Bloomberg and Steyer — look to become the single standard-bearer to face off against the progressive Sanders.
Amid this struggle between the moderates, health care once again leapt into the center-stage this week after Las Vegas' powerful Culinary Union began circulating flyers to its membership warning Sanders' plan would "end" their union health care plans.
Those flyers touched off a torrent of online harassment for union leaders, who condemned the attacks after announcing yesterday they would decline to endorse any candidate in the race.
Sanders released a statement after the incident also condemning the harassment, urging "supporters of all campaigns" to refrain from such bullying tactics.
Watch the ad below. For a full list of every ad run in the 2020 election cycle, visit our Ad Tracker here.