Republican Sen. Dean Heller speaks at a Carson City Chamber of Commerce event on February 22, 2017. (David Calvert/The Nevada Independent)
Suspect arrested over death threat to Heller had zeroed in on Obamacare debate
August 15th, 2017 - 2:00am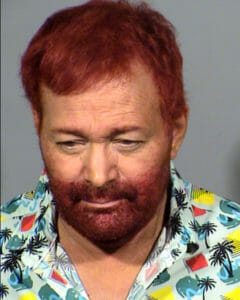 A man accused of threatening the life of Republican Sen. Dean Heller in a note left at the lawmaker's office last month suffers from diabetes, is married to a woman with multiple debilitating health conditions and was intently following debate in Washington about repealing the Affordable Care Act, according to an official police report.
Richard Holley, 62, was arrested Monday and booked into the Clark County Detention Center on charges of extortion, burglary and intimidating a public official. He's scheduled to appear in court on Wednesday.
The arrest comes nearly a month after an ominous handwritten note was found wedged behind the placard identifying Heller's suite in an office complex in southwest Las Vegas. At the time, an acrimonious debate was raging over health care, and swing voting Heller was the subject of an advertising blitz and frequent protests.
"Sen Heller, I am sick and will die without continued medical care," read the message left on a folded piece of binder paper. "If I'm going to die because you voted to repeal or replace with a death bill, I will take you with me. If I'm going to die so are you."
There were no signs of forced entry at the office, but police released surveillance video from outside the suite that showed a portly man in a Raiders cap who stopped by after staff had left for the day. It yielded tips that pointed to Holley, prompting detectives to follow him surreptitiously over two days as he shopped at a Dollar Tree and a CVS and took his wife to a doctor's office.
When Holley answered the door for plainclothes detectives at his home earlier this month, officers said they immediately noticed he was wearing blue tennis shoes with orange shoelaces — the same as ones that showed up on the surveillance video.
"Well, I'm sure they're not unique," Holley responded when police pointed out the match, according to the report.
Holley denied that he'd left the note or posed a threat to the senator, pointing out that he's almost old enough to qualify for Medicare and he's in good health "so I'm not really worried about it." He told detectives that he liked that Heller opposed developing Yucca Mountain as a nuclear waste repository.
"He's doing a good job as a Republican," Holley said. "I even consider voting for him."
But Holley's son and daughter-in-law told detectives that Holley felt "extremely strongly" about the ACA and had been closely following the votes on the Senate's repeal effort. Holley had even talked about a televised lunch in which Trump told Heller he should vote for repeal if he wanted to keep his Senate seat, according to Holley's son.
While detectives contacted Holley's wife while at the home, she said she didn't want to leave her bed because she was suffering from severe back pain.
A final clue came when detectives found receipts for a Raiders cap that Holley had ordered from Amazon just before the note was left at Heller's office. It matched the one pictured in the surveillance footage.
Heller ultimately voted for a pared-down version of an Obamacare repeal bill, which failed in dramatic fashion when three other Republican senators opposed it. Heller has since said he was able to meet his objectives of preserving Medicaid but opposing the individual and employer mandates through the vote.
"I wake up every morning trying to figure out what's best for the state of Nevada, what can I do for Nevada families," he told Reno TV station KRNV. "And obviously we got in the middle of this health care battle and I feel real pleased at the way this thing turned out."
Heller's office didn't respond to a request for comment about Holley's arrest.
Comment Policy (updated 4/20/2021): Please keep your comments civil. We reserve the right to delete comments or ban users who engage in personal attacks, use an excess of profanity, make verifiably false statements or are otherwise nasty. Comments that contain links must be approved by admin.