The $300,000 dilemma: Housing shortage causing headaches for first-time buyers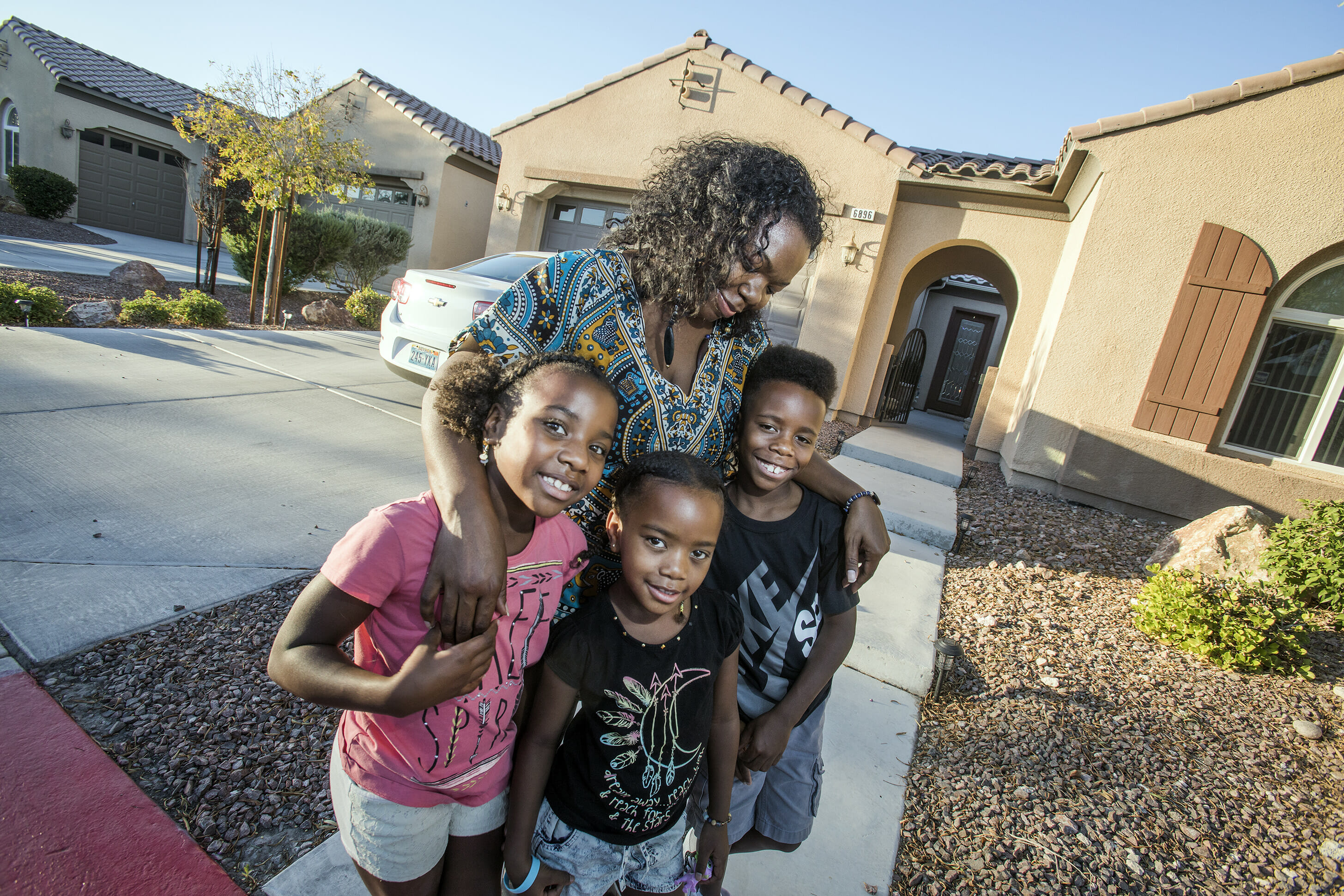 Kierra Jemison's house hunt started with a foreclosure.
When Jemison's landlord lost ownership of the northwest valley home she had been renting, the 34-year-old and her three children packed up and moved out on short notice. In exchange, she received $4,000 from the bank.
What others may have deemed an inconvenience Jemison saw as an opportunity: The unexpected cash could be a down payment for a home of her own. In March, she started searching for a four-bedroom house with at least 1,600 square feet and a price tag of no more than $205,000.
"I'm a single mom and don't want to set myself up for failure," Jemison said, explaining her conservative budget.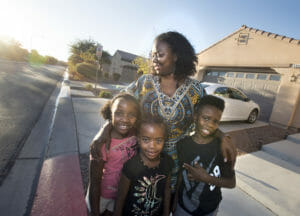 Roughly 30 house tours and five offers later, Jemison is no closer to finding her dream first home. Her quest has been riddled with frustrations: Not enough homes in her price range or target area. Lines of prospective buyers touring homes that do fit her criteria. Multiple-offer situations. She has been outbid five times, up against as many as 18 other offers.
Quickly realizing the competitive nature of the market, Jemison even started writing letters to accompany her offers — hoping the personal touch would set her apart from other buyers.
"It's disheartening because you put your best out, and you never know," she said.
Real-estate officials say her struggle illustrates the challenges facing first-time homebuyers or those wanting to stay under $300,000 in the Las Vegas area. Too many buyers and too few homes has created a battle-like market, driving up housing prices in the process.
A SELLER'S MARKET
"You've got to put a ring on it."
That's what Dave J. Tina, president of the Greater Las Vegas Association of Realtors (GLVAR), tells prospective buyers seeking homes below $300,000 in the Las Vegas area. Act quickly, he said, "because if you hesitate, that baby's gone."
Local real-estate statistics provide a glimpse into the tight market. The median price of existing single-family homes sold in May rose to $250,000 — up 0.4 percent from April and 9.1 percent from one year ago. The condominium or townhome price leap was even more significant: The median price hit $137,950 in May, representing a 6.1 percent increase from April and a nearly 17 percent increase from May 2016, according to the GLVAR.
Southern Nevada has a two-month supply of existing homes on the market, well below the six-month supply indicative of a balanced market. The situation has led to GLVAR declaring a housing shortage in the region.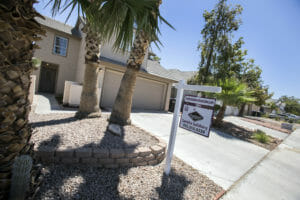 It's a new wrinkle in the Southern Nevada housing market, which saw rampant building during the boom-era years followed by hardly any new home construction when the recession ravaged the local market and sprinkled it with foreclosures and short sales. Despite the housing shortage, the number of homes sold each month continues to increase, Tina said.
And then there's this phenomenon: Usually either the housing or rental market surges, but right now, both are strong in Southern Nevada, he said.
Take a drive along Interstate 215 heading toward Summerlin, and you'll pass a flurry of new apartment complexes rising from the desert dust. By and large, apartment rents have been on an upward trend since the recession. The average apartment rent within Las Vegas city limits in May was $947, according to Rent Jungle, which tracks prices.
"It comes down to this: There are not enough beds for bodies," Tina said.
The housing shortage is especially acute for buyers on the lower end of the price spectrum. Although the number of homes sold has been increasing overall, that's not the case for properties priced under $300,000, especially in some of the more popular master-planned communities.
In May, 2,433 existing single-families sold for less than $300,000 in Southern Nevada — an 18.5 percent dip compared to the prior year — which suggests a tighter supply than the rest of the market, according to the real-estate association.
"If you're looking in Summerlin or Green Valley, you can almost give up before you get in," Tina said.
Compounding the problem, new homes in Southern Nevada are generally more expensive, pricing out first-time buyers or those with more modest budgets, real-estate agents say. Despite the demand for more affordable homes, builders aren't as inclined to focus on that price range.
"The price per acre is going up," said Tina, who owns Urban Nest Realty with his father. "So, in order for builders to see a return on their investment, they have to charge higher prices for house. It's as simple as that."
The silver lining of the housing dilemma: The lack of inventory could force buyers to look outside their desired areas and fix up more affordable homes in aging or neglected neighborhoods.
Azim Jessa, a broker with Urban Nest Realty, said he received 11 offers on a Spring Valley home priced at $310,000. The older, master-planned neighborhood — situated west of Interstate 15 — is undergoing the most revitalization right now as buyers scoop up less expensive houses, many of which boast larger lot sizes and pools, he said.
A NATIONAL PROBLEM
The housing shortage isn't unique to Las Vegas. It's part of a trend gripping the real-estate market nationwide.
"I think the Las Vegas housing market is absolutely representative of what we're seeing across the country," said George Ratiu, director of quantitative and commercial research for the National Association of Realtors. "What we're seeing in a sense on the housing side is an imbalance of supply and demand."
Ratiu points to data about household formation and new home construction to explain the predicament. Each year, about 1.3 million new households form in the United States, whether through college graduates moving out on their own or couples separating or getting married, he said. But only 700,000 to 800,000 new homes have been built the past few years, creating a gap in supply and demand.
Add on burdens facing first-time buyers, such as student debt and competing against cash investors, and it rises to the level of an emergency for the younger generations, Ratiu said.
"They will no longer be able to build wealth at the same rate prior generations have," he said. To me, that is the crux. Real estate has been for generations one of the fastest, most dependable ways for Americans to build wealth across the entire (socioeconomic) spectrum but particularly for the middle class."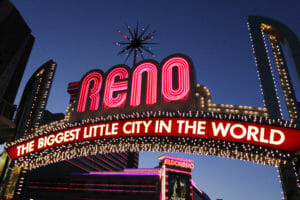 Compared to Clark County, the housing crunch is even greater in Washoe County. The Reno/Sparks Association of Realtors (RSAR) reported a median price of $335,500 for existing single-family homes sold in May, along with a 1.4 month supply of inventory. (That means at the current rate of sales, the area's inventory would be exhausted in less than six weeks.)
"It keeps me awake at night," said John Graham, president of the RSAR. "Over time it will probably smooth out, but I don't see that time coming much before 2019."
The Reno area has been a symbol of economic success in recent years after attracting high-profile companies such as Tesla, Amazon and Apple, but Graham worries the region's insufficient housing options could jeopardize the business growth.
"If their people can't find places to live, that could slow that down or stop it," he said.
An affordable housing task force, made up of representatives from the public and private sectors, is looking at ways to address the shortage and make it easier for developers to build affordable housing, Graham said. He hopes it results in some "infill" projects that make use of small tracts of available land in developed areas or repurpose land for residential use.
For instance, Graham said a city maintenance yard — filled with utility vehicles — sits along the Truckee River in what could be a prime location for housing.
"I think we've got some land that we're not getting the highest and best use out of," he said.
REALISTIC EXPECTATIONS
Tina hesitates to call the local housing shortage an emergency. Doing so may cause over-corrections, he said, that could cause more harm than good.
Even so, he acknowledges the frustrations felt by both homebuyers and real-estate agents trying to navigate the tight market. Gone are the days of leisurely touring houses for sale and mulling over plentiful options — at least for people hoping to stay under the $300,000 threshold in Southern Nevada.
"You have to have a Realtor who is willing to work hard," he said. "And you have to have a buyer who is willing to work hard."
Jessa said he advises prospective buyers to get pre-approved with a lender and submit a strong offer quickly if they find a desirable house. If buyers are skeptical, it generally doesn't take long for the competitive market to deliver a reality check.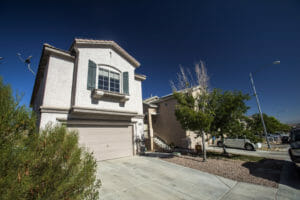 It's a lesson that Jemison already learned. "I have to limit my desires," she said.
Her preferred area is the northwest valley — a short drive to the Summerlin-area salon where she works — but after a rough start to her house hunting, she has expanded her search to North Las Vegas and Mountain's Edge.
As the calendar inches closer to a new school year, Jemison would like to get her family settled in a new house. They've been temporarily living with her grandparents in Aliante.
"I'm trying my best to stay patient," she said. "I am praying that something comes up that's just for me."
In the meantime, Jemison has stopped bringing her children along for house tours. She doesn't want them to experience any more letdowns.
Feature photo: Kierra Jemison, center, and her children Autumn, left, 8, Aniya, 6, and Anthony 10, stand outside her grandparents' home on Wednesday, June 28, 2017. Jemison is trying to buy a home in the $200,000 range but is getting outbid. Photo by Jeff Scheid.
Featured Videos
Comment Policy (updated 4/20/2021): Please keep your comments civil. We reserve the right to delete comments or ban users who engage in personal attacks, use an excess of profanity, make verifiably false statements or are otherwise nasty. Comments that contain links must be approved by admin.